What has spinach and artichoke in it, is really creamy, and super delicious? Spinach Artichoke Dip, right? Yes, but if you want to eat that dip for dinner (and not feel like a weirdo) you have to add PASTA to it, and boom: Creamy Spinach Artichoke Pasta! Dinner is served.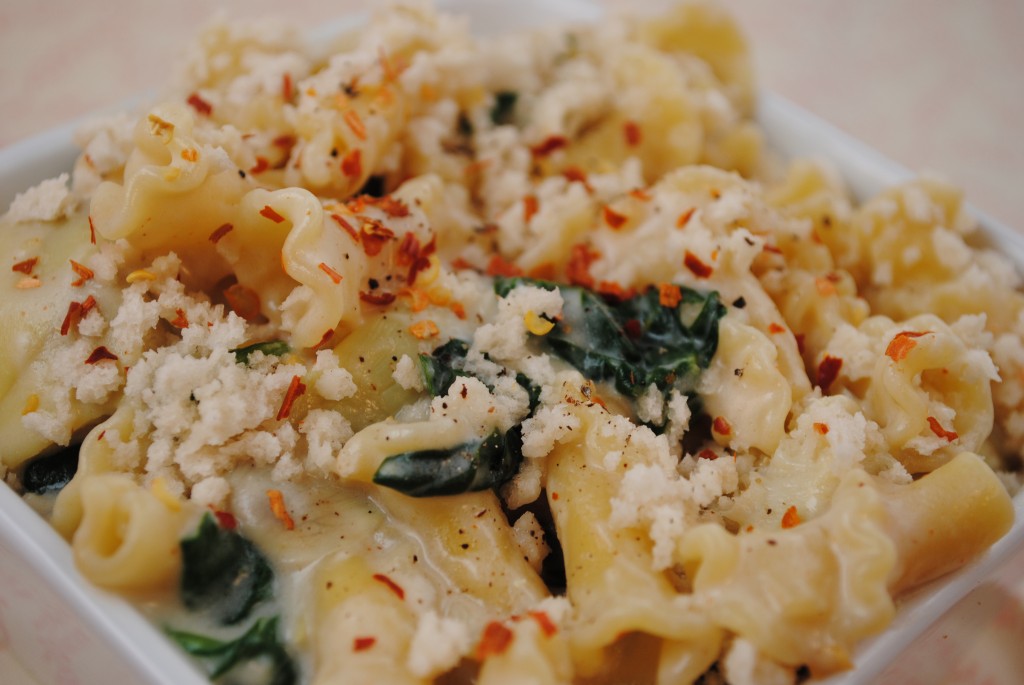 This stuff is crazy good! Creamy, just like any good spinach artichoke dip would be, but also spicy and a little crunchy from the panko crumbs sprinkled on top. The original version was spotted on Pinterest (of course), just begging to be veganized. Literally, it was begging. The Pioneer Woman is obviously very popular, and her photography is beautiful, but WTF!? Is she trying to kill of her fans and readers with those unhealthy recipes? Yikes. If you'd like to hear more rant, head on over to The V Word, you'll laugh your pants off 🙂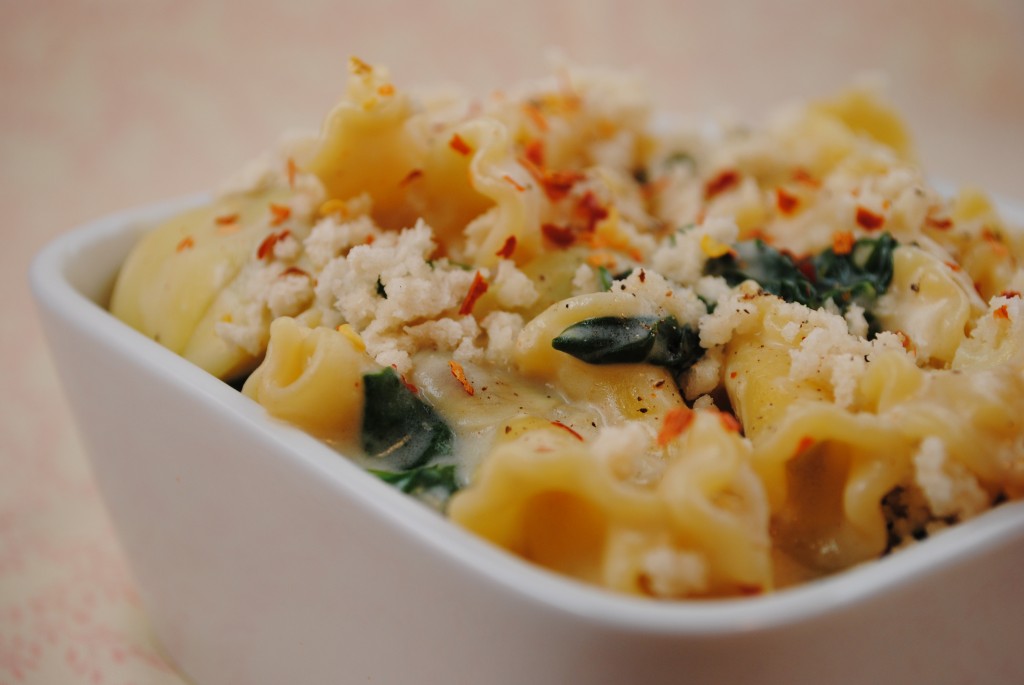 Bottom line: If you're craving dip for dinner but want to maintain the image of a responsible adult, just make this. Look at me, looking out for you guys!
---
Spinach Artichoke Pasta
2014-11-20 14:19:40
Serves 4
Ingredients
1 bag baby spinach
1.5 teaspoons dried minced garlic
1 can artichoke hearts, drained and sliced in half
1 Tablespoon Earth Balance
1.5 Tablespoons flour
1.5 cups So Delicious coconut milk
1/4 heaped teaspoon chili powder (more to taste)
1 teaspoon onion powder
3/4 teaspoon sea salt (more to taste)
1/2 bag Daiya Mozzarella shreds
6 oz Campanelle pasta, cooked per package instructions
1/4 heaped cup panko crumbs
1 Tablespoon crushed red pepper flakes (more to taste)
S&P to taste
Instructions
Water saute the baby spinach with the garlic and artichoke hearts over medium heat until it's wilted, 1-2 minutes. Set aside.
Add vegan butter to pan and allow to melt, then stir in the flour. Stir until it's combined and very thick (this is your roux). Pour in the milk and stir until mostly smooth and heated through, then add in the cheese, salt, onion and chili powder. If it gets too thick, add water.
Fold in the cooked pasta, artichokes, spinach and crushed red pepper flakes, stirring gently. When ready to serve, add the panko crumbs to individual servings, along with more pepper flakes if you want it SPICY!
Adapted from The Pioneer Woman
That Was Vegan? http://www.thatwasvegan.com/