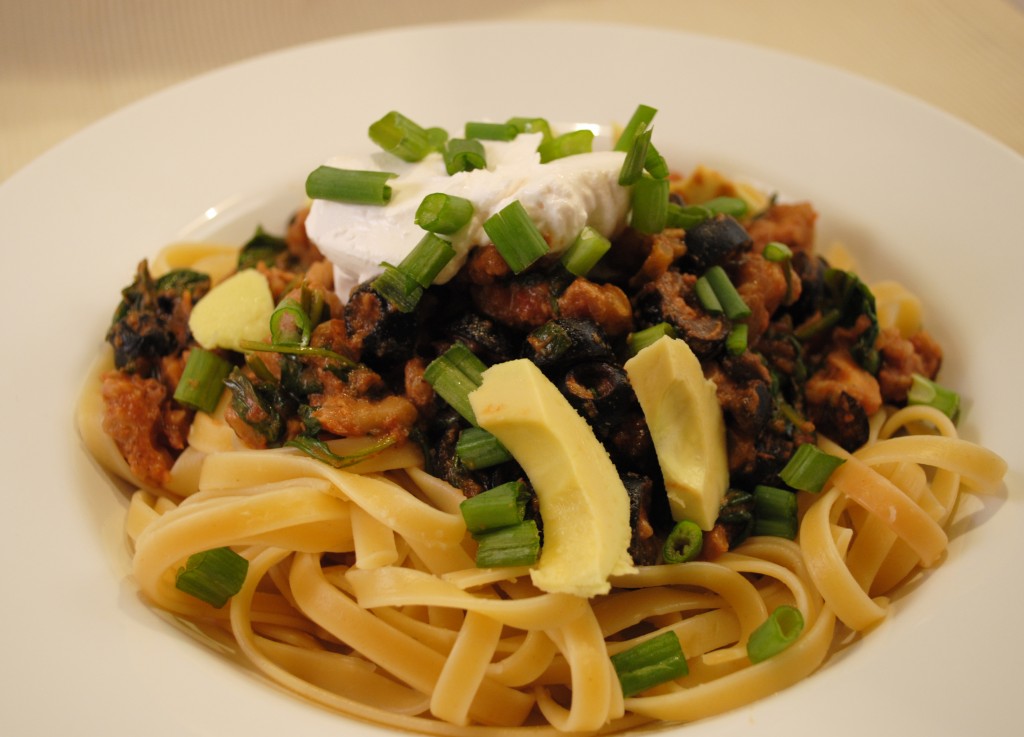 This might be one of those recipes where the ingredients list doesn't grab you and scream "MAKE ME", and you might be tempted to overlook it, but believe me when I say that once you try this dish, you'll be a believer! It's absolutely delicious, and my omni husband counts it among his favorites (as in, out of ALL dishes, both vegan and not), which tells me that it'll appeal to a wide range of eaters. The layers of flavor in the sauce meld together to create a new "super-flavor". I used a hotish salsa, so there was a little bit of heat which combined with the coolness of the sour cream, the crunchiness of the walnuts, the twanginess of the olives and earthiness of the spinach. The pictures don't show it, but before devouring I mixed everything all together on my plate and WOW!
Seriously, just make this dish. You wont be sorry, I promise you.
The recipe comes from the fantabulous Epicurean Vegan, and the only changes I made were to use regular ol' fettuccini and a (slighty) hot salsa. I also added some sliced avocado on top cuz why not, right? One change I wish I had made was to double the ingredients so that I'd have leftovers 🙁 This is the second time I've made this dish, you'd think I'd learn my lesson! So go on, check out the recipe and don't forget to double it!