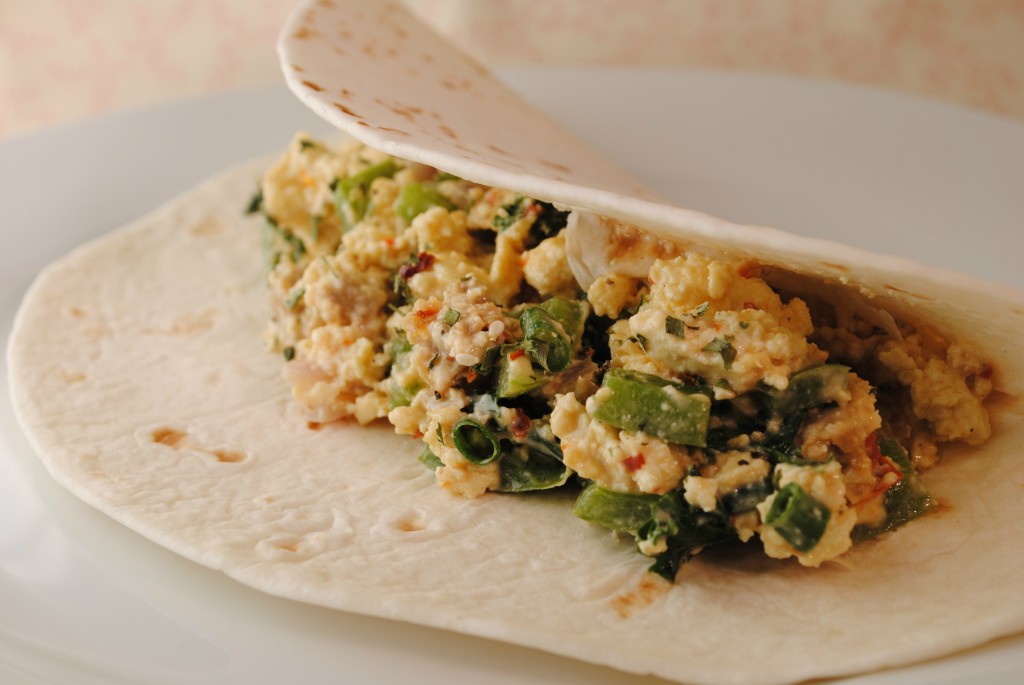 First off, sorry for the late post! I've been trying really really hard to stick to my Monday-Wednesday-Friday posting schedule, but the slopes were calling my name yesterday… and even though I hadn't finished this post, I had to go. I missed half the season with my bum foot, so I'm trying to make up for lost time 🙂
I'm sure there are a lot of recipes out there for Tofu Scrambz, but I've never actually looked. It's such an intuitive dish, even the first time I made it I just went by memory of the times I had eaten it in restaurants, and added everything I thought would be good. It's a dish that comes out a little bit different every time I make it, and I love that! I make it spicy with crushed red pepper flakes, and this time I used some leftover Field Roast Italian sausage and pepperjack Daiya. Fresh kale and some chopped green peppers give a healthy crunch. I like making a big ol' batch on the weekends to enjoy throughout the week. Yesterday I heated some up in a burrito, wrapped it in foil, and took it with me snowboarding. Hearty, satisfying and easy to eat in the car!
On a completely unrelated note, did anyone see Celebrity Apprentice on Sunday? When Russel Simmons was trying to get a vegan sandwich for his $10,000 and Victoria Gotti wanted to just give him a chicken pita with the chicken removed? It made me happy that he got the camera time he did, and that no one made any snide remarks about how "difficult" vegans are, or anything like that. I also thought he was pretty funny when he said "I'm paying that much, I should get a sandwich I like!" Now that I think about it, this wasn't a *completely* unrelated rant, because I think my tofu scrambz makes an excellent sandwich! You could do a wrap of course, but it's also yummy on thick, chewy bread! Russel Simmons would approve, no doubt!
---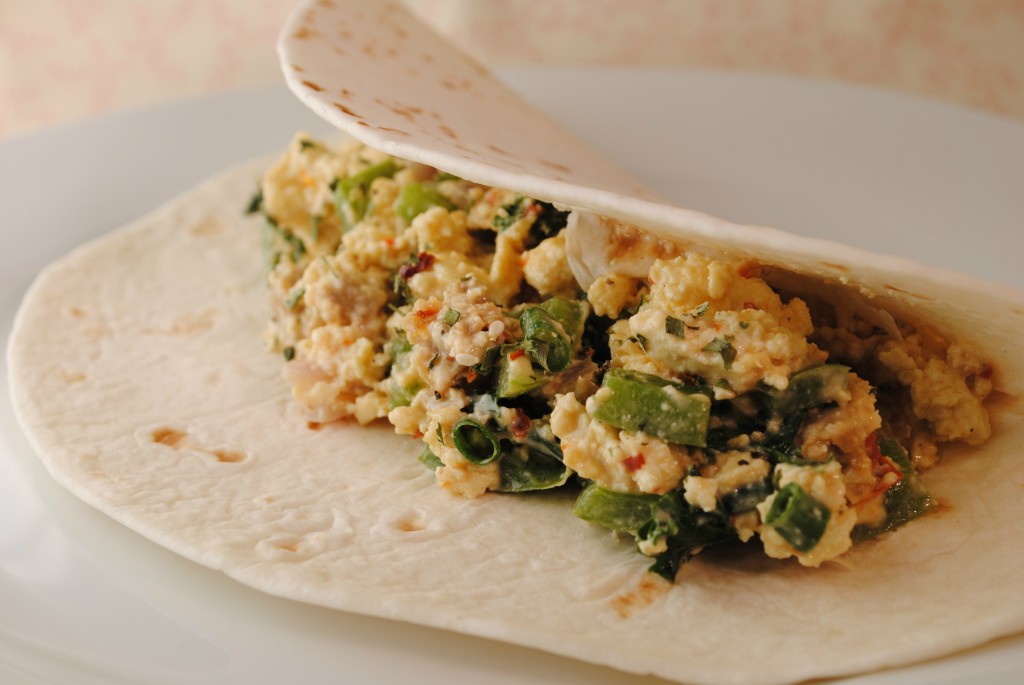 Tofu Scramble
2014-12-23 10:14:15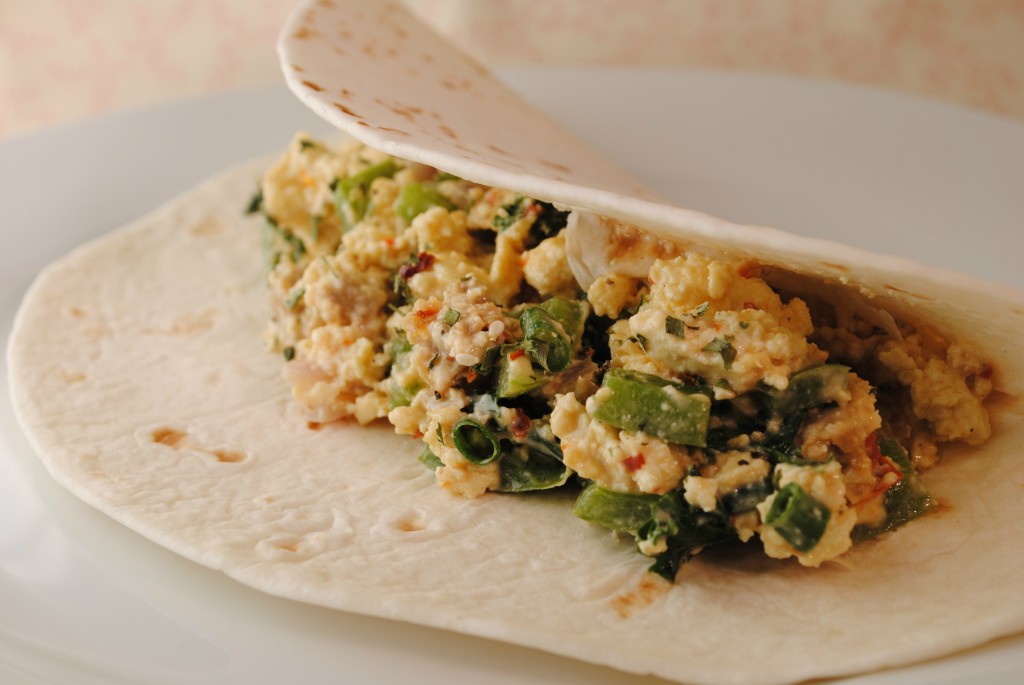 Serves 4
Ingredients
1 tub firm tofu, pressed well
1/2 onion, your favorite kind (I like red or sweet)
1 bell pepper, your favorite color (or do half n' half)
1 heaping tablespoon nutritional yeast
1 teaspoon sea salt
1 teaspoon crushed red pepper flakes
1 heaping teaspoon cumin
a few sprinkles of pepper
Daiya or other vegan cheese, if desired
2 links vegan sausage, roughly chopped, if desired
1/2 bunch kale, torn and sauteed in water
4 scallions, thinly sliced
Instructions
Water saute the onions and peppers until soft, then add the tofu making sure it's well crumbled.
Mix in all the seasonings, except the chives. Stir really really well so that all the tofu is evenly coated. If it's too dry, add a couple teaspoons of water. Stir in the cheese, if using, and let it get all melty.
Add in the sausage and kale, and mix again, then sprinkle the scallions on top. Done!
Notes
Serves 4-5, depending on appetite!
That Was Vegan? http://www.thatwasvegan.com/