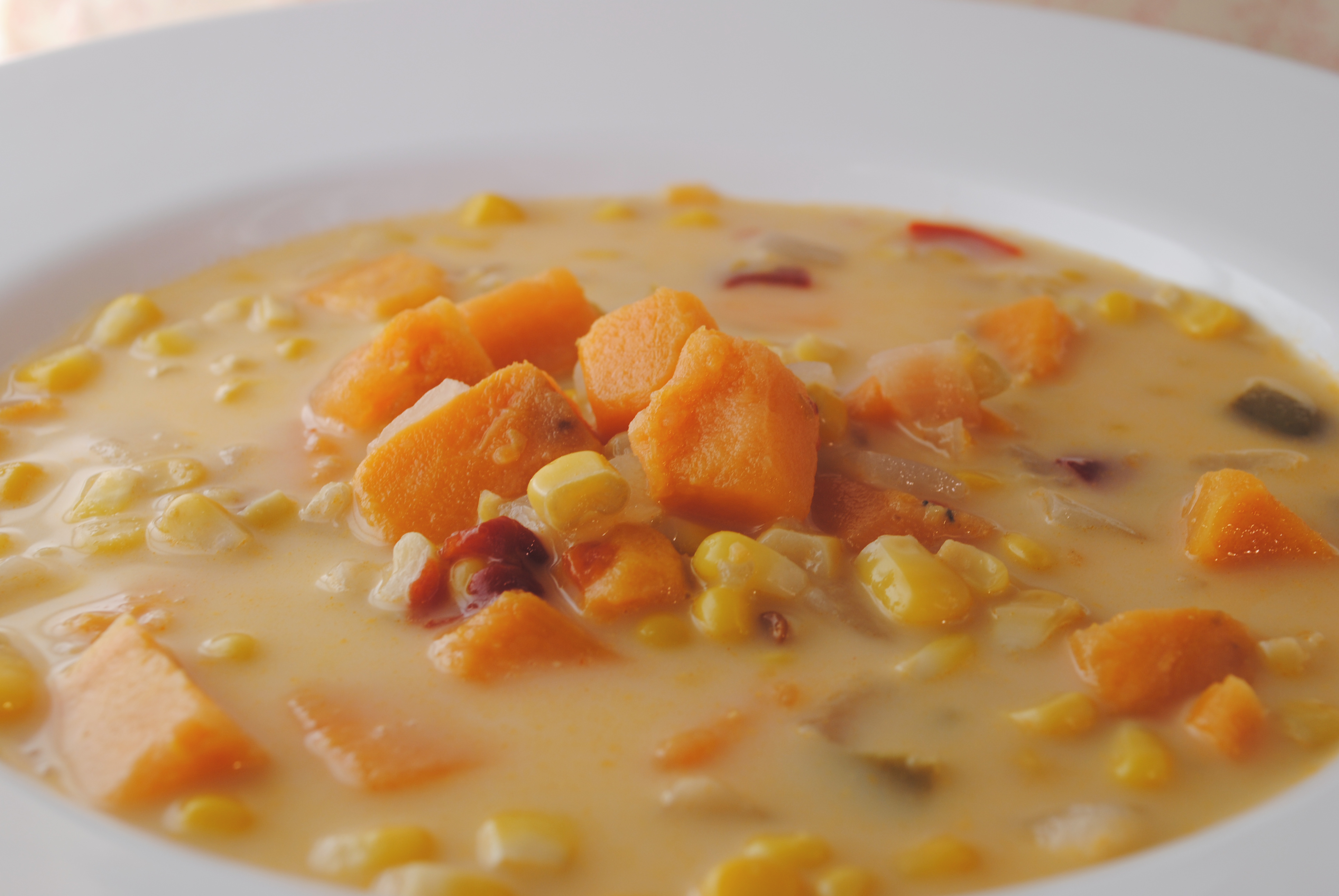 So yes, if you've been paying attention, I am on a bit of a sweet potato/chipotle in adobo sauce roll… but why not? It's GOOD!
I made this a few weekends back, when our friends Reia and Robert came over for dinner. Robert and Jason have been friends since they were cute little teenage boys running around the mean streets of Belen, NM. I'd go so far as to call them BFFs, but they're much too manly for such a girly acronym, so we'll just call them "pals". Anyway, since I was feeding two men with red chile where the rest of us have blood, I knew I had to come with something good. Something with heat.
But not so hot us girls wouldn't enjoy it.
Enter this chowder. I found a recipe on Pinterest (of course) and quickly veganized it. While I was chopping and cooking, Reia sat at the counter and interviewed me for a paper she's writing. About moi. Aren't I fancy and important? (Yes.)
But before I get to the recipe, let's talk salt. In particular, I want to chat with you about Yakima Smoked Applewood Sea Salt. We've all seen recipes that called for a highly specific salt (or other seasoning) that we didn't happen to have on hand, and just subbed it. Or skipped it all together. Don't do that this time. I beg of you, go buy some of this salt. It's amazing, and I use mine all the time. It comes in especially hand when I'm veganizing a recipe that called for bacon (like this chowder), or really in any dish that you want to taste "smoky". My mom bought a big vat of it for me last summer, at a farmers market stand. If you can't find any at your local store, go online. If you ever enjoyed bacon in your pre-gan days, you wont regret buying this salt.
The thing about this chowder is that it's Hot, Smoky and (a little) Sweet. You really want all 3 flavors to make it work. The chipotles make it hot, and the adobo sauce adds the smoky. The hint of sweetness comes from the potatoes of course, along with the sweet onions and peppers.
---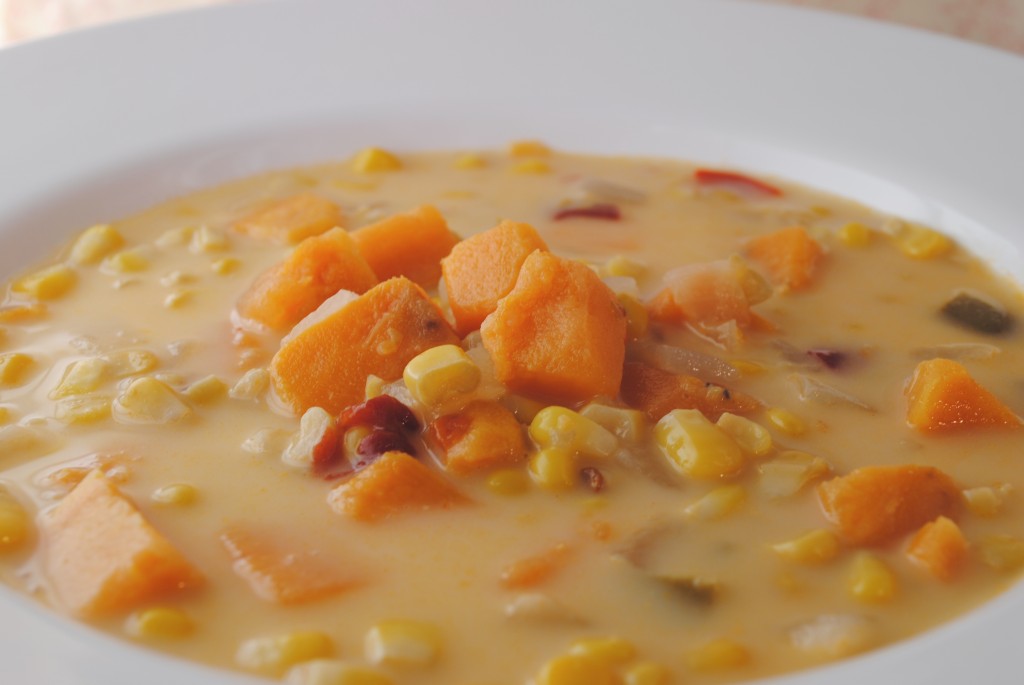 Chipotle Sweet Potato Chowder
2015-05-06 17:47:37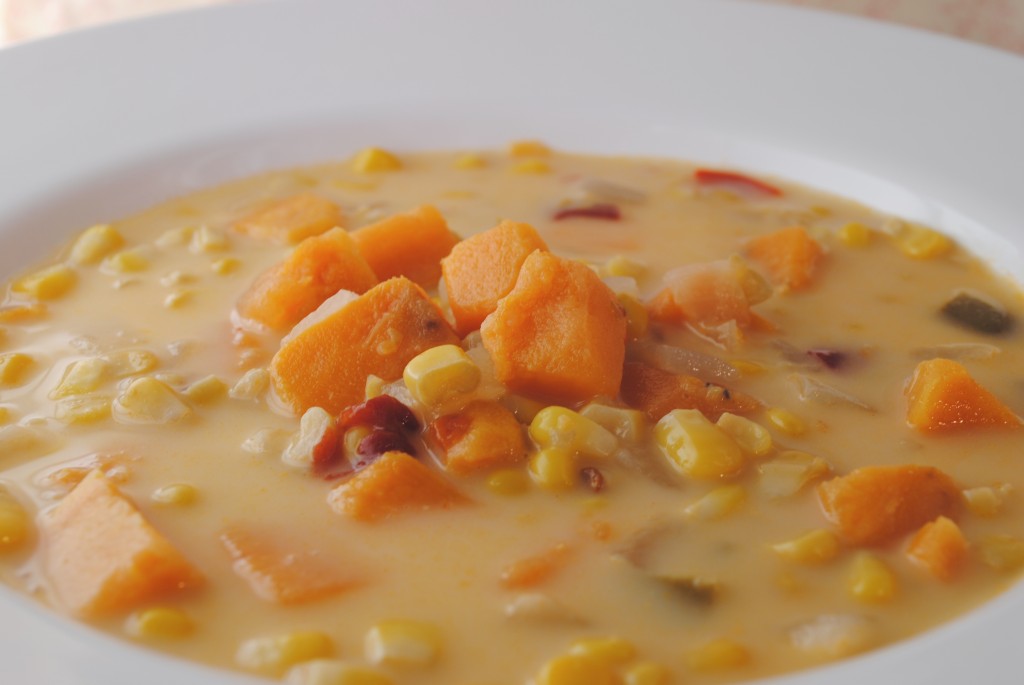 Serves 6
Ingredients
1 red bell pepper diced
1 small sweet onion, diced
2.5 cups vegetable broth
2 medium sweet potatoes peeled and cubed into bite-sized pieces
3-4 chipotles in adobo sauce, diced as small as you can get them (or fewer if you don't like heat)
14 ounce bag frozen corn (no need to defrost)
1-2 cups non-dairy milk (I used So Delicious coconut milk) as needed to get the right consistency
Smoked Applewood sea salt
Vegan bacon bits, if desired
Instructions
Water saute peppers and onions until tender, about 5 minutes.
Add the broth (and/or water), sweet potatoes, and chipotles. I'd recommend starting with 2 peppers, and waiting to taste the chowder once it's warm before adding the 3rd or 4th, unless you're dedicated to the heat! Simmer uncovered until the taters are tender.
Add the corn and milk and about 1/2 a teaspoon of the sea salt. Stir until warmed through, then give it another taste. I went ahead and added quite a bit more of the smoked sea salt, as well as some more chipotle. Sprinkle the individual servings with bacon bits, if desired.
Notes
This soup is delicious as a leftover, just keep in mind that as it sits in your fridge it does begin to take on color from the sweet potatoes 🙂 If this happens and you're not pleased, just add some fresh non-dairy milk, to adjust the color.
Serves 6 hungry people!
Adapted from Real Simple
That Was Vegan? http://www.thatwasvegan.com/