Ahh Taco Bell, that guilty pleasure of omnivores and vegetarians alike. I don't remember the last time I ate there, but I do know it's the fast food joint I've visited most recently (recently not meaning actually recent, in this case). As we all know, they have multiple vegetarian options and even a few for vegans who find themselves stuck on an interstate or in a food desert with few or no other options.
When I was vegetarian and still transitioning to the awesome vegan person that I am today, the Crispy Potato Soft Taco was my junk food of choice. Perhaps some of you remember it from your own pregan days; crisp, bite-sized potatoes covered in cheese and lettuce, smothered in a spicy cream sauce.
I have no idea what reminded me of those tacos. Maybe I drove by a Taco Bell and my subconscious remembered. Maybe my arteries were like "Hey, why don't you clog us anymore?". Either way, I was motivated to recreate those old friends of mine, and so I present to you: The VEGAN Crispy Potato Soft Taco!
The potatoes are crisp (it would be false advertising in they weren't!) and flavorful, but not spicy. The small amount of heat comes from the adobo cashew cream sauce (recipe below), and if you want to add more heat, this is where you should do it. The slivers of crispy lettuce are my nod to vegetables, and they add a beautiful splash of color. The real stars of the show, though, are the potatoes.
Once again I'm hitting you with a specialty salt: This time it's Spanish Rosemary. Instead of saying something goes together "like peas and carrots", it should be "like roasted potatoes and spanish rosemary sea salt." Honestly, I will never again eat roasted potatoes in any dish unless they have this salt on them, it's that good!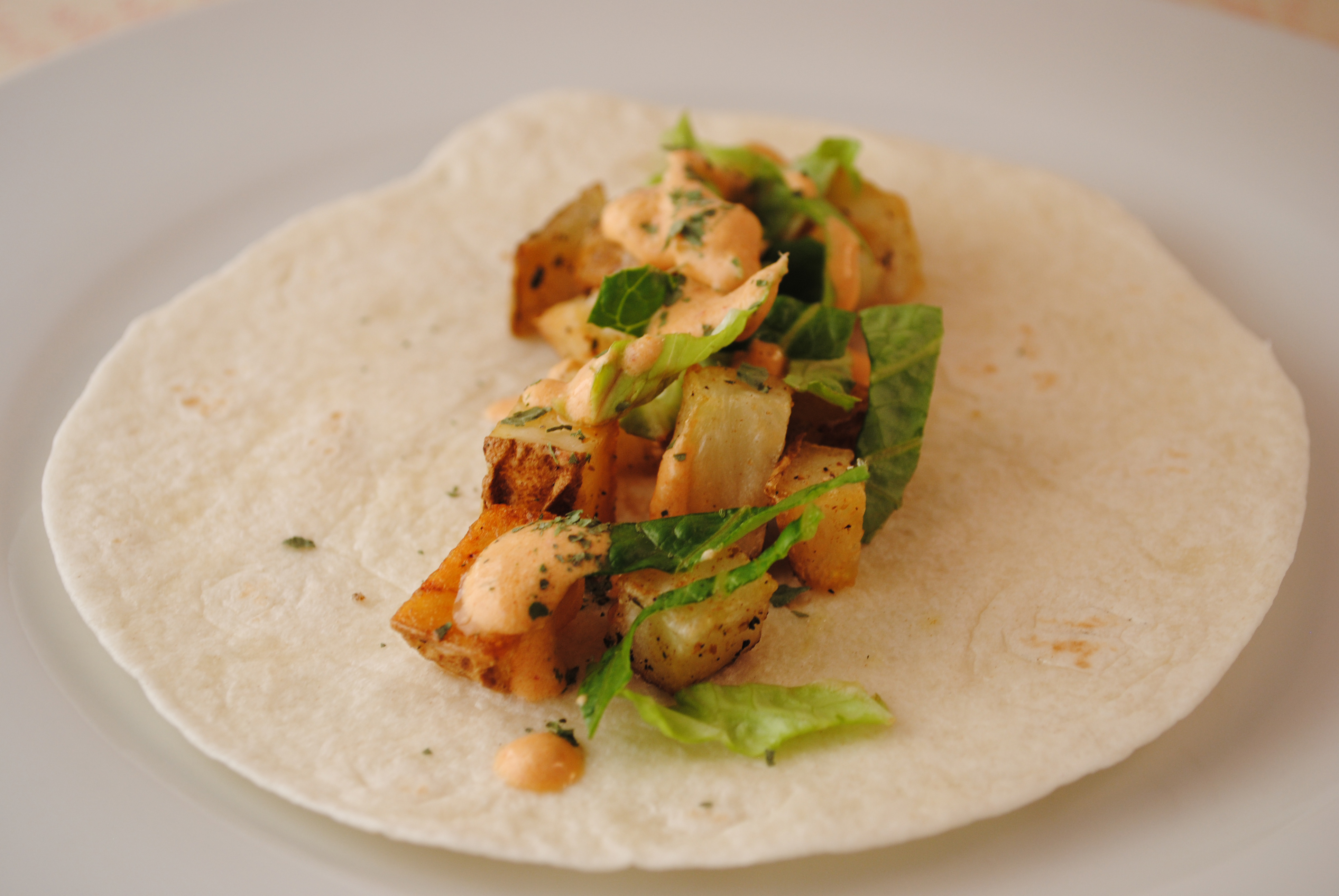 ---
Crispy Potato Soft Tacos (Makes 4 Soft Tacos)

Ingredients:
1 med-large potato, cubed into small bite-sized pieces (you want to be able to fit 2-3 into your mouth at once)
Olive oil
Spanish Rosemary sea salt
Pepper
1 t Dried parsley
15 cashews
1-2 chipotles in adobo sauce (canned)
1 t cumin
1/4 cup plus 1 T non-dairy creamer
1/2 t sea salt
The juice of 1/2 a lime
Crispy lettuce, shredded
4 soft taco shells
Cilantro for sprinkling, if desired
Directions:
Spread the potatoes out on a baking sheet, drizzle with olive oil and sprinkle with sea salt, pepper and dried parsley. Bake at 350 until crispy (about 25 minutes, stirring once). Broil for the last minute if they need more of a crispy layer.
In a blender, combine everything else (except the lettuce, shells and cilantro). Blend until smooth.
To assemble the tacos, layer 1/4 of the potatoes, shredded lettuce and a heavy drizzle of the adobo cashew cream sauce, then sprinkle with cilantro.
Enjoy!