Before I share the story (reasoning?) behind this recipe, can I please vent just a little? As I've mentioned here and there, we're remodeling our house. Completely. I'm not talking about repainting a few walls, I'm talking about a brand new kitchen and bathrooms and scraping popcorn off ceilings and replacing 2,500 square feet of flooring. Well, mostly I'm talking about watching Jason do all that, but still. Watching someone work hard can be really hard work

Seriously though, it can be tough just living in a construction zone, but we're almost done. In fact, we're on our final big project: The stairs. This coming weekend will be (hopefully) the final test… we have to polyurethane the stairs, and then stay off of them for at least 24 48 hours. As in, we have to bring everything we'll need downstairs and stay down there.  For someone as scattered as me, this will be a challenge. Also, the only bathroom on the first floor is a powder room, no shower, so there's going to be some smart timing involved too. There's also going to be some serious pet-wrangling, which should be interesting. Wish me luck, and those of you who follow me on Twitter should get some fun updates, haha. The good news is that my gin and the majority of my books (not to mention the big TV) are all already on the first floor, so I should be able to scrape by

Ok, so you know how sometimes you're eating one food and you can't help but think it would be even better packaged up in a different food? For example, my Korean Style BBQ Tacos with Sriracha Pineapples… They're really good tacos, full of chewy flavorful seitan topped with sweet n' spicy pineapple chunks. There's really nothing to complain about! But, as I was eating them, I couldn't help but think… Wouldn't these be even better as a pizza!?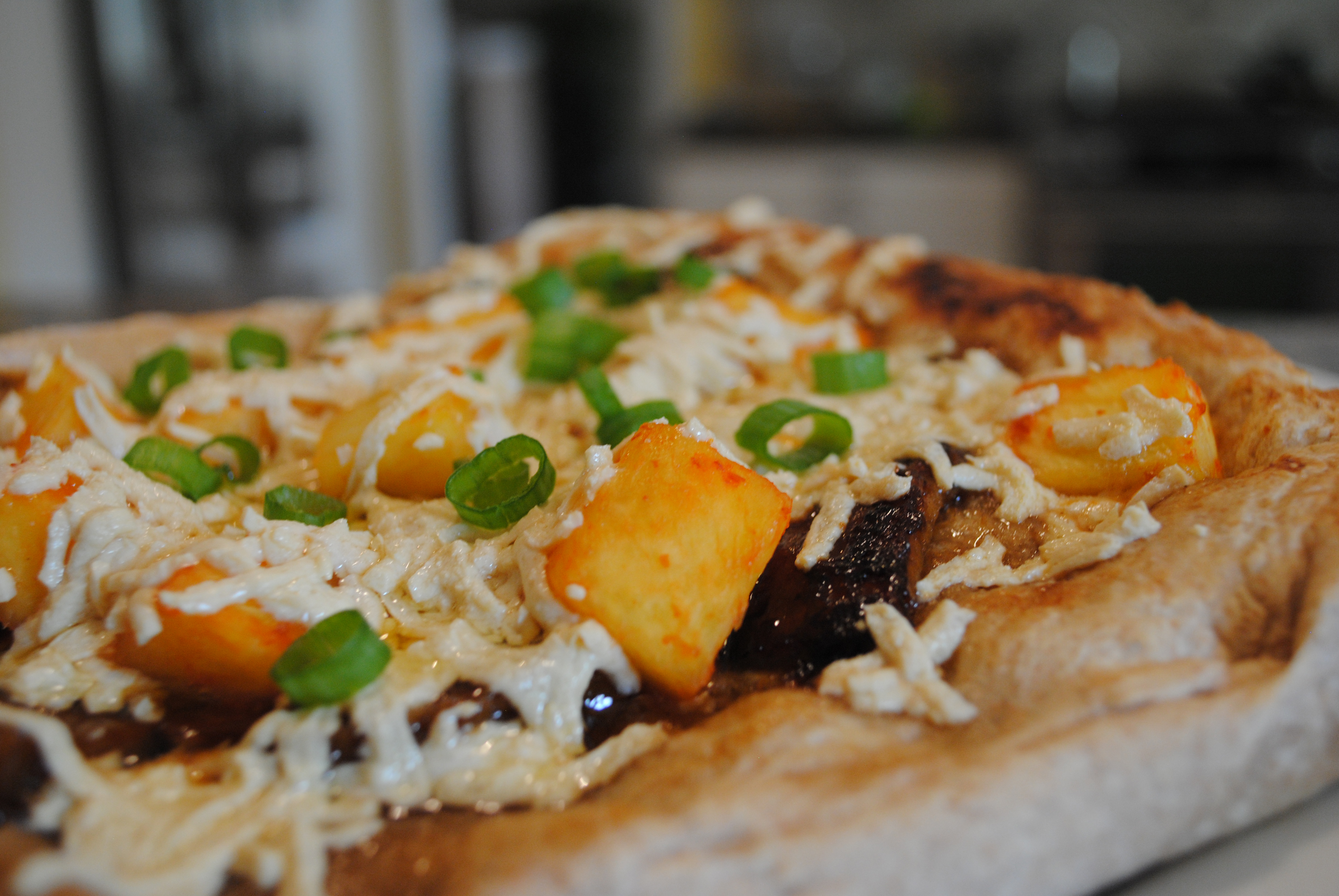 Because, why not? What's wrong with turning a taco into a pizza? Nothing, that's what. Just like there was nothing wrong with turning a beloved appetizer into a Buffalo Seitan Taco! Basically, what I did was whip up a batch of the Korean BBQ tacos, swap out the tortillas for some pizza dough, and topped the whole shebang with some Daiya Mozzarella.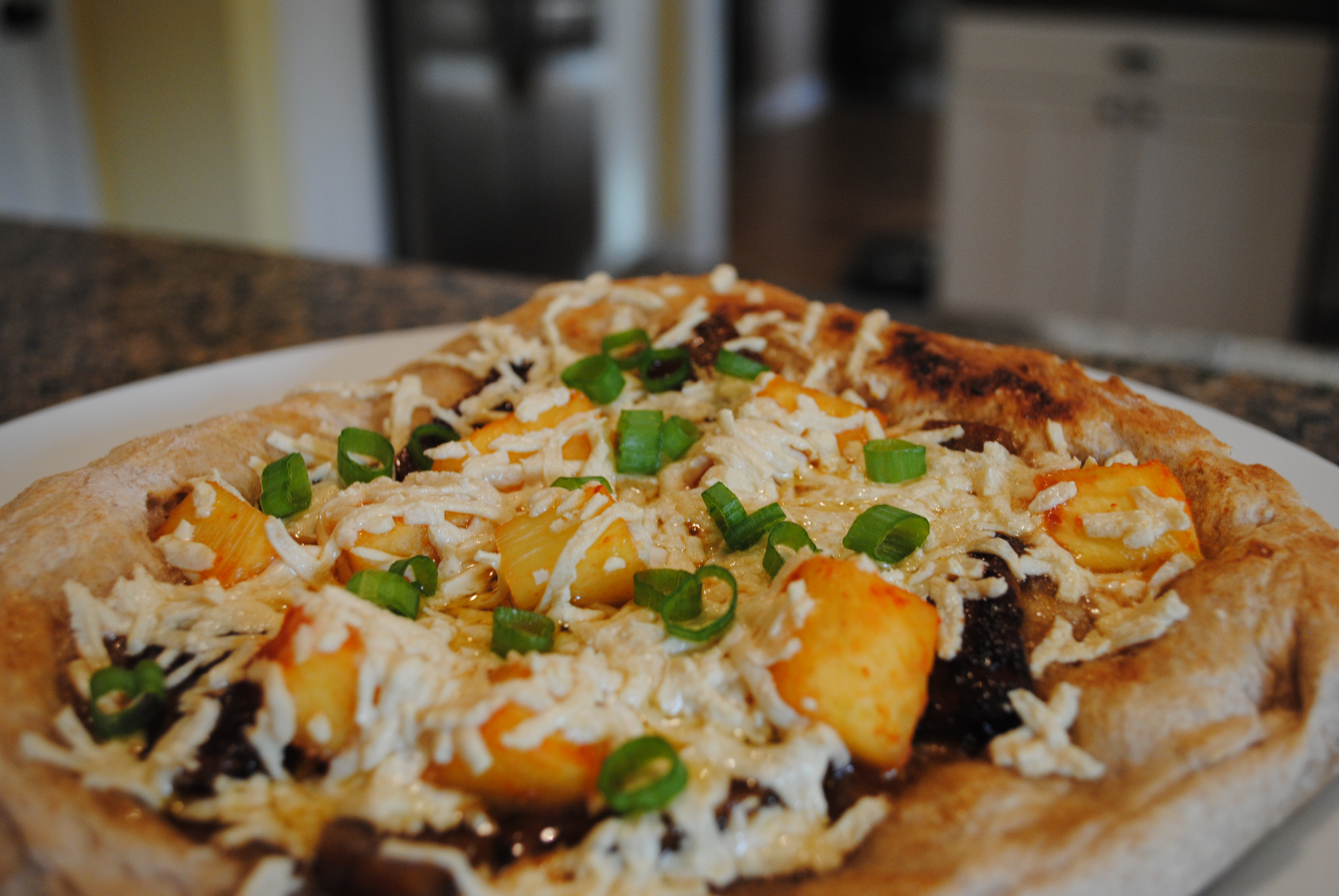 Do you like how (not) perfectly round it came out?
---
Korean Pizza (Kogi-Style BBQ Seitan and Sriracha Pineapples) (Makes 2 big personal-sized pizzas)
Ingredients:
1 pre-made loaf of vegan pizza dough
1 loaf homemade seitan
1-2 T Korean hot pepper paste (Gochujang)
3 T brown sugar
2-3 T soy sauce or Bragg's liquid aminos
1 t rice wine vinegar
1 T hot chili oil
1.5 cups pineapple chunks
Sriracha sauce
Sesame oil for cooking seitan
1 T olive oil
1 T hot chili oil
Daiya Mozzarella
2-3 scallions, sliced
Directions:
Cut dough in half, and let sit out while you prepare the toppings.
Slice seitan into bite-sized chunks or slivers, as desired.
Mix together pepper paste, sugar, soy sauce, vinegar and chili oil, then marinate seitan for 2 or more hours. Set aside 1-2 T of the marinade/sauce.
In a tupperware, combine the pineapple chunks with a couple SMALL squeezes of the sriracha. Cover, shake until combined, then taste test. Add more sriracha and repeat if desired. If you find them too hot at some point, you can run them under cold water and rinse off some of the sauce. Cover again and leave in the fridge until you're ready for them.
Heat sesame oil in frying pan over medium heat, then fry the seitan. Leave it in the pan for about 5-6 minutes, stirring occasionally. You can add in the extra marinade for more flavor, but it will caramelize and make the pieces a little "chewy"- I actually recommend doing this, it's really delicious!
Work your pizza dough into round(ish) shapes, or however you'd like your pizzas to be. You can cook according to the package directions, or just wing it like I do. I put mine on a lightly greased cookie sheet (they both fit, side by side), and bake for 5-6 minutes at 375.
In a small bowl, mix the set-aside marina with about 1 T of olive oil and 1 T of hot chili oil- this is your pizza "sauce". Drizzle over your two pizzas, using the back of a spoon or rubber spatula to make sure you get even coverage.  Layer on your toppings, the seitan and the pineapple, then top with the Daiya and the sliced scallions.
Continue to back at 375 for another 10 minutes or so. If your cheese still isn't melty, you can finish it under the broiler but be careful, you don't want the crust to burn!!
Enjoy!