(and some other pretty great stuff, too)
I got to enjoy a long weekend in Asheville with my Mom- a girls weekend, if you will, and it was faaabulous. I have so much to share, so I've decided to break it into 2 posts: Food, and Everything-But-Food. This is the food one, but I have to warn you… not all my pictures are pretty. You know how it is, bad lighting, beer… 😉
My mom and I live pretty far away from each other (Colorado and NH), and I miss her terribly, so we try to get together as often as possible. Sometimes I fly to NH, sometimes she comes here, and sometimes we meet in the middle (except the year we chose Hawaii… that was most certainly not in the middle).
This year we chose Asheville, NC based partly on it's artsy community, partly on it's beautiful mountain scenery, and mostly on it's plethora of vegan and vegetarian-friendly restaurants. Seriously! We're a couple of very hungry girls!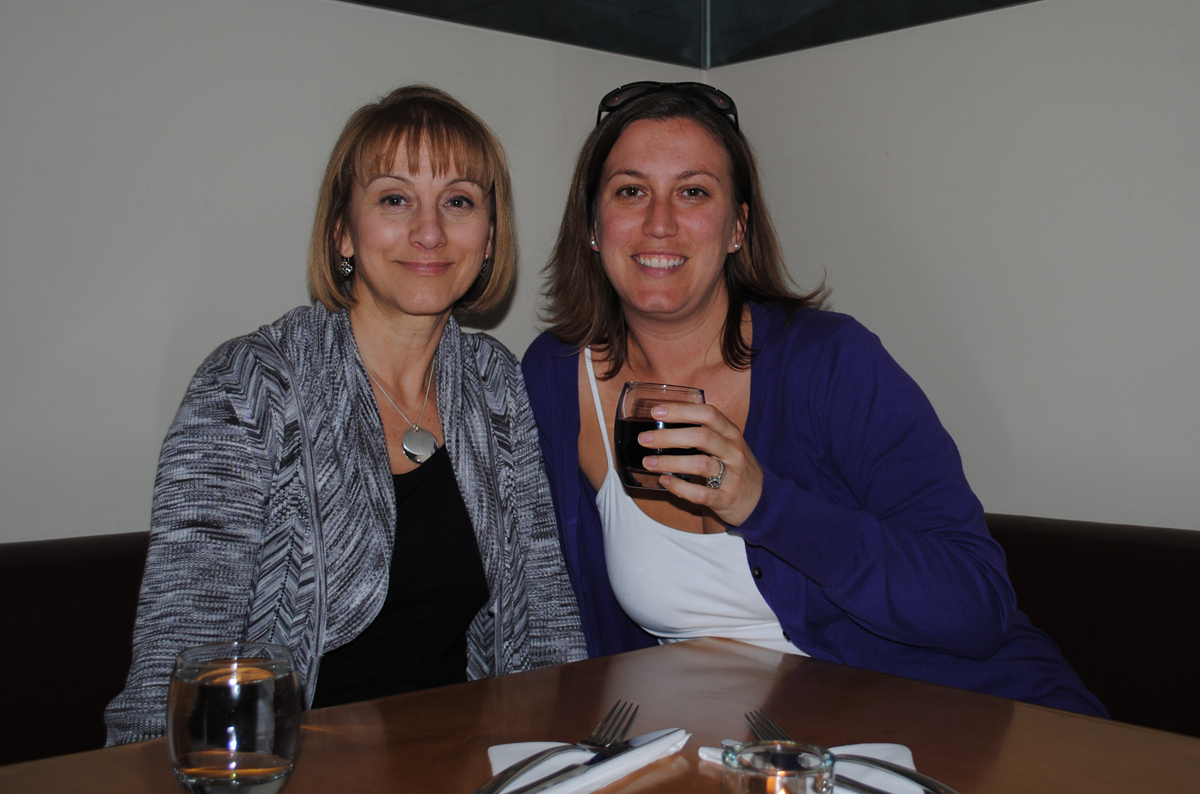 We arrived on a Friday afternoon, checked into our hotel, and immediately hit the streets in search of some Happy Hour drinks and noshes. We ended up at a pub close to our hotel with a full bar and a couple of items on their menu that looked vegan-friendly.  My mama was about to pass out from starvation at this point, so food was a necessity! As we were being seated the server broke the (what she thought was) bad news to us:  "Our kitchen is closed for renovations, but I can let you order from the Vegetarian restaurant next door."  We jumped all over that of course, and while I don't have a picture of the food (Crispy Asian Dumplings with sauteed cabbage, seasoned tempeh, garlic and ginger root), I do have one of my beer. Blogger fail.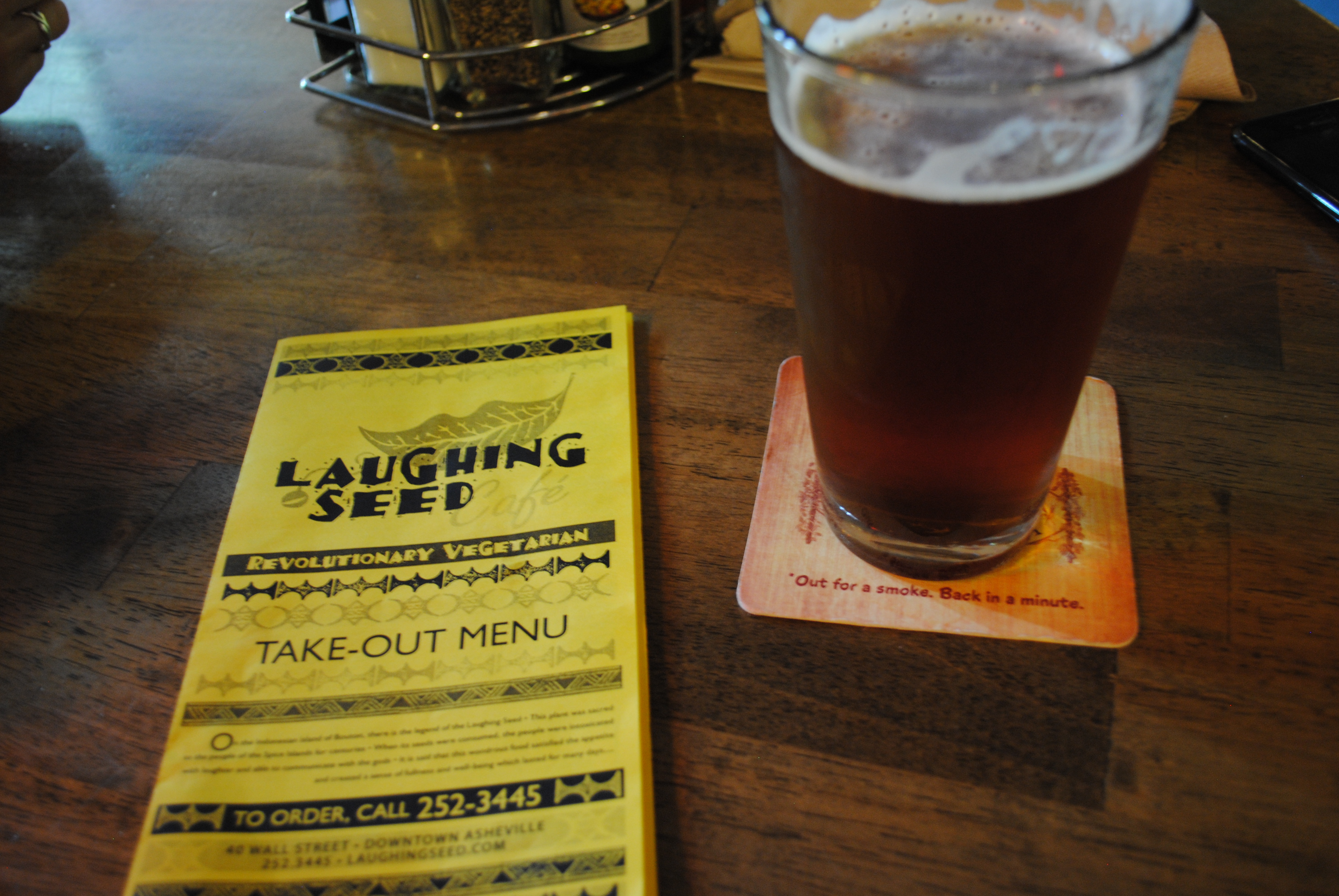 But take my word for it, the dumplings were delicious- very light and fresh.  We had two rounds of drinks, then headed over to Plant where we had dinner reservations.
I cannot tell you how much I was looking forward to eating at Plant! Asheville's only all-vegan restaurant (they do have an all-vegan food truck, but it wasn't in town that weekend), they have a menu that can only be described as gourmet. We skipped the appetizers, going straight for the main course- mom chose the Jerk Charbroiled Seitan which came with smashed sweet potatoes and sauteed kale (and a blurry picture :() and I had what was the (for me) best dish of the weekend: The Raw Enchiladas, made with jicama "noodles" and cashew cheese. If you've never eaten a raw dish like this, I'm not sure I can adequately describe it for you.  It was light, and there were so many different flavors going on… it was probably the best thing I've eaten. Ever.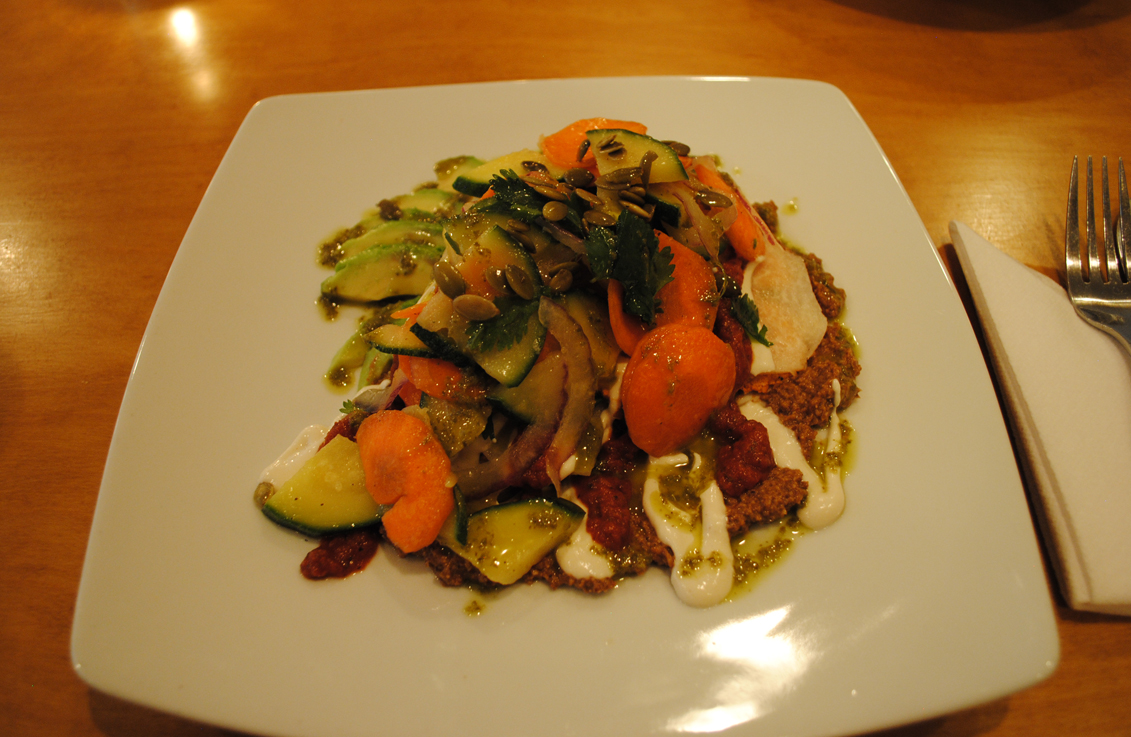 If only I had a picture that could actually do it justice… And I wish we had time to eat there again, but it just wasn't in the cards.  But, moving on!
Saturday started out with a continental breakfast and starbucks for mom, nothing picture worthy- but lunch was a whole other story! After a morning of walking/shopping/picture taking, I was starved. We chose the Green Light Cafe, a vegetarian restaurant with some serious vegan options. I should also mention here that mom (who is a vegetarian) and I made a pact to split our meals whenever we could, so that we'd each get to try TWO things instead of one.  And when we didn't do that, we still swapped bites… I mean, we HAD to! Too many menus, too little time to try everything 🙂
So I chose the Tempeh Reuben with Daiya (and a side of kimchee salad) (and OMG  that bread!):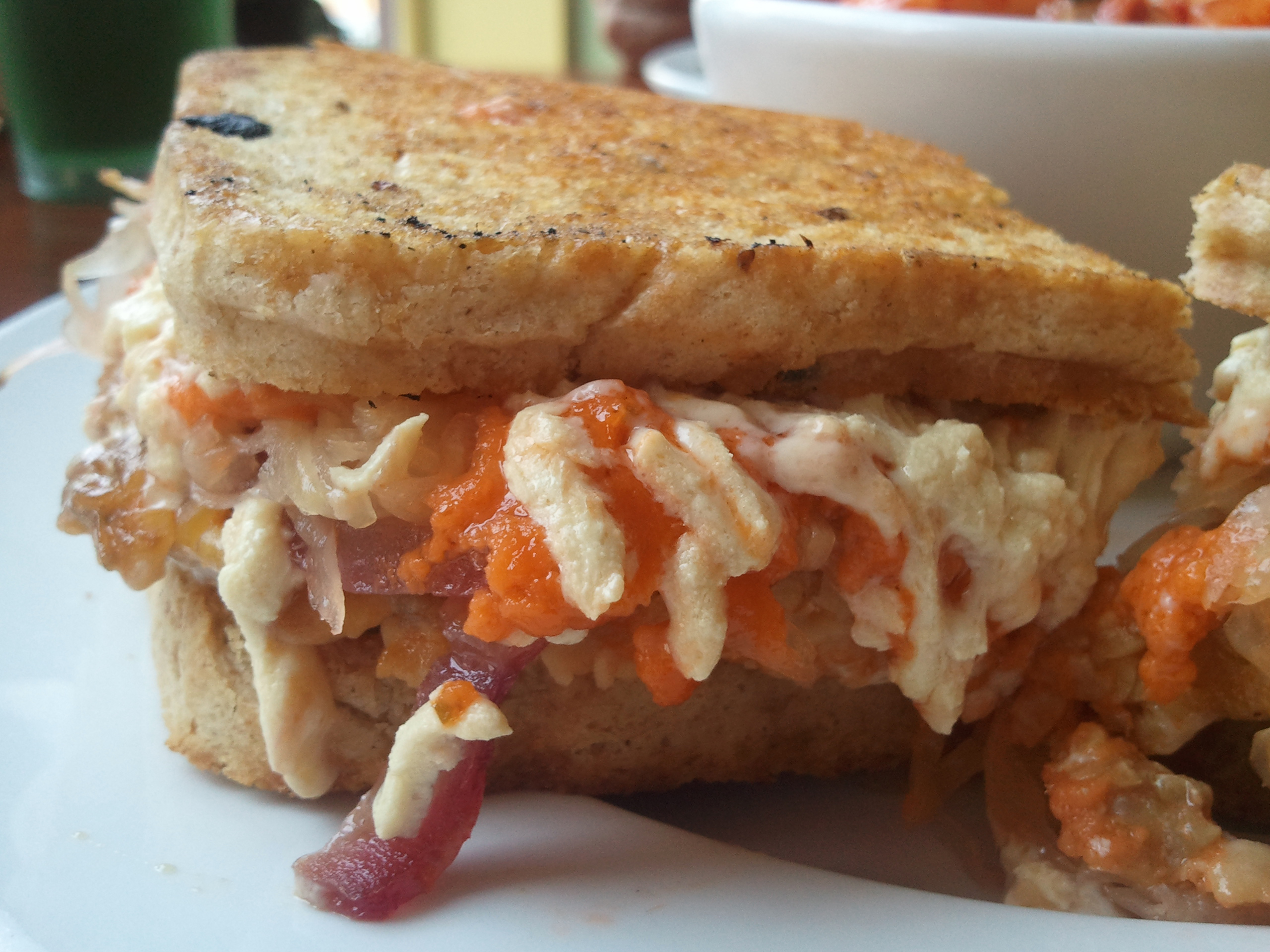 It was amazing. I never ate a Reuben when I was an omnivore, but since going vegan I've become a bit of a connoisseur, and I would say this was probably the best Reuben I've had. Mom ordered a veggie burger that was a daily special… I believe it was some kind of Jamaican Jerk flavor, and it was really good too. A little bit, but not too much heat: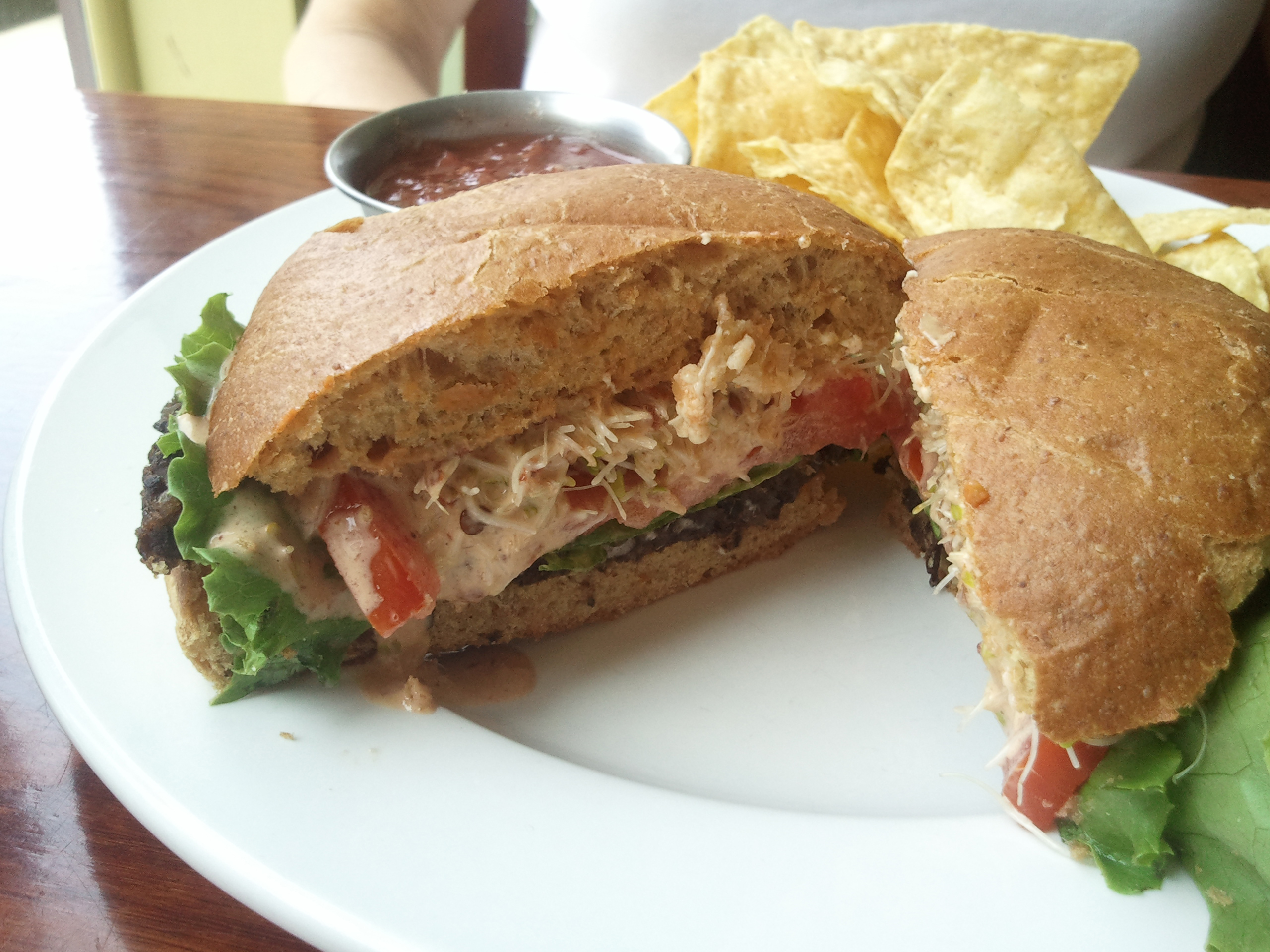 After taking pictures, we swapped halves, so we could each eat some of both. Teamwork! This was another restaurant I really would've liked to visit again (and was planning to), but never found the time. Well, and they were closed on Monday which was the day I was going to go back… bad planning on my part.
Happy Hour found us sitting on the patio at Mayfel's enjoying some drinks and the view of a cute little park, right in the middle of downtown. Asheville provides some very amusing people-watching, that's for sure! (Also- a big YAY! for Highland and all the other local brewing companies creating awesome vegan-friendly beer!)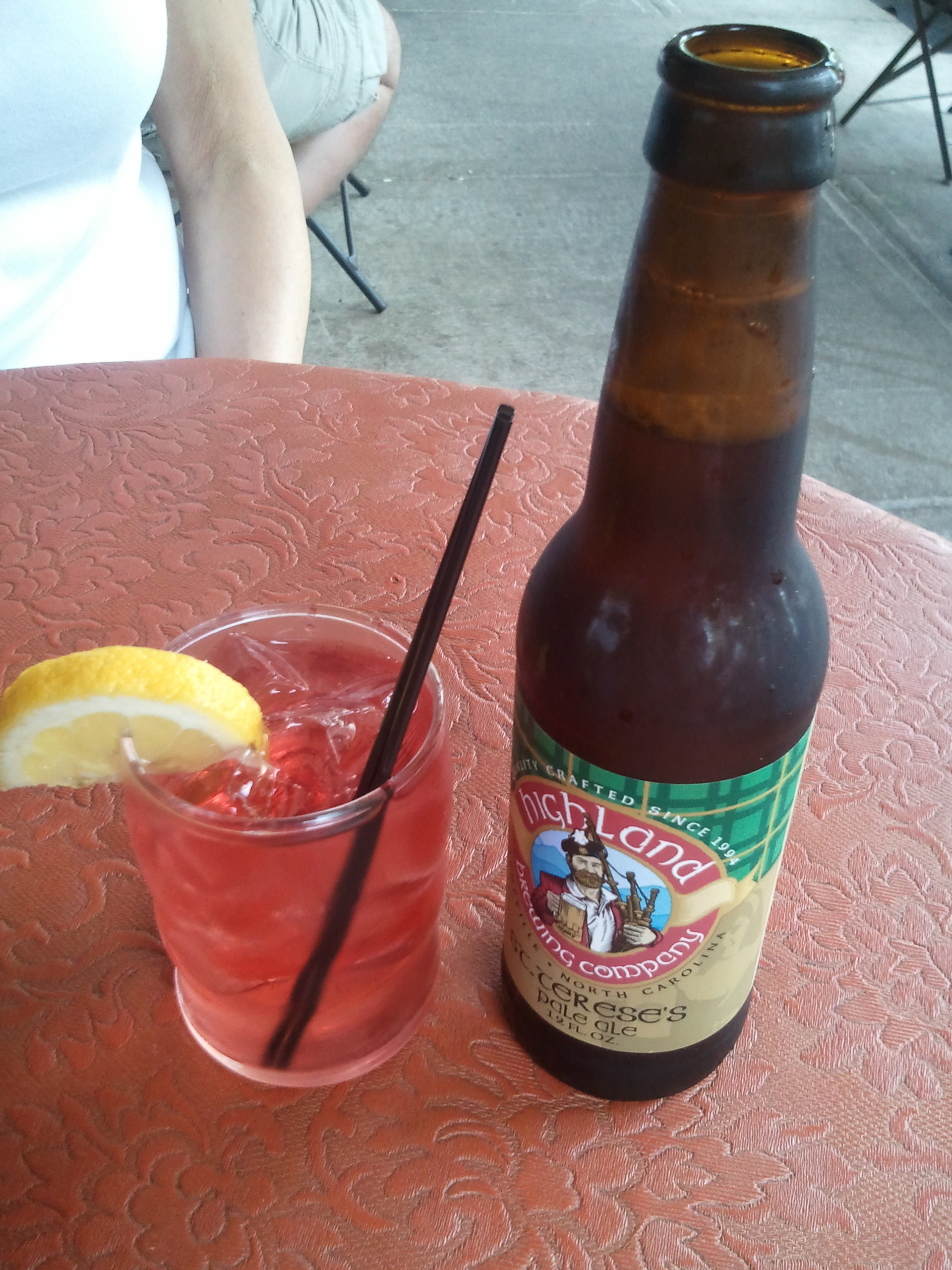 I think we stayed at Mayfel's for a long time. I remember the tables around us turning over multiple times, but it was just so nice sitting outside in the fresh air and talking about everything with my mom. Plus, let me just say, that lady is not shy about ordering another round, if you know what I mean 😉
Our thirst satiated, it was time for dinner. We window shopped our way over to the Laughing Seed (the same restaurant we were able to order from during Happy Hour the night before), and were lucky enough to get a table right on the sidewalk. I immediately spotted Jalapeno Onion Fries on the menu, so we started with those. They were exactly what they sound like- the potatoes were fried together with the onions and jalapenos! The fries picked up a little bit of the heat, but the onions were probably my favorite part- they were still sweet, but picked up a TON of the heat. So good!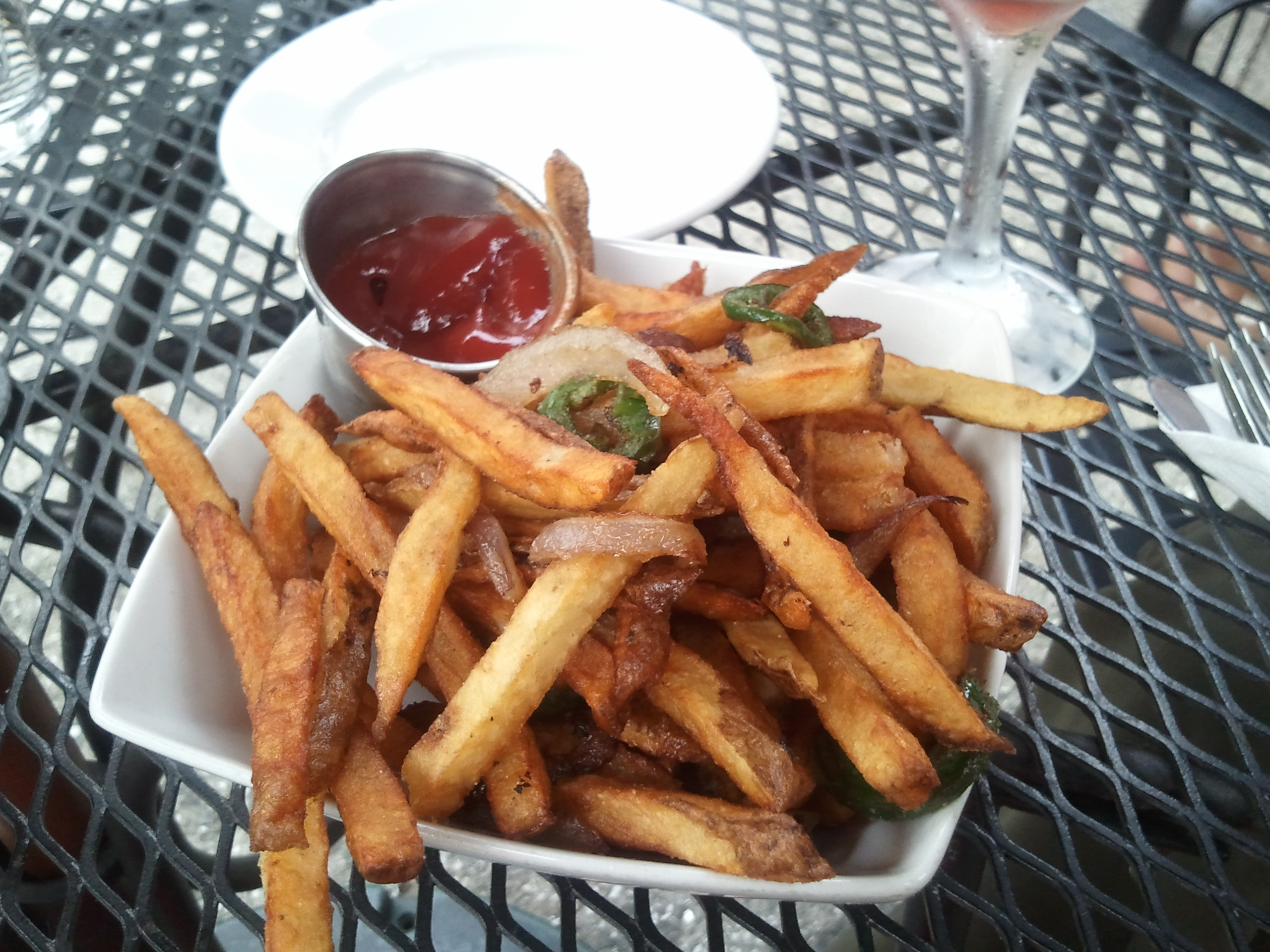 For her entree, mom chose amazingly well… She went with the Thai Panang Seitan Curry, and HolySweetBuddha was it amazing!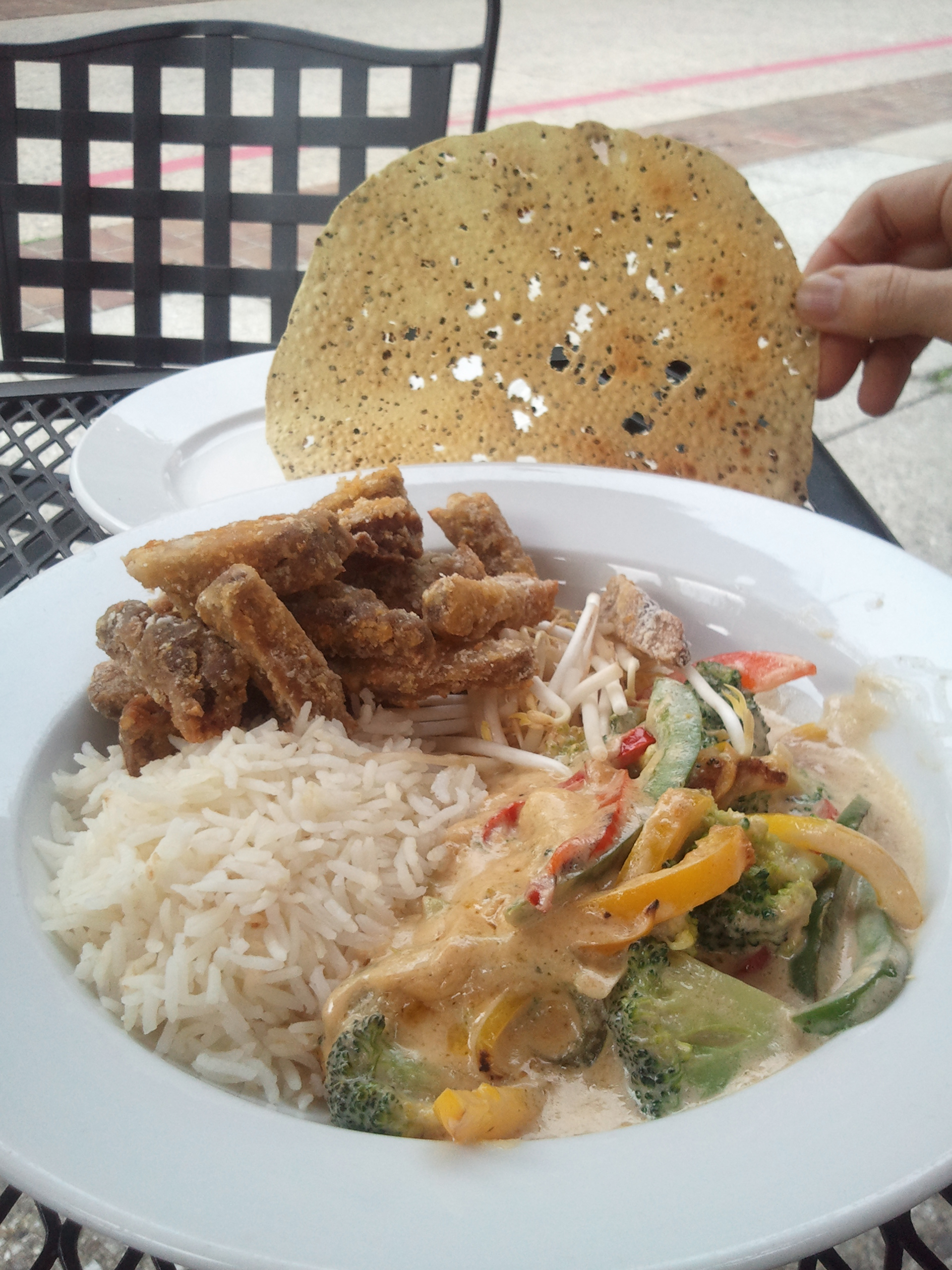 The sauce was light but flavorful (the menu calls it "lively"), and I could just taste a hint of the cumin- and look at all those veggies! Everything was really fresh, and wonderful. I chose the Pecan Crusted Seitan, which was delicious too: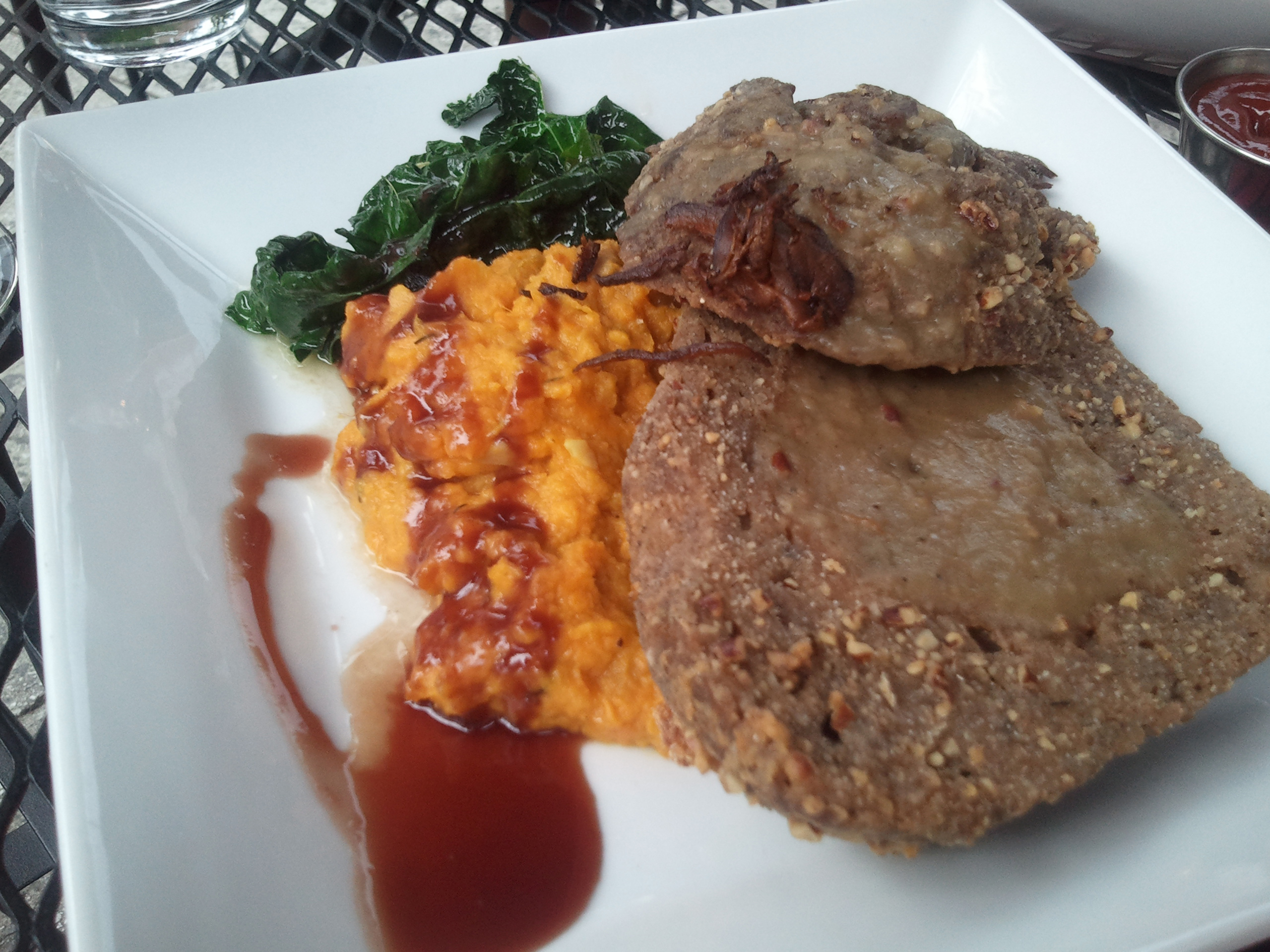 Although, if I had know how BIG it was going to be, I might have gone with something else. Seriously- at home, I'd consider that seitan to be at least 4 servings… and I ate it all at once! Those are shiitake bacon slices on top of it, and that sauce is a maple-porter gravy. I considered asking for more of the gravy on the side, but contented myself with another cocktail 🙂 Also, this was our view across the street- a rock climbing wall!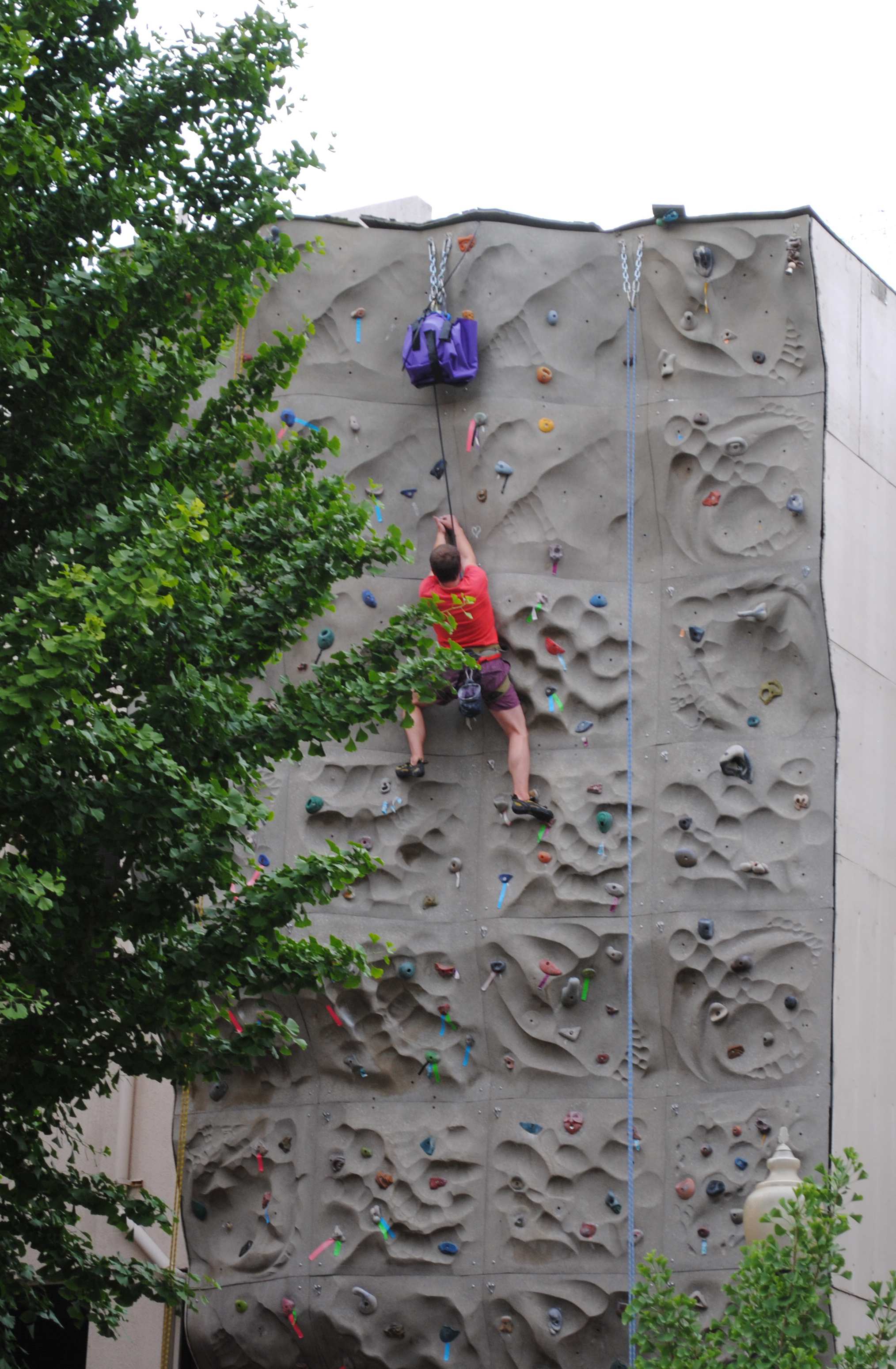 That was probably our biggest meal, and we pretty much just walked back to the hotel after that and crashed. I think both of our bodies were on calorie-overload at that point… neither one of us is used to having this many food options, so we might have overdone it a teeny bit.
I don't have any food pics to share from during the day on Sunday- we spent the day at the Biltmore Estate  and there wasn't any exciting vegan food (I had a salad for lunch, mom had a vegetarian veggie burger), but for dinner we headed back to the Laughing Seed. This time, mom went for the raw dish: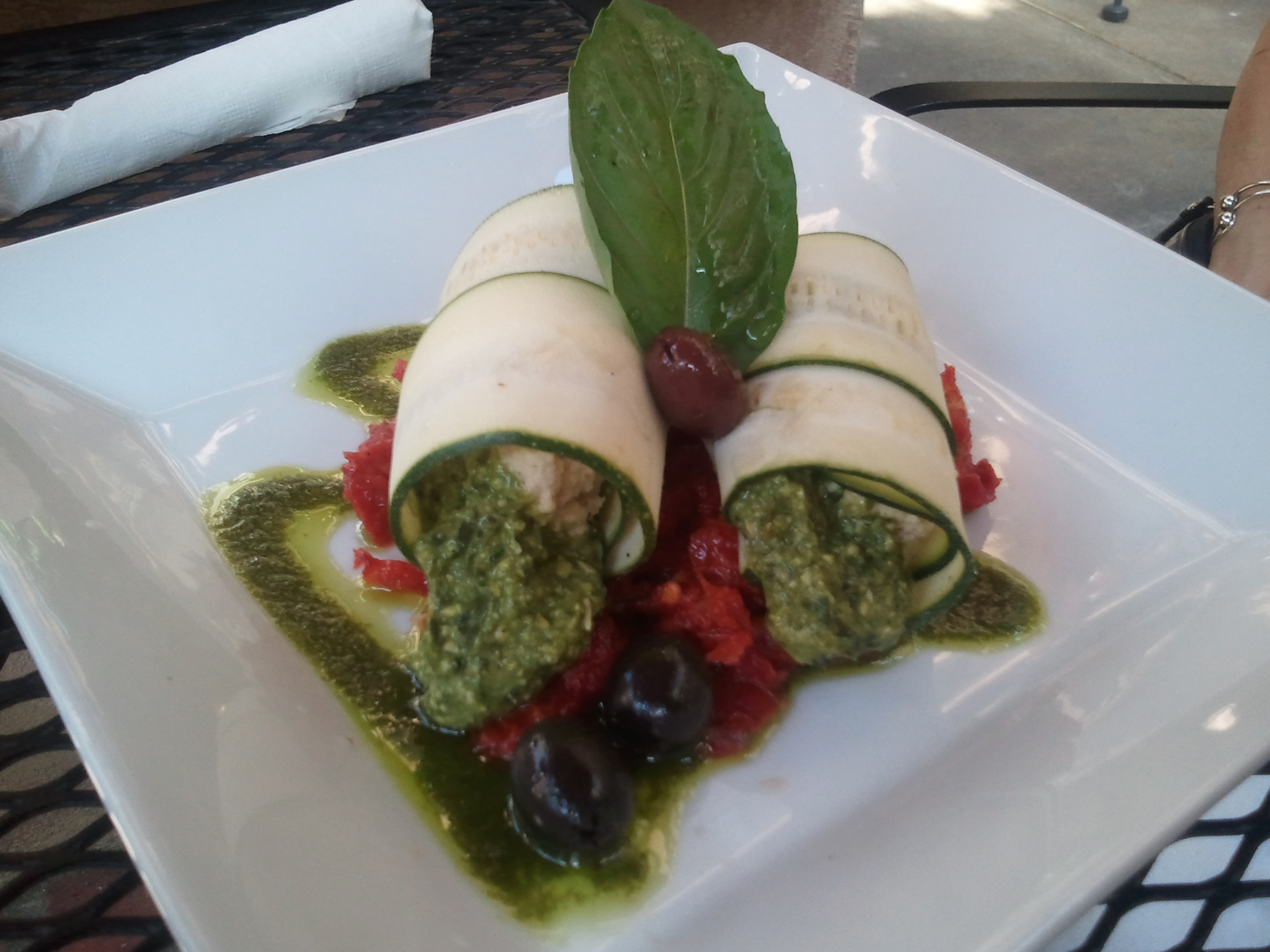 This was a Raw Spinach Pesto Manicotti, made with zucchini noodles, cashew ricotta and live sunflower-spinach pesto. It was PHENOMENAL! We split these- I got one manicotti, she got half of my sammich, and I have to say I got the better end of the deal- her meal was much better than mine.  Mine was good, of course, but that manicotti was ridiculous. (I'm seeing a trend here, telling me I need to start preparing more raw meals!). I had the Havana Cuban, made with organic tempeh, black beans, onions and a local spicy mustard called The Lusty Monk.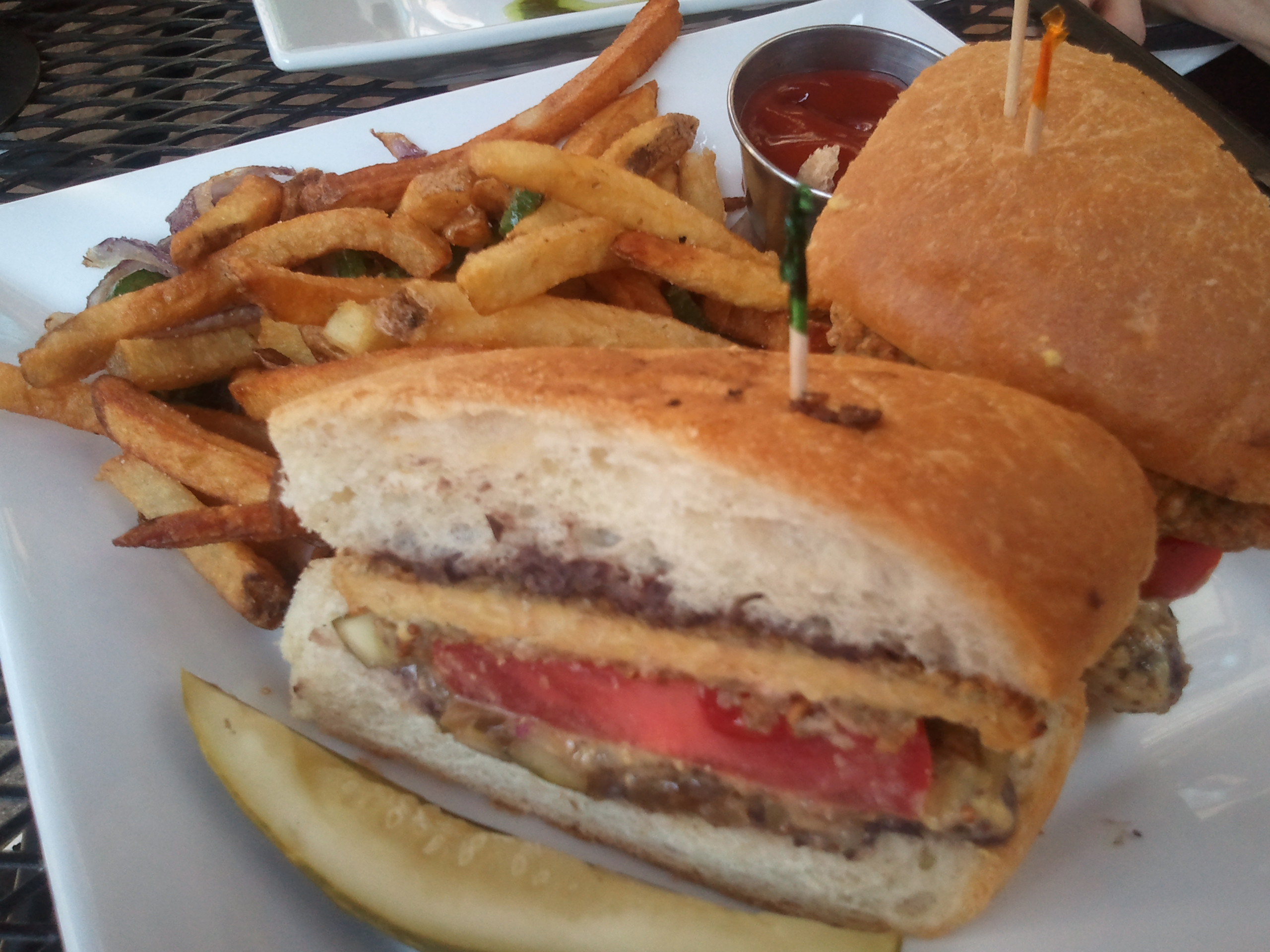 It was very good, but what really sold me on the idea of ordering a sandwich in the first place was the side of Onion Jalapeno Fries that I knew would come with it 🙂  We finished up dinner early, and after walking around for a while decided to stop at another restaurant with a nice sidewalk patio for a drink or two.  The weather was perfect, and it was so nice to just sit outside and chat, watch the people walk by with their dogs (everyone in Asheville has at least one dog, which I love!), and just kill time. This was our last evening in Asheville, so we really just didn't want it to end.
Monday morning we got up early to get mom off to the airport (we were both supposed to fly out in the afternoon, but airlines… ugghhh…), then I headed back to the hotel alone. My flight wasn't until 2:30 so I had time for one last meal and another stroll around downtown. I actually ended up on a street we hadn't seen before, and wandered into a few different shops. I spotted a pizza place called the Mellow Mushroom with a nice shady patio, and I knew from Happy Cow that they had Daiya, so that's where I had lunch (funny enough, while I was there I realized they're a chain and they even have a location in Denver RIGHT NEAR my office, duh!).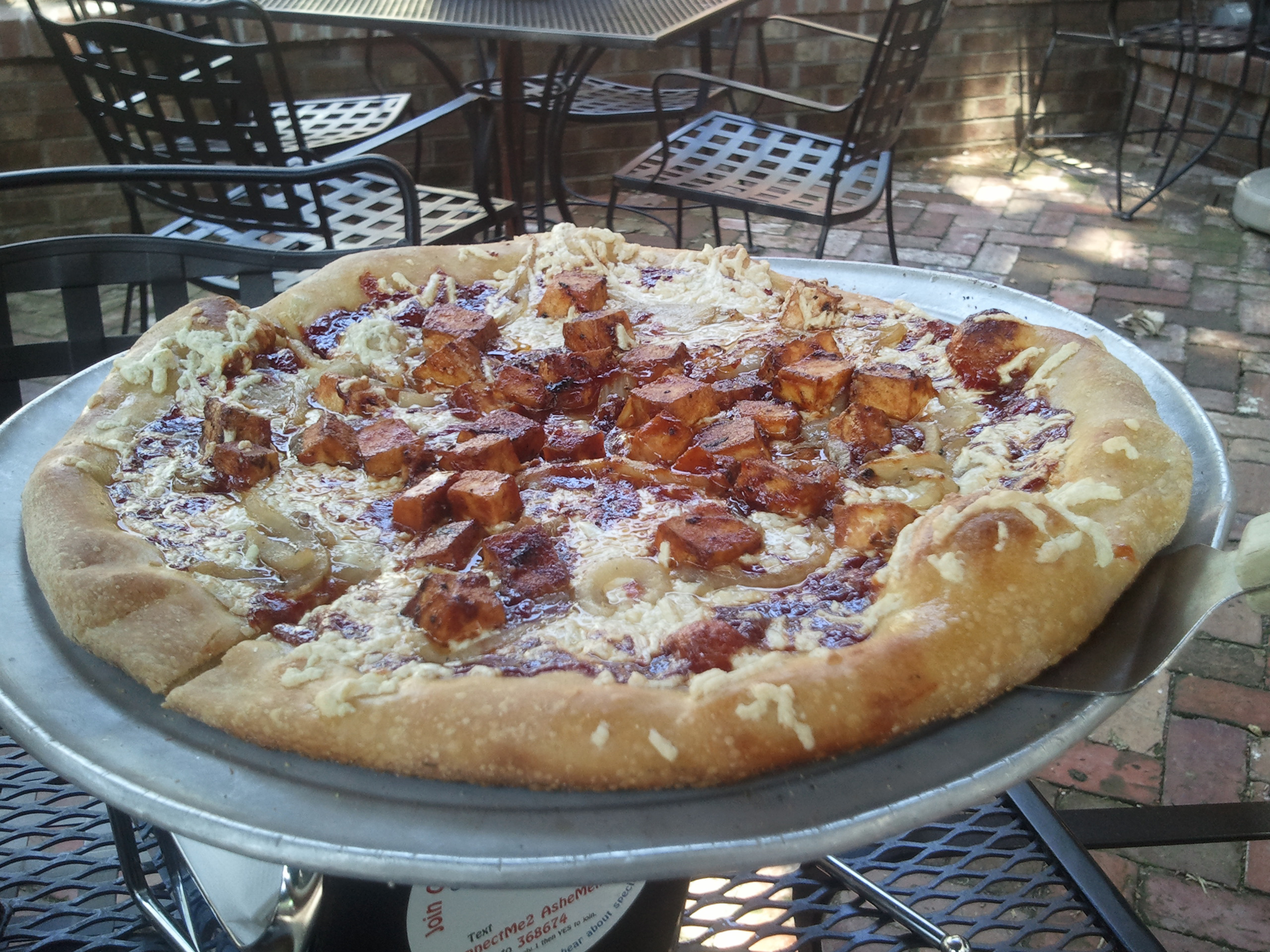 My final meal in Asheville was a BBQ tofu pizza, and it was really good. They have jerk tofu on their menu as well, along with tons of veggie toppings. The pizza was also really enormous, so I boxed up my leftovers and gave them to a couple of guys I had seen on the sidewalk that morning. They had the most beautiful red nose pit bull who they clearly took very good care of even while maybe not taking such good care of themselves.  Anyway, I hate waste and I hate to see people going hungry… and it gave me a good excuse to stop and pet the dog again 🙂
Then it was off to the airport. I was early and wanted a comfy place to read my book, so I enjoyed one last Highland at the airport bar…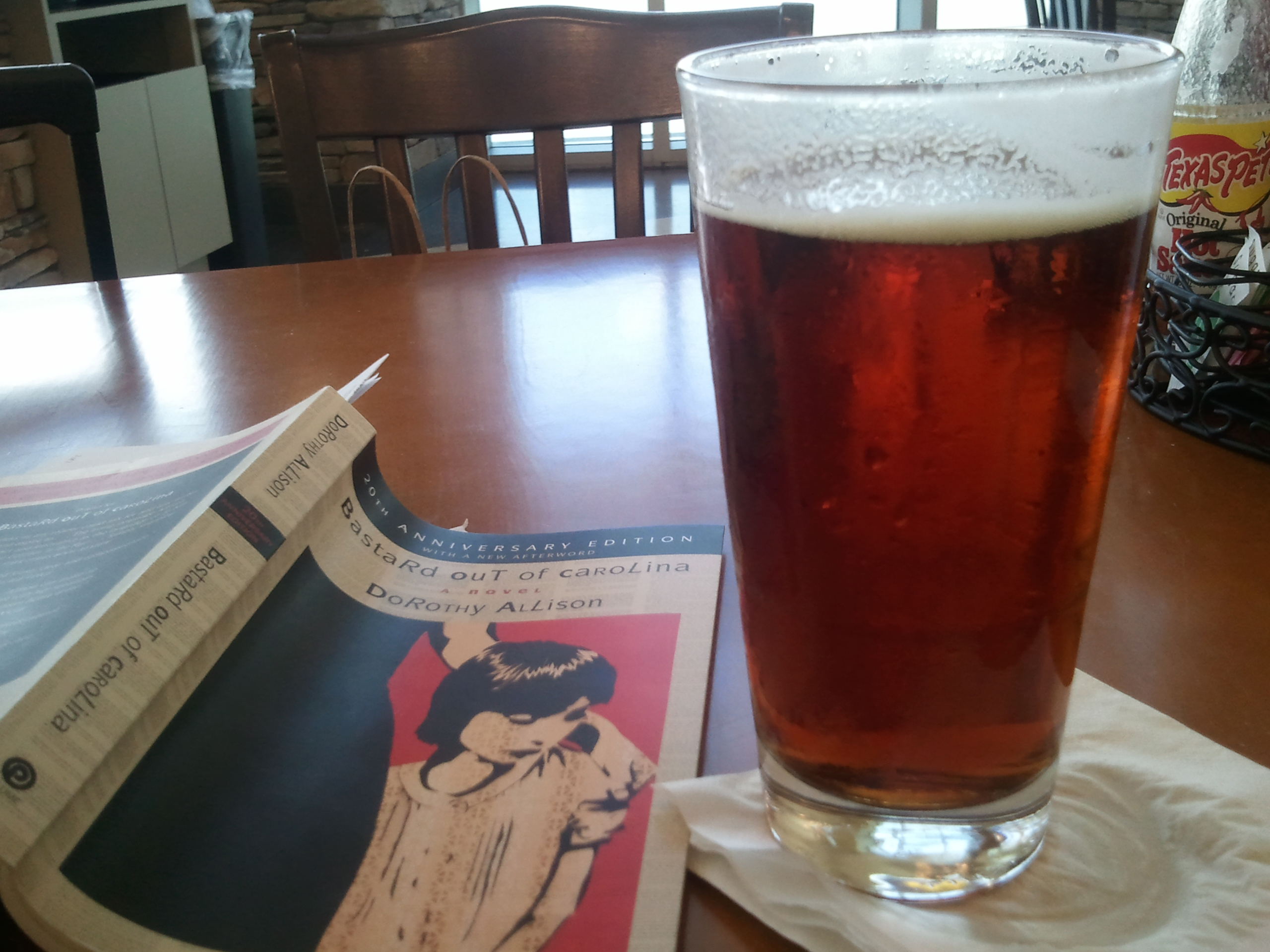 And scoped out some vegan snacks…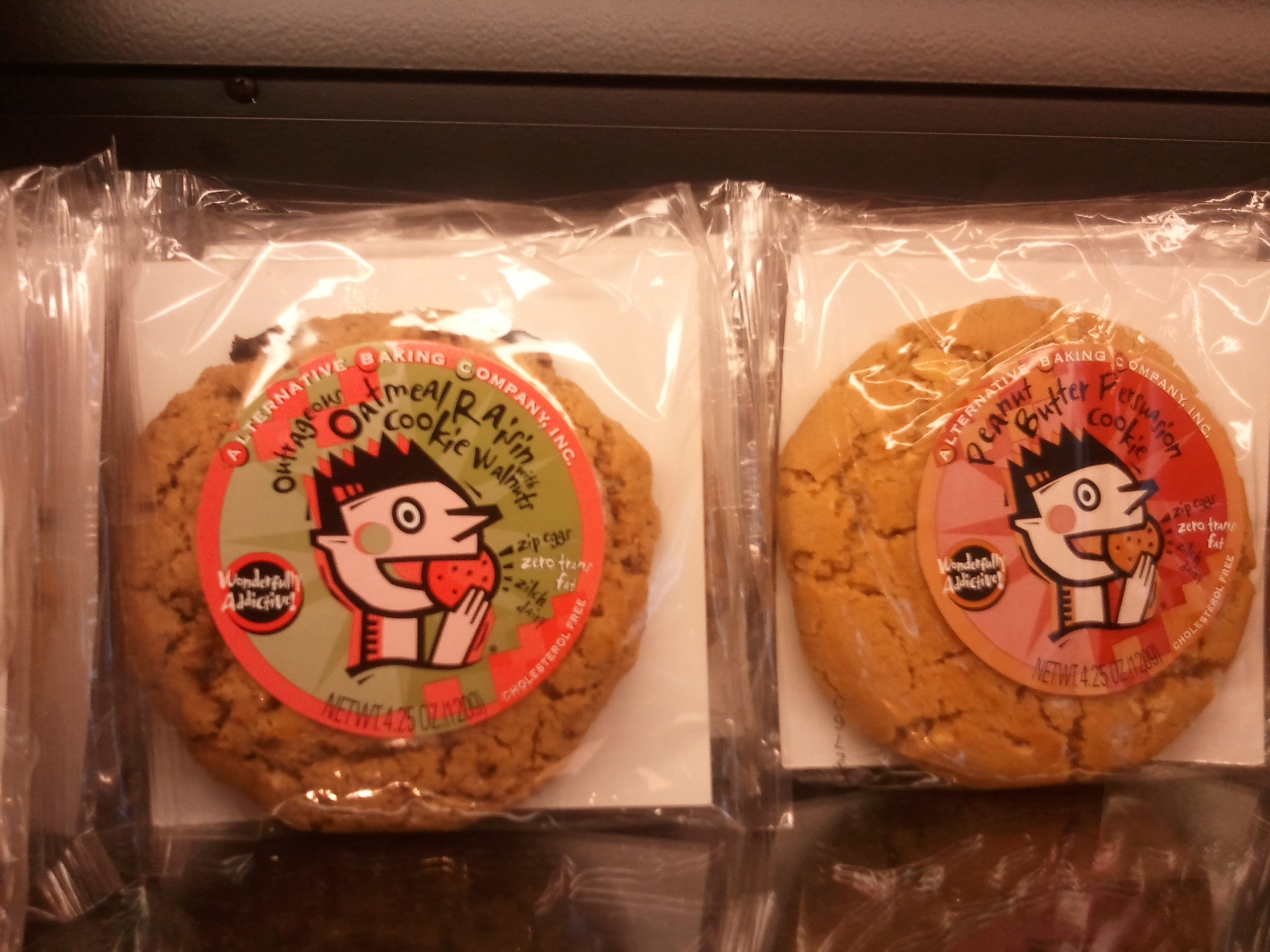 And I think that was it, food-wise. I did buy a couple vegan cookies at the Laughing Seed as a present for Lauren and Jeremy who were kind enough to pick me up from the airport, and who didn't even complain after my flight was delayed in Atlanta for hours and didn't land in CO until almost 9:30 that night (although Jeremy did complain when he had to walk me into the house because no one was home and I'm scared of the dark- but he had already eaten his cookie!)
I'll be back soon with the Everything-But-Food portion of my review of Asheville, NC!