One of the things I missed the most when I first went vegan was bar food. You know the kind: fried and greasy and horrible for you? I was always especially fond of the random beer-battered dishes that have become pretty popular… beer-battered pickles, beer-battered asparagus, and so on. I could go on for days. I realize that many bars have vegan options, but where I live there are few. And there were even fewer just a couple years back when I first became awesome vegan!
I saw my first vegan beer batter recipe in American Vegan Kitchen which is a great book, I highly recommend it. Lots of veganized "diner foods" to enjoy! I made her onion rings recipe and loved it, and then decided to branch out.
I added different spices to the beer batter itself, which I think is exceptionally yummy. A hint of spice, a hint of heat. But I still needed the perfect vegetable to envelope in all that batter-y goodness. Onions are great, and pickles are an obvious choice… but today, we're focusing on my personal favorite, the humble sweet potato.
OhhhhMyGosh it's so good, sweet and almost creamy when you bite into it. Well, you know what sweet potatoes taste like… just imagine them surrounded in a thick layer of pillowy beer batter.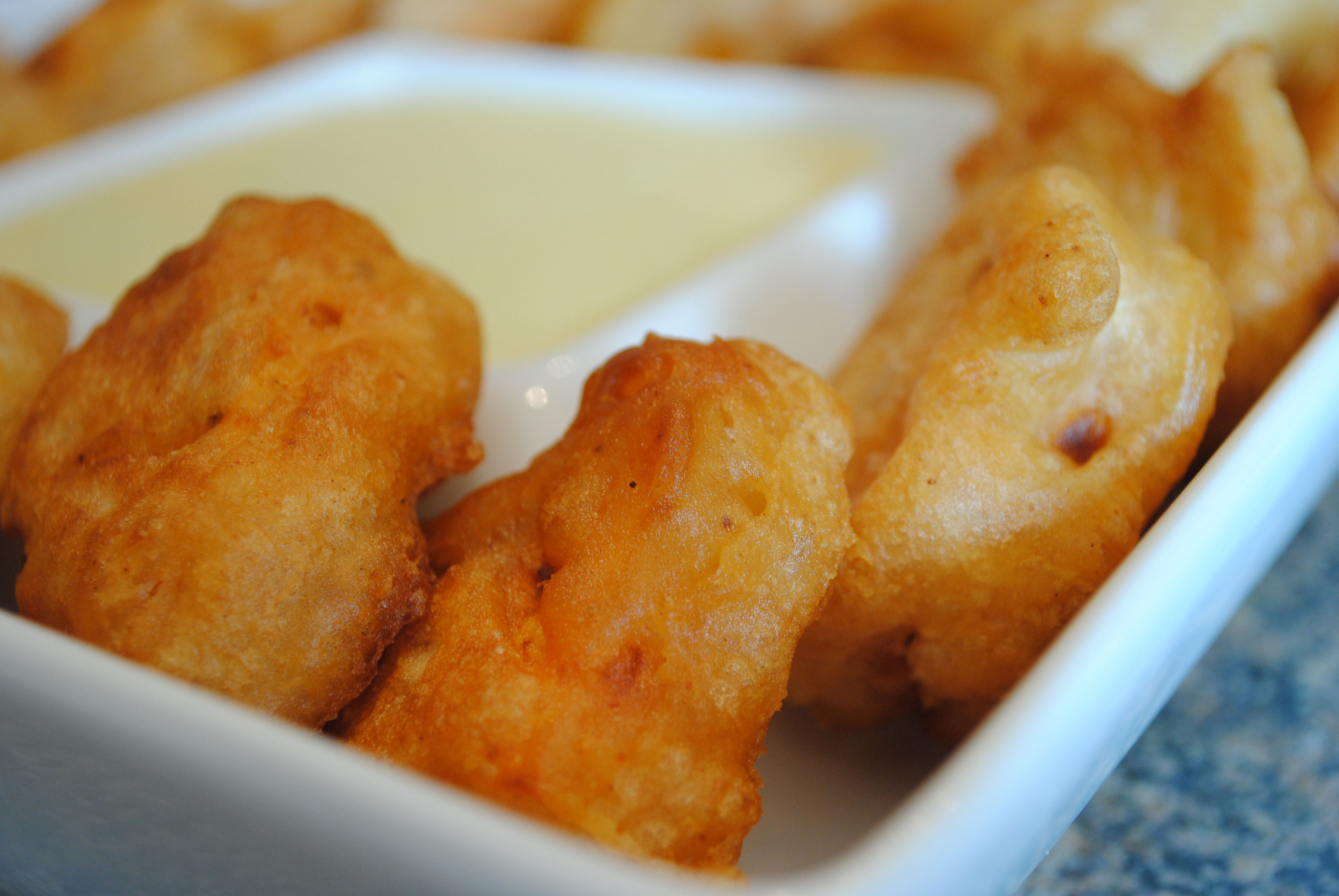 And the dipping sauce? Well, that was a no brainer… Agave Mustard Sauce!  A friendlier version of honey mustard sauce, if you will. I've also used this batter to make corn dogs, and the sauce was amazing with those as well. I'm actually not sure what this sauce wouldn't taste good with.
---
Beer Battered Sweet Potatoes (serves 4-5 as appetizer)

Recipe adapted from American Vegan Kitchen
Ingredients:
2 cups chopped sweet potato- 1″ to 1.5″
2 cups AP flour
1.5 teaspoons sea salt
1 t garlic powder
1/2 t onion powder
1 – 2  t chili powder (depending on taste)
1/2 t paprika
1/4 t black pepper
1 can/bottle vegan beer
Oil for frying (I used canola)
Directions:
Spread the sweet potato chunks on a plate and microwave for 5-6 minutes, flipping over halfway through.
Mix 1 cup flour with all the spices and blend together.
In another bowl, mix 1 cup beer with the other cup of flour.  Add more beer as needed to get the right consistency (It should coat the sweet potatoes, but still drip off)
Heat the oil in a pan or deep fryer. You need it to be hot (at least 350 degrees), but NOT smoking.
Dredge the potatoes in the flour/spice mixture, then in the beer mixture. Fry until golden brown, about 3-5 minutes.  If you're frying in a pan, you'll need to flip each piece over about halfway through. Also make sure your pan doesn't get too crowded- you don't want these to stick together!
Drain excess oil by resting the pieces on paper towel or brown paper bag. You can then place them on a plate and keep them in the oven to stay warm.
Serve with Agave Mustard Dipping sauce (recipe below)
---
Agave-Mustard Dipping Sauce
Ingredients:
1/4 cup Vegenaise
1/4 cup dijon mustard
1/4 cup agave
Sprinkle of sea salt
Directions:
Mix everything together and chill until ready to serve!
Enjoy!