Happy 4th! I hope you're all celebrating responsibly 😉
Buffalo Tofu Spring Rolls. Tofuffalo Spring Rolls? Sure! They'll also answer to "Hey You Delicious Thang" and "Please Get In My Belly Now", in case you were wondering. Oh, and did I mention the Cashew Avocado Dipping sauce?
As a blogger I try to avoid making sweeping statements like the one I'm about to make, but I cannot stop myself: These are the best thing I've ever created! If you like buffalo sauce and handheld foods, then you must try these. Seriously. I command you.
But let me back up and tell you how these came about. Remember my Buffalo Seitan "Wing" Tacos? Those are also amazing, and you should make those as well, but let's try and stay focused, shall we? So, I love taking foods that are usually served in one form, and re-creating them as another. Hence those Buffalo Wing tacos. And my Korean BBQ Tacos Pizza. And my Peanut Butter & Ice Cream Calzone.
Ha! Just kidding about that last one! Anyway, I was thinking about those Buffalo Tacos. I wanted to make them again, but wanted to try something a little different. I also wanted to stick with something that could be cooked on the grill (hot weather = no oven for me). I knew I had some spring roll wrappers in the freezer, and voila! These little suckers were conceived! Of course, I didn't want to risk being called a fat man in a leather jacket again, so I ran the idea by Lauren first.  She thought it sounded good so ahead I went.
I swapped tofu for the seitan because A.) I didn't have any seitan, and B.) I think it works better because you can get those nice little cubes. I also used raw cabbage instead of lettuce because I wanted something with a little bit of substance, something that would hold up well to the heat of the grill and not get all slimy. No one likes a slimy spring roll, amiright? I wasn't sure how the spring wrappers would do on the grill (and I couldn't find any vegan egg roll wrappers because, umm, they all had egg in them), but they turned out to be superstars. The trick? Double-wrap! Worked like a charm!
On the taco version I used vegan ranch dressing, but I wanted to do something a little different with these, so I created a cashew-based dipping sauce with avocado, So Delicious coconut milk, a tiny bit of sour cream and a dash of sea salt.  Yum! And everything was really easy to make. The sauce took about 10 minutes (plus 5-6 hours of cashew-soaking which doesn't count). The rolls themselves required very little prep (carrot grating and cabbage slicing), and even rolling them went pretty quick.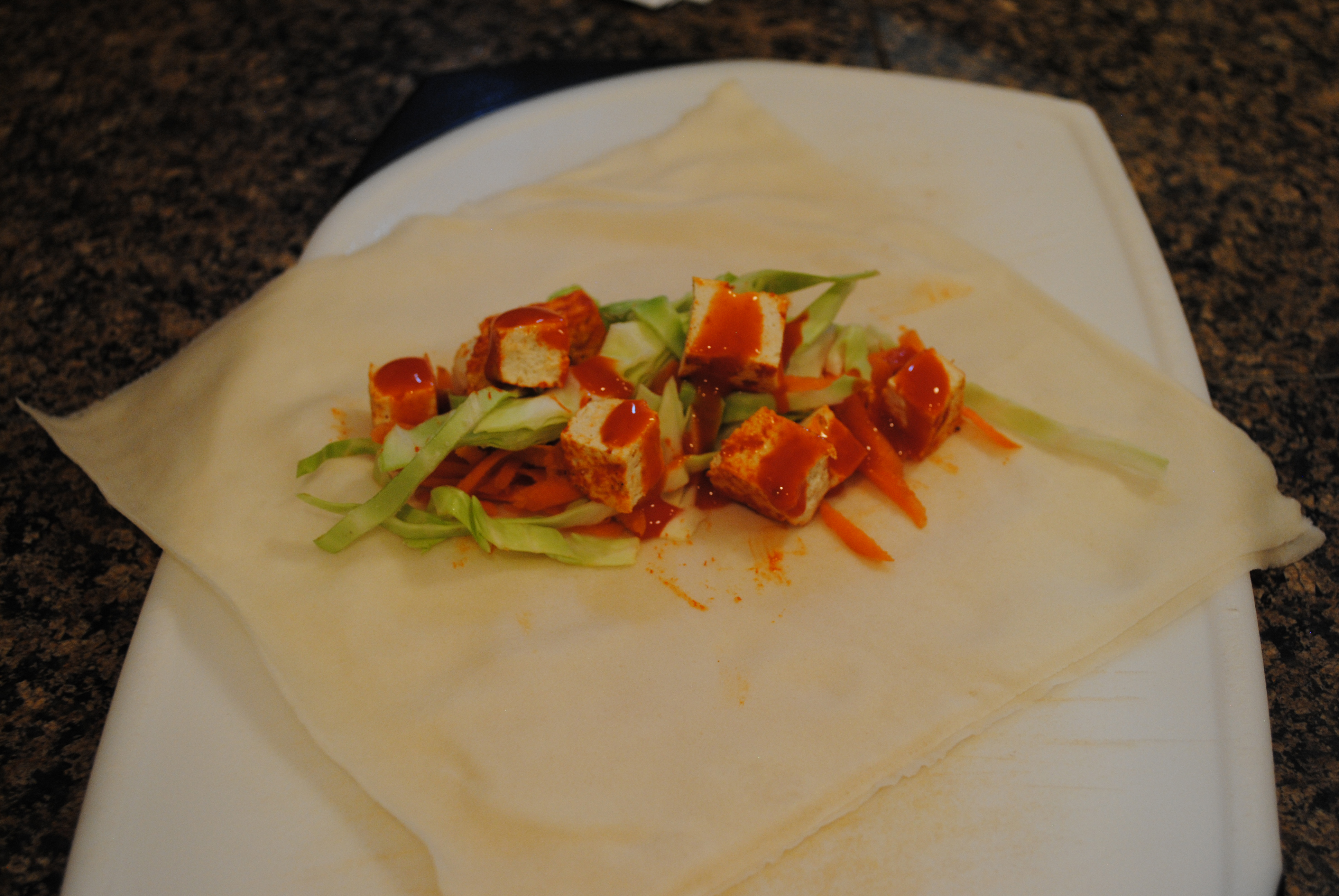 In case you've never rolled a spring roll before, this is how you set up the wrappers (remember, two wrappers!). Approximately 2 tablespoons of carrot, about the same amount of cabbage, 5-6 cubes of tofu and a drizzle of Franks. Then you grab the top corner and fold it down to the bottom point, creating an inverted triangle. Fold the two sides in, then roll the entire thing up from the bottom. Easy as tofu pie, I promise.
Here's the money shot: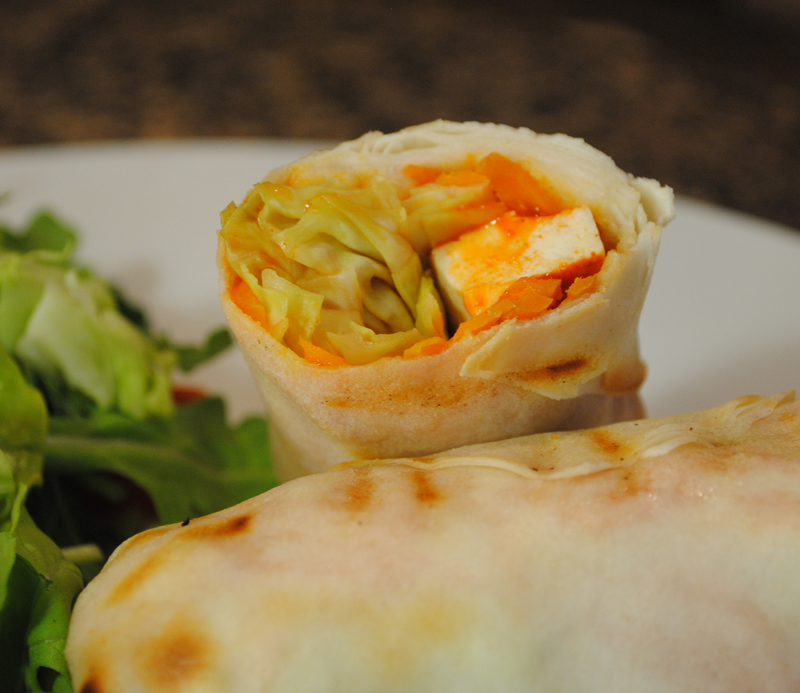 And did you see the beautiful grill marks? Swoon!
In case you're curious about the "Hot Weather Recipes" title, or if you're just keeping track, here's the skinny: It's been uncomfortably hot in Colorado lately so I've made an effort to come up with more recipes that can be cooked entirely on the grill (sometimes they use a stove-top burner which my grill has). I'm also trying to keep my choices  interesting and unexpected and hopefully not-too-obvious, so things that are already meant to be cooked on the grill don't count!  So far we have:
---
Buffalo Tofu Spring Rolls With A Cashew Avocado Dipping Sauce (8 spring rolls and plenty of dipping sauce to go with)
Ingredients:
1 block extra firm tofu
Franks Wing Sauce
2 large carrots, grated
1/2 cabbage, sliced
16 spring roll wrappers, defrosted
1/2 cup cashews (soaked for 5-6 hours or overnight)
2 ripe avocados
2 tablespoons vegan sour cream
3-4 T So Delicious coconut milk
Pinch of sea salt
Directions:
After the tofu has been thoroughly pressed, sliced through the middle then into 4 equal rectangles. Cover in Franks Wing Sauce for about an hour then grill over medium high heat for 7-8 minutes (on foil or a pam-sprayed grill). Cover the upwards-facing side with more Franks, flip and grill for another 6-7 minutes.  Cut into small cubes and set aside.
Open your wrappers and remove as many as you're going to use, place the pile on a plate with a wet paper towel underneath and on top of the stack. Keep a 3rd towel in a small bowl of cold water handy. Remove the wrappers from the stack 2 at a time, very slowly. They're going to be sticky, but if you keep squeezing that 3rd paper towel them as they separate you shouldn't get any tears.
Place the wrappers (2 at a time!) on a non-sticky surface like a cutting board oriented like a diamond (see picture above), and spoon approximately 2 tablespoons of carrot, about the same amount of cabbage, 5-6 cubes of tofu and a drizzle of Franks onto each. Then you grab the top corner and fold it down to the bottom point, creating an inverted triangle. Fold the two sides in, then roll the entire thing up from the bottom.
As you complete one place it onto another plate that you can easily carry out to the grill, with the edge of the wrapper down- this will keep them closed. When they're all completed, heat the grill to medium-low heat and spray with non-stick spray. Place on grill (wrapped edge down), for about 5 minutes. Flip (no need to add more spray) and grill for another 5-ish minutes. The wrappers should be crispy and should have great grill marks- just make sure they don't burn.
While they're on the grill, combine the remaining ingredients in a good blender, and blend until smooth.  Serve along side the spring rolls, maybe with some extra Franks for dipping.
Enjoy!