Continuing with my Hot Weather Recipe ideas (meals that require no cooking, or can be prepared on the grill), I present to you: Sweet Potato and Black Bean Quesadillas! (if your grill doesn't have a burner, you'll have to boil the potatoes inside or microwave them, in which case I recommend a new grill, ha ha)
To answer your most important question first, YES there is cheese in there- Daiya Jack to be precise, but the creamy sweet potatoes allow you to cut back a little on the calories cheese if you're so inclined (I was). Plus, it leaves you with more leftover Jack for Cheese n' Crackers!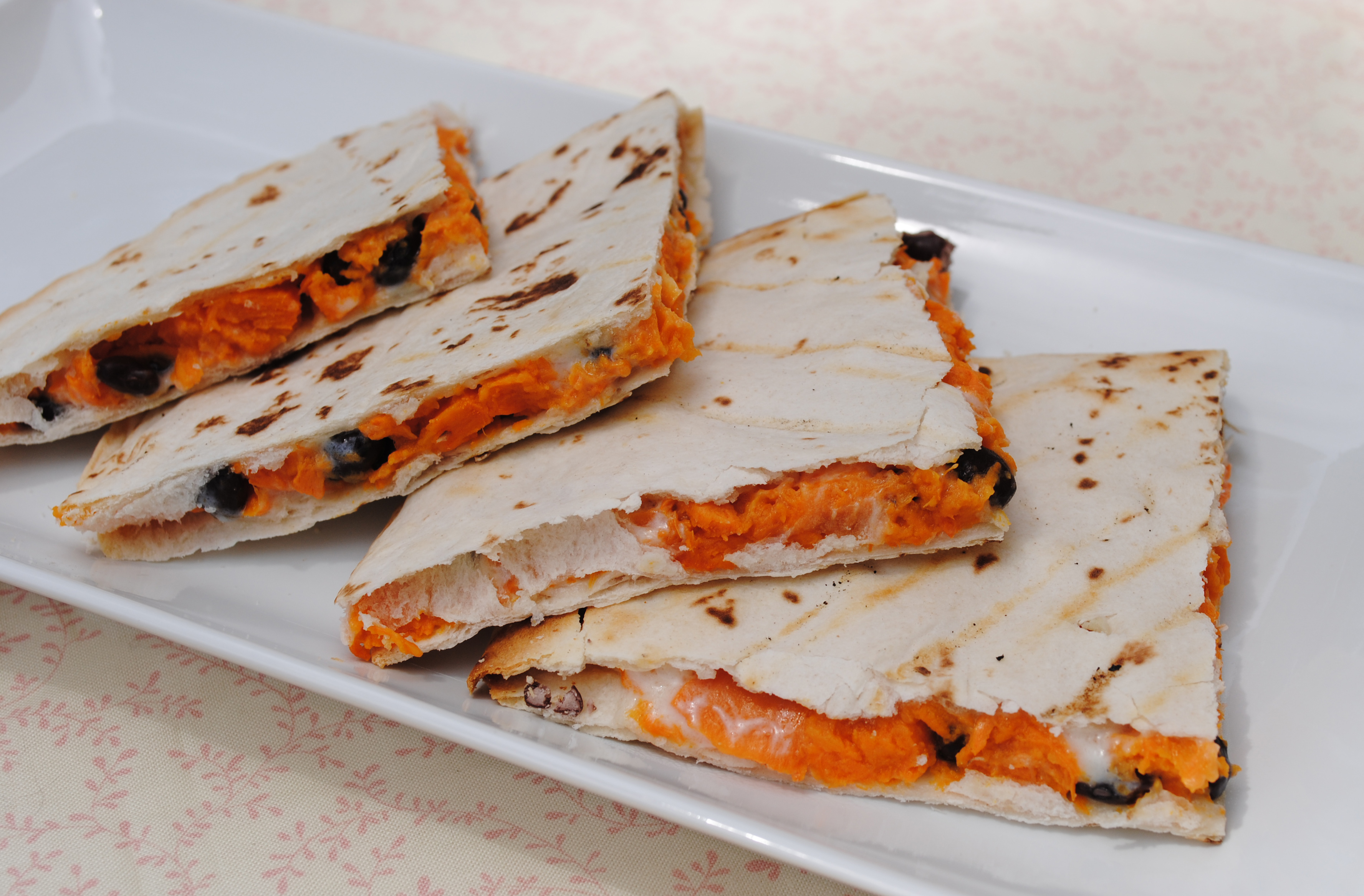 On a completely unrelated note, Jason and I went to a potluck dinner party last night hosted by our neighbors. These particular neighbors are kind, wonderful people who also happen to have owned one of the largest cattle ranches in Colorado (and if you know anything at all about cattle ranching in Colorado, that means it was really big), so needless to say they're very big on meat. As in, when you're invited to a BBQ at their house you can pretty much count on being served hamburgers and maybe chips and that's about it. I was already vegetarian when we met them, so I've never partaken but I have gone home hungry, which is sad.  The other thing I've never done is tell them that I'm vegan. It hasn't come up and I already know we're not going to agree on anything to do with food politics or animal-agribusiness, so I'd prefer to just avoid it. I swear it has nothing to do with the fact that I'd be completely outnumbered 🙂
But I digress. This was the first time it was actually a potluck, and I was excited to know that I'd have more than chips and a few stray pickles to eat, yay! Someone made a wonderful salad with walnuts and strawberries which I gorged on, and I brought my Butternut Squash Mac n' Cheese and Agave-Sriracha Grilled Sweet Potatoes (recipe to follow, I promise).
Not to toot my own horn, but everyone LOVED both, especially the m-n-c! I saw people going back for seconds and thirds, including the woman seated next to me, so I whispered to her that I had made it and it was vegan, and she couldn't believe it. When she went back for just a little bit more after knowing it was vegan made me love her a little bit.  Shortly after that I got up to talk to someone, and by the time I came back she had told the whole table that it was vegan, and everyone was completely surprised. They were calling it "Macaroni and no cheese", which I thought was cute. And they kept eating it!
The moral of the story? If you're not sure what to serve to a room full of cattle ranchers and other omnivores, give my Butternut Mac n' Cheese a try. They wont know it's vegan, and even if you choose to tell them it is, they'll love it anyway!
---
Grilled Sweet Potato and Black Bean Quesadillas (Makes 2 quesadillas)
These measurements are really just guidelines- you can change up the proportions to suit your own palate! ETA: When smashing the sweet potatoes, it doesn't have to be perfect, just get most of the lumps out!
Ingredients:
4 medium tortillas
3 ounces Daiya jack cheese
1 heaping cup smashed sweet potato
1/2 cup black beans
Sour cream and salsa, if desired
Directions:
Using a butter knife or back of a spoon, schmear the cheese around on top of the 4 tortillas.
Cover 2 of the tortillas with a mixture of the beans and sweet potatoes, then top with the remaining tortillas, cheese side down.
Place the quesadillas on a grill heated to medium-low, making sure to move them around a bit for the first 10-15 seconds so they don't start to stick. Leave still for about 5 minutes, then flip. Grill for another 5 minutes, then remove, cut, and serve with sour cream and salsa if desired.
Enjoy!