Just a friendly reminder to pretty please, if you're not terribly busy- please go vote for me! I entered my Sweet Potato and Black Bean Quesadillas in Ethical Ocean's Summer Recipe contest and since I never win anything, well… you don't want to see me cry, do you? 😉 You do need to sign up in order to vote, but it just takes a sec.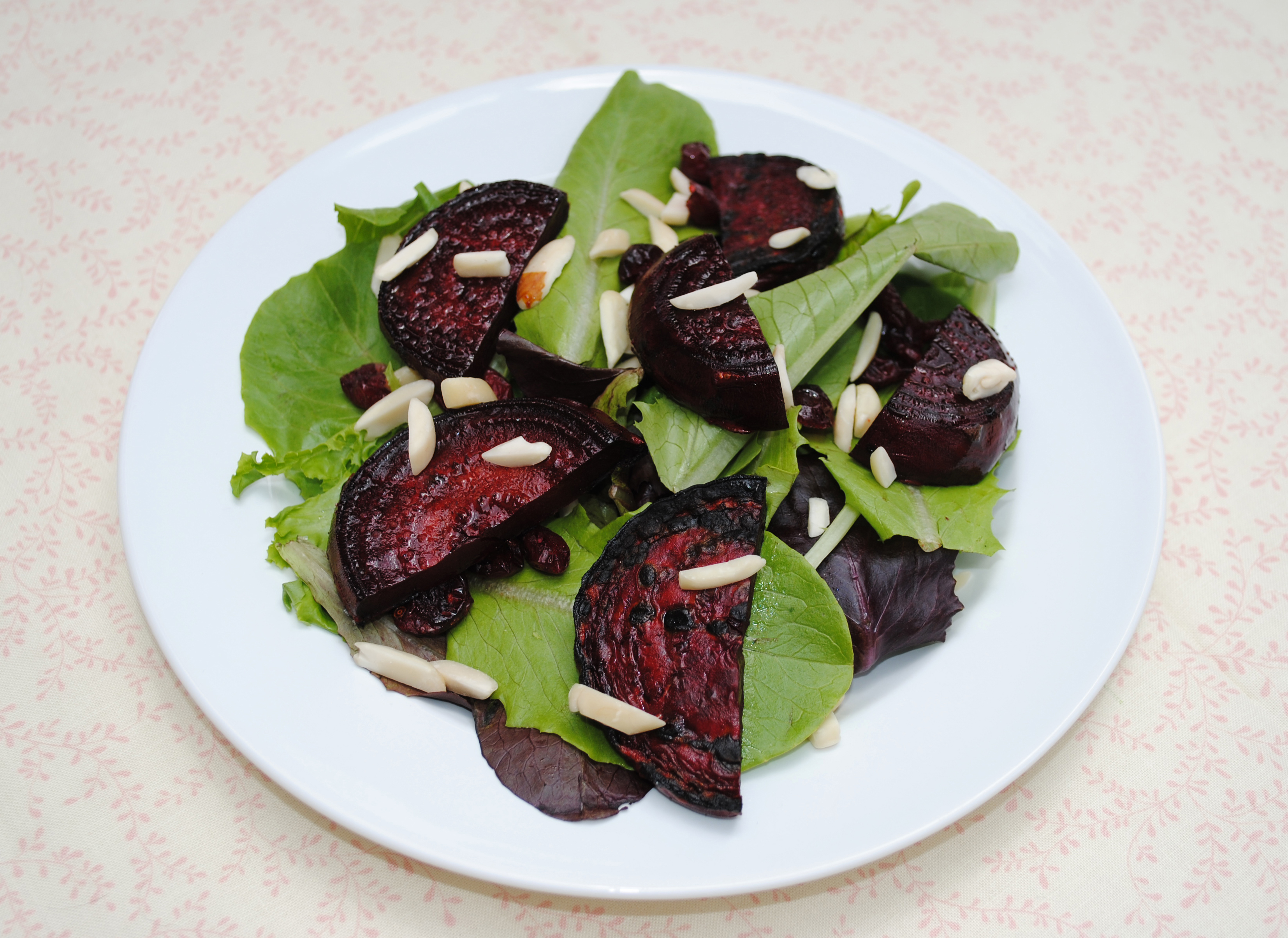 I mentioned this salad last week- it was my first contribution to OneGreenPlanet.org, a really great site if you haven't checked it out yet! Lots of information on animal welfare, environmental issues, and- of course- vegan food!
This salad was inspired by a trip to the farmers market, and is also reminiscent of a meal I had at a restaurant a while back- a roasted beet salad. I love roasted beets, but who the heck wants to turn their ovens on right now? Not moi, so I decided to grill those red beauties.  I'm glad I did, too, because they turned out great. They still have that slightly sweet, almost earthy taste that beets do, but grilling added another layer of hearty smokiness. It also added the beautiful grill marks which photograph so well!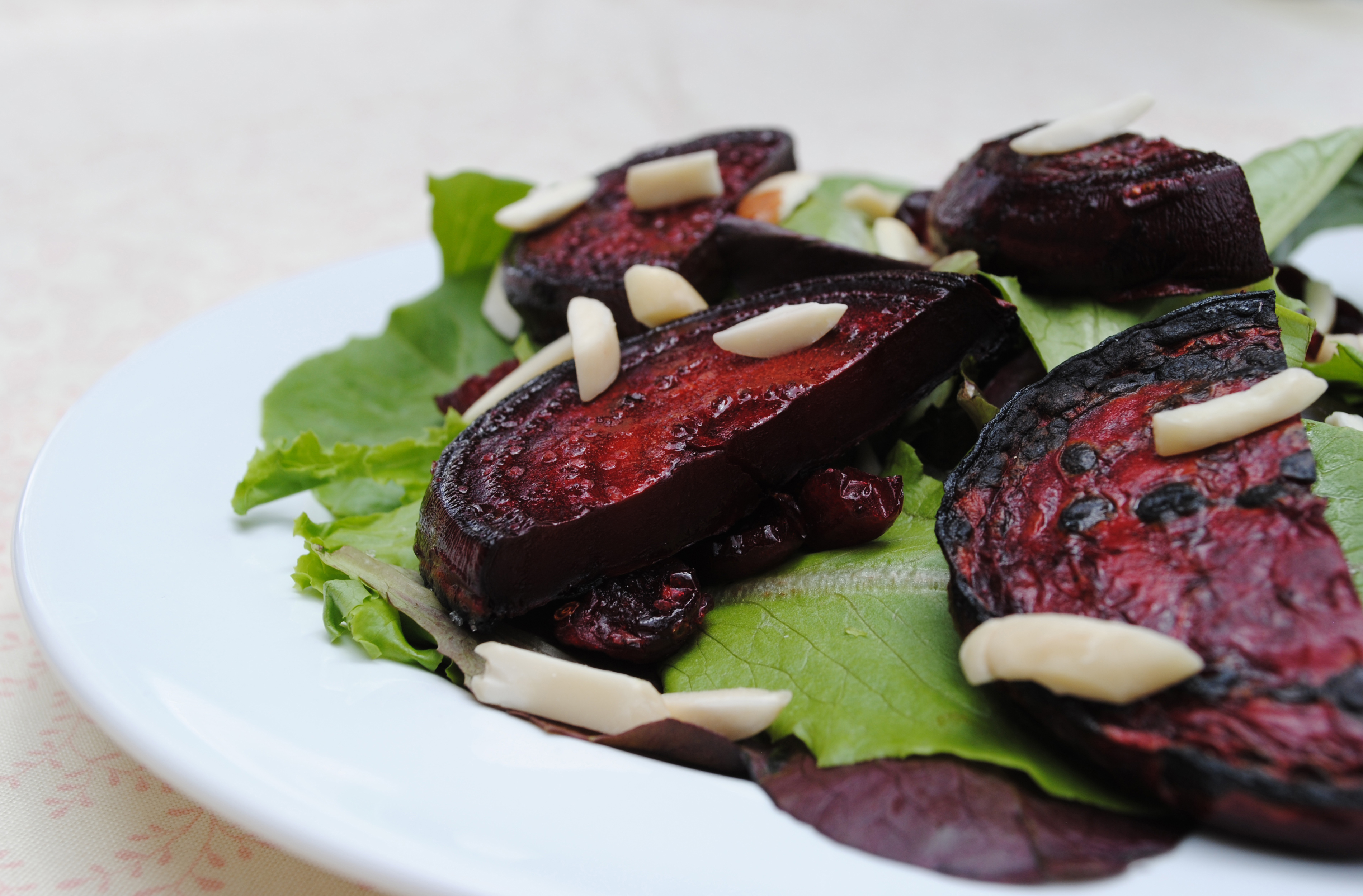 Crunchy almonds and sweetened dried cranberries round out the flavor nicely. This is a very light, healthy lunch, perfect for a hot summer day!
---
Grilled Beet Salad with Almonds and Dried Cranberries (4 servings)
The olive oil allowed me to place the beets directly on the grill. If you're prefer, you can also use a small amount of non-stick spray on a sheet of aluminum foil. If you end up with leftover beets, just stick them in the fridge. They reheat wonderfully!
Ingredients:
1 bunch fresh beets (4-5 beets, each about the size of a small apple)
Olive oil
Salt and pepper
3 cups spring mix, or lettuce of choice
1/2 cup dried sweetened cranberries
1/2 cup slivered almonds
Balsamic dressing
Directions:
Trim the greens and ends off the beets, and peel off the skin. Your fingers will start to look a little red, but never fear- a little dish soap and a scrubby sponge will that right off! Slice the beets about 1/2 inch thick, and brush on a small amount of olive oil.
Place the beets (oiled side down) on the grill over medium-low heat, then brush a small amount of oil on the tops.  Sprinkle with salt and (if desired) pepper, and close the grill lid. Leave for 8-10 minutes, then flip the beets and leave on for another 7-8 minutes. Keep an eye on them for charring, and depending on your grill they may need an extra minute or two. When they're done, remove from the grill and cut the slices into halves or quarters.
While the beets are grilling, lay your lettuce out on the plates. Top with the warm beets (5-6 pieces per salad) and sprinkle with the cranberries and almonds (2 tablespoons per salad). Drizzle with your favorite balsamic dressing and serve.
Enjoy!