This is a play on my Blueberry-Coconut Bundt Cake… just a little bit more summery, if you will. The coconut is sweet (but just naturally- make sure you buy the unsweetened flakes!), and the cake is so moist. We enjoyed the first round of this cake on the back deck with a side of summer sunshine before I wrapped the leftovers up in foil and a zippy bag and stored it away in the freezer. It was in there for about 3 weeks I think, before I defrosted it just the other day, and it was still just as delicious. Neither the texture nor the flavors changed, so I think the next time I make this I'll bake two and save one for a rainy day!
So, it's Friday and I hope you all have a lovely weekend, but before I sign off I wanted to share this blurry adorable picture of Cooper- He had been rooting around under a bush looking for some (real or imaginary) bit of food, I guess… and when he came back in he had all this junk stuck to his little face. Poor guy, but pretty typical- the boy is an explorer at heart 🙂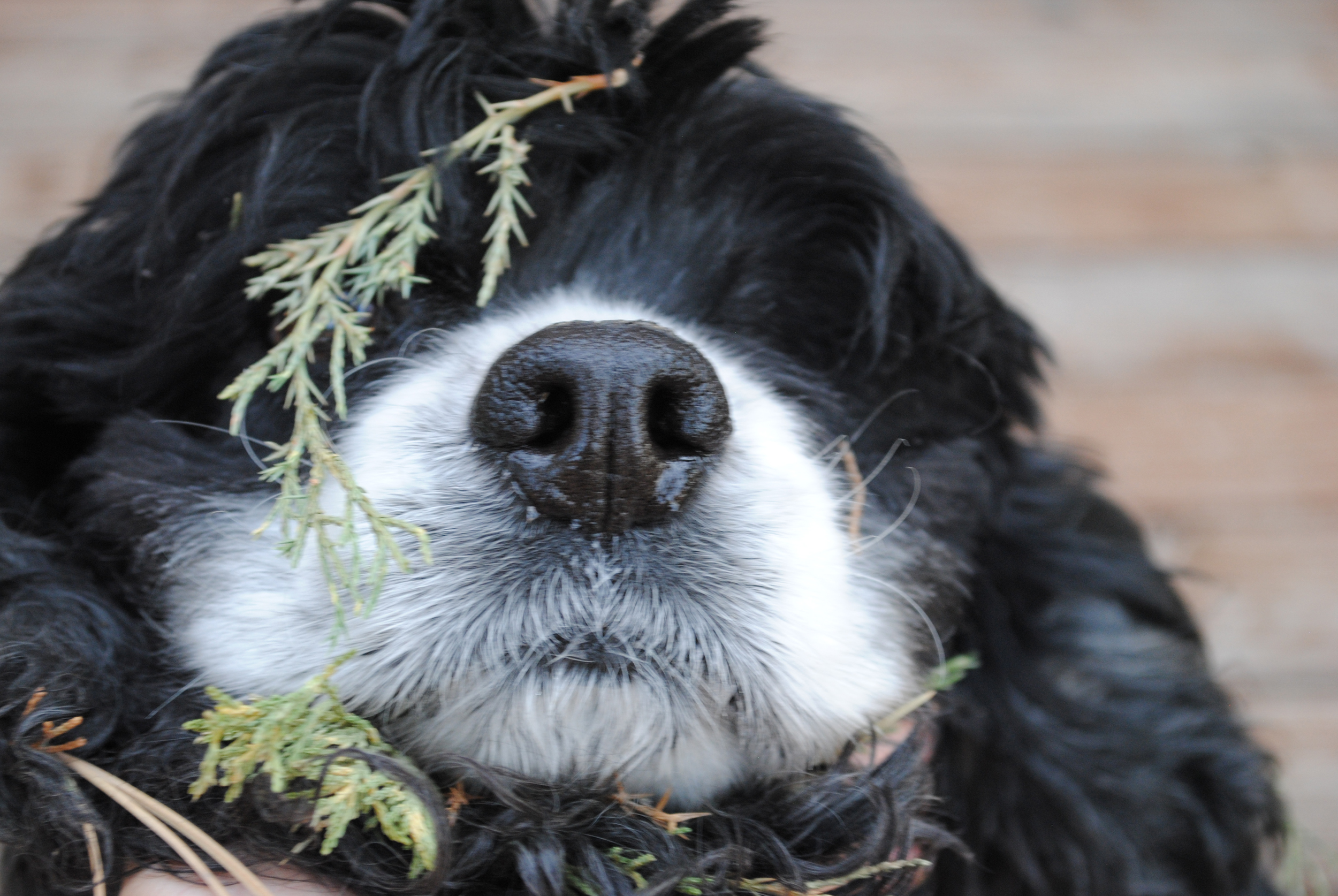 ---
Blueberry-Coconut Bundt Cake
Ingredients:
Bakers Joy (or other nonstick spray)
1-1/3 cups granulated sugar
2/3 cup vegetable oil
1 13.5 oz can light coconut milk
¼ cup So Delicious coconut milk (plus 4 T)
3 t vanilla extract
3 cups AP flour
2 t baking soda
1 t salt
1 ½ cups shredded unsweetened coconut
1 ½ cups fresh strawberries, rinsed, dried and sliced
Extra coconut flakes, for sprinkling (if desired- not necessary)
Directions:
Spray inside of bundt pan with Baker's Joy, and set aside.
In a large bowl combine the sugar, vegetable oil, both kinds of coconut milk, and vanilla. Stir really well to get rid of any lumps.
Stir the remaining dry ingredients (leaving out the blueberries and coconut flakes), a small amount at a time, into the mixture. Once well mixed, fold in the blueberries and coconut flakes.
Pour into pan and bake for 50-55 minutes at 350 degrees or until a wooden skewer comes out clean (well, it may be stained blue if you stab a berry! Just make sure there's no cake goo stuck to it)
Allow to cool in the pan for 10-15 minutes, then remove from pan onto cooling rack. Once completely cooled you can sprinkle with coconut flakes if desired.
Enjoy!