I mentioned the other day that I had thrown a fabulous open house for our friends and neighbors- a way to say goodbye and brag a little about all the work we did on the house. The entire menu was made up of finger-foods (makes for easier entertaining!), and these Tortilla Chips with Black Beans, Corn and Spicy Cilantro Cream were one of my favorite dishes. The recipe is adapted from Rachael Ray, veganized and compassionized and healthified for your eating pleasure!
The Cilantro Cream is zesty and just a little spicy. The bean and corn mixture is sweet with a bit of lime that makes the whole bite taste just… fresh.  Light.  Not at all heavy or overwhelming. Plus you can prepare the bean & corn mix, and the cilantro cream a day ahead and just leave them in the fridge until it's time to assemble. One tip though- you'll want to make them just before your guests start to arrive so that the chips wont get soggy.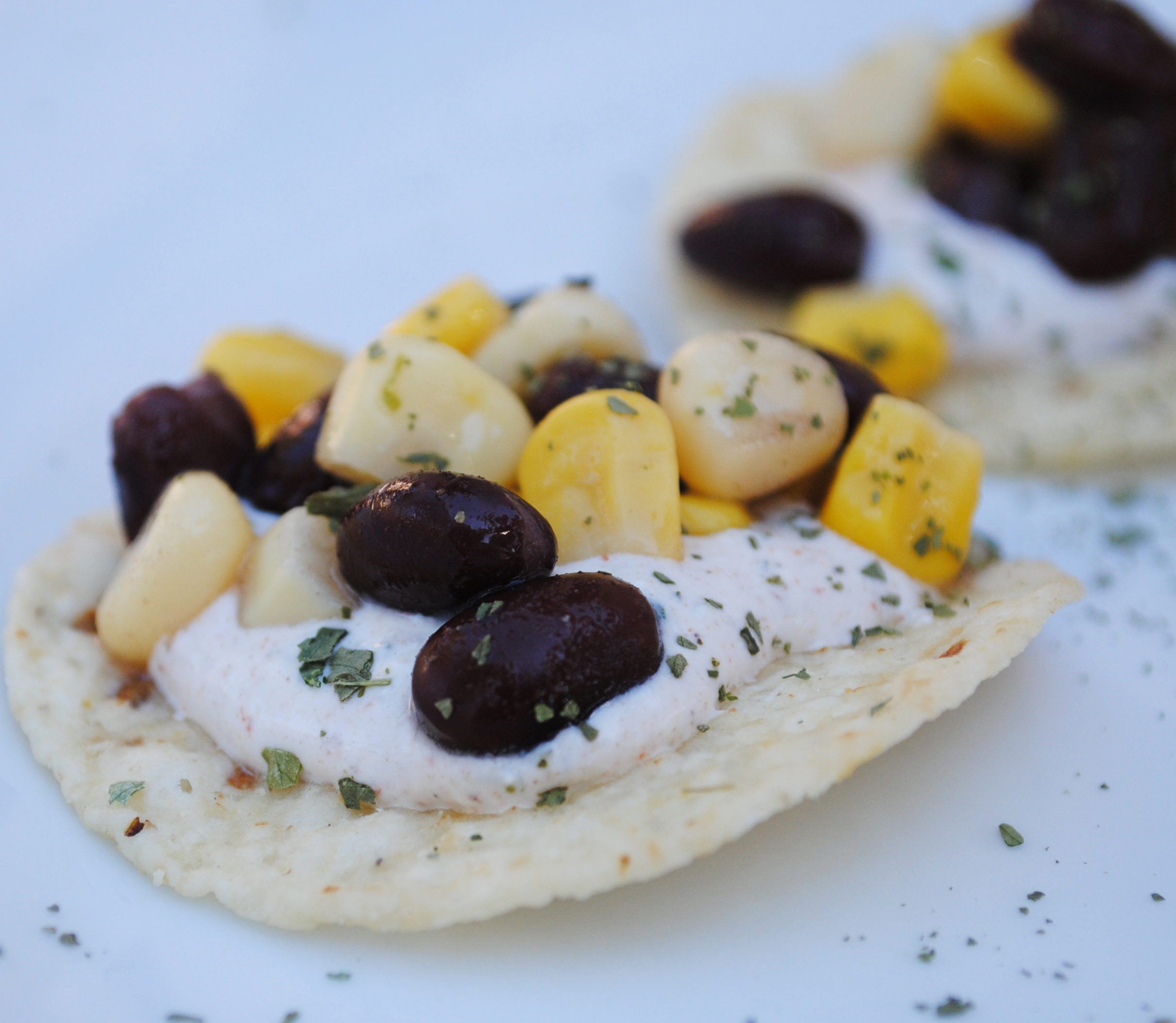 ---
Tortilla Chips with Black Beans, Corn and Spicy Cilantro Cream  (makes 8 servings, 2 chips per person)
Adapted from a Rachael Ray recipe
Ingredients:
1/3 cup vegan sour cream
1.5 Tablespoons dried cilantro (plus extra for sprinkling)
3/4 teaspoon ground cumin
1/2 teaspoon chili powder (or a little less if you're heat-averse)
1/3 cup sweet canned corn, drained and rinsed
1/3 cup black beans, drained and rinsed
Zest and juice  of 1 large lime
Sea salt (about a pinch)
16 round tortilla chips (the kind that lie almost flat)
Directions:
In a medium bowl combine the sour cream with the cilantro, cumin and chili powder. Taste and consider adding more chili powder 😉
In a separate bowl combine the corn, beans, lime and salt. Let both bowls sit in the fridge for at least an hour (or overnight).
To assemble, spread 1 teaspoon of the cream mix onto each chip, then top with about 2 teaspoons of the bean mix, and sprinkle with the extra cilantro and serve immediately.
Enjoy!