Here's a simple yet healthy and delicious baked tofu recipe: it's low-fat and  low-cal… and did I mention yummy? And easy? Neither the pepper or garlic flavor is too overwhelming- although you can definitely add more of either if you're a big fan.
Something else that I need to mention: I have two of the most adorable dogs ever to grace the interwebs: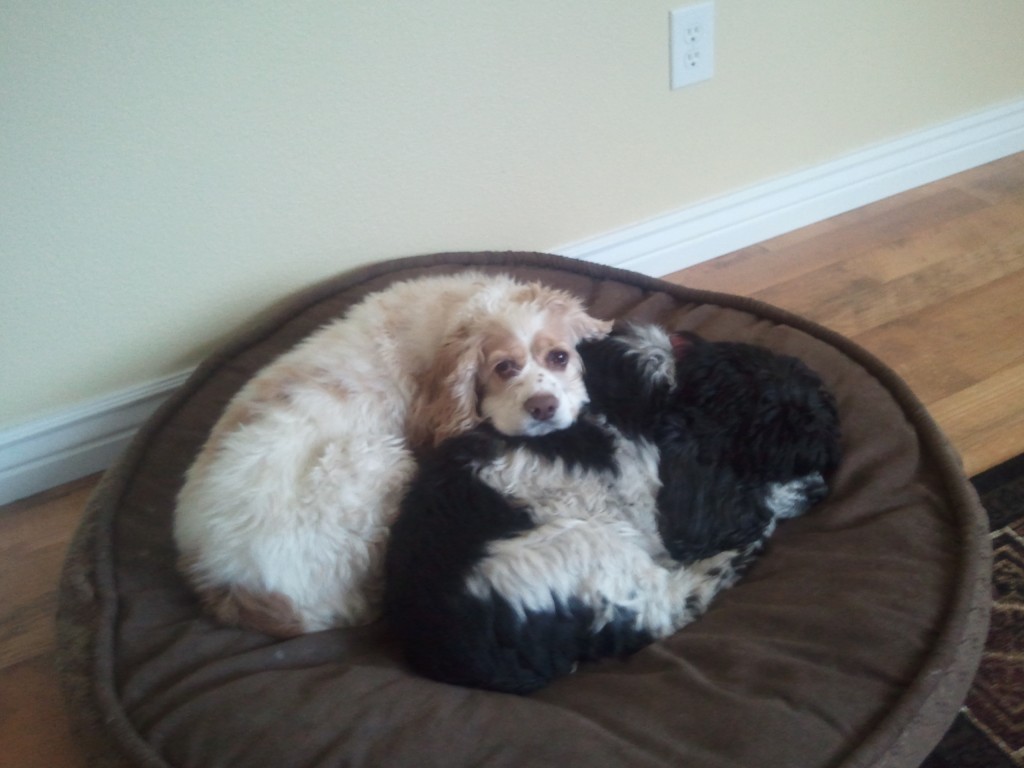 That's not Sally's sad face, by the way… That's her sleepy face. I was at the computer, saw them cuddling, rushed to grab my phone and… woke her up. Sorry Sally!
---
Garlicky Pepper Tofu (Makes 4 servings)
Total baking time will depend on how well you press your tofu- the more liquid still in there, the longer it'll take to firm up in the oven.
Ingredients
1 package extra firm tofu, pressed and drained
2 teaspoons soy sauce
1 teaspoon sesame oil
2 garlic cloves, minced
1.5 teaspoons black pepper (a little more or less, depending on your affinity for pepper!)
A squirt of lemon juice
Directions
Preheat the oven to 350 degrees. Cover a baking sheet with parchment or tin foil and spray with a little cooking spray. Slice the tofu into 8 equal rectangles and place them on the baking sheet.
In a small bowl mix the remaining ingredients, then spoon about 1/2 of the mixture over the tofu (poking holes into the surface of the tofu with the spoon as you go). Bake for 20 minutes, then spray the surface of the tofu with the non-stick spray and flip. Spoon the rest of the flavor-sauce over the tofu, continuing to poke holes as you go. Bake for another 20-25 minutes or until the tofu is firm. Chop and serve over rice, quinoa, couscous… whatever you'd like!
Enjoy!