Vegan Lasagna Soup: A thick, rich, delicious and fun soup-alternative to the classic lasagna. I included soy curls in my version, with lots of tomatoes and onions but you could also branch out… maybe add some roasted squash? Yumm! My favorite part is how the melted Daiya makes it all a bit creamy. This soup tastes so much like lasagna and is seriously perfect for these colder winter days we're all started to have!
You could also have some fun with the type of pasta you choose. Because I'm moving, I'm trying to use up everything in my cupboards, so I used actual lasagna noodles, broken up into bite-sized pieces. Somewhat surprisingly, this actually worked out quite well. Maybe because the inclusion of that traditional pasta ribbon made it feel more like actual lasagna, or maybe just because the substantial pieces made the soup more filling… who knows? Anyway, the shape of the pasta you choose wont change the flavor, so I guess it just depends on whether or not you have picky eaters in the house.
I don't have any picky eaters in my house, but I do have this guy: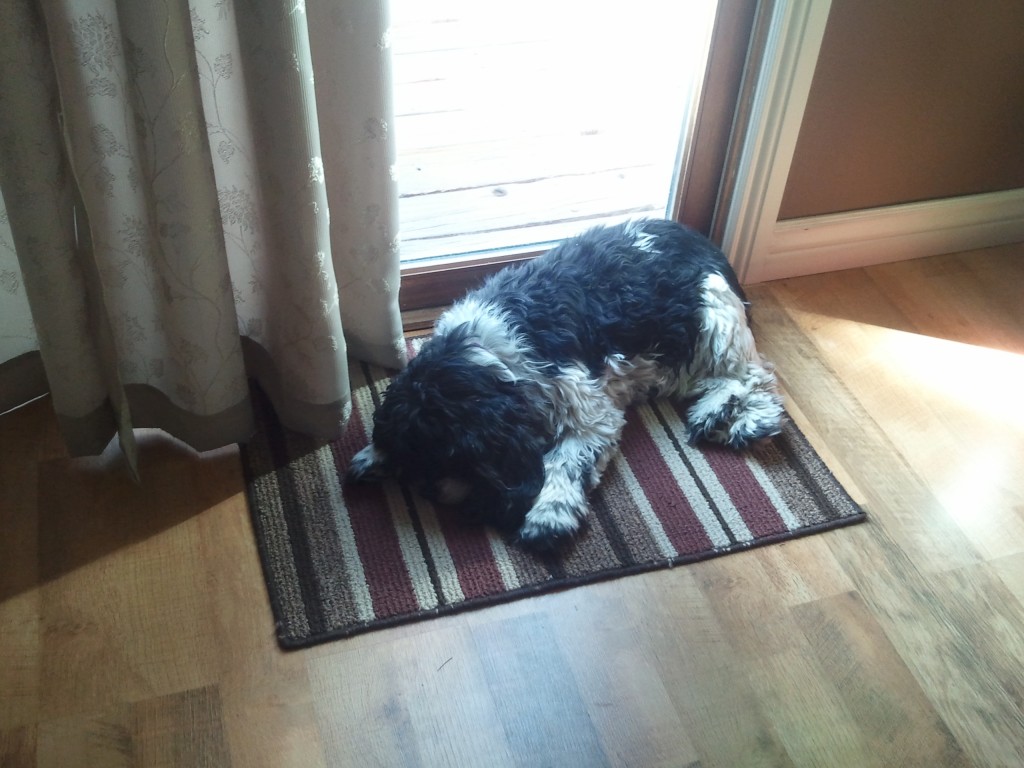 He is a nappin' fool!
---
Lasagna Soup (makes 6 servings)
Recipe adapted from Jo Cooks (non vegan/vegetarian)
If you're using traditional lasagna noodles like I did, the best thing to do is (before you cook them) break them in half lengthwise (so you have 2 long, skinny pieces), then break each of those into thirds or fourths. The pieces don't need to be uniform.
Ingredients:
1 large onion, chopped
1 teaspoon dried minced garlic
2.5 teaspoons dried oregano
3/4 teaspoons crushed red pepper flakes
1 teaspoon dried rosemary
14 ounce can diced tomatoes
1/3 cup spaghetti sauce
2 cups soy curls (unsoaked)
6-8 cups water
1 cube veggie broth bouillon
2 bay leaves
1.5 Tablespoons dried basil (plus more for sprinkling)
10 ounces of dried pasta
S&P to taste
1 cup Daiya mozzarella shreds
Directions:
Water saute the onions and garlic until the onions are soft, 4-5 minutes. Sprinkle in the oregano, crushed red pepper flakes and rosemary. Cook over medium heat for 2-3 minutes, then add the diced tomatoes (including the juice in the can), spaghetti sauce and the soy curls. Stir everything together.
Add the water (6 cups at first, you may want to add more later), bouillon, basil and bay leaves and bring to a boil. Reduce heat and let simmer (covered) for 15-20 minutes. Add the pasta and allow to simmer for another 20 minutes (or until the pasta is cooked through- depending on the type you use). Add S&P as needed. Also decide at this point if you need to add any extra water, if it's boiled down too much. I added another 1.5 cups when all was said and done.
The last step before you're ready to serve is to stir in the mozzarella and let it get a bit melty (1-2 minutes). Sprinkle and dried basil, and serve.
Enjoy!