Technically speaking, this isn't actually BLT Baked Spaghetti, it's more of a TKT Baked Spaghetti – Tempeh bacon, Kale and Tomato, that is. I used Tofurky maple tempeh bacon which I love, sprinkled with a bit of applewood smoked sea salt to get it sooo good and salty, and I just felt like kale would hold up better than actual lettuce.
I made my first spaghetti pie about a year ago and really liked it, although for some reason I just never made it again. Actually, I think that's pretty common for food bloggers. We need to keep churning out the new content for you ravenous readers 🙂
I suppose that I also try to limit the number of pasta dishes I make and post. I know that a lot of omnivores think we eat nothing but pasta and that's just not true! That said, I do love me some spaghetti.
In my thinner younger days when I was an undergrad and working 3rd shift at a lightbulb factory (that sounds like the setup for a joke, but I swear it's the truth!) my friend Ellen and I used to eat spaghetti every day during the summer, when we didn't have classes. We'd get out of work at 6am and as soon as we had procured our Kahlua and skim milk (bad, bad choices but what can I say? Working overnight makes you a very strange person!) we'd head to my mother's house because a.) that was where I was living after a gnarly breakup, and b.) she had the nicest kitchen we knew of. Well, it was nice until we got there, anyway. See, I was convinced that the only way you could tell when pasta was done cooking was by throwing it against the ceiling. And I couldn't reach the ceiling, obvs, so how was I supposed to get it back down afterwards?
If you haven't figured out yet, my mama is a saint. She'd come home and ask "Why can't you just throw ONE strand? Why do you have to throw HANDFULS!?" She also had some commentary about why we refused to cover the sauce pot to keep it from splattering all over her cabinets, but she never banned me from her kitchen. I guess a mother's love really is unconditional 😉
In case you're wondering how the rest of the day would go, it was a whole lotta Kahlua, skim milk, carbs and Clueless on VHS (hey, this was the 90s!) until 2 or 3 in the afternoon when it was time to go to bed again. I don't miss working third shift or skim milk, but now that I'm thinking about it I'd like nothing more than to go home and put my jammies back on and visit with Cher and Dionne and the gang. There might be some Kahlua and So Delicious mixed in there as well, but I'm not telling.
Ooooh, and look at my pretty dish! $2.98 at a local thrift store, thankyouverymuch! I love the detail of the little flowers inside where you don't even see them until the food is all gone.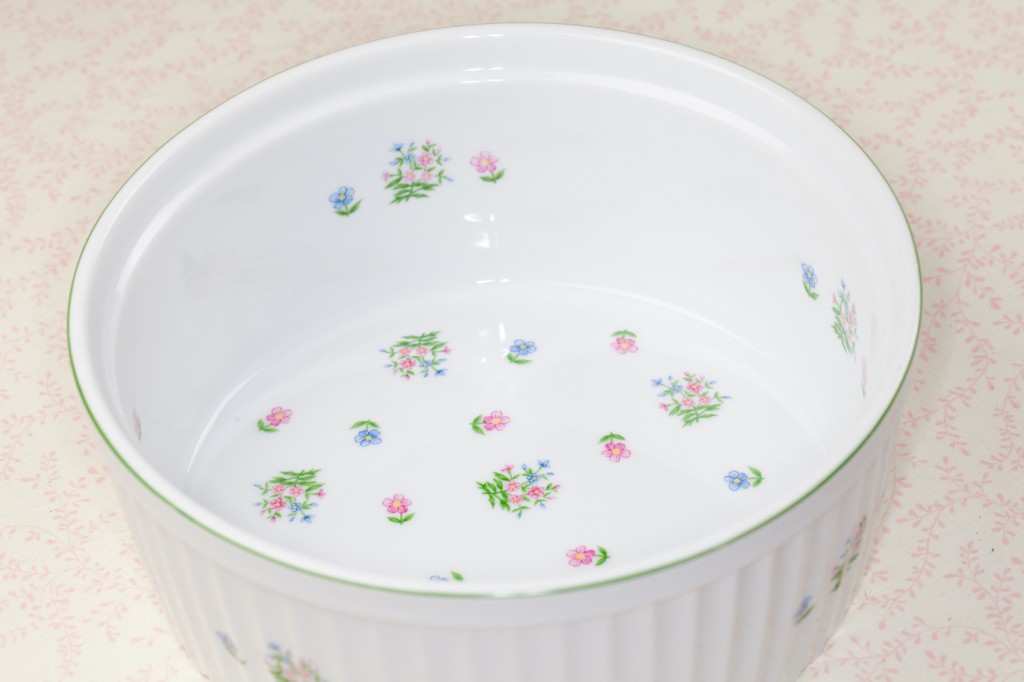 Anyway, file this one away for when you need a simple meal and or some serious comfort food, cause it's both.
---
"BLT" Baked Spaghetti (makes 4-5 servings)
I used a 1-qt baking dish which worked out perfectly. If you don't mind an extra dirty dish, I recommend mixing everything together in a large mixing bowl and then transferring to your baking dish before topping with the extra vegan cheese!
Ingredients:
12 ounces spaghetti
1 cup torn kale, packed
a couple pinches of garlic powder
8 strips Smoky Maple Bacon Tempeh
Non-stick spray
Applewood smoked sea salt
1/4 cup Daiya mozzarella shreds, plus more for sprinkling on top
1.5 – 2 cups your favorite red sauce
Oregano, to taste
Herbamere or sea salt, pepper to taste
2 roma tomatoes, chopped
Directions:
Put pasta in boiling water, cook per package instructions, minus 1-2 minutes.
Water saute kale with a couple pinches of garlic powder for 2 to 3 minutes. Drain and set aside.
Spray a frying pan with non-stick spray and cook tempeh 2-3 minutes on each side over medium heat, until browned. Sprinkle with applewood smoked sea salt if desired. Remove from pan and chop into medium bite-sized pieces.
Drain the pasta and add to the baking dish along with the sauce, oregano, S&P, 1/4 cup Daiya shreds, chopped tempeh and kale. Mix and check for flavor, then add the tomatoes and sprinkle with remaining cheese. Cover with foil and bake at 350 for 20 minutes. Remove the foil and bake for another 6-8 until the cheese is melted.
Enjoy!