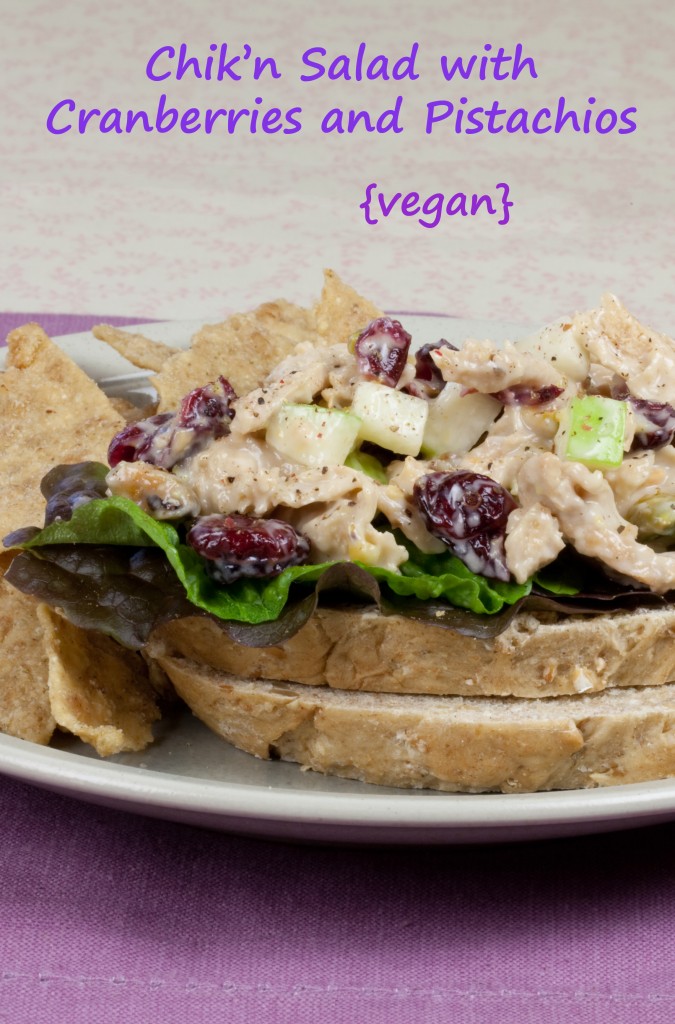 Oh man, do I love sandwiches. Love 'em! And quite possibly, the one I love most of all is this Vegan Chicken Salad Sandwich, complete with chewy cranberries and crunchy pistachios!
Back when I was an omnivore, chicken salad was always a favorite of mine, but thankfully those days are long behind me.
Long side story: I still remember the last time I ate chicken, it was chicken schnitzel in Heidelberg, Germany right before climbing the hill to tour Schloss Heidelberg (in flip-flops no less… I don't recommend it). Such a beautiful city, and an amazing castle. Everything I saw of Germany was wonderful, actually. I would absolutely go back again (any German readers that want me to come visit? I'll cook for you! 😉 )
It's funny I remember that, isn't it? I was still transitioning to vegetarianism (this was mid 2008), and had managed to eat veg my whole trip up till that point. Thankfully I was traveling with a co-worker who spoke a lot of German and had a wife who was vegetarian, so he was able to help me out with ordering. I don't know why I had chicken that day, certainly I could've chosen a salad. I suppose this is why I'm so supportive of people who are transitioning slowly – my own journey absolutely had its starts, stops, detours and cliffs!
I also remember the last time I ate pork. We had gone out for bbq, and I hadn't eaten meat in a couple of months. Let's just say it didn't agree with me, and from that day forward I was pescatarian, which lasted for about a month. I live in Colorado for crying out loud, so the only fish in my life was from McDonald's and that seemed a pitiful reason for hanging on to eating any flesh at all. In fact, the last fish I ate was from McDonald's. We had ordered a pizza which never showed up at the house and I was a starving, grumpy mess. And still used to relying on fast food. I know, I know, excuses… but like I said, detours and cliffs! Anyway, that was the last little fishy (or parts thereof) that I've knowingly consumed.
Which (somehow?) brings us back around to the Vegan Chik'n Salad Sandwich pictured here: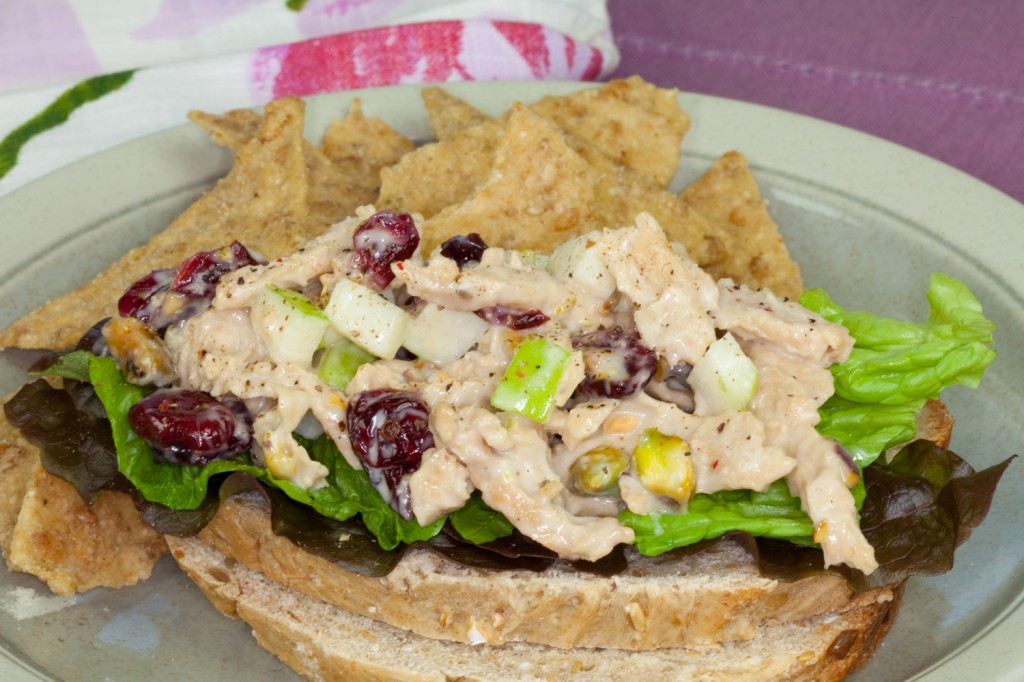 It's truly delicious and, in my humble opinion, good enough to make an omnivore ask "That was vegan?". Soy curls are so chicken-esque it's a little scary, and as I've said before, there are some great vegan mayos out there!. And oh my lordy, those chewy sweet cranberries, crisp apples and crunchy pistachios are the star of the show anyway! This truly is a chik'n salad sandwich, all grown up!
---
Chik'n Salad with Cranberries and Pistachios (makes 4-5 hearty sandwiches)
Ingredients:
1.5 cups dry soy curls
1 small granny smith apples diced (about 1/2 cup)
2 scant dashes of apple cider vinegar
1/4 cup shelled pistachios, chopped
5-6 Tablespoons vegan mayo (more or less, depending on how creamy you want the salad to be)
1/2 cup dried cranberries (such as Craisens)
1 teaspoon sea salt
a pinch of thyme
Directions:
Soak the soy curls in very warm water for 10 minutes. Squeeze all excess water out of them, then roughly chop the larger pieces and set aside.
While the soy curls are soaking, mix the diced apple and vinegar, draining out any excess.
In a mixing bowl, combine the apples with all other ingredients, stirring well. Check for seasoning, then chill for at least 30 minutes, covered. Serve as desired (sandwich, on crackers, etc)
Enjoy!