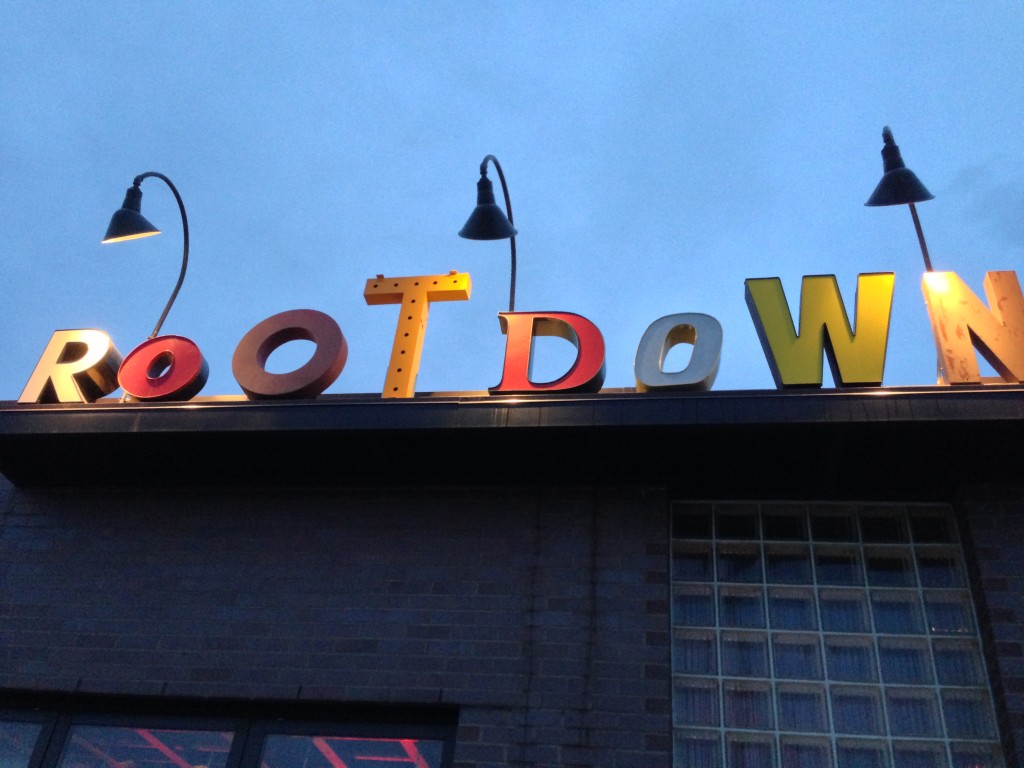 Since moving to Denver I've felt lucky to be surrounded by so many vegan dining options. Some are hidden gems, and some, like Root Down, are pretty well known within the vegan community. And why wouldn't it be? Just look at that menu, plenty of "vegan by request" options on there. And really, doesn't seeing the word "vegan" on a menu just make you all squishy inside?
Root Down has been on my dining wishlist for nearly 2 years, I just never quite made it there… Until now. I went with a small group and although I was the only vegan, everyone was more than happy to eat plant-based with me, and (most importantly) to let me eat off their plates 😉
Before we get to the food though, let's just talk about the restaurant itself. It resides in what used to be a service station, and has a really great vibe.  A little trendy, a little industrial, and  very comfortable and inviting.
And now, the food. First up was the Sweet Potato "Falafel", topped with an Israeli salad, sesame seeds and chile oil: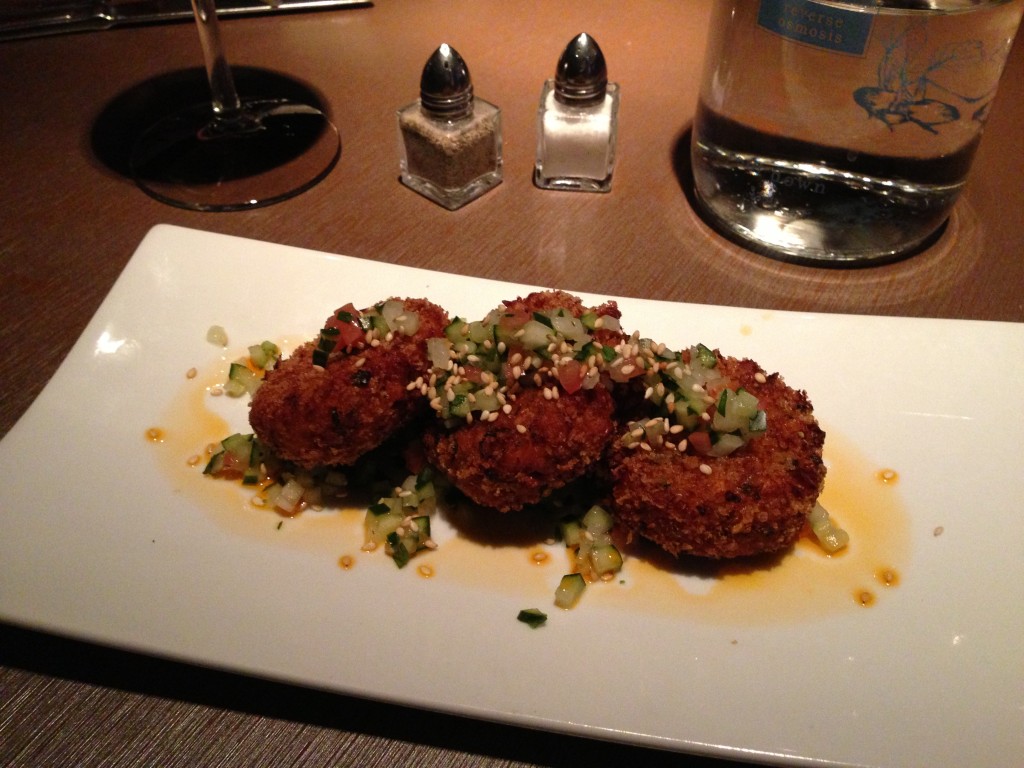 They were crispy, and the sweetness of the potatoes went perfectly with the chile oil. I could've eaten 3 more, honestly.
Next we tried the Veggie Burger Sliders: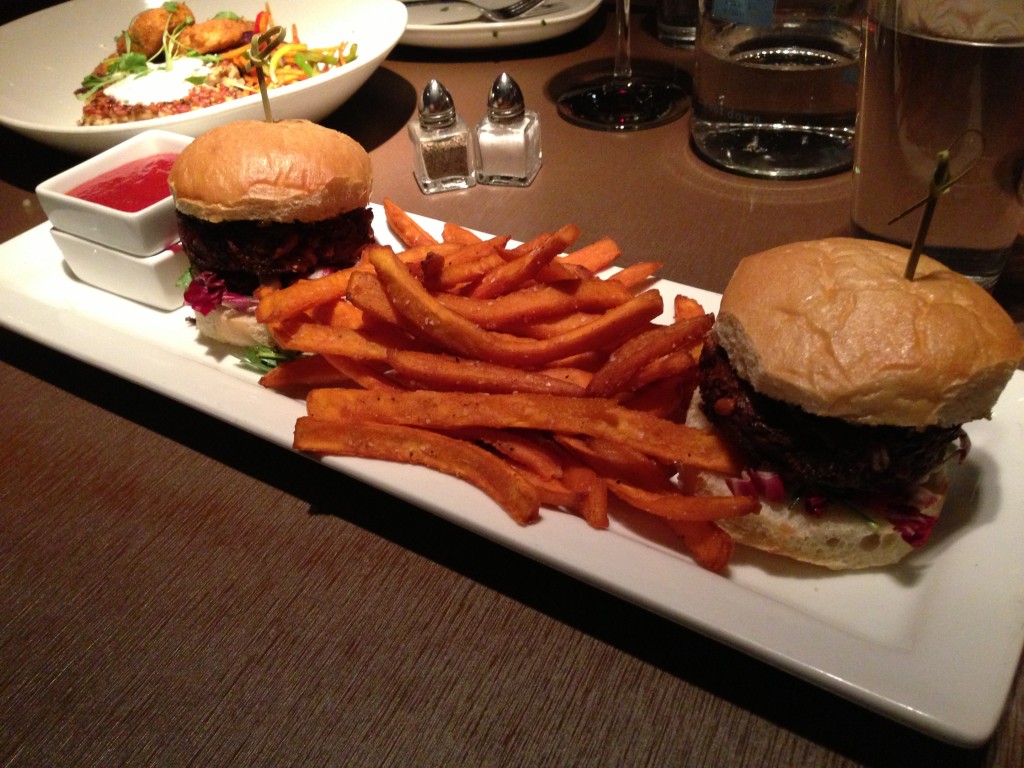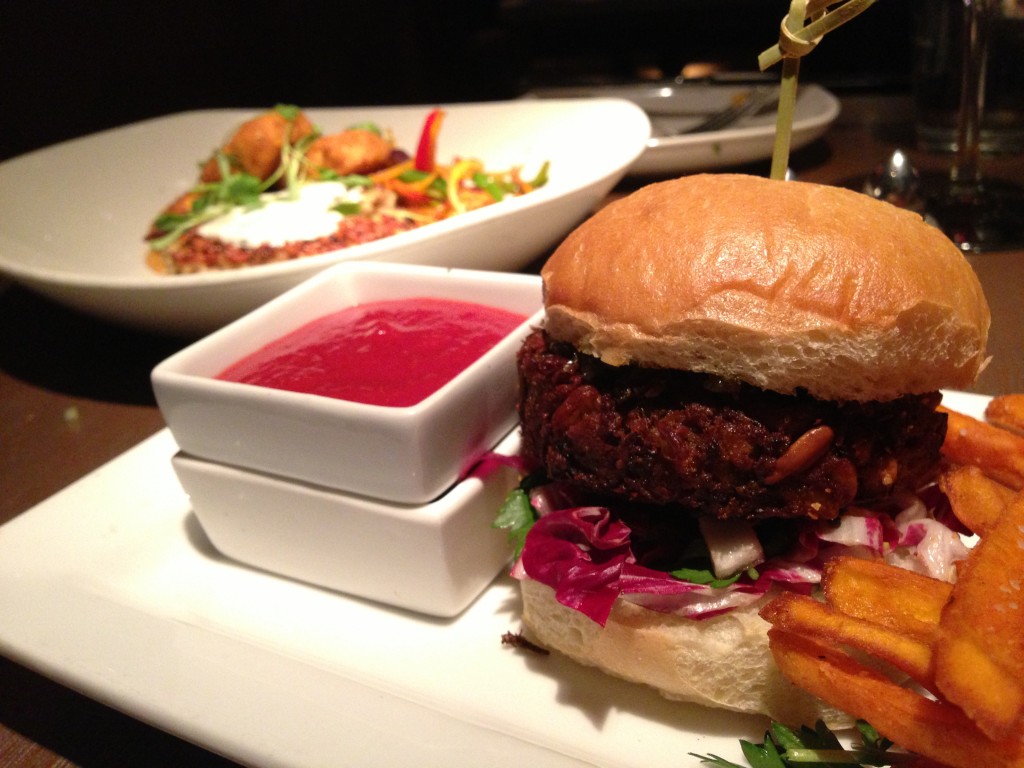 You see that red sauce in the background? Jalapeno jam, thankyouverymuch! I dipped everything in that sauce, the sliders, the sweet potato fries and possibly even my spoon, ha ha. The sliders themselves were tasty and perfectly cooked. If only all restaurants served handmade veggie burgers like this!
I also sampled the Stir Fry Tofu which was served over this mushroom risotto cake that I'm not sure I can even accurately describe: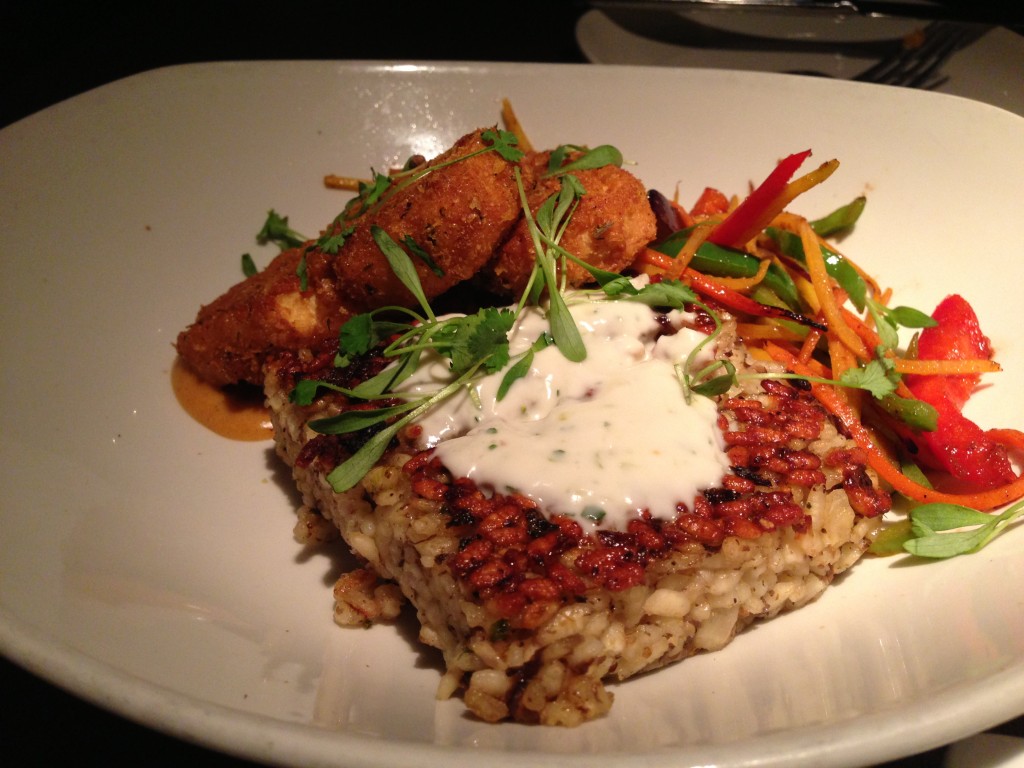 It was literally a cake of risotto, all crispy on the outside and smooth and creamy on the inside. I don't know if they fried it or baked it or how exactly they got it that way, but it was divine! There were also tons of veggies including carrots, eggplant, anaheim peppers and garlic, and it was all topped off with a coconut cream and spicy date sauce. This was seriously delicious. The tofu itself was cooked the way it was meant to be (in my opinion), it was crispy on the outside and soft, almost flaky on the inside. In a way it reminded me of breaded fish, although it tasted nothing like that of course.
And finally, there was dessert….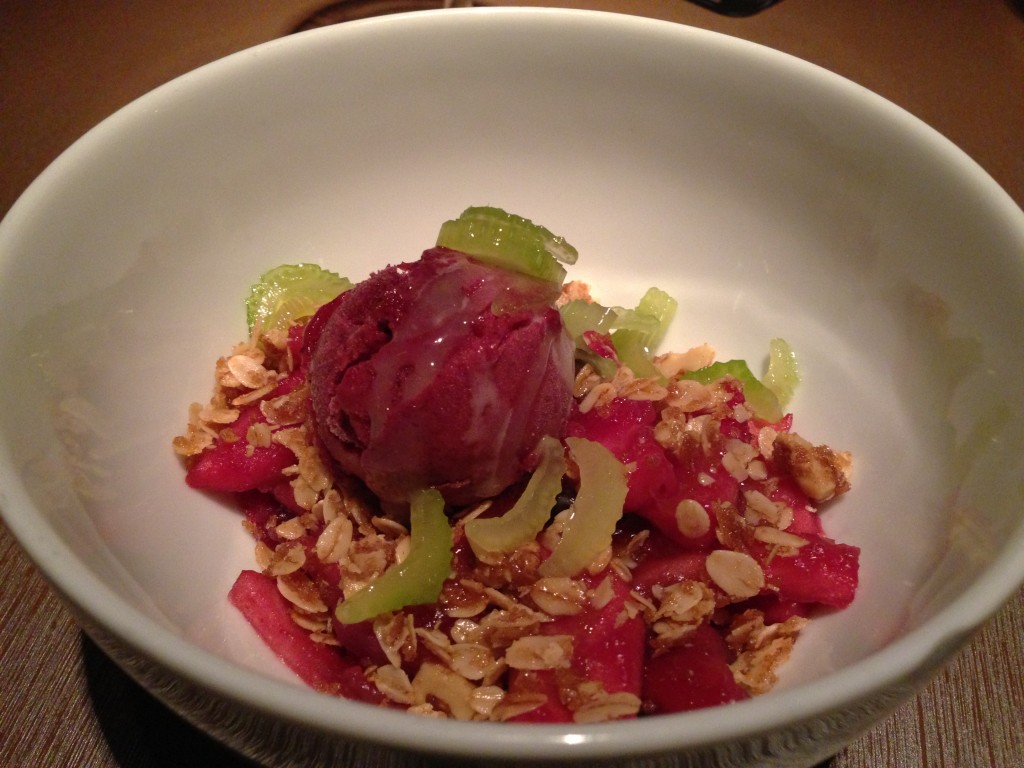 Confession time… I don't really remember exactly what this was. It was strawberry sorbet with oats and sweet celery. I think maybe it was deconstructed apple pie, but I might be wrong. I didn't take notes because I rely on the menu to help prompt me, but it was a special that night and so it's not listed. All I can say for certain is that it was delicious, hope that helps, ha ha.
Okay, so now we're going to switch gears and talk about the bathrooms. You might think it's a strange thing to talk about during a food review, but the bathrooms were just so cool that I can't not mention them!
What makes a bathroom cool? Smart sinks!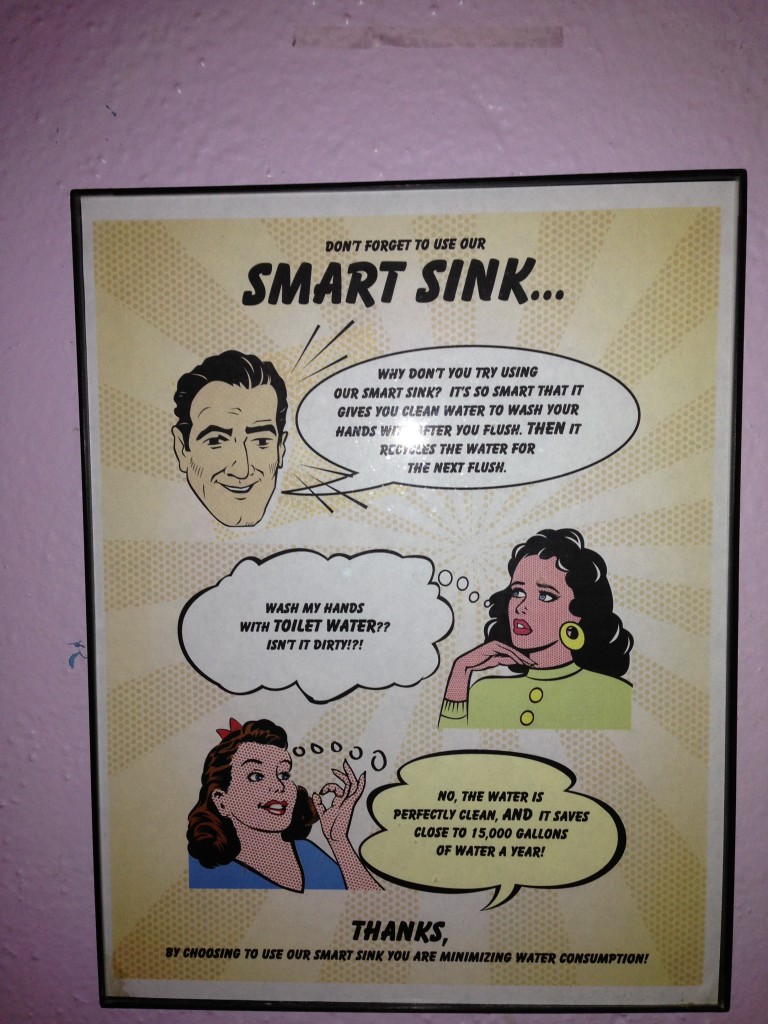 Did that make sense? Or do you need something a little more visual?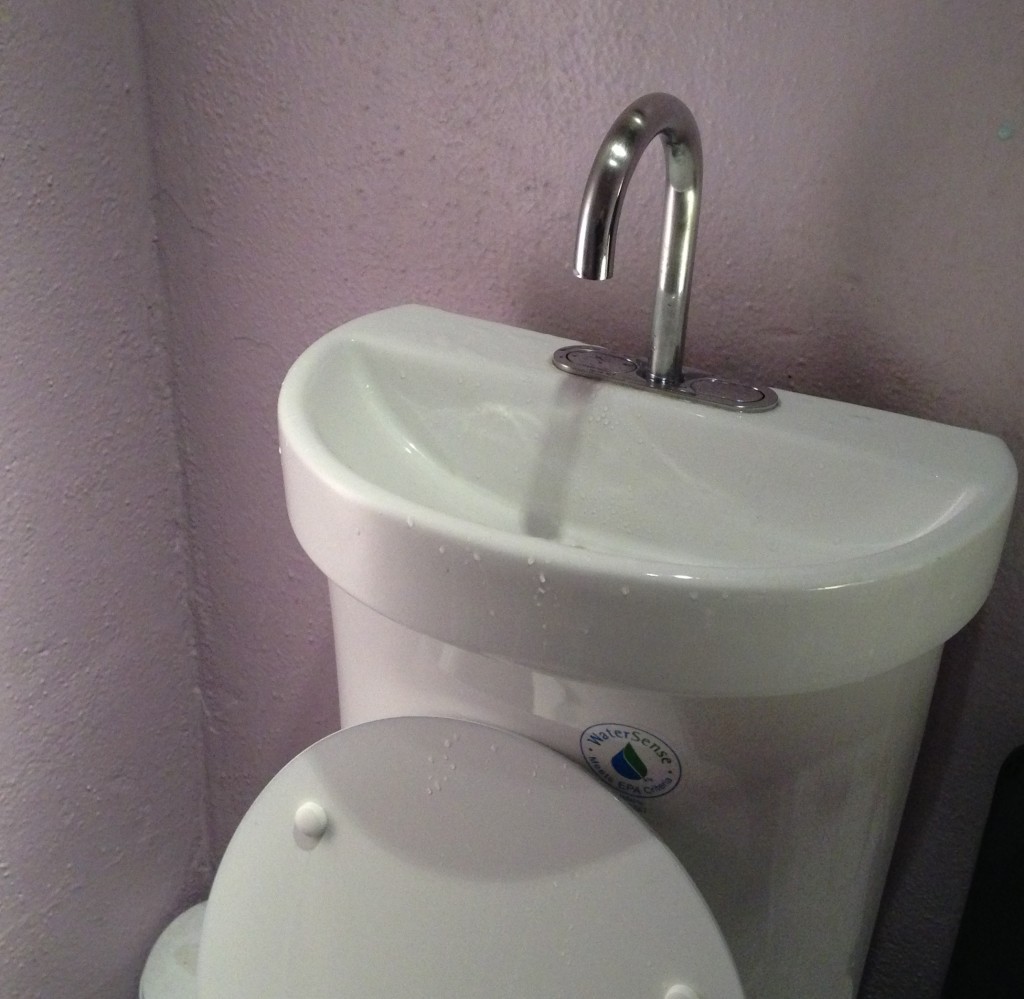 Yes, that's a sink above the toilet! You wash your hands, and then the next time someone flushes, the toilet refills with my used sink water. Brilliant!
Want more Denver-area restaurant reviews? Check out my Mile High Vegan Eats page!