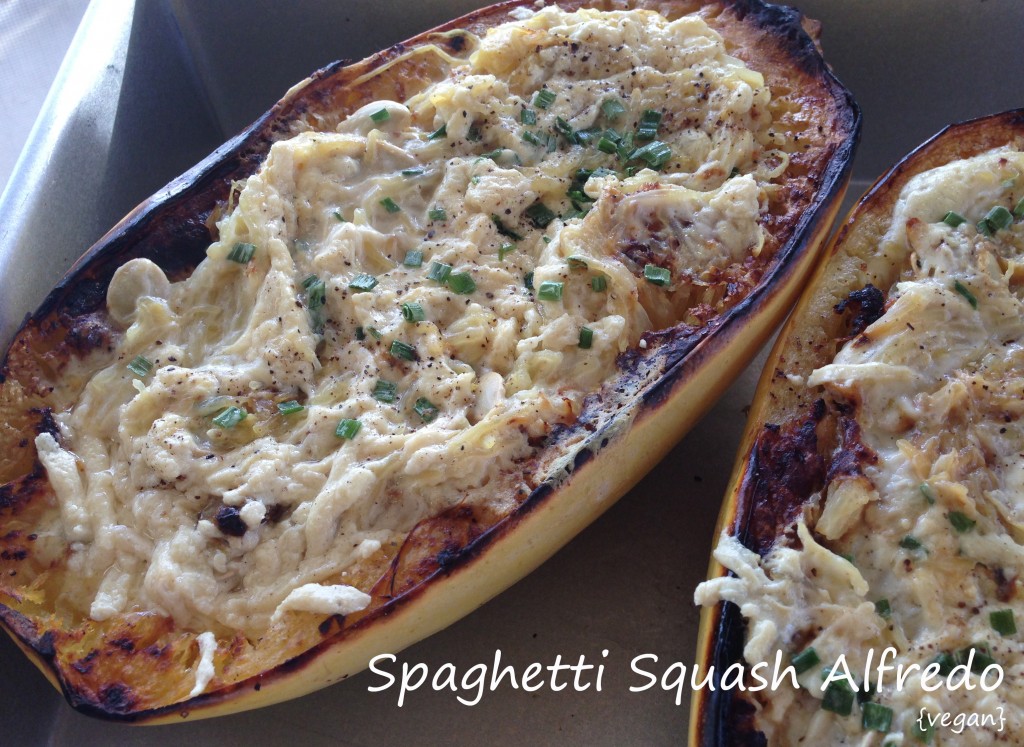 This Grilled Spaghetti Squash Alfredo was so delicious, my head nearly exploded! If you've never had spaghetti squash, you simply must. When cooked correctly, the flesh of the squash is similar in look and texture to spaghetti. Grilling also gave it a wonderful, sort of smoky flavor. Then I topped it with a little vegan alfredo sauce and some Daiya mozzarella, and it was just amazing. What makes it even more fun is that you can serve them right there in their own skins!
Seriously, you guys, you need to make this. Don't have a grill? Bake it instead!
These weren't difficult to make, but you do need to make sure that you grill the squash for the right amount of time. Too little and the insides will be hard and tough… too much and the strands will be mushy.
I used a variation of the Happy Herbivore alfredo sauce, but you could use one of those handy dandy jarred vegan sauces if you prefer to save a little time!
---
Grilled Spaghetti Squash Alfredo (makes 2 servings)
Please, please, please do not overcook your squash! I'd start checking for done-ness around the 15/20 minute mark.
Also, consider serving with a small bowl of extra alfredo sauce. As you're eating the squash you'll continue to pull more and more strands away from the edge, so you might want more sauce 🙂
Ingredients:
1 spaghetti squash, washed
2 tablespoons safflower oil
Non-stick spray
1 to 1 1/2 cups vegan alfredo sauce (if you use the HH recipe mentioned above, I use regular AP flour and add sea salt!)
Vegan mozzarella shreds (I used Daiya!)
Chopped scallions
S&P
Directions:
Heat your grill to medium.
Slice the squash open lengthwise. You can remove most of the seeds with a spoon if you wish, or just leave them in. I removed about half and left the rest in.
Brush oil over the open faces of your halved squash, and sprinkle with S&P
Place the halves face down on a double sheet of heavy duty aluminum foil that has been sprayed with non-stick. Place on the grill.
After about 20 minutes check the squash. Try stabbing a fork through the skin… you should be able to penetrate but not easily. I ended up leaving mine on for another 5 minutes, although I turned the heat down to low.
Remove the squash from the grill and stir the insides with a fork. Looks like pasta, right!? Pour ~1/2 cup of alfredo sauce into each side and stir well. Top with mozzarella and chopped scallions then place under the broiler for just a minute or two to get it all melty.
Enjoy!