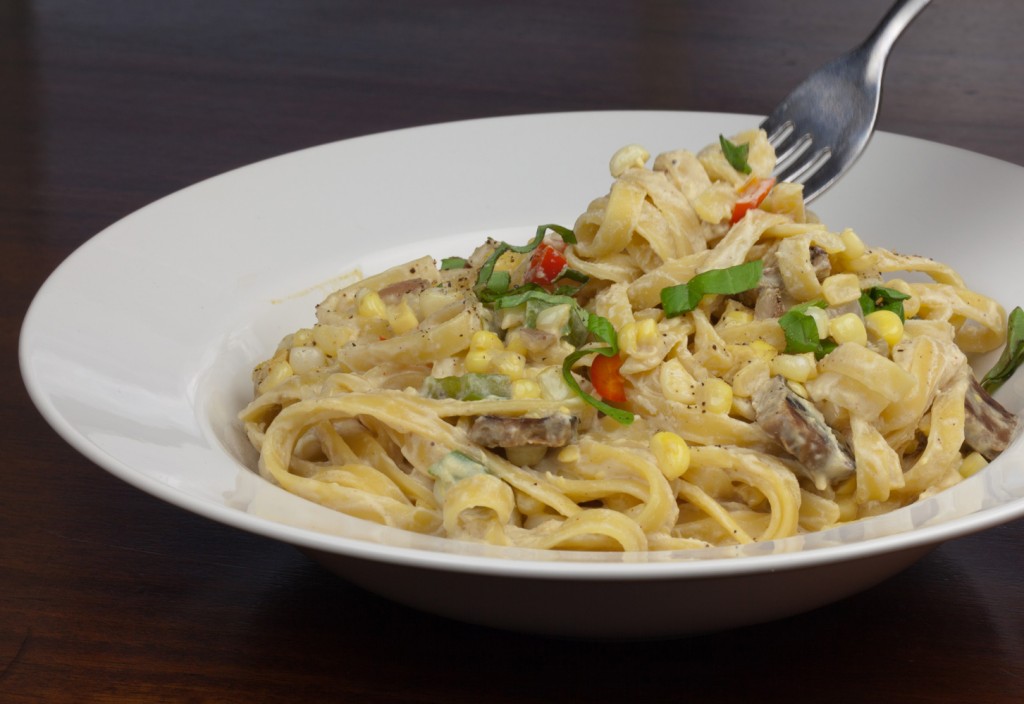 I have this thing with sweet summer corn… I literally cannot stop myself from eating it. Grilled, boiled, I don't care. Just let me put it in my belly.
When I was a young lass, we lived near a small farm that grew "cow corn" in a field directly across from my house.  I'll never forget the first time I snuck into that field to steal an ear of corn. I thought I had discovered the secret to happiness! The meaning of life! Whatever you wanted to call it, I was pretty sure that I'd be eating all the corn I wanted for the rest of that summer.
Unfortunately, cow corn tastes nothing like people corn. It was so gross, and not sweet, and not good at all. To say I was disappointed would be an understatement. To say I didn't sneak in again a week later, just to make sure, would be a lie.
It's entirely possible that I wasn't the smartest kid ever.
Fast forward 15 20 25-ish years and I no longer steal my corn – I buy it from a farmer's market or grocery store like a nice, upstanding citizen. The best part? No more cow corn! Also, no more climbing through rusty old fences.
I feel like this post has gotten way off topic, so let me circle back around to where I began: I love corn. And in an effort to consume as much corn as possible, I had to look for different ways to prepare it. Now, you might be thinking that corn and pasta seem an odd match, but as soon as you try this Vegan Summer Corn Fettuccine Alfredo, all your doubts will fly right out the window. I promise.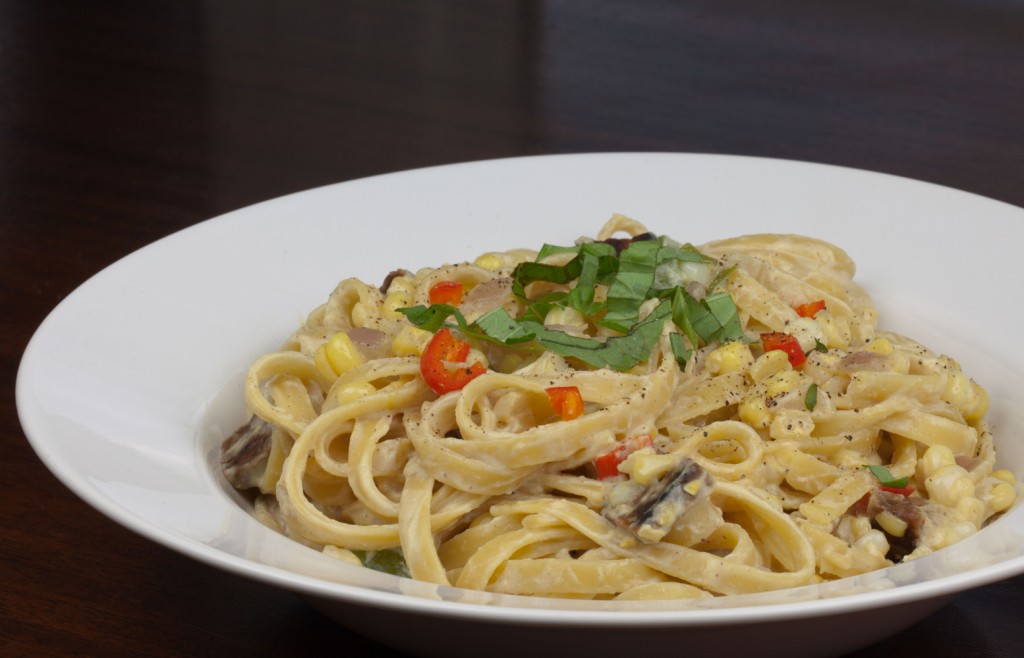 The corn is sweet, and the vegan alfredo sauce is oh so creamy! Did I mention there's tempeh bacon in there, too? Well there is! Top with a little basil and you have the perfect summer pasta dish!
Just don't use cow corn.
---
Summer Corn Fettuccine Alfredo (makes 4-5 servings)
Adapted from this non-vegan/non-vegetarian recipe.
Ingredients:
8 ounces fettuccine
4 slices tempeh bacon
Applewood smoked sea salt
3 ears of corn, shucked and all the fibers rinsed off
1 Tablespoon safflower oil
1 sweet bell pepper, chopped (I used red, any would work)
Half small red onion, diced
S&P
1 teaspoon crushed red pepper flakes
1 batch Happy Herbivore alfredo sauce (when preparing, I recommend using AP flour and adding salt!)
Basil leaves, for topping.
Directions:
Cook fettuccine according to box, set aside.
Cook tempeh bacon w/ a little no-stick spray, and sprinkle with the smoked sea salt, 2-3 minutes per side. Once it has some color, remove and chop into bite-sized pieces.
Cut the corn off all three cobs. Add oil to the pan and when it's heated (over medium-high), add the corn, bell pepper and onion. Add a little S&P and stir until everything is warm, 2-3 minutes. Add the bacon back in and leave on for another 2 minutes. Add pepper flakes, then taste and adjust. Stir in alfredo sauce and pasta, and reduce heat to low. Top with basil leaves, and serve warm.
Enjoy!