This contest is now closed, and winner is <drumroll….> Ashley! She went gluten free to try and clear up her sinus infections, then went completely plant-based (literally) over night after reading the China Study! Very impressive!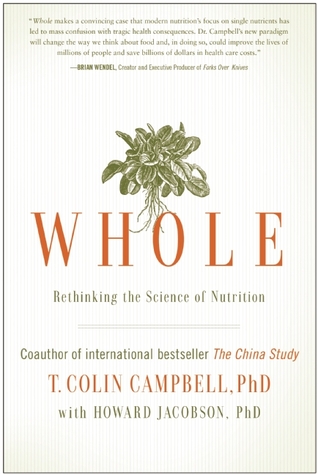 For those who have already read The China Study, T. Colin Campbell's game-changing bestseller, you'll recognize Whole: Rethinking the Science of Nutrition as the next logical step. In this impressive follow up, we learn why a whole food, plant-based (WFPB) provides optimal nutrition, and why it absolutely is the best way for humans to eat.
Not exactly a beach-read, Whole is powerful, packed with facts, persuasive arguments and plenty of nutritional research and science. It's a book you'll read and then happily share with your non plant-based friends and family!
---
The Giveaway:
One lucky reader will receive a copy of Whole: Rethinking the Science of Nutrition!
This contest is open until Midnight (Mountain time), Sunday 9/22. The winner will be chosen randomly and announced the following day. To Enter: All you gotta do is leave a comment below telling us whether you've read The China Study and if so, what changes it prompted you to make. I love hearing from my healthy readers! 🙂
Contest is limited to US and Canada only. Good luck!!
*The publishers provided me with free product to review, but the opinions are 100% mine!