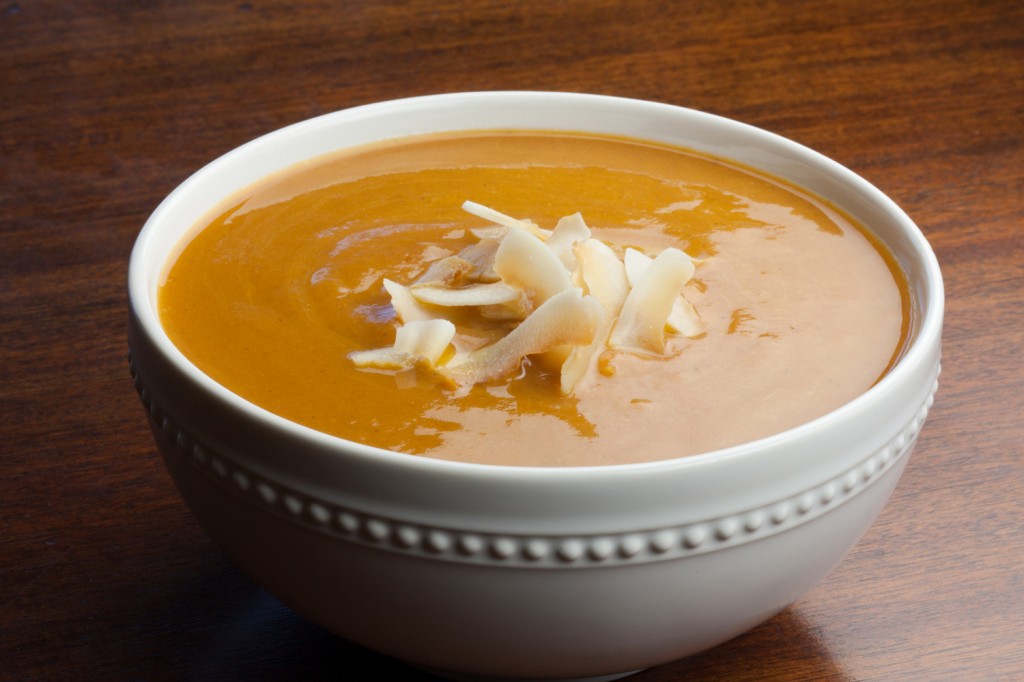 Ahhh, it's finally autumn in Colorado. The aspens are a gorgeous glowing yellow, the nights are chilly, and I can finally start dressing my dogs up in ridiculous sweaters again. Oh, and it's also time for PUMPKIN RECIPES! The last two weeks have been a blur of pumpkin, but I had to pick one to be the first, and this creamy Pumpkin Soup with Toasted Coconut is it!
This soup is perfect for pumpkin purists… there's not a ton of nutmeg or cloves covering up the pumpkin flavor, just some maple syrup and a hint of coconut! This recipe allows the pumpkin flavor to really shine, and is perfect for lunch or dinner on a crisp fall day.
I enjoyed mine after a hike, and with some pumpkin and Daiya Jack quesadillas…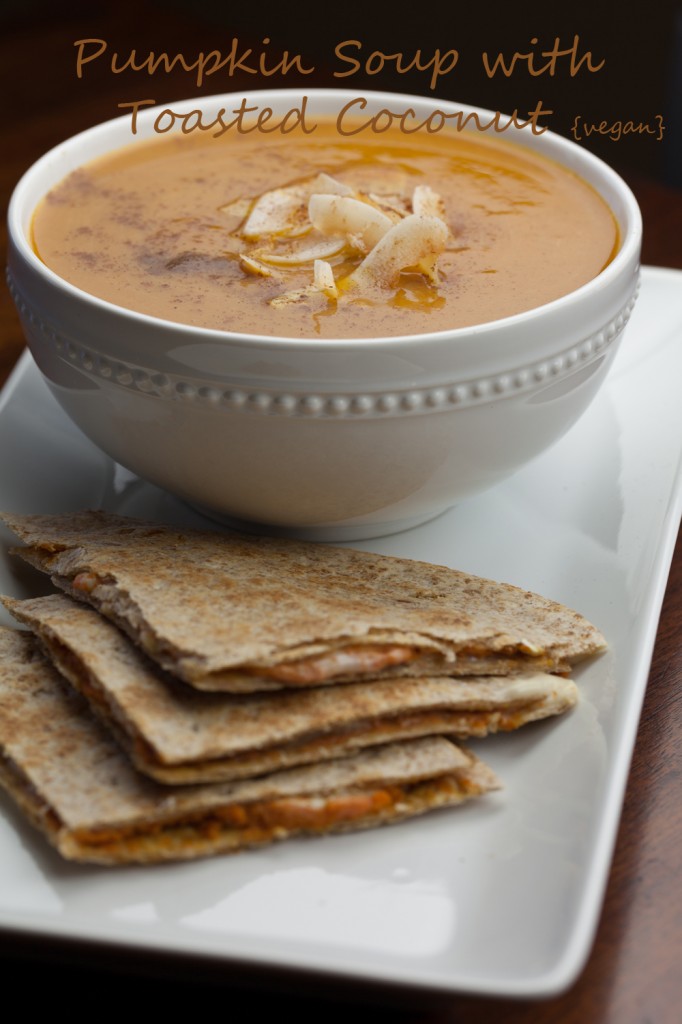 Can you tell I'm excited about pumpkin? I ate it twice in one meal! Now, some people (like my pal Hannah) think that pumpkin is over-hyped, and while they're entitled to their opinion, I'm also entitled to think they're a little cray cray. I mean, IT'S PUMPKIN! It's yummy and delicious and we really only cook with it a couple months out of the year.
What do you think? Is pumpkin over-hyped or are you as excited as I am? What's your favorite way to use pumpkin in a recipe?
---
Pumpkin Soup with Toasted Coconut (makes 4 servings)
Don't have toasted coconut flakes but still want some crunch? Throw on some seeds or croutons!
Ingredients:
1/2 medium sweet onion, diced
15oz can pumpkin
2 cups water
1/2 cup So Delicious coconut milk
3 Tablespoons maple syrup
1/2 teaspoon of salt (you might want to add more… I did…)
1 teaspoon cinnamon, plus more for sprinkling
Ground pepper
Toasted coconut flakes
Directions:
Water saute the onions in a soup pot  for 6-7 minutes, then add all other ingredients (except coconut flakes and extra cinnamon). Simmer for 15 minutes (uncovered), stirring frequently. If you want a perfectly smooth soup, use an immersion blender to take care of the onions (I left mine whole).
Check for seasoning, then plate and top with freshly ground pepper, cinnamon and the toasted coconut flakes.
Enjoy!