Just to be clear… these Vegan Pumpkin Pie Bites are for your dogs…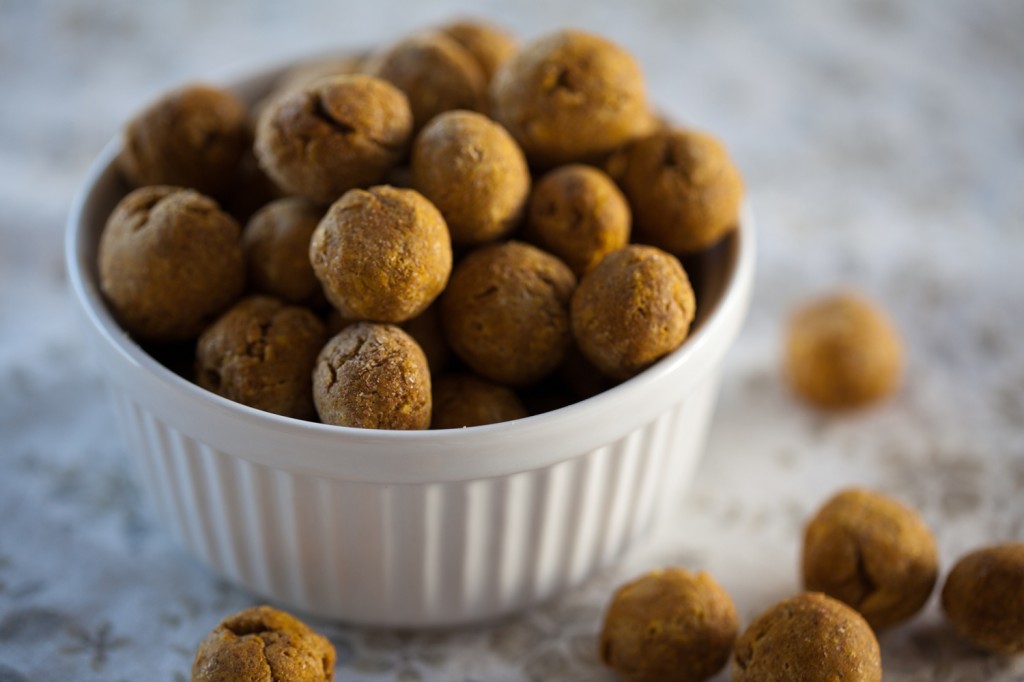 You could eat them if you wanted to, I suppose. They are made with human-grade ingredients (whatever that means), but you'll probably find them a bit bland.
Your pooch on the other hand? He'll do flips for them! He'll stand up on his back legs and walk around, he'll roll over and play dead, he'll do whatever you want him to, except pick up after himself.
Speaking of which, have you ever noticed how your dogs will take all the toys out of their toy box, but never put them back in? My Cooper was always like that, but I finally trained him to put his toys away. On second thought, maybe I trained him too well because now he even puts himself back in the toy box!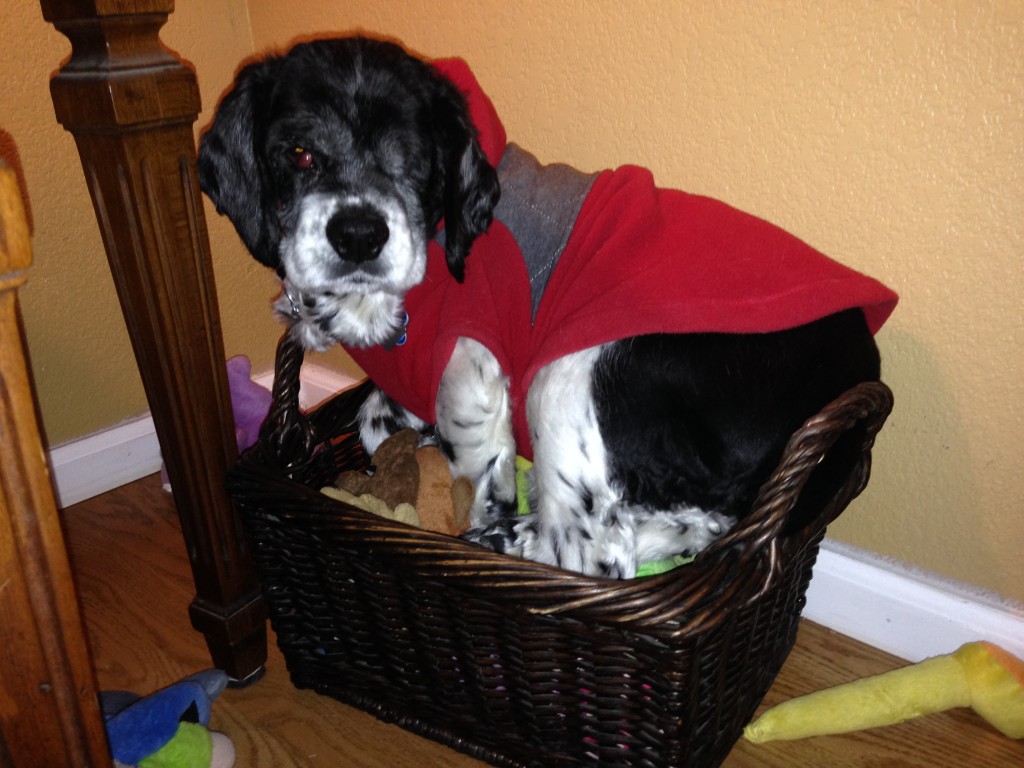 Isn't he so cute in his little red sweater? You can't really tell from that shot, but it has a little hood that actually fits over his head! Squee!
Anyhoozle, if you love your dog as much as I do, you simply must start making their treats from scratch. We've all read the horror stories of beloved pets dying from contaminated treats, and besides- making them at home allows you to control the ingredients and save money. Win-win!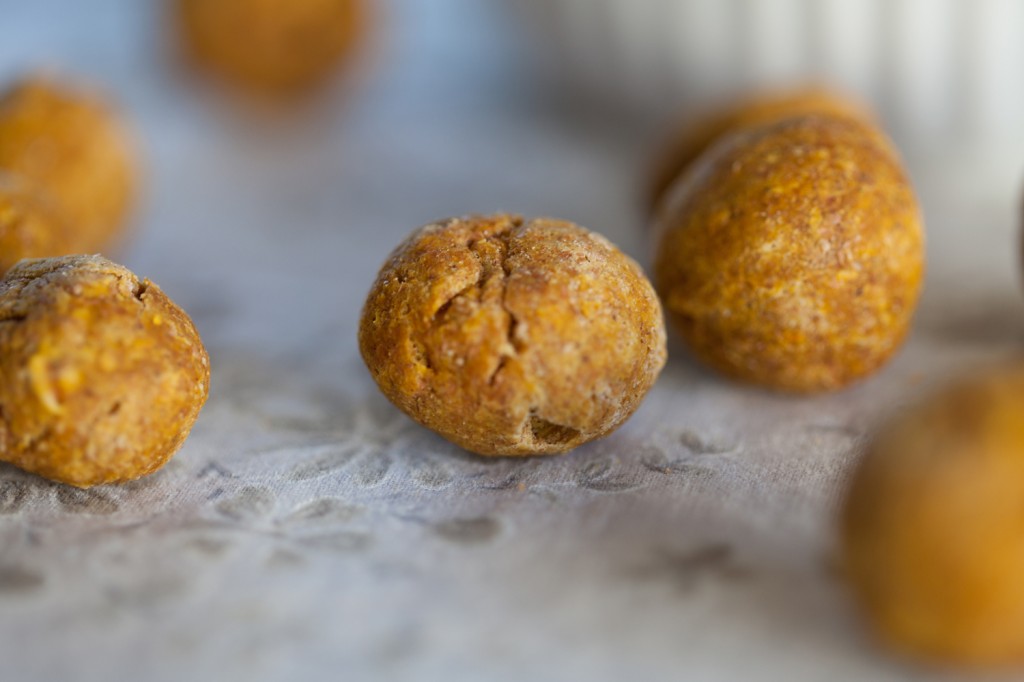 This recipe makes a dough that can be rolled out and cut with bone-shaped cookie cutters, which I sometimes do, but since my dogs are little-ish and I like to treat them a couple times a day, I went for a smaller serving size. And the ingredients are all easy to find any and grocery store, which means all you need to commit to is an hour or so in the kitchen to make a couple weeks worth of treats.
I made mine on Sunday while watching football and drinking some strange vodka concoction I had invented out of necessity… the necessity being that I was completely out of any normal sort of mixers. My point being that if I can successfully bake anything while hopped up on vodka and <ahem> crystal light, it'll be a piece of cake for you!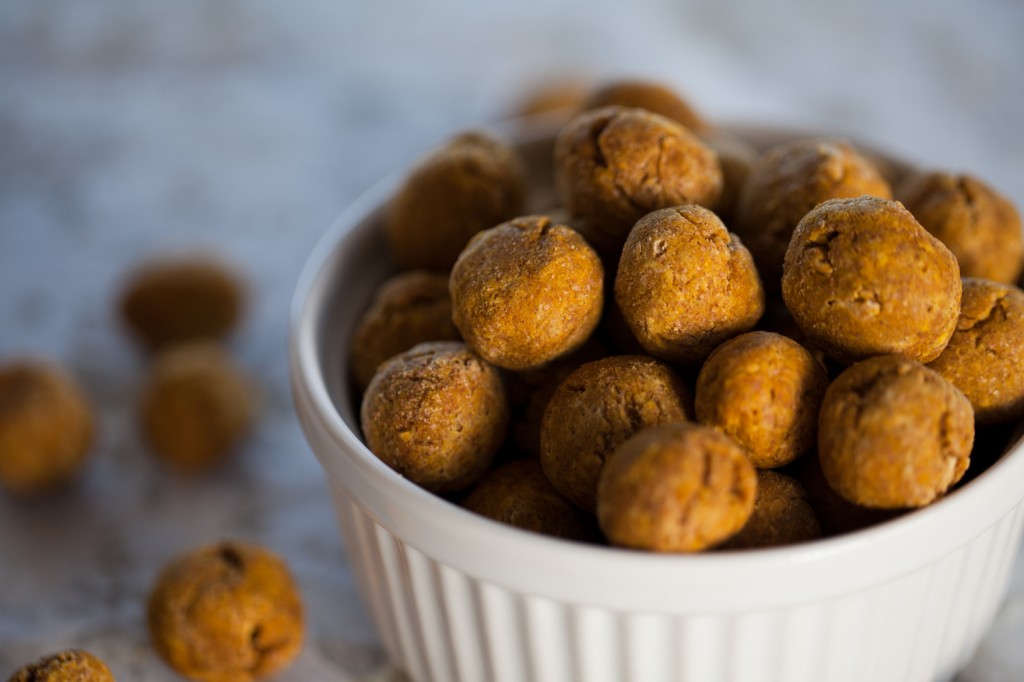 ---
Pumpkin Pie Bites For Pups (makes 50 or so "bites", or 2 dozen cookies)
Ingredients:
3/4 cup canned pumpkin
1/2 cup water
2 Tablespoons coconut oil
1.5 teaspoons cinnamon
1/2 cup old fashioned oats
2 cups whole wheat flour
Directions:
Preheat the oven to 375 degrees.  In a large bowl, combine pumpkin, water, coconut oil, and cinnamon. Whisk until coconut oil is broken up. Stir in the oats, then slowly add the flour. You'll probably need to use your hands towards the end.
If you're making cookies, roll out to 1/4″ thick, then cut with the cutter (use a 3″ cutter to get the full 2 dozen cookies), or if you're making "bites" just roll small pieces between your palms.  Bake on ungreased cookie sheet for 20-15 minutes (bites), 35-40 minutes (cookies), stirring or turning over halfway through.