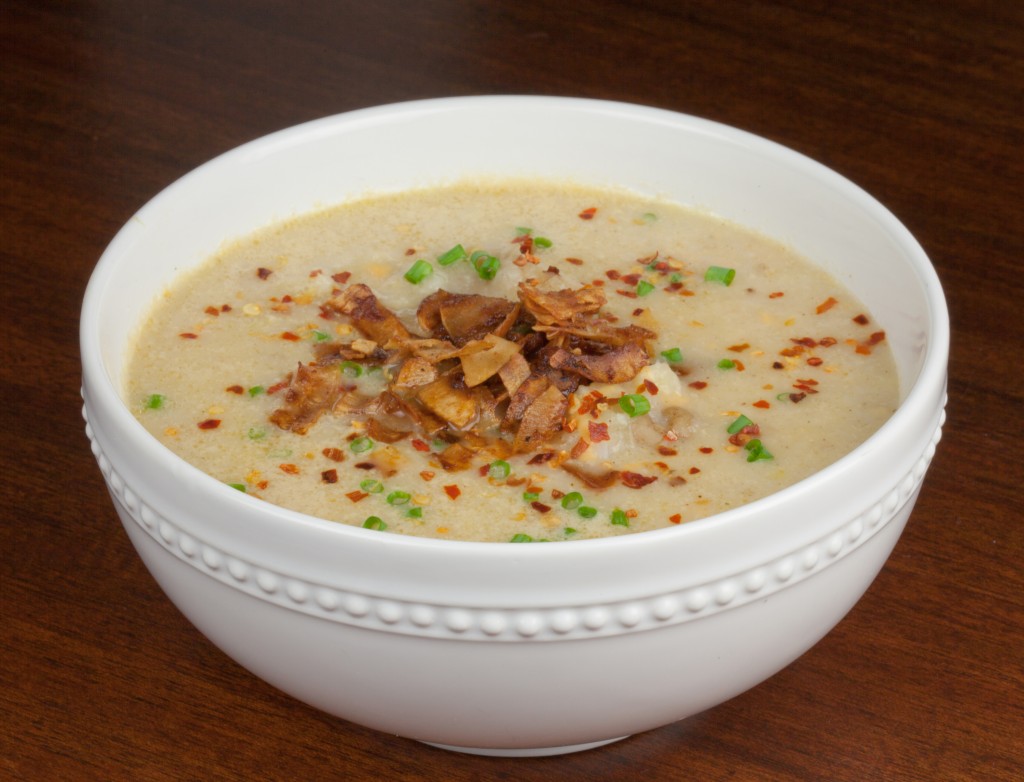 What makes this Vegan Baked Potato Soup special? The secret cauliflower. What makes it extrasuperspecial? The coconut bacon! No joke, that stuff is crazy good. It's salty and bacony and has just a hint of coconut.
Who wouldn't want bacon that tastes like coconut? A crazy person, that's who!
Although… I did send my mom a bag of it to try a while back, and I haven't heard a peep out of her… so maybe she didn't like it. Does that mean my mom is a crazy person? Possibly. Or maybe I should just call her more often so I can bug her about it…?
Temperatures in Colorado are set to be in the single digits for the rest of this week, so it's officially soup weather.  It's also (apparently) walking boot weather.  The last 3 years, right around this time, I have found myself in a walking boot. Twice with a fractured sesamoid bone, and this time with Sesamoiditis. I have a new podiatrist (whom I adore! Seriously, if you're in Denver and you need a foot specialist, check out Dr. McGarry!) and he actually thinks it's been sesamoiditis all along, which wouldn't surprise me. My last podiatrist was the worst. You know those doctors who act like they don't have time for you? Who barely even pay attention when you're telling them what's wrong? Ugh. So annoying.
The good news is that I'll be out of the boot before my trip!  And until then, I'm just gonna sit tight and eat my weight in soup. Sounds good, right?
---
Vegan Baked Potato Soup
Ingredients:
Whites of 2 leeks, sliced
1 head cauliflower, cut into florets
2 cups chopped potatoes
2 cups almond milk
1 cup vegetable broth, plus 1 cup water
1/2 Tablespoon powdered garlic
1 teaspoon chili powder
2 bay leaves
1 cup thinly sliced cabbage
1.5 cups Daiya cheddar shreds
1 Tablespoon lime juice
1.5 cups frozen corn
S&P
Coconut bacon
Directions:
Water saute the leeks for 2 minutes, then add the cauliflower, potatoes, milk, water, broth and spices. Simmer covered for 7-8  minutes. Add the cabbage and let simmer another 2 minutes.
Remove from heat, remove the bay leaves, then use your immersion blender to partially puree the soup. This is optional, you can leave it totally chunky, or puree  just as much as you like. Stir in the Daiya, lime and corn. Taste, then add S&P as needed. Just keep in mind the coco-bacon is salty. Top with the coconut bacon before serving.
Enjoy!