(Ed: The original post was having issues with comments, so I had to repost)
If ever there was a place that deserves to be described as magical, it's the Elephant Nature Park in Chiang Mai, Thailand. The specialness of this place, the way that it will break your heart and then make it whole again is beyond description. It will change you, and you'll remember it always. If you ever have the chance to visit, you absolutely must. I don't remember how I first learned about the ENP, but it was years ago. Thailand immediately jumped to the top of my travel wish list. I couldn't afford to go at the time, but I researched the hell out of it. I planned. I dreamed. I hoped. Then, finally, I was in Thailand. (I feel like I should warn you, this is a really long post. If you're part of the TL;DR crowd, just check out the pics!)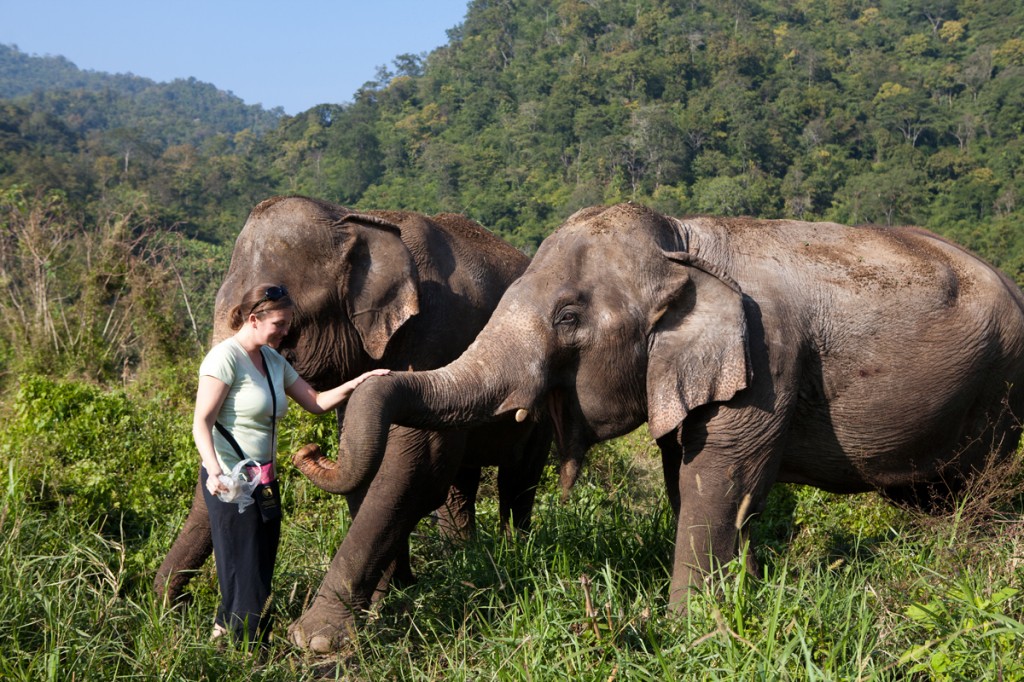 You can read more about the ENP, the elephants who call it home, and Lek Chailert, the woman who founded the organization (and still runs it!) here, and here, and here, but to give you a little background: Although elephants have always been a revered part of Thai culture, they've not always been treated well. Before logging was banned, they were used as heavy equipment to drag trees up and down the sides of mountains. After it was banned, they were used for all manner of heinous things: They were forced to beg on the street, used to find and deactivate land mines by stepping on them (losing feet and legs in the process), and forced to slave away at touristy trekking camps. Many of the elephants at ENP are blind or missing eyes, because their "mahouts" (I use parenthesis because a *real* mahout actually cares for his elephant) felt they could bring more money from begging if their elephant was injured and sad. These same "mahouts" would use slingshots on their elephants while they were logging if they didn't think the elephant was moving fast enough, etc. And the trekking camps? Although the tourists might think it's fun to ride on these enormous creatures, very cruel techniques (including but not limited to hooks and rods to beat them) are used in their training. Perhaps the cruelest torment they suffer is called Phajaan, or the "Crushing of their spirit". You can read more about it here, but I promise it will make you cry.
We booked the 3 day/2 night ENP stay, which I highly recommend (more on that later). We were picked up at our Chiang Mai hotel on the Christmas morning by our guide Apple and a driver, and we joined a group consisting of three other couples: one German, one Australian and one Canadian. The trip to the park went by quickly, and before I knew it we were surrounded by elephants. Glorious, happy, liberated elephants.
Day one was the most basic day at the park for us, and our experience that day was nearly identical (at least for the first half) to what day-trippers can look forward to. When we first arrived, we were able to feed elephants from the feeding platform, a special space with the red "do not cross" line that keeps you at a safe distance from the elephants… After all, you're just meeting them! Then, after lunch, we took one of our new friends into the Mae Ping river which runs through the park for a bath.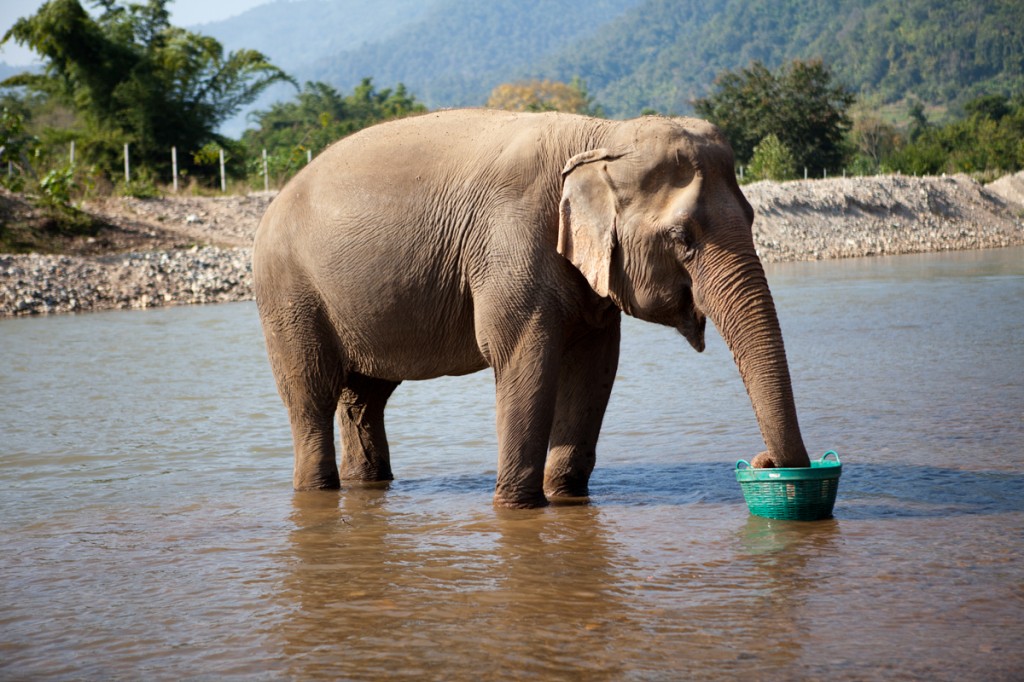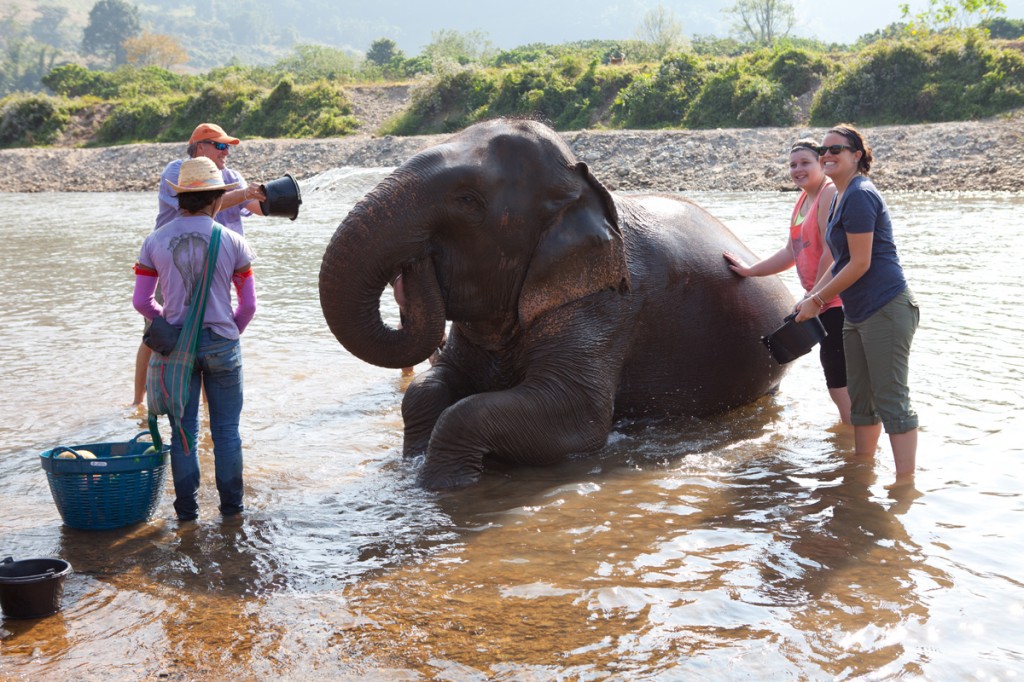 This was fun, and it allowed us to get up close and personal with an ele for the first time, but (for me at least) there still wasn't a real connection. Don't get me wrong – I was beyond excited to be this close and was in awe of this magnificent creature, but I still wasn't completely comfortable… and this is part of the reason that I'd advise anyone booking a trip to ENP to do a longer overnight trip. The one-day trip just doesn't give you the opportunity to bond with these magnificent creatures. You're cheating yourself if you only come for one day.
After bath time, we were given the go-ahead to bring our bags to our "huts". We were in Na'avan II, which backed to the river. The accommodations for guests at ENP are perfect. Our room was large and clean with our own bathroom. I wasn't sure what to expect, but not only was there electricity, there were universal wall outlets which meant I could keep my ipad/ipod/iphone/kindle charged! (Umm, yes, I brought all those things…). At the same time, it was just rustic enough to let you feel like you were staying in the jungles of Northern Thailand. And we had a mosquito net around the bed… Does it get any cooler and more authentic than that?
After "free-time", which we had every afternoon, dinner was served. All meals were vegetarian and buffet style (except for dinner our first night. They served some fish because it was Christmas, I guess), and I always left feeling happy and satisfied. Great food! Following dinner, they put on a wonderful Christmas Party for the volunteers and overnight guests. Lek hired a band to come play, and different groups put on little sketches and shows. One of my favorites was the mahouts, who are almost all Burmese refugees (interesting fact: in this part of the world, it's always referred to as "Burma", never "Myanmar") who fled to Thailand with their families. They danced to traditional Burmese music, it was so much fun to watch. There were many shows, I can't remember them all. The son of some volunteers put on a magic show, that was also adorable. We all sang Christmas carols, and I also drank a couple of Chang beers. Possibly my favorite part of the evening was when the head veterinarian, who was sitting in front of me, turned around and started a conversation. He's Thai and although he spoke very good English, it was loud and I couldn't hear everything he said, but I heard enough to understand. He was enjoying the Christmas show and was full of jokes. And he kept offering me sips of his beer! There was an elderly woman sitting next to him. I don't know who she was but she had to be at least 80 and was also drinking a Chang. The whole thing was just delightful! The Christmas party was extra special because Thailand is a Buddhist country and they don't celebrate Christmas. They put this party on to honor their volunteers and guests from around the world, to make us feel comfortable and a little bit closer to home. It's just one example of what an amazingly compassionate person Lek is.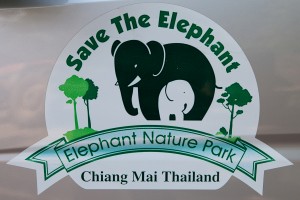 Day two started with Baby Family calling their mahouts to let them know it was time for breakfast. In my sleepy state I thought they were dinosaurs for a moment! We humans had a big' ol buffet breakfast. Just like my fellow vegans at Sister Legumes, my days started with cereal and fruit. After we ate, things started to get really interesting…
It was so quiet. The volunteers had already gone off to start their chores, and the day trippers hadn't yet arrived. It felt like we owned the park. The 8 of us headed out with Apple for a "walkabout" to meet more of the elephants and other animals. We started off along the river, and quickly came to a small group of ele's and their mahouts.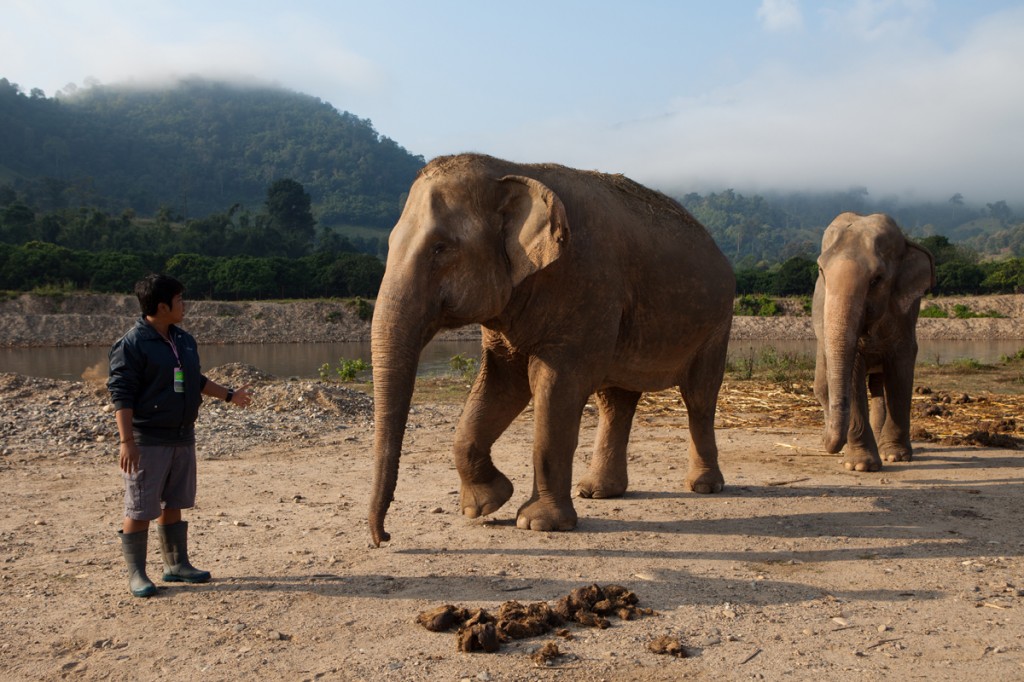 This was the first time I truly felt connected to the elephants. I don't know if it was the closer contact, or the fact that there just weren't so many people around. Probably a combination of both. We discussed it within our group, and I think we all pretty much felt the same. This first group of ele's were so much fun. They're called the Power Puff girls 🙂 And a note about the mahouts at ENP… they're all wonderful with the elephants, as they should be. In fact, each ele gets to choose his/her own mahout, and if they mahout ever falls out of favor with the ele, he's out of a job.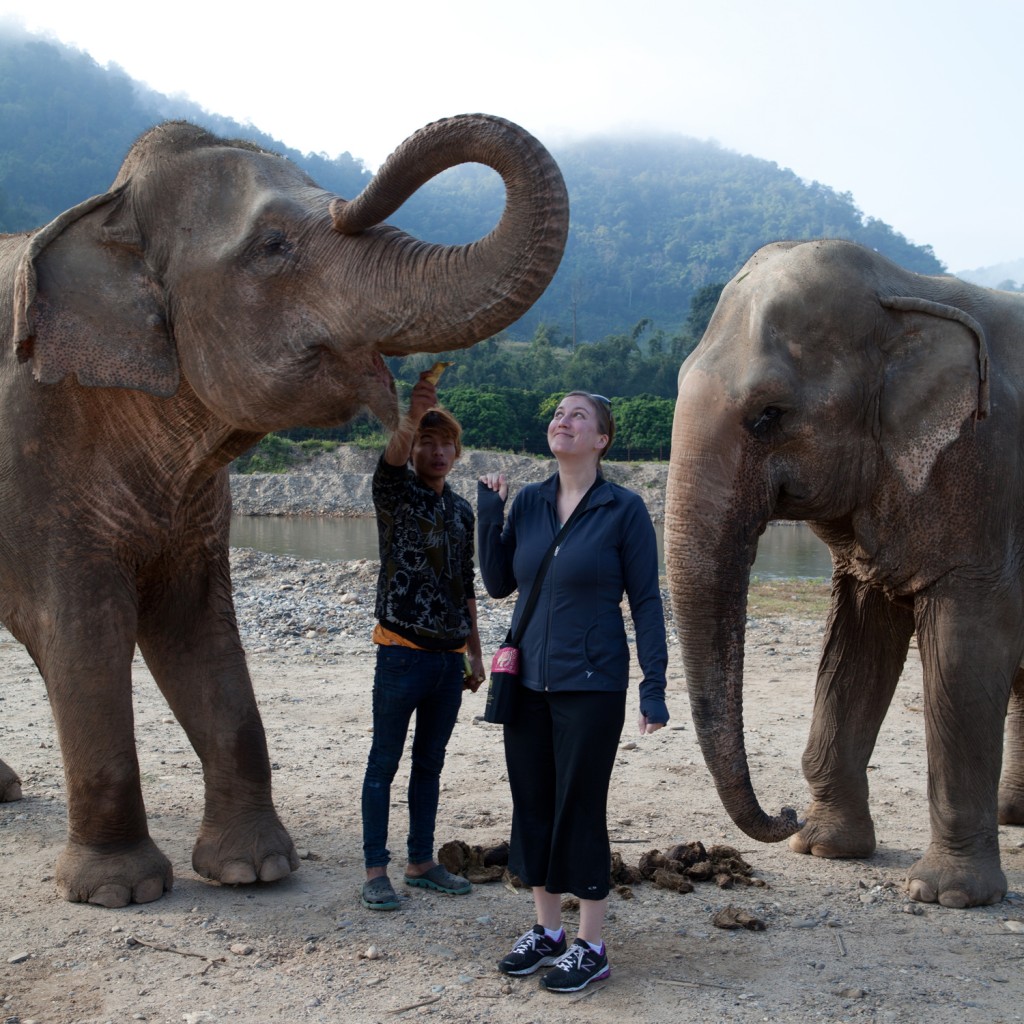 Have you ever looked into an elephant's mouth? I have… 🙂
As we continued around the park we saw water buffalo and ox, even a pig! My favorite, though, was Baby Family.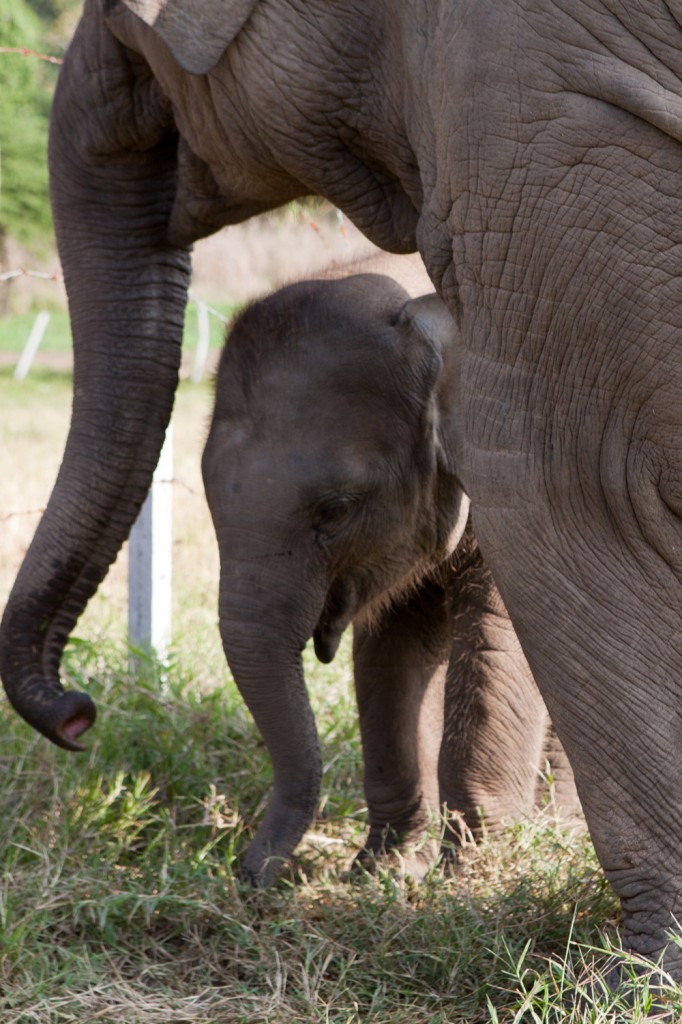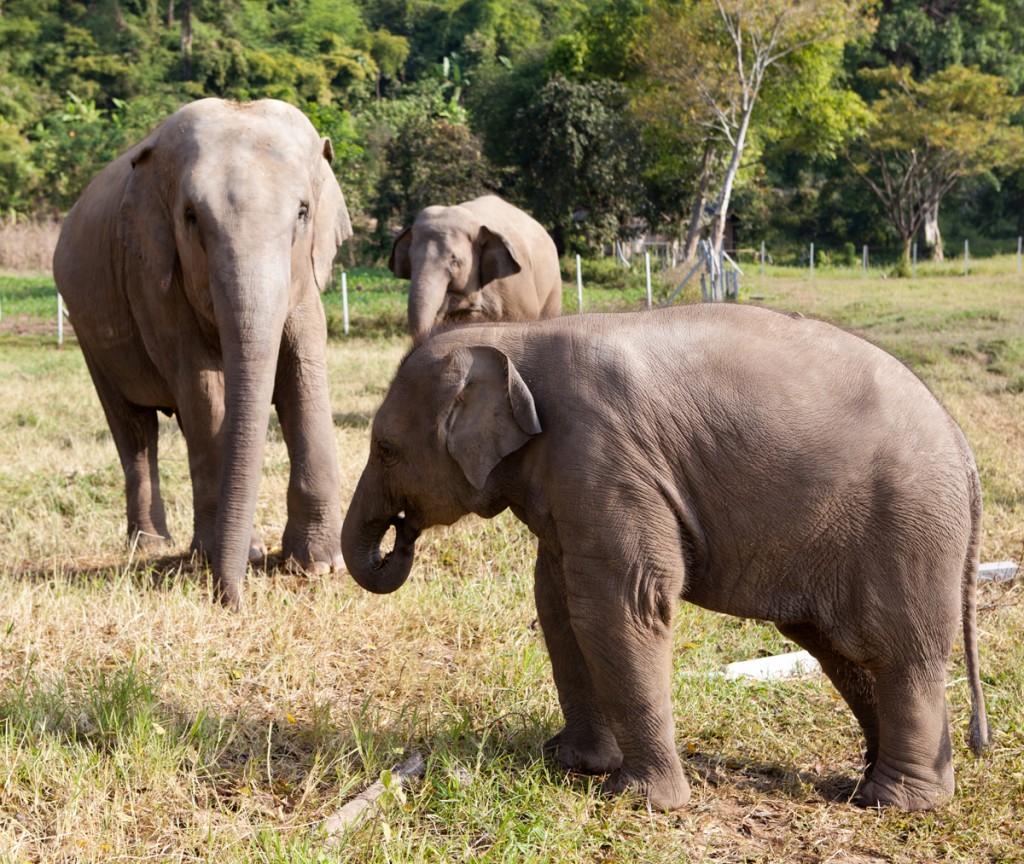 She's the second youngest elephant at the park (7 months when we were there), and she has this big, extended family taking care of her. It's just precious. And she *loved* interacting with us!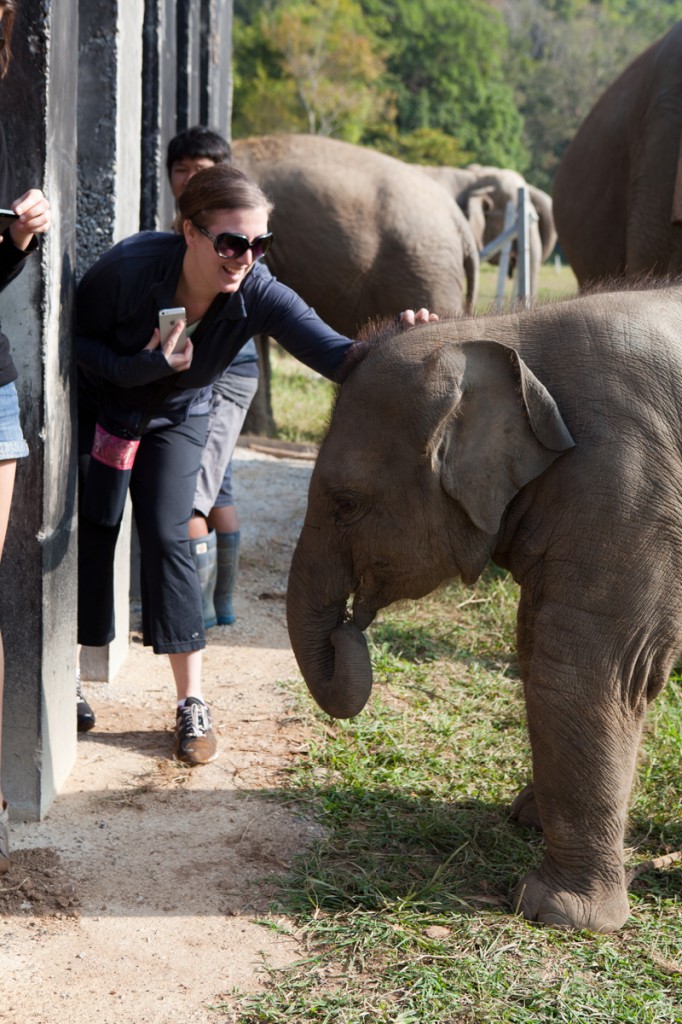 In that last picture, we were "hiding" behind those posts because Naughty Boy was running around nearby. He's big ol' wild-born elephant teenager who loves to start trouble. He actually has THREE mahouts who spend most of their time chasing him around. Pretty hilarious.
If you follow me on Instagram, you probably saw this: Me taking a selfie with an ele (and making duckface)…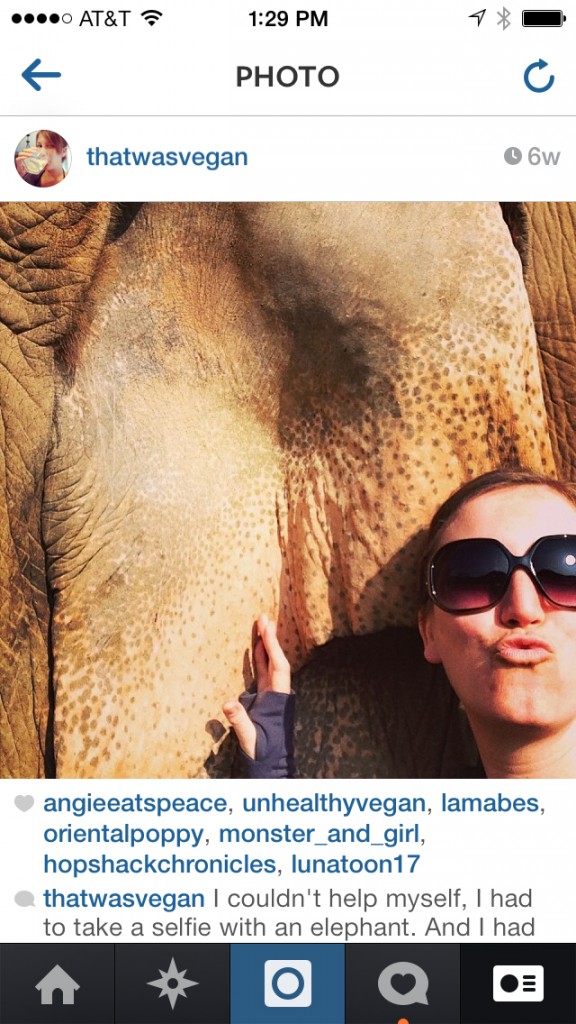 Well, here's the "behind the scenes" shot…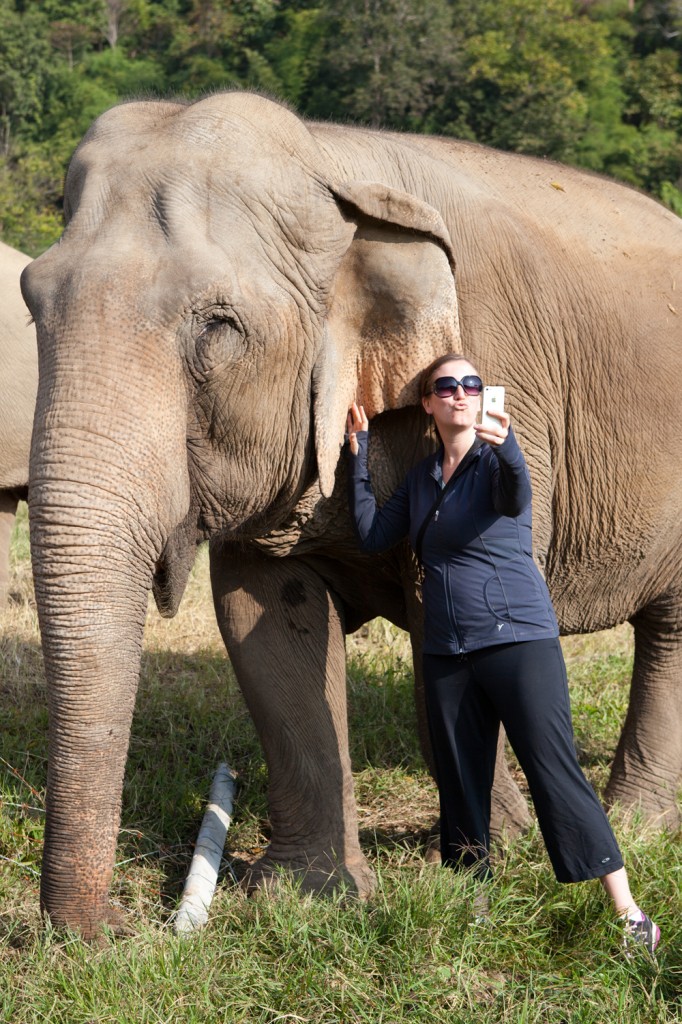 As we ate lunch that day, I couldn't stop talking about my experience that morning. How close (both emotionally and physically) I had gotten to the ele's, and how lucky I felt to be having this experience. Little did I know the day was just getting started.
There was a trekking camp a few miles up the road from ENP. The woman who ran it owned 3 elephants, and had only recently decided that instead of forcing them to work, she wanted them to retire and live the rest of their lives in a sanctuary environment. Initially she offered to give them to Lek, so they could live at ENP, but Lek's response (as I'm sure it always is) was one of compassion and generosity. She said that she and ENP would help the woman turn her camp into a mini-sanctuary, so she could keep the elephants who had been part of her family for so long. Lek committed to training the woman's mahouts at ENP as well as to bringing visitors to see these elephants, to spend time there and to make this new endeavor a financial success. After all, by doing what we all believed to be the right thing, this woman was ending her one source of income (trekking).
The best part? Lek chose our group to be the very first people to visit the elephants. This was, literally, their first day of freedom and we got to share it with them! These three ladies had spent the entirety of their 40+ years either working, or being chained. Seriously. If they weren't working, they were in shackles, not allowed to move. Although their property was full of trees, they weren't allowed to scratch against them. Their property backs to the same river as ENP, but they weren't allowed to take a dip. Beyond sad. But now they're free, and these ladies wasted no time!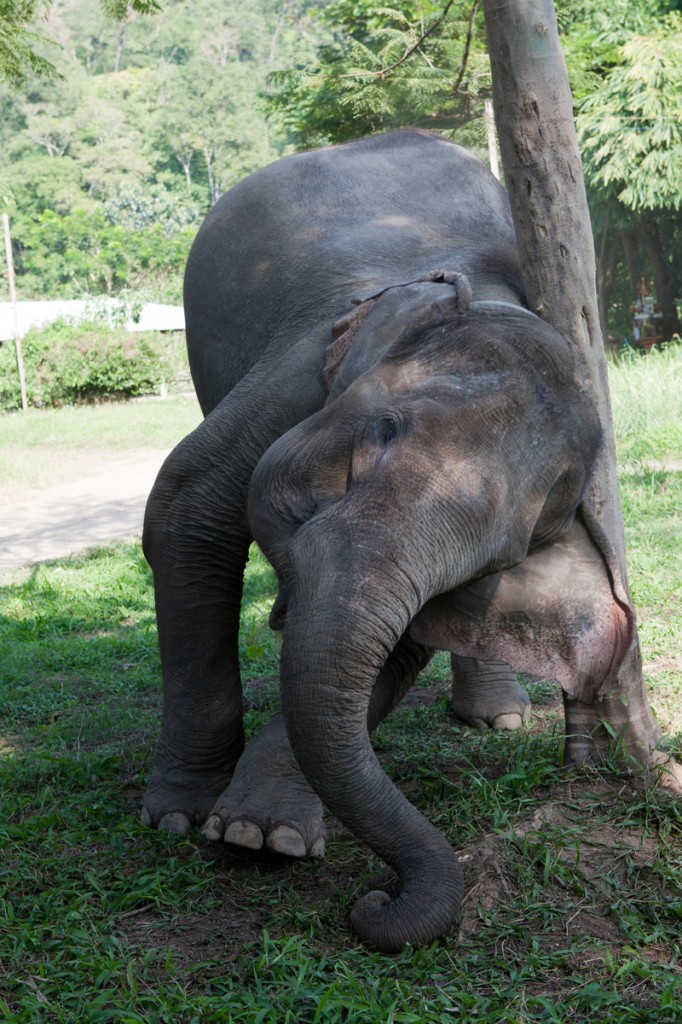 There was a good 20 minutes of tree-scratching. They couldn't get enough! And if that picture makes you smile and you want to see more, I also caught some of it on video…
When they were done, Lek announced she wanted three of us to each walk with an elephant down to the river, and three more of us to bathe them, so she could take pictures for the new website she's putting together. Guess who volunteered to walk an elephant!? The picture from the top of this post is probably my favorite from that afternoon, but this one also makes me laugh. I look very serious!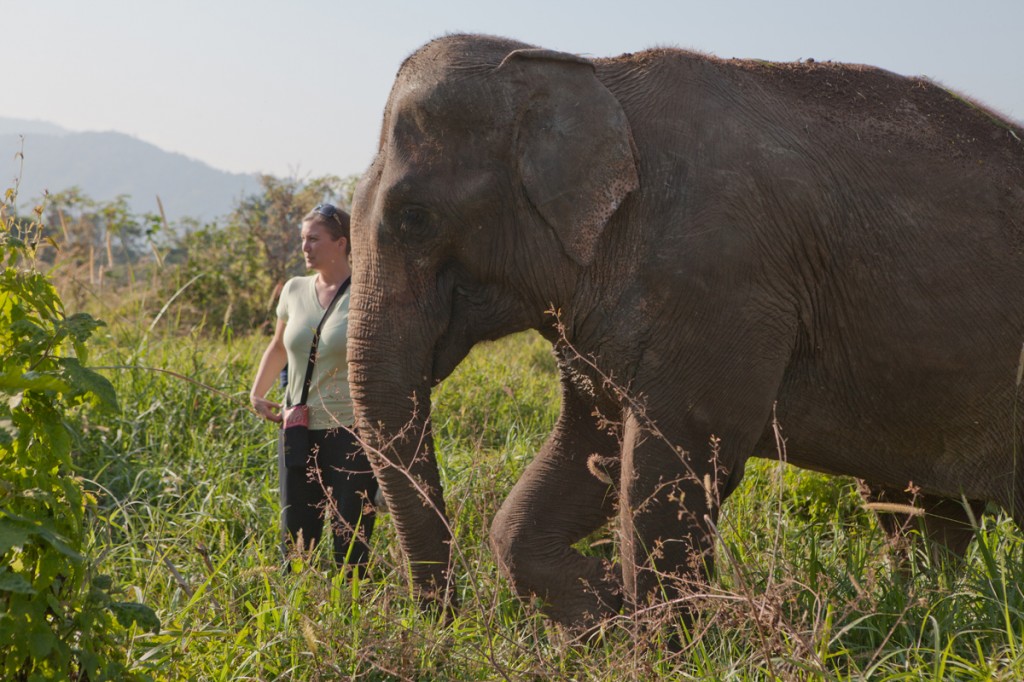 I felt like a mahout! The real mahout (who, at this point, was truly just a "mahout" IMO), gave me a bag of bananas then made himself scarce. It was just me and that big ol' lady. To give you an idea of how amazing this was, even at ENP we were always being warned about which elephants we could approach, which ones were skittish, etc. Here, we were kind of given free reign. It was like "Hey, there are some elephants over there, go have fun with 'em!" You don't have to tell me twice… Okay, here's that first picture again (not like this is going to be a short post anyway). I actually ended up with TWO elephants after the others ran out of bananas.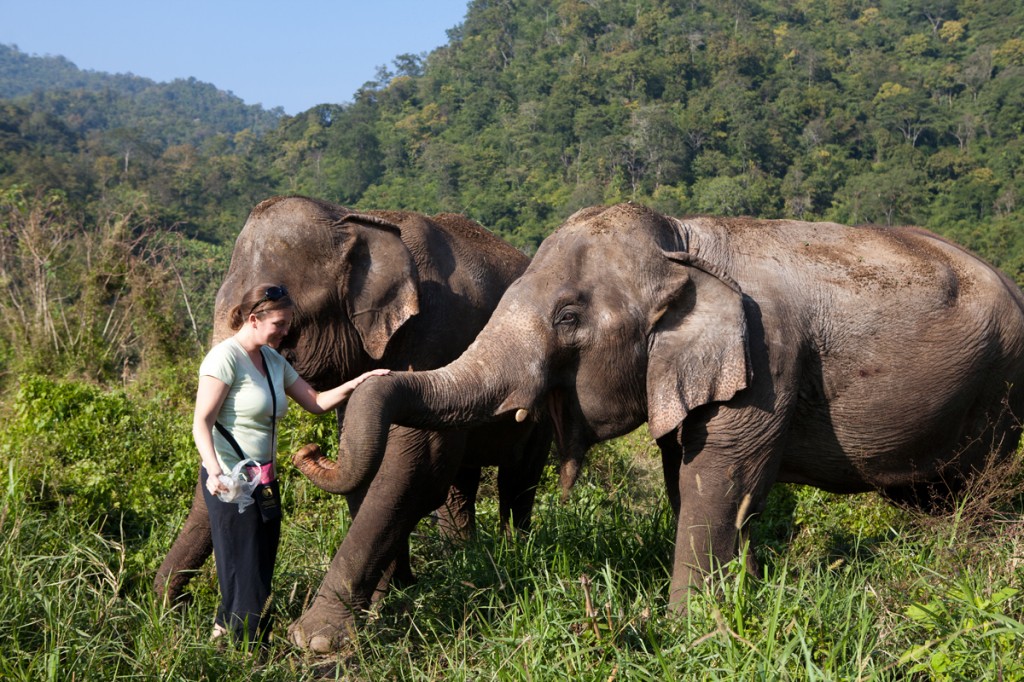 I love that picture. It looks like I was just out walking in the jungle, ran into a couple of ele's, and decided to share my lunch with them!
Then it was bath time. They all enjoyed it, but one girl reeeaallly made herself at home: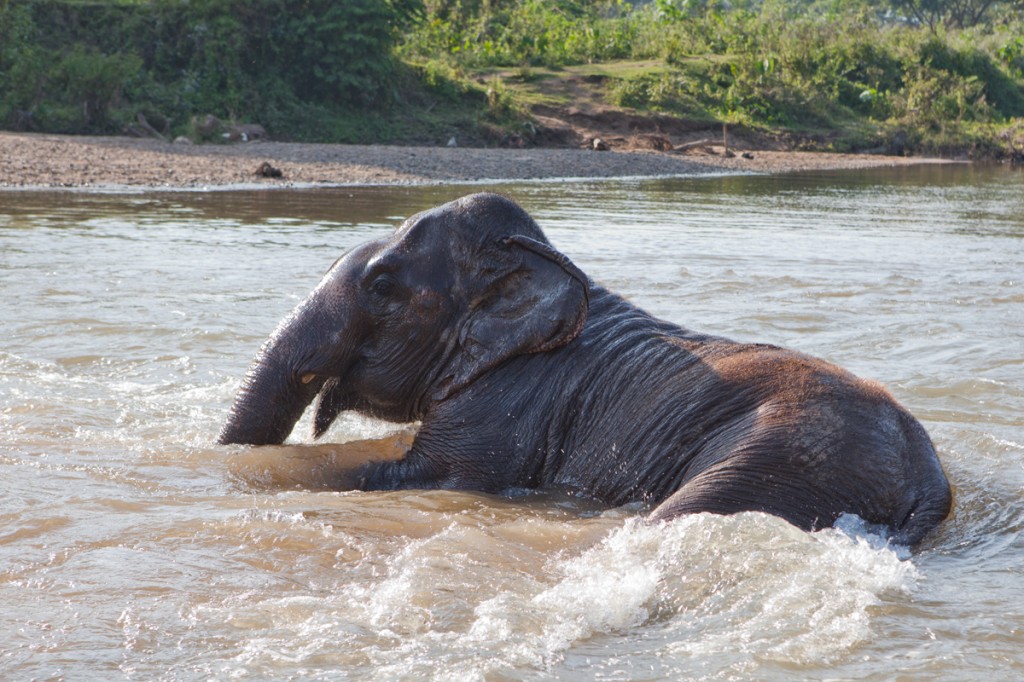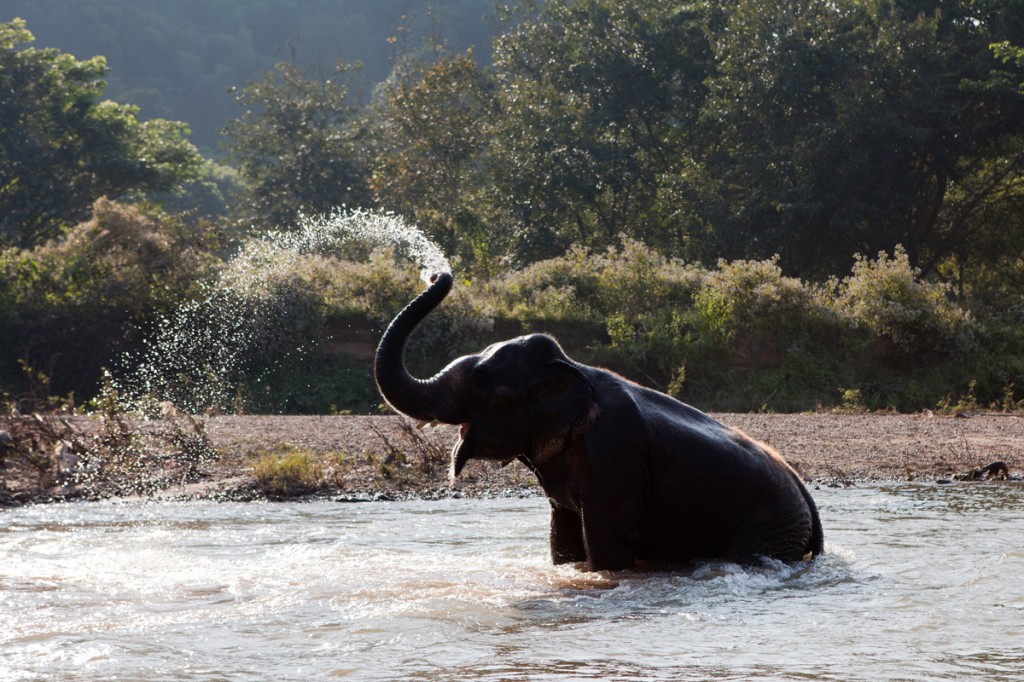 Is that not the picture of pure joy right there?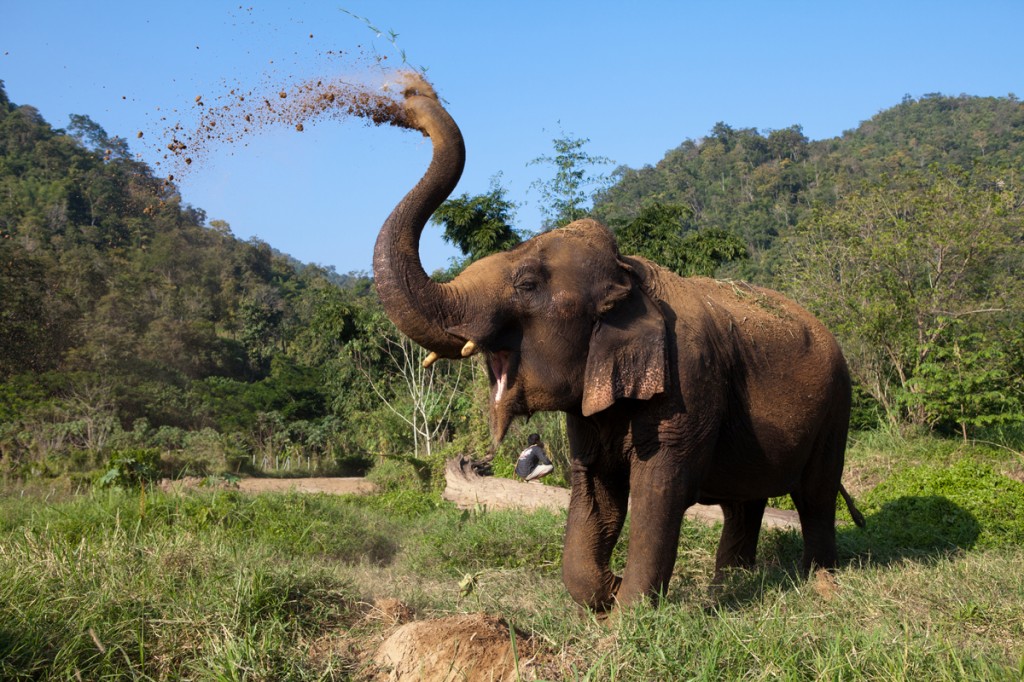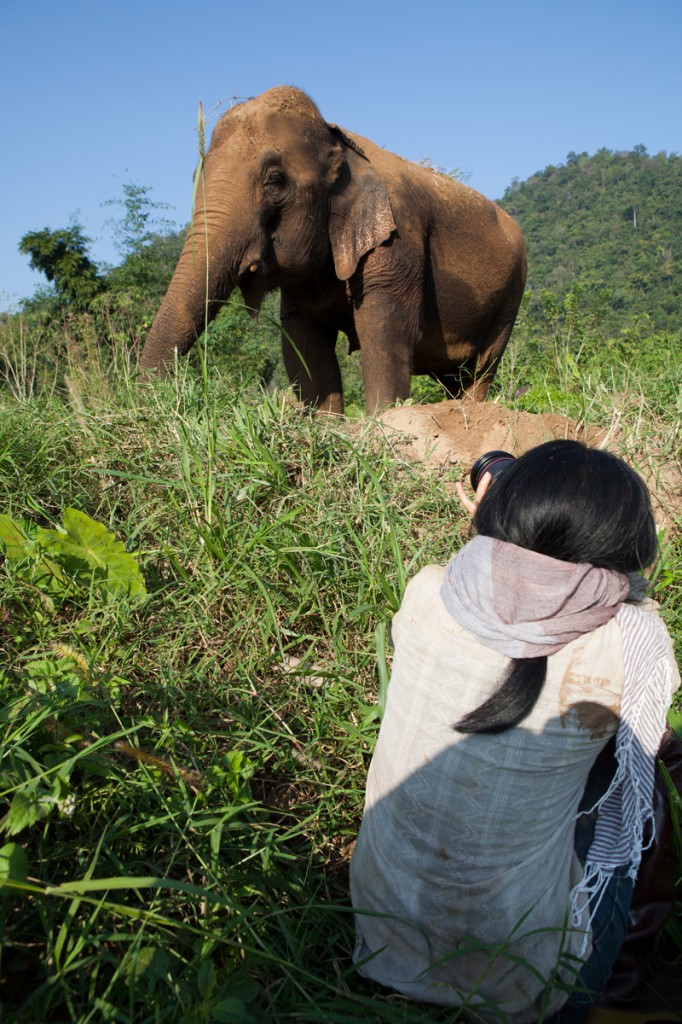 The bath in the river was quickly followed by another bath in the dirt, then it was time for another photo shoot (That's Lek!) Then, unfortunately it was time to say goodbye and head back to ENP.
Our third and final day was full of fun, but also sad. At this point it was down to M and me, and the German couple, and we spent the morning hiking in the jungle with two elephants and their mahout. You wouldn't believe these elephants! They're best friends, and one of them is blind. The blind one follows her BFF, stopping to eat when she eats, moving along when she moves. The even more amazing part? The BFF who is leading has both a broken back and broken hips! They were broken during her days of logging and never quite healed, but she still gets around amazingly well. I mean, they climbed right up the side of a mountain, eating every tree that got in their way!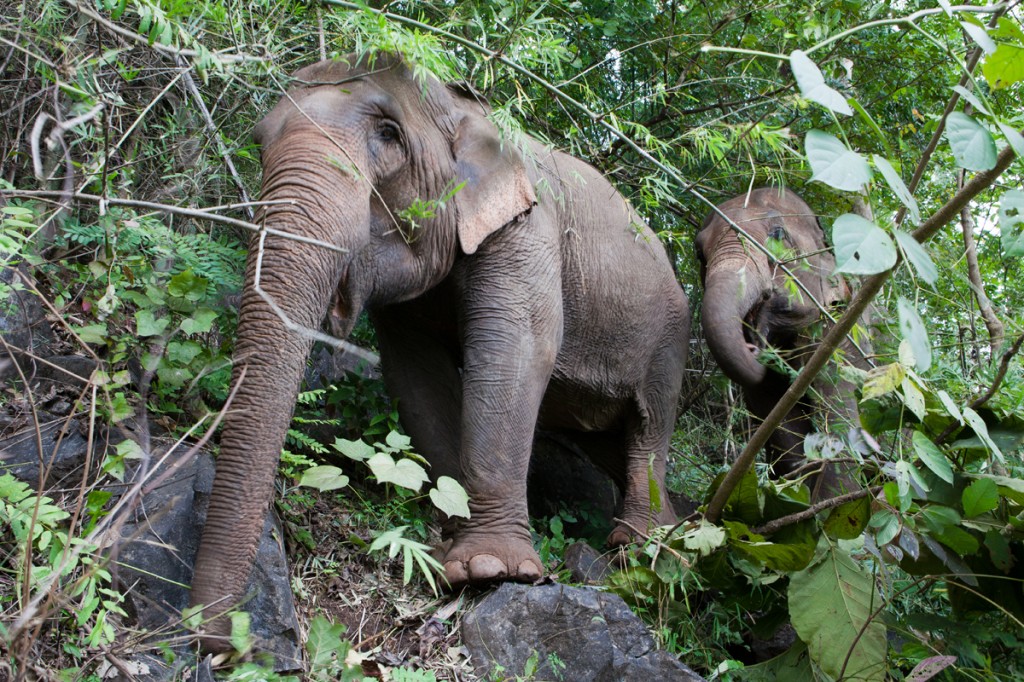 After the hike we spent some time in the doggy rescue section of the park. Many of the dogs roam freely around the park, but some are in an enclosed area, either because they have issues with the kitties or elephants, or because they're being treated for something. There's a big concrete pond they get to swim in, and they were all just so sweet!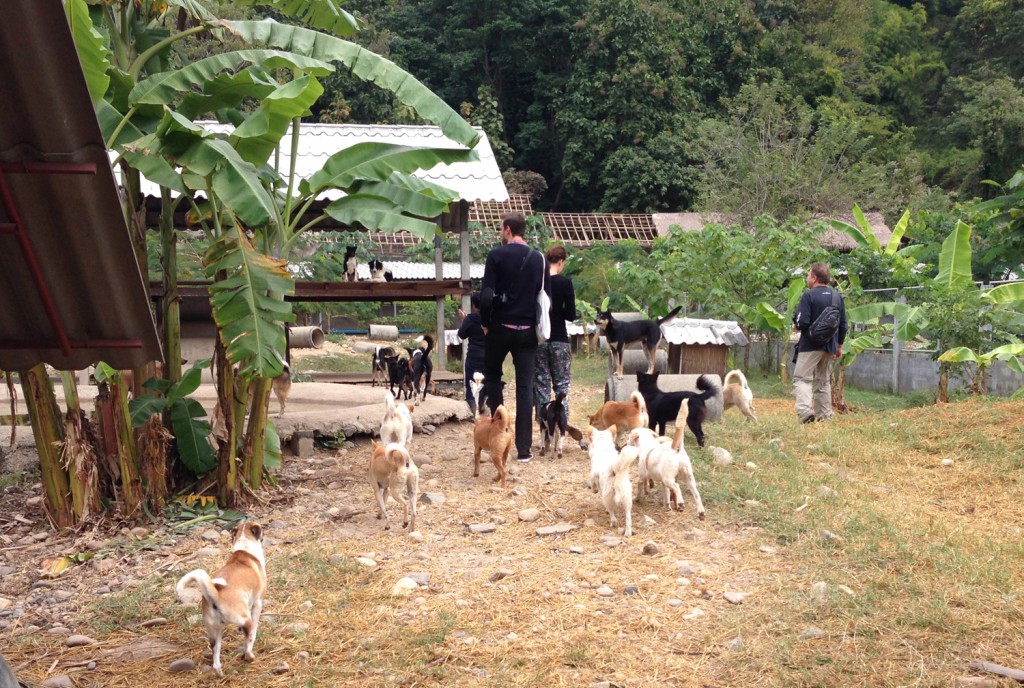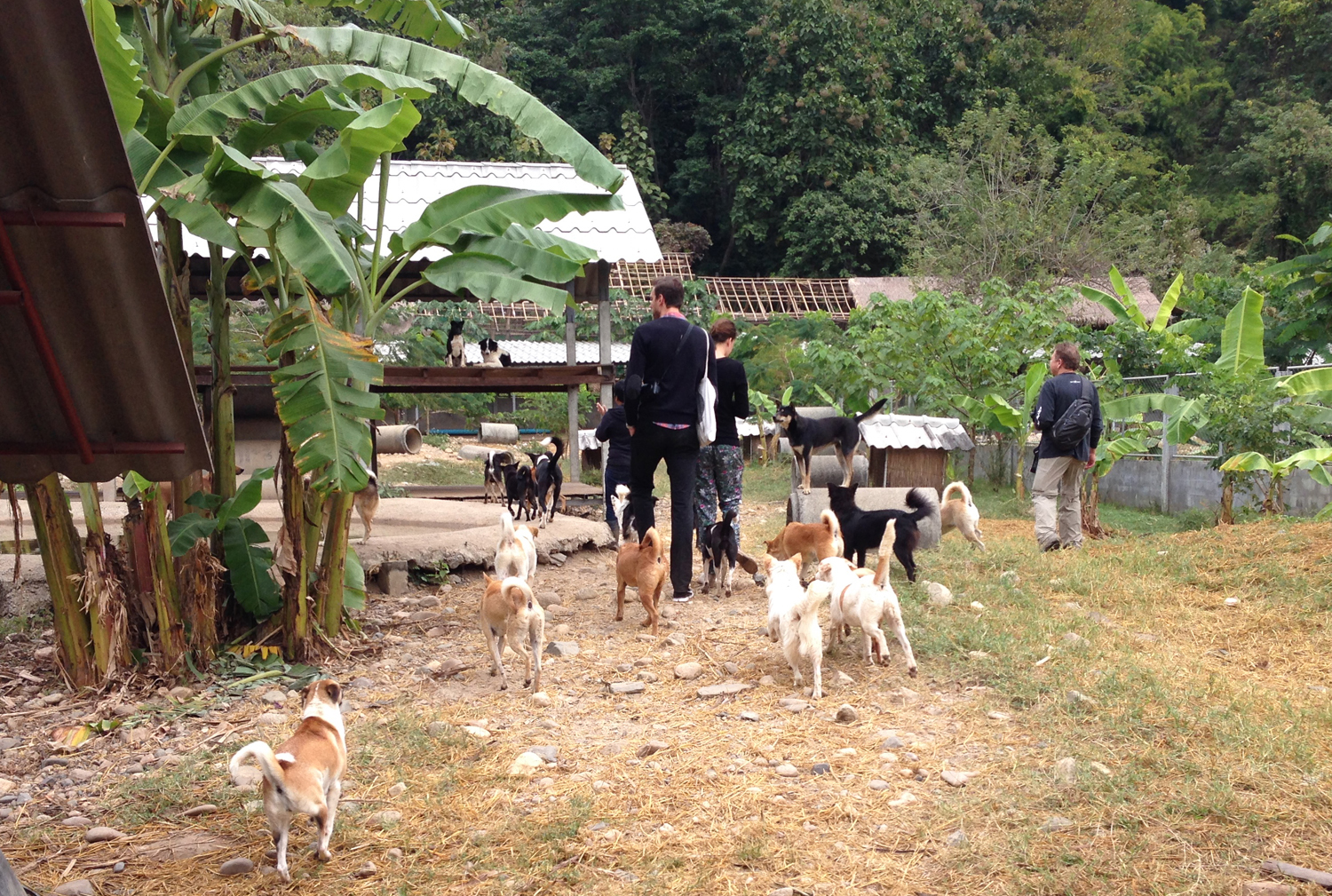 As I mentioned, there were doggies and kitties all over the place…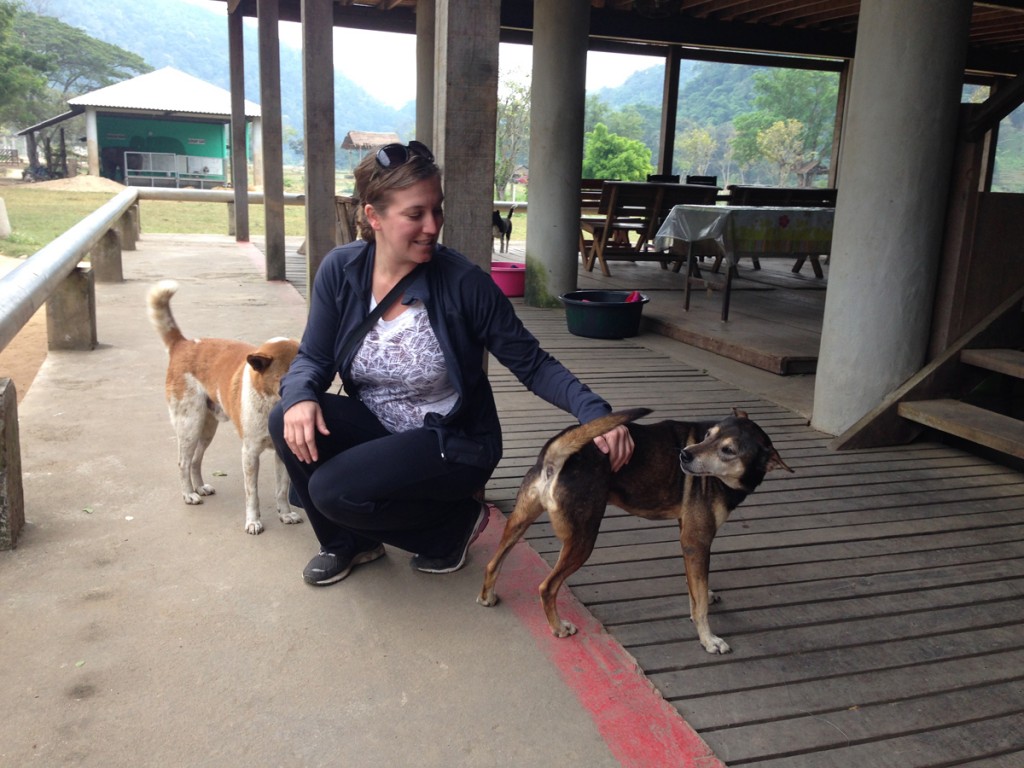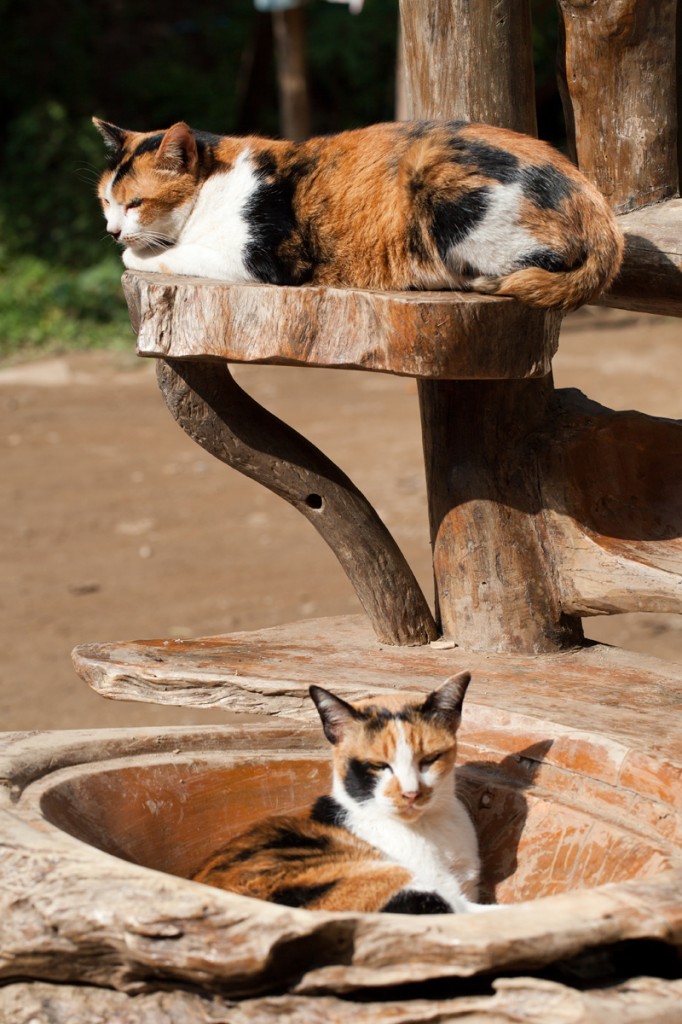 It was fun to just be able to play with them. The dogs and cats are all spayed/neutered, but because the people in the local villages know Lek will take them in, they often leave pregnant mamas, or even mamas with new babies, so there are almost always puppies and kittens around. The puppies are kept with their mamas, but the kittens (after a certain age) have free roam. It's amazing, you'll see a kitten sitting on a table, and you can just pick her up and love on her for a while. All the dogs and cats are perfectly socialized.
Our day ended, because it was Apple's birthday, with a tube float down the river. With beer of course 😉 It was the perfect ending to a perfect stay at the Elephant Nature Park!
So, if you're planning a trip to Thailand, you simply must add ENP to your itinerary. Here are a few parting thoughts:
If you're going to ENP, do the overnight visit. I can see the value in the day trips for people with babies and toddlers who couldn't handle the longer stay, but for those will older kids (or the child-free!) you're really shortchanging yourself if you just do a day visit.
Whatever you do, DO NOT GO TO A TREKKING CAMP! You might as well go to the circus, or kick a puppy. Those camps are 100% cruelty and you shouldn't support that.
Bring a sweater, it gets chilly up there at night.
Don't be afraid to ask for what you need. We ran out of memory cards for the camera, and they offered to pick some up in Chiang Mai for us. They send multiple vans down to town each day, so whatever you need, they can get. Soy milk, etc… Just ask!
Don't forget to tip your tour guide. They love their work, and they do it for the animals, but they also deserve to be appreciated for it. (Hi Apple!)
Well? Have I convinced you to go yet?