I was invited to dine at the brand new Seasons 52 Fresh Grill in Lone Tree last week, and it turns out that I am The. Luckiest. Girl. In. The. World. It was amazing you guys!
I barely even know where to begin.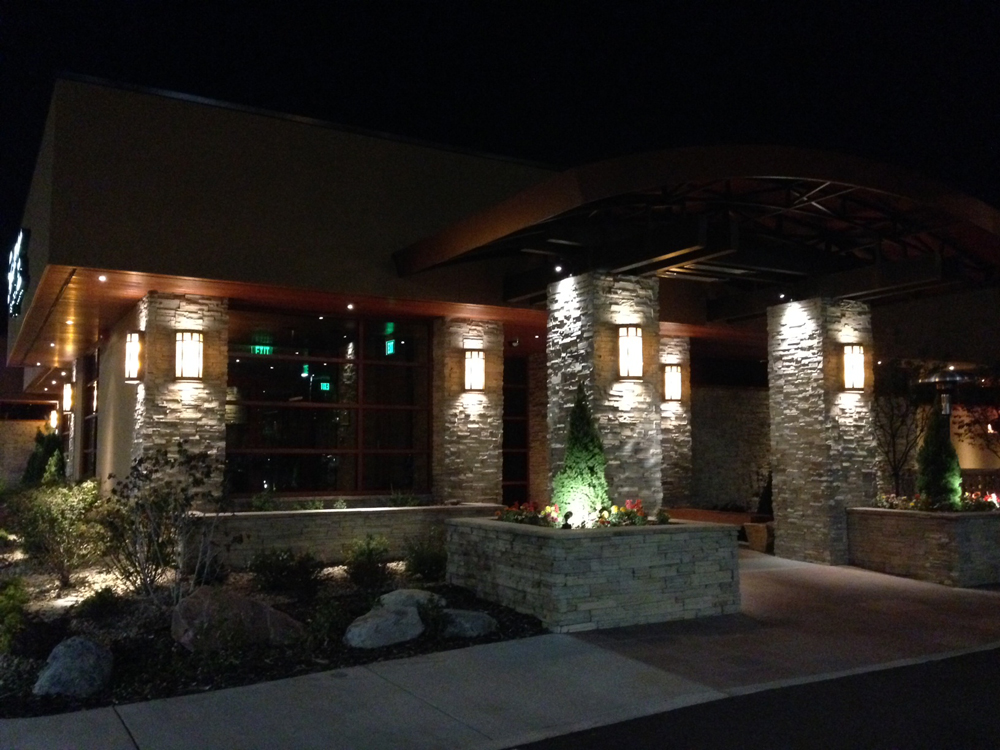 If you frequent Park Meadows then you've seen the building… brand new, prairie-style (think Frank Lloyd Wright), and very fancy on the inside. It's where Champs used to be, although they tore down that building and started from scratch. We went on a Friday night and the place was packed, yet the acoustics are such that you can whisper to the person sitting next to you, and they can hear you perfectly. Try doing that in a crowded bar anywhere else and see what happens! (Nothing happens, because they didn't hear you…). The finishes are all high end, it's beautiful and romantic, and absolutely perfect for a special night out!
If you're not familiar with Seasons 52, they're all about offering seasonal, sophisticated dishes with an eye toward health. They change their menu four times a year, and each dish has 475 calories or less. They also offer multiple special menus: Vegan, Vegetarian, Sodium-Friendly, Gluten-Sensitive, Garlic-Sensitive, and Lactose/Dairy Sensitive. This makes me very happy. It's so nice to sit down with the vegan menu and see all my options laid out before me, rather than having to grill the server about how dishes are prepared. And speaking of the servers, the service was amazing. They had only been open for about three weeks when we went it, but it was running so smoothly you'd have thought they had all worked there together for years!
And now, the food…
We started with a couple of the New Old Fashioned: Breaker Craft Bourbon, Apple Bitters, and just a hint of cherry. And rock candy. Seriously. It's for stirring the drink, so you can sweeten it up a little. Or you can let it soak in the bourbon for a few minutes then crunch away at it, like I did. One of the best drinks I've ever had.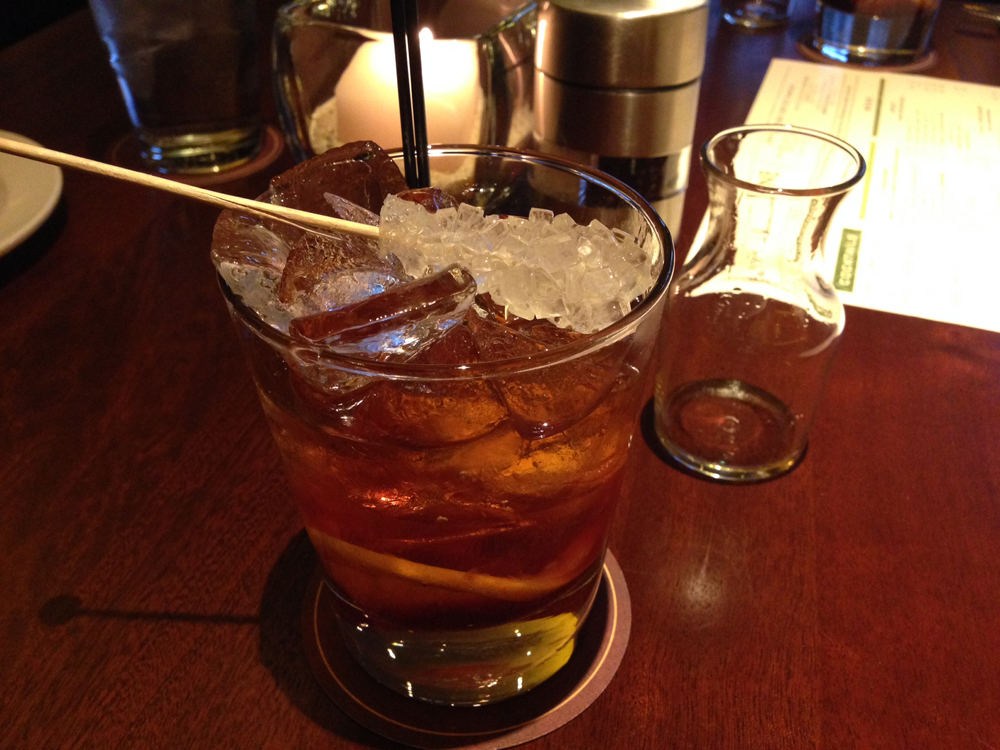 Pre-dinner drinks were accompanied by Artichoke Flatbread topped with leaf spinach, balsamic onions, and roasted peppers: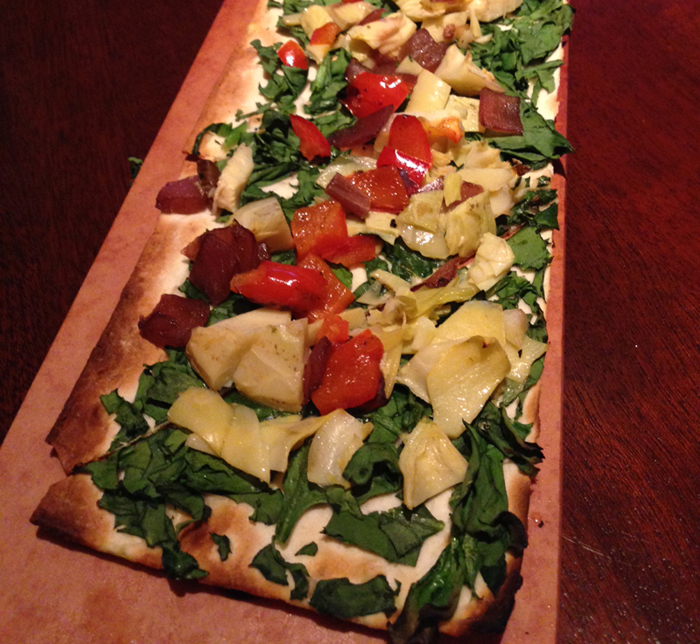 Then I had the Butternut Squash Soup, topped with shiitake mushroom chips (tasted like bacon!) and chives. This was the best dish of the night. Of the week, actually. It was sweetened with apple and it blew my mind. I might have licked the bowl.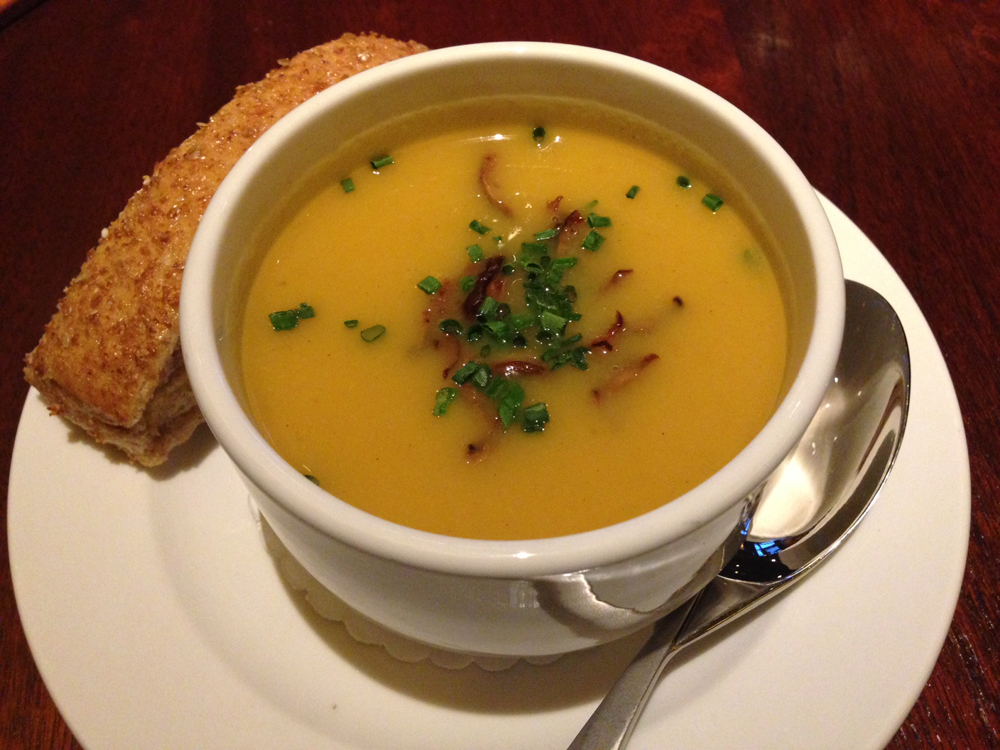 For my main course I had the Cedar Plank Roasted Tofu with broccolini, baby carrots, and roasted crushed potatoes. I was a bit skeptical, thinking this was just a silly knock-off of the salmon version, but I was wrong. The tofu was seasoned perfectly and I really could taste a hint of cedar in there!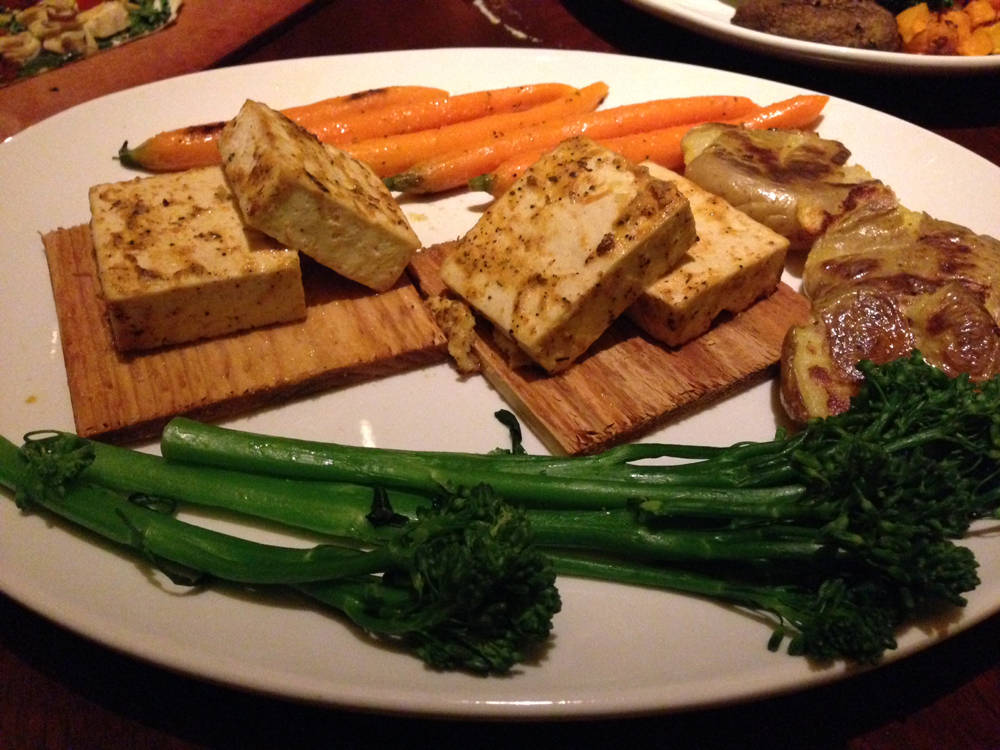 My lucky date chose the Vegetarian Tasting plate, which included quinoa-citrus salad, a soft taco, veggies, and some of the cedar-roasted tofu, but with a tropical salsa on top. This is the taco… Have you ever seen anything as precious as that little taco holder?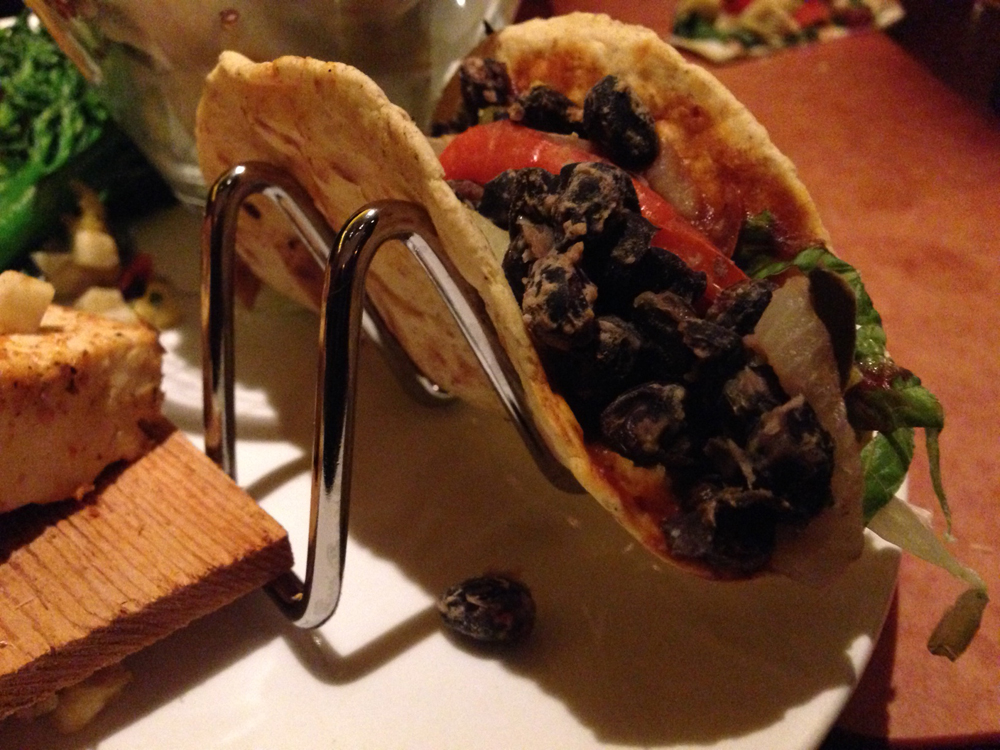 Everything was seasonal, fresh, and wonderfully prepared. It was a very special meal and we felt like honored guests. The only part of the meal that was less than perfect was dessert. The only vegan item they had on the menu was Fresh Blueberries. They were great, but we saw the dessert tray the rest of the restaurant got to choose from (aka: not vegan), and we were very jealous. I think they could easily have taken those blueberries and added some sweet cashew cream and maybe a graham cracker crust? That would've made my night! So, if anyone from Seasons 52's corporate office is reading this, please consider adding more vegan dessert options!
Want more Denver-area restaurant reviews? Check out my Mile High Vegan Eats page!
*I was provided free product to review, but the opinions are 100% mine!