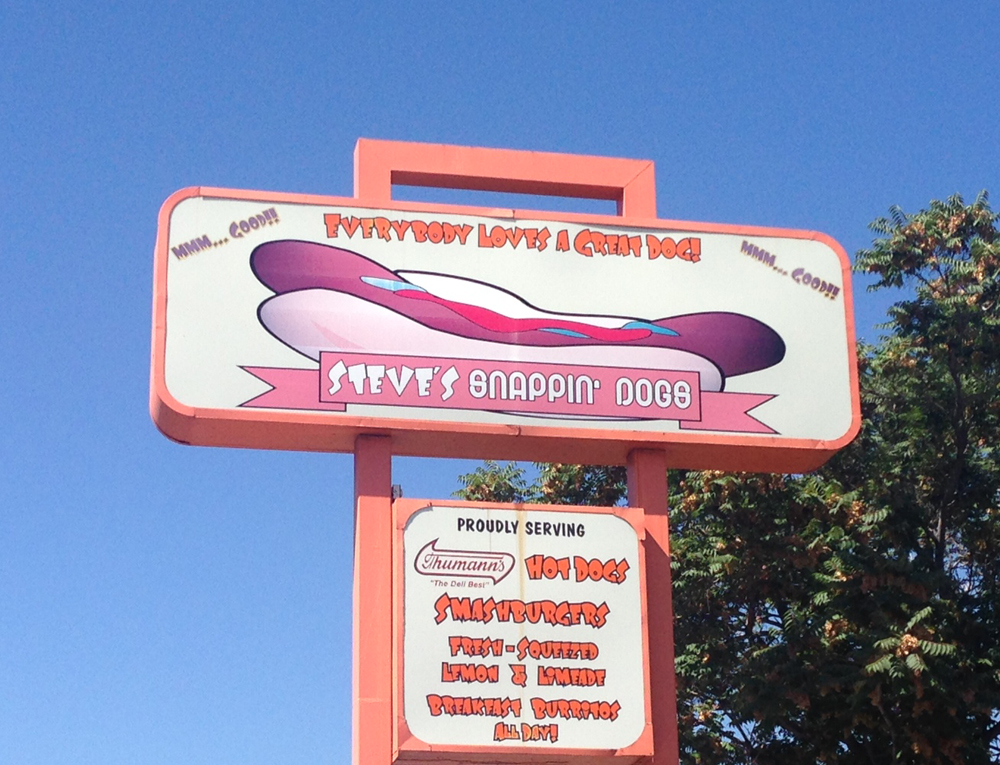 You guys know how I love to review restaurants with options for everyone, and Steve's Snappin' Dogs on East Colfax in Denver is exactly that kind of place! Obviously they have a ton of omni options, as most places do, but they also have a surprising number of vegetarian and vegan options, as well as gluten-free, all of which are clearly marked on their menu! When I was in earlier this month I actually got to sit down with the owner, Steve, and grill him (ha!) a little bit. He takes a lot of pride in offering so many choices for all kinds of eaters. He's also very honest and upfront about the possibility of "cross-contamination", although they do make all reasonable efforts to avoid it. Veggie dogs are cooked on their own corner of the grill, etc. Works for me! They have a small indoor eating area, as well as an outside(ish) area with picnic tables and even a water bowl for your doggy friends. Because of course a hot dog joint would be dog friendly, right?
I actually ate here once or twice years ago, but hadn't been back in a while until a friend reminded me of it. Then I ate there twice in one week…
On my first trip I had the regular Veggie Dog, loaded with red onions, mustard, and relish. And ketchup. About a gallon of ketchup that I waited to add until after I took the picture because you literally wouldn't have been able to see the dog, haha. On the side I had Fried Carrots & Green Beans instead of fries: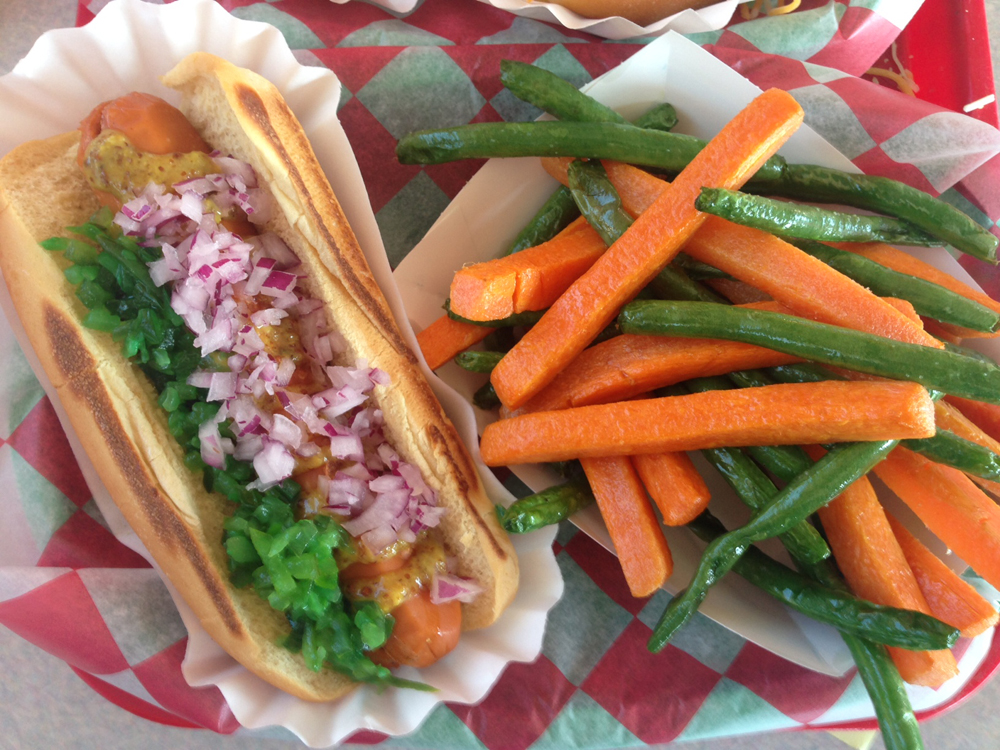 The veggie "fries" were crunchy and salty and really good! The hot dog was delicious too, and the bun was all hot and toasty. Yum!
On my second trip I got a little fancier and ordered the Chicago Veggie Dog which had tomatoes, a pickle, spicy mustard, relish, and celery salt. It was enormous and hard to eat, but really good! I also had the Sweet Tots and maybe stole a couple fries…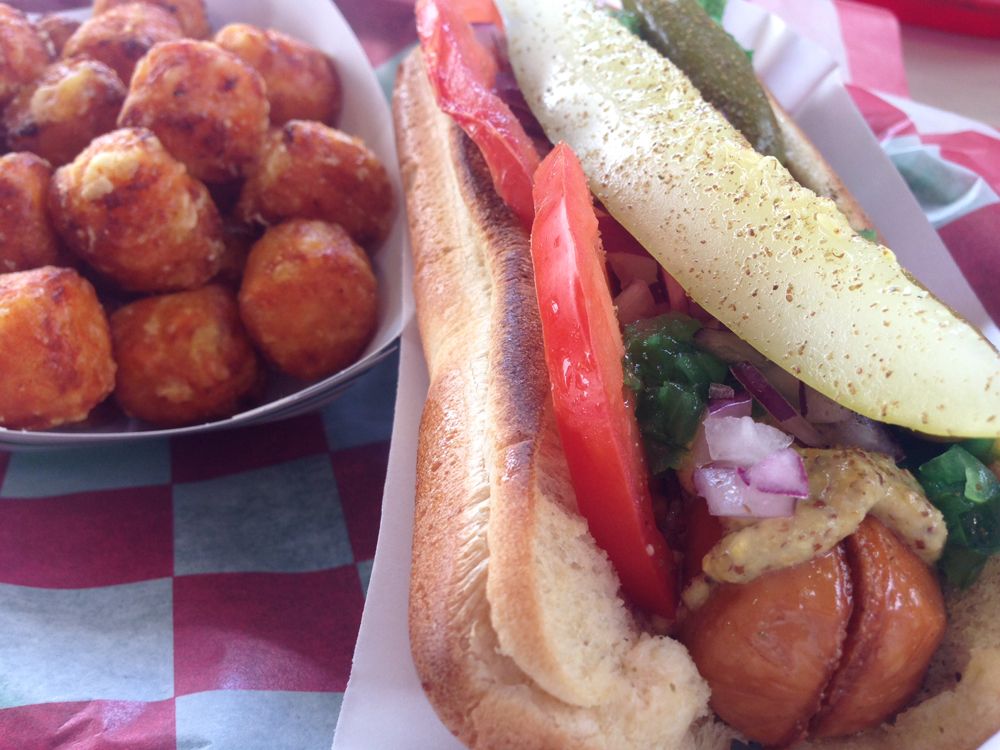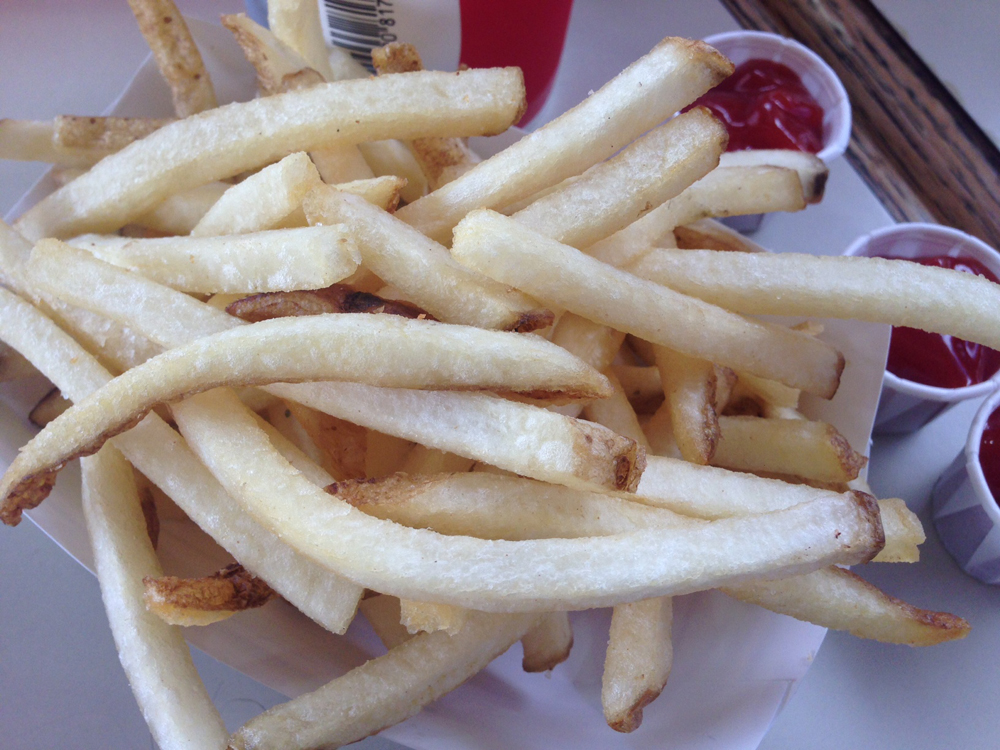 The fries and tots were both perfectly fried and completely addicting. I can't wait to go back for more!
Steve's in located at 3525 E. Colfax Ave AND now at DIA, Concourse B. I highly recommend you stop by one location or the other and get your veggie dog on!
Want more Denver-area restaurant reviews? Check out my Mile High Vegan Eats page!