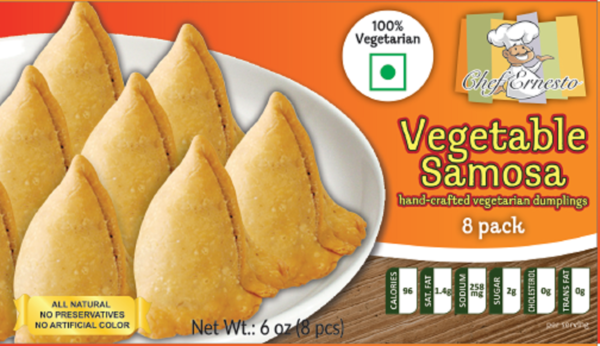 A lot of companies contact me about trying their products. Sometimes it's a heck yah! kind of no brainer, and sometimes what they're offering is something so obviously not vegan that I don't even bother responding to tell them no. And then, a lot of times, it's somewhere in the middle. I'll admit that I was on the fence when I was contacted to try Chef Ernesto, a new line of vegan (and vegetarian) frozen foods sold at The Dollar Tree. On the one hand, I was very curious, but on the other… I'm a bit of a skeptic and I wondered how good something that only cost $1 could actually taste. As it turns out, I'm really glad I said yes!
Chef Ernesto is a 100% vegetarian company, but three of their products are also vegan: Vegetable Samosas, Battered Mushrooms, and Veggie Burgers. They're only available at Dollar Tree stores, but it does appear that you can find them nationwide.
My absolute, hands-down favorite were the Vegetable Samosas! The first time I had them, I served them plain with no dipping sauce to my friend Lauren and her baby, and we couldn't stop talking about how much we loved them. We both agreed, they're just as good as something you'd find in the freezer section of Trader Joe's, but for much less money. They cook perfectly on a baking sheet in the oven, the outsides get crispy while the inside stays soft and so flavorful. I love that when you bite into them you can actually SEE the ingredients. They seem very well made. I've had them two more times, once with a sweet tamarind sauce, and then with a Sriracha peanut sauce…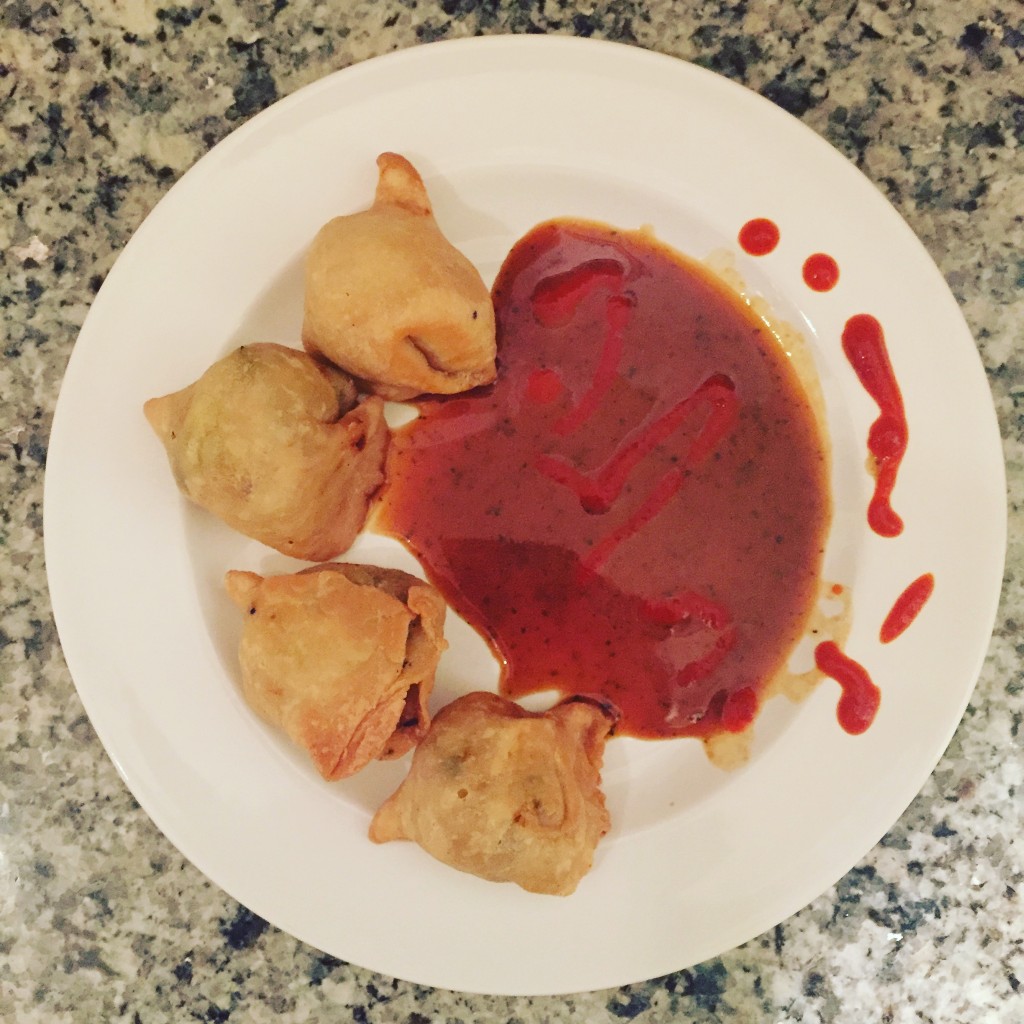 My second favorite was the Veggie Burgers, and unfortunately I don't have a picture. I ate the first package right away, and when I went back to buy more, the store was out. Sadz. This review has a picture so you can see what I mean, but these patties are amazing- you can see all the veggies they're made with! You're literally see the corn, peas, carrots and other veggies that make up the patties. And the flavor was great. Not like a lot of the other frozen patties that attempt to taste like meat… this one was definitely all veggie flavor.
Lastly I tried the Battered Mushrooms. They were good, but I probably wouldn't buy them again. I wasn't wild about the flavor or the texture of the mushrooms, but that could just be my personal preference. And I do have to give them props for their breading- it was delicious AND it actually stayed on the mushrooms! Honestly, if you're heading to the dollar store to try the burgers and samosas (which you absolutely should!), grab a box of these too. I mean, they're just a dollar, and you might love them! I served mine with a spicy aioli made of Vegenaise and Sriracha…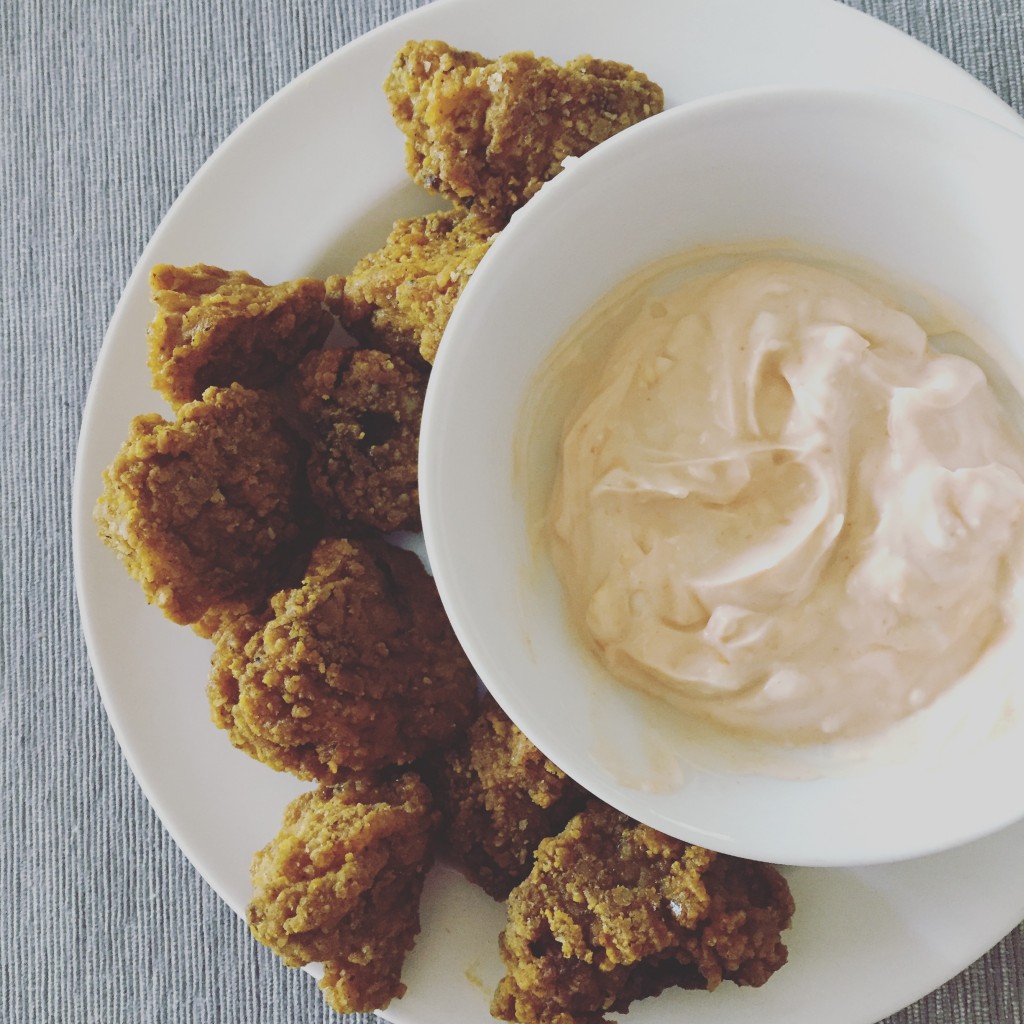 On a related note, I've been seeing a lot about affordable vegan options in the blogosphere lately, and I feel like Chef Ernesto dovetails perfectly with it. Happy Herbivore recently had a piece about Plant-Based Finds at the Dollar Store, and so did ChooseVeg.com – which, by the way, has inspired me to stop on the way home and find some of those egg-free egg noodles! How many times have I wished I could use a wide noodle like that in a recipe!? But, I digress. My point was simply that, although many critics decry veganism as a hobby for the wealthy, it's really only as expensive as you want to make it.
*I was provided free product to review but the opinions are 100% mine!