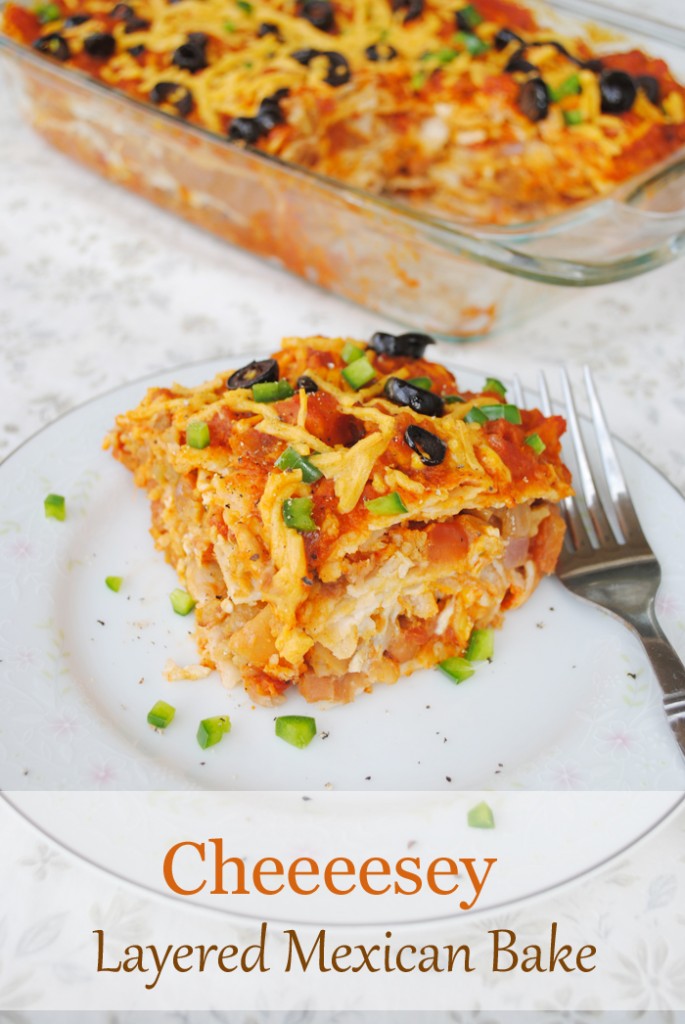 You guys! This recipe is the perfect combination of my undying devotion to Mexican food and my love of a good casserole that I can eat all week. It's delicious, a little bit spicy, has tons of veggies (including butternut squash hidden in the enchilada sauce… take that you picky eaters!), and it wont take up a ton of your time preparing.
Oh, and leftovers. Glorious, glorious, leftovers.
Let me expound a bit on the whole squash in the sauce thing. I was browsing recipes in those Taste of Home magazines in the grocery store checkout line (you know the ones!), and there was one that suggested adding cream of mushroom soup to enchilada sauce. Now, a.) that canned soup is disgusting and no one should eat it, ever… but b.) creamy enchilada sauce sounded intriguing! So I racked my little brain for ideas on what I could use (short of making my own soup from scratch), and decided on my old pal b'nut. You can roast one yourself, or you can buy it frozen and already pureed (Birds Eye has a pretty good one in the freezer section), either way works.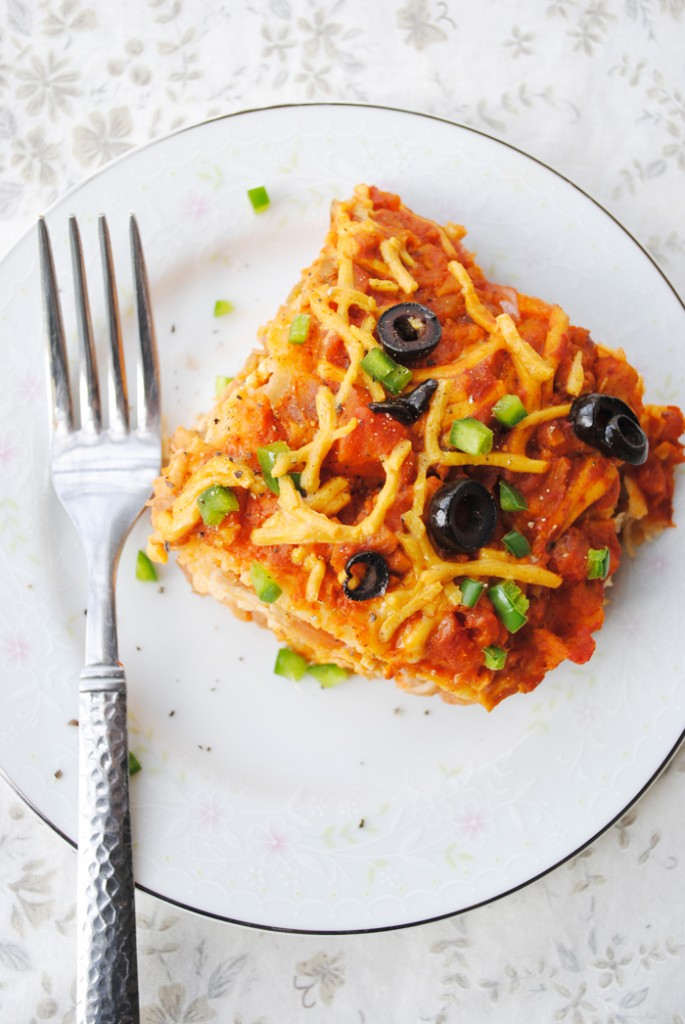 What else is in there? My ahhhmazing homemade seitan, crumbled and pan fried with cumin and chili powder, Daiya cheese, vegetarian refried beans, tomatoes and green chiles, black olives, and jalapenos. All the best Mexican flavors, in my opinion.
---
Cheesy Layered Mexican Bake
2016-03-21 14:11:52
Serves 6
Ingredients
A little oil, for crisping the crumbles, if desired
2 loaves seitan, 'crumbled' in the food processor (or 2-ish cups of your favorite vegan crumble)
1/ red onion, diced
2 cloves garlic, minced
1 teaspoon cumin
1/2 teaspoon salt (more to taste), couple shakes of black pepper
10 oz can of tomatoes with green chilies, drained
10 oz can red enchilada sauce
12 oz pureed squash
15 oz can vegetarian refried beans
2 oz can sliced black olives
1 jalapeno, diced
About 1/2 bag Daiya cheddar shreds
9-12 corn tortillas
Instructions
Preheat oven to 375.
Heat small amount of oil or water in a frying pan over medium/high heat, add the onion, garlic, and seitan crumbles. Cook for 5-7 minutes, stirring a couple times. Remove from heat, and stir in the tomatoes/chilies, cumin, salt and pepper, and about half of the the diced jalapeno.
In a small/medium pan, combine the enchilada sauce and squash over low heat, stirring until combined and warmed. Now it's time to layer this baby!
In a 2qt baking dish, start with a thin layer of sauce, then 3-4 tortillas (however many you need to get good coverage), half the refried beans, 1/3 of the seitan/tomato mixture, 1/3 of the cheese, and then another layer of sauce.
Repeat: 3-4 tortillas, the rest of the beans, 1/3 of the seitan mixture, 1/3 cheese, and more sauce.
The final layer: Tortillas, the rest of the seitan mixture, the rest of the cheese, the remaining jalapenos and the black olives, along with some more of the sauce. Cover with foil and bake for about 20 minutes. Remove the foil and bake another 5-10 minutes, until the cheese is all melty.
Notes
If you're trying to save calories you can water saute the onions/garlic/seitan, it just means the seitan wont have any crispness to it.
That Was Vegan? http://www.thatwasvegan.com/