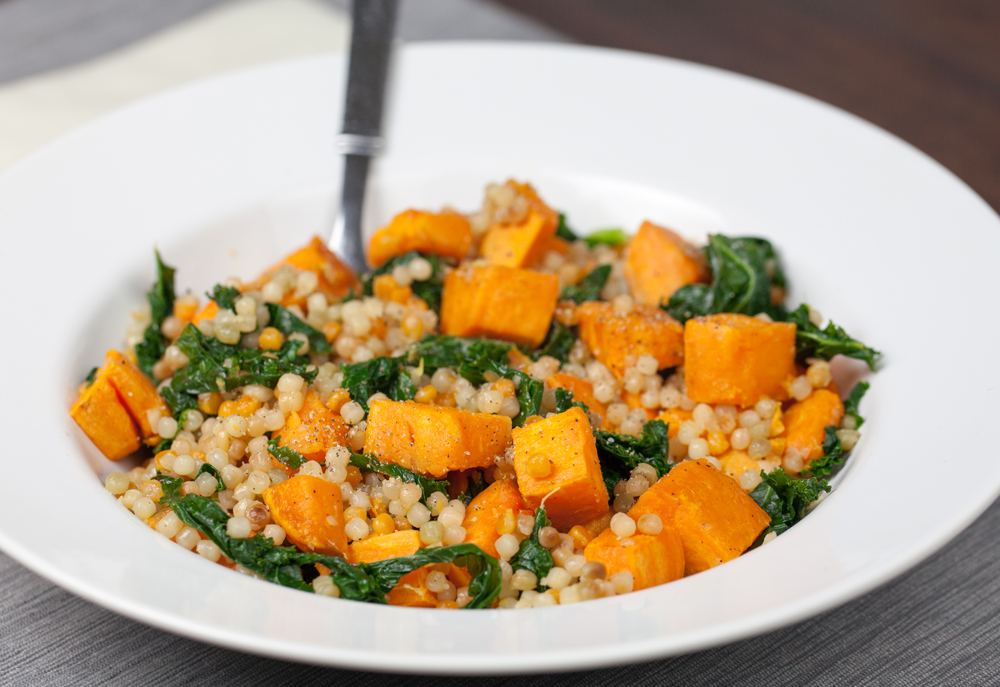 There's no big story behind this recipe. Jason and I got home late from work after a particularly painful commute (we have a loooong commute!), and I had no idea what to make for dinner.
A little background: I'm pretty high-maintenance about menu planning. I usually start on Wednesday by checking the weekly ads for my 3 favorite markets. I start my shopping list (by store) with our regular must-haves (coconut yogurt, spinach, salad fixin's, etc) then I start to play around with new recipe ideas based on what's on sale. Then on Saturday morning (or Friday, if it's our flex week) I sit down with my laptop and some cookbooks and just browse. I look at what I've pinned on Pinterest that week and I thumb through my favorite books looking for meals to add to my menu. I put together the weekly menu, then I shop. Yes my weekly menu is highly formatted and pretty, but I'm not totally OCD about it… I mean, I don't assign a day to each meal in advance. I allow some leeway based on what sounds good when we get home from work… So, see? I'm totally normal! 🙂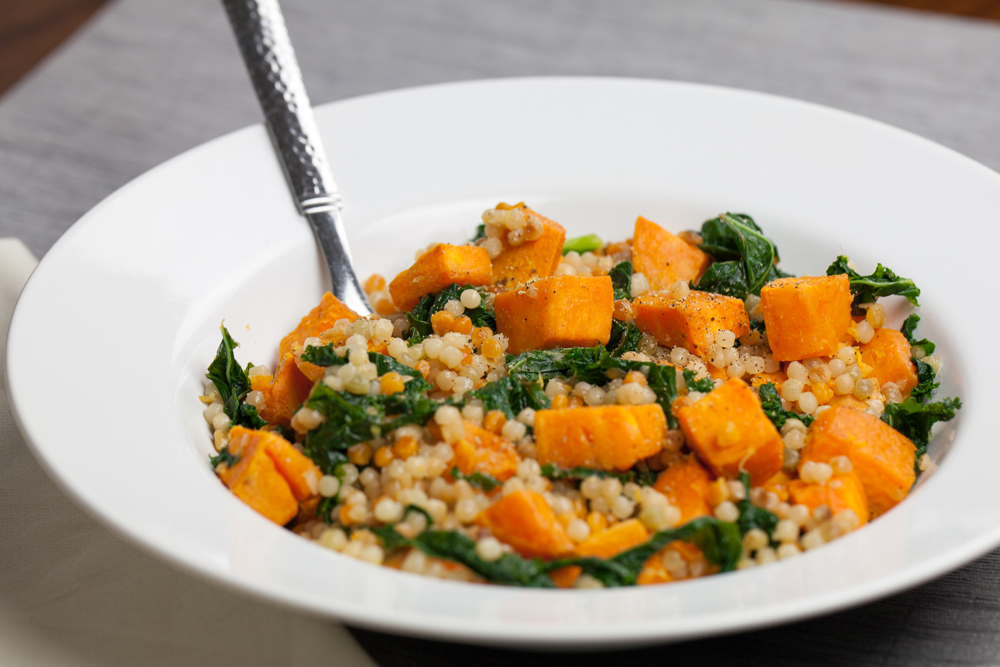 Anyhoo, that one particular night last week, nothing from the menu sounded quick and easy enough. We've all had those nights when delivery sounds like the only option- except we had gotten Indian take-out the night before, and I try not to do that very often. So I started rooting around in my cabinets and found some Israeli couscous and sweet potatoes and I knew I had some kale in the fridge that was dying to be used (literally), and this dish just sort of came together on it's own.
The lemon and cumin are a great combination that I'll definitely be using again. The earthy, warm taste of the cumin added a depth to the dish, and the lemon and gave it a light and almost perky layer. The sweetness of the potatoes round it out nicely. And of course the Israeli couscous, which is actually a pasta, made it quite filling.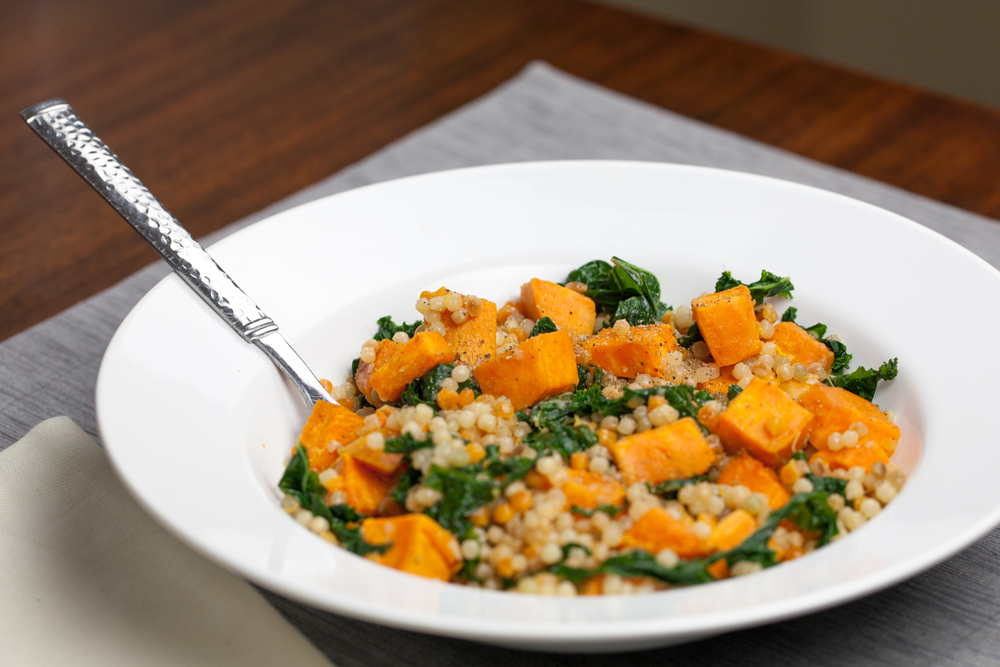 ---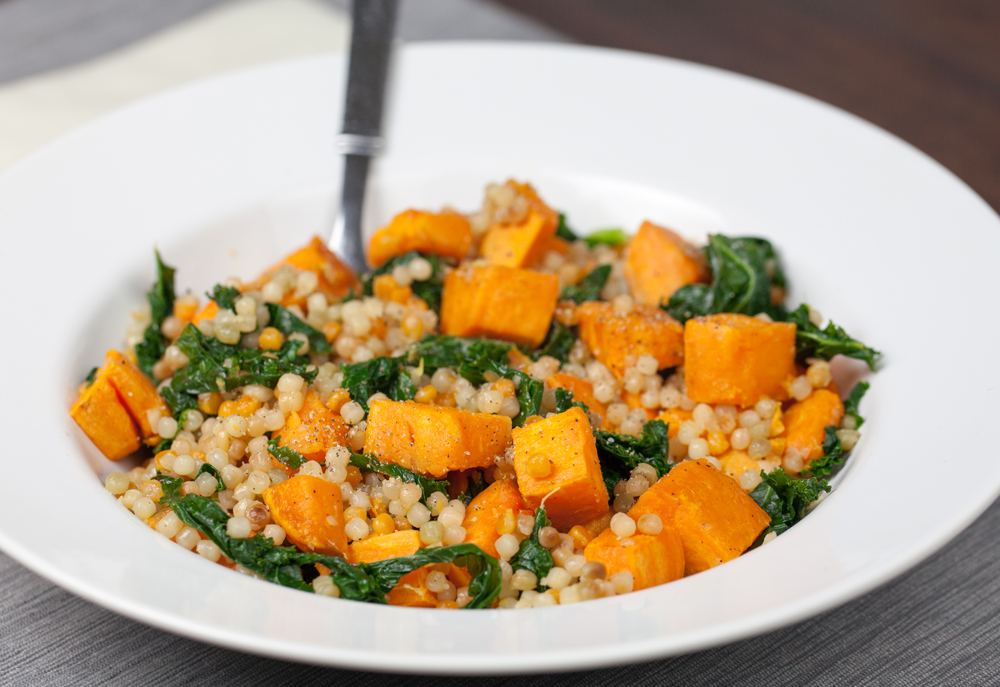 Lemon Couscous with Sweet Potato and Kale
2014-12-02 18:43:27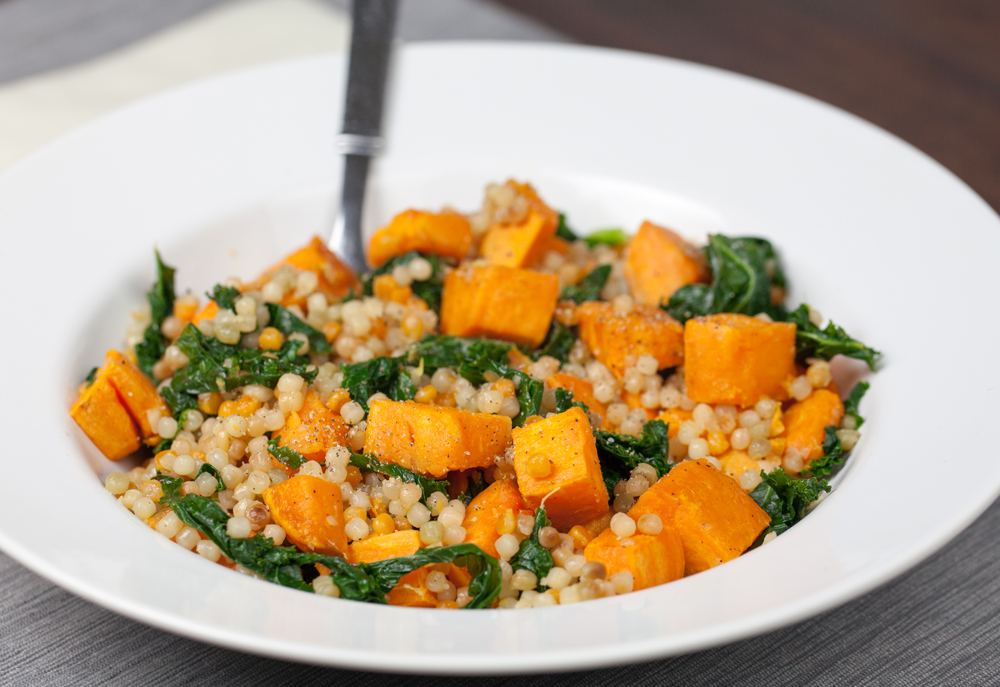 Serves 4
Ingredients
2 medium-large sweet potatoes, chopped
Olive oil
Sea salt
1 large bunch of kale, torn or chopped
2 cups uncooked Israeli couscous
2 cups vegetable stock (plus extra for steaming kale, if desired)
1 tablespoon cumin
2.5 tablespoon lemon juice, plus zest
1 tablespoon dried parsley
S&P
Instructions
Spread the diced potatoes on a baking sheet, drizzle with olive oil and a pinch of sea salt, and bake at 350 degrees for about 15 minutes (or until tender and starting to brown), stirring at least once.
Saute the kale in a pan with water or vegetable broth until tender. If you have it covered, it should only take about 2-4 minutes.
Heat a large pot over medium heat, and add 1-2 T olive oil. Once heated, add 2 cups couscous and toast for about 5 minutes, stirring every minute or so. Make sure they don't burn!
Add 2 cups vegetable broth to the couscous, reduce heat to lowish, and cover. Let it simmer for 8-10 minutes but DO NOT lift the cover to check on it for at least 8 minutes! Then stir and make sure the liquid is gone and the balls aren't clumping.
Add the kale and potatoes into the couscous and mix. Then mix in all the spices. Add S&P as your tastes dictate, and that's it!
Notes
Serves 4 adults, or more if you're using this as a side!
That Was Vegan? http://www.thatwasvegan.com/