My Great Korean Food Adventure continues… Last week I brought you Japchae, delicious sweet potato noodles with seitan and fresh veggies. Today I bring you Scallion Pancakes, also known as Pa Jun or Pajeon. These are incredibly simple, created with ingredients you probably already have (especially if you're re-growing your scallions!), and most importantly: DELICIOUS!
These only take a few minutes to prepare and cook- the longest part is the 10 minutes that the batter has to rest. And they're great! Simple yet flavorful- by not adding a ton of spices you can really taste the fresh bite of the scallions, and the little bit of chili paste gives it a little extra *pop*. You can add other vegetables too! Mushrooms, carrots, onions, zucchini… I could go on and on! When I was first collecting ideas for MGKFA, I looked at a couple different recipes for these cakes… some used eggs, some didn't… but other than that they were all pretty much the same- except for a few that got funky with their veggies! Me, I chose to get funky with the chili paste 😉
Then you can serve them as an appetizer with my Sweet and Spicy Dipping Sauce (recipe below), or as a side dish. If you have extras, wrap them in foil and throw them in the fridge- then reheat them in a frying pan for your next meal.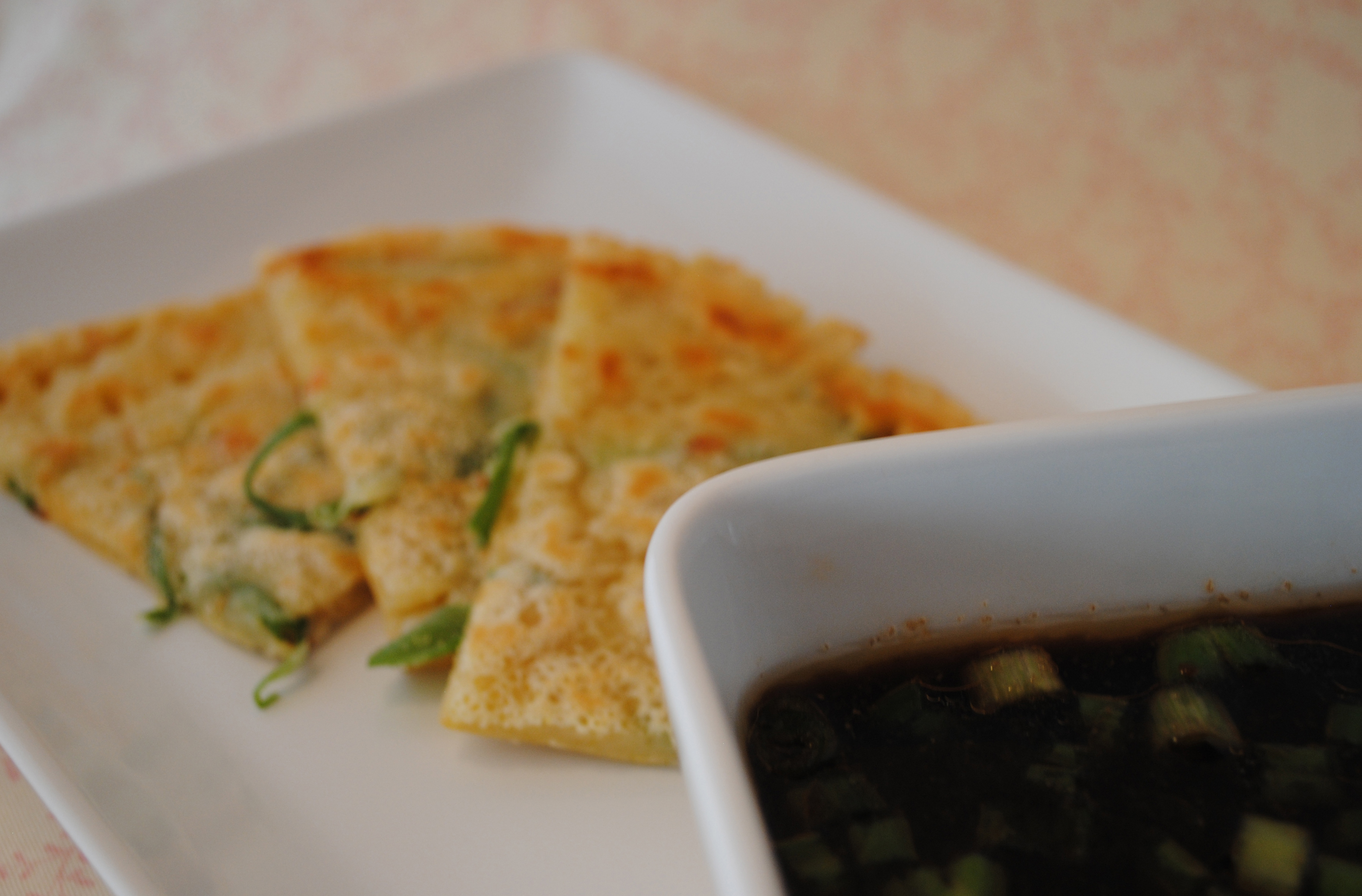 There is some oil required for frying them, but if your pan is hot enough they wont absorb too much. I also placed mine on paper towels after cooking to get rid of the excess oil. There's not so much that you'll feel heavy afterwards.
---
Scallion Pancakes (Serves 5-6 as an appetizer or side dish)

Ingredients:
2 cups flour
1.5 cups cold water (to start, you might add more)
2 t chili paste (Korean or Thai will work, they're pretty similar)
Pinch of Turmeric
2 t salt
1 bunch scallions, halved lengthwise then sliced into 2 inch pieces
Oil for frying
Directions:
Mix everything together but the scallions, and let sit for about 10 minutes. The batter should be thinner than if you were making pancakes, but not watery. If it's thicker than your usual pancake batter, mix in water a T at a time. Then add your scallions and give it one last stir. (If you want to get fancy, you can add the scallions directly to the pan, then pour the batter over them!)
Heat a frying pan over medium-high heat with a VERY THIN layer of oil (I used canola). You just want the thinnest of coatings- we're not deep frying these suckers! Pour about 1/4  of your batter into the pan, creating a thin pancake.
Cook for 4-5 minutes, flip and give it another 2-3 minutes on the other side. You want it to be golden brown but not burnt. Keep a close eye, especially on your first batch, to make sure you get the timing right. The amount of oil you started with, along with the power of you stove will effect the required cooking time.
As the batches are finish, place on a paper towel to absorb any excess oil, then slice them with a knife or pizza cutter into any shape you'd like.
Serve hot with Sweet & Spicy Dipping Sauce!
---
Sweet & Spicy (Asian) Dipping Sauce (Plenty for dipping one batch of Scallion Pancakes)

Ingredients:
1/4 cup Bragg's liquid aminos
1/4 cup rice wine vinegar
1.5 T agave
1 t sugar
1 T sesame oil
1 T plus 1 t chili paste (or more if you want to up the spiciness!)
1 T scallions, sliced thin
1 t garlic powder
Directions:
Mix everything together and serve cold or at room temperature.
Enjoy!