This was another one of the dishes I prepared for the BBQ-turned-dinner-party last weekend. A (seemingly) pretty basic pasta salad recipe with vegenaise, tomatoes and sweet basil, the "secret" ingredient here is Chipotle Peppers in Adobo Sauce! That spicy, smoky flavor added by the peppers and the sauce takes this dish from "just another side" to "THE side".
The original (non-vegan) recipe called for just the sauce, but I wanted to make mine a little hotter so I added 2 big peppers, chopped up, to the bowl. You can see one hanging out in the bowl, right by his friend the tomato: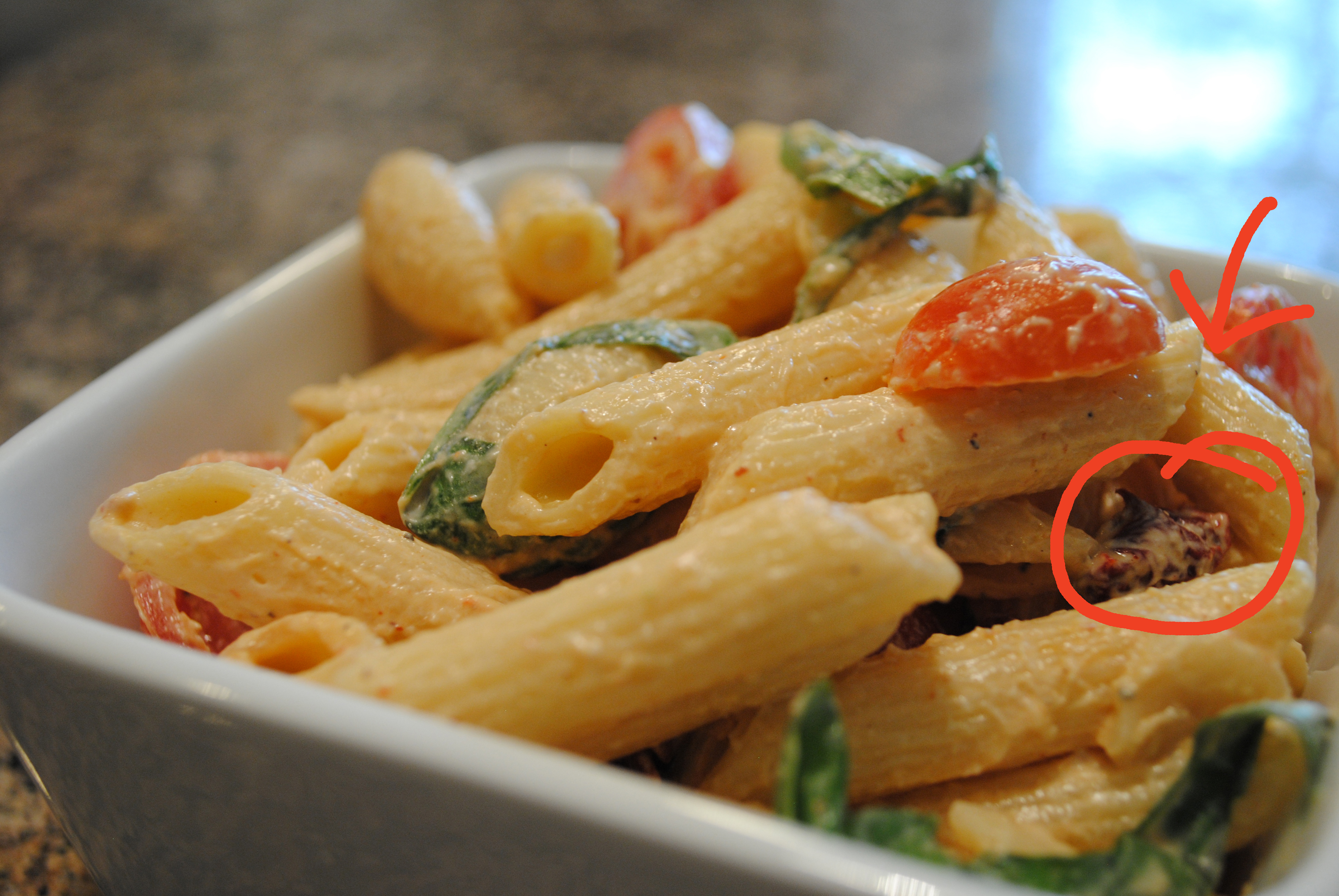 As you can see, I left mine a bit chunky, which adds to the heat level. You can mince yours more finely, or just stick to the sauce itself if you don't want too much heat.
I'll be making this again this summer, mark my words!
---
Spicy Pasta Salad (Makes 8 servings)
Adapted from a non-vegan recipe

Ingredients:
12 oz pasta (I used one of those "trio" mixes, but any salad-type pasta would work)
3/4 cup Vegenaise
1/8 cup So Delicious Coconut Milk (or non-dairy milk of your choice)
4 T apple cider vinegar
2 t Adobo sauce from can, PLUS 2-3 chopped peppers (if you like heat)
1 t sea salt
black pepper (if desired)
10 oz grape tomatoes, sliced in half
15-20 sweet basil leaves, chiffonade
Directions:
Cook pasta according to package instructions, then rinse with cold water.
Mix Vegenaise, coconut milk, vinegar, salt, pepper and adobo together, and taste. Add more heat, salt, etc.
In a large bowl mix everything together, including the dressing. Refrigerate for at least 1-2 hours before serving.
Enjoy!