By now you're probably not surprised to see crazy pizzas here at That Was Vegan?… Maybe when you first read about my Korean Pizza with Kogi-Style BBQ Seitan and Sriracha Pineapples… or when you saw that I was going on and on about something called a Grilled BBQ Tater Tot Pizza you may have scratched your head, but not anymore. Now I bring you a pizza with bbq seitan and macaroni and cheese!
I'm expecting one of two reactions from you guys: You're either going to avert your eyes while suppressing a giggle (you know, like we all do when we see that loud little kid who's been running around the restaurant yelling for the last 10 minutes finally trip and totally eat it!? Or is that just me??) or you're going to nod knowingly and say "Yes. Macaroni and cheese on a pizza. FINALLY!"
This pizza was inspired by a sandwich that I guess is pretty famous, in both its vegan and gross original versions- Do you remember American's Top 10 Sandwiches Veganized? Great series and if you love sandwiches as much as I do, you should check it out. The one that really caught my eye was the Cheesy Mac n' Rib, an ooey-gooey combination of mac n' cheese, caramalized onions and BBQ seitan.
And not just any mac n' cheese… my B'nut Squash Mac n' Cheese! And lots of it 😉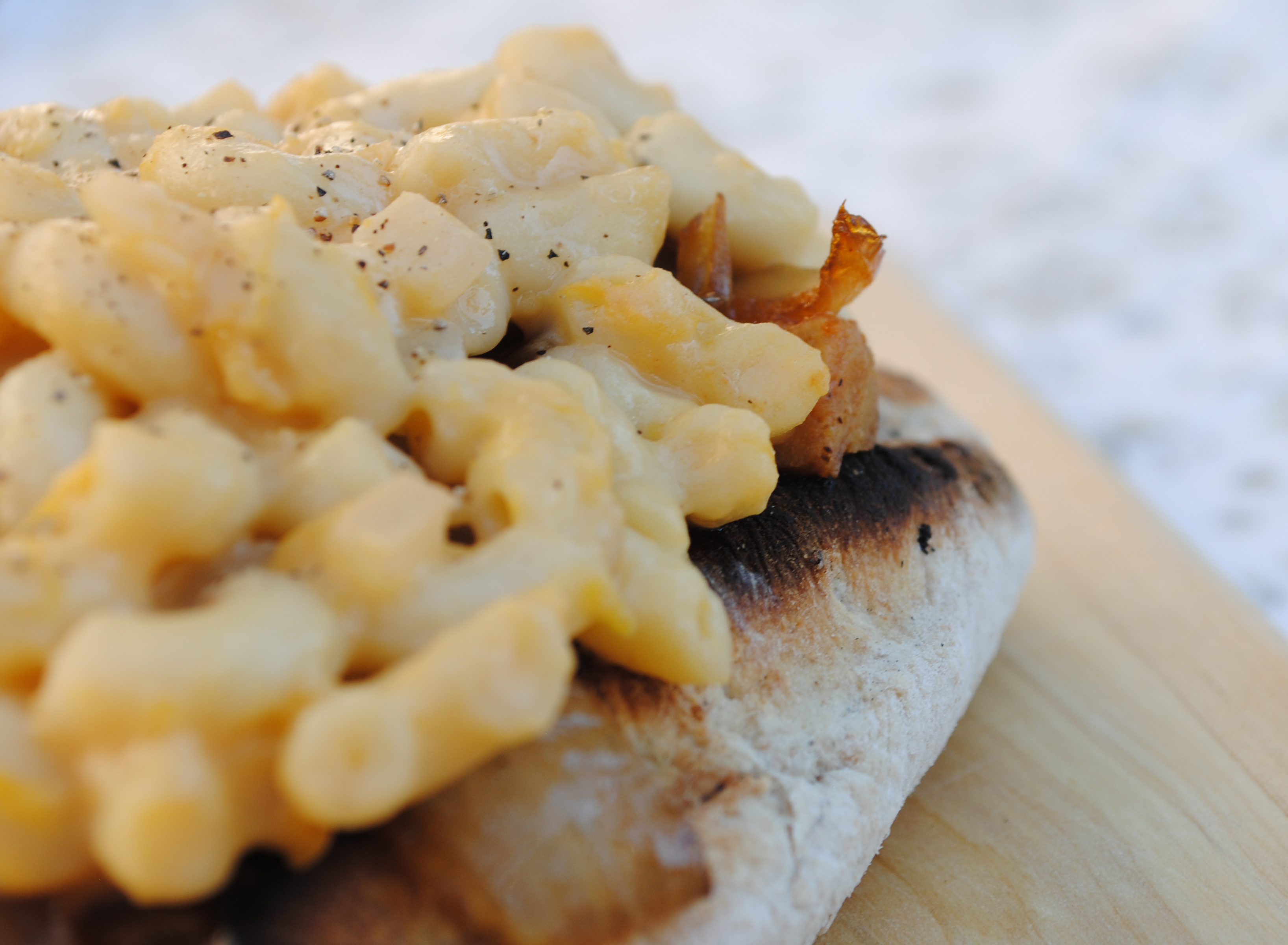 I made this as a "mini" pizza, using about 1/4 of a package of store bought pizza dough, and that was more than enough for me for one meal. After all, there was also a whole mess of m-n-c on there too! It was also an 'eat with both hands' kind of thing. And not, you know, an 'I'm on a diet' kind of thing. Like, at all.
This is absolutely a 'once in a while' kind of pizza. Unless you're trying to put on weight, in which case I recommend eating one of these a day, at least! Which reminds me, if I ever find a magic lamp and get three wishes, one is going to be that I need to consume 5,000 calories a day just to maintain my weight 🙂
---
Grilled "Cheesy Mac n' Rib" Pizza (Makes 1 mini pizza)
If you need some pointers on how to properly caramelize onions, check out this and this. Having your mac n' cheese and caramelized onions already warm or at least at room temperature will make the final cooking process go faster!
Ingredients:
1/4 packaged  pizza dough, sitting at room temperature for at least 30 minutes
Olive oil
Cooking spray
1 loaf seitan
1/2 cup BBQ sauce
1/8 cup caramelized onions
1/3 cup Butternut Squash Mac n' Cheese
Salt and Pepper
Directions:
Slice the seitan into bite-sized pieces, and marinate in the bbq sauce for about an hour.
Heat your grill to medium.
Cut your dough into quarters and roll out with a pin to get it as thin as you want. Drizzle one side with olive oil and place the dough oil-side-down on the grill. Keep an eye on it, making sure the dough begins to cook and you get grill marks-but don't let it burn. 5 minutes should be good.
Remove the dough and place it on a plate with the cooked side UP.
Spread about 2 tablespoons of bbq sauce onto the dough (use what you were marinating with), then top that with the marinated seitan. Spread the caramelized onions over the seitan, and then top with the m-n-c.
Give the grill a quick squirt of cooking spray and place the pizza back on.  Close the grill and turn the heat down to low. Leave it on there until everything is warm and the m-n-c is nice and gooey, 7-8 minutes.
Enjoy!