Welcome to the Virtual Vegan Potluck! Step over here to the appetizers table and fill your plate… There's plenty of food, so help yourself!
Can you believe it's already our second VVP? I know your day is super busy, visiting the 100+ blogs that are participating this year, but if you have a moment you should totally travel back in time real quick to see what I brought last year.
Are you back? Okay good… let's talk about stuffing: Stuffing made with roasted butternut, tasty apple-sage (vegan!) sausage, and crunchy panko crumbs. Mmmmm! These little honies were first born as stuffed mushrooms, served at my Open House party last month- and they were very popular! We're talking skinny-blonde-girl-in-high-school popular… only nicer. Seriously, those mushrooms would never gossip about the other appetizers behind their back!
Long story (somewhat) short, they were really good, but I got to thinking that not everyone likes the 'shrooms. My mama, for example, hates them. I'm not sure why, I think they're really fun guys! (Hehe, get it?)
Phyllo cups, on the other hand, are universally adored, so I've reincarnated the delicious stuffing with a brand new, crispier look just for you, my guests at the Virtual Vegan Potluck! Enjoy 🙂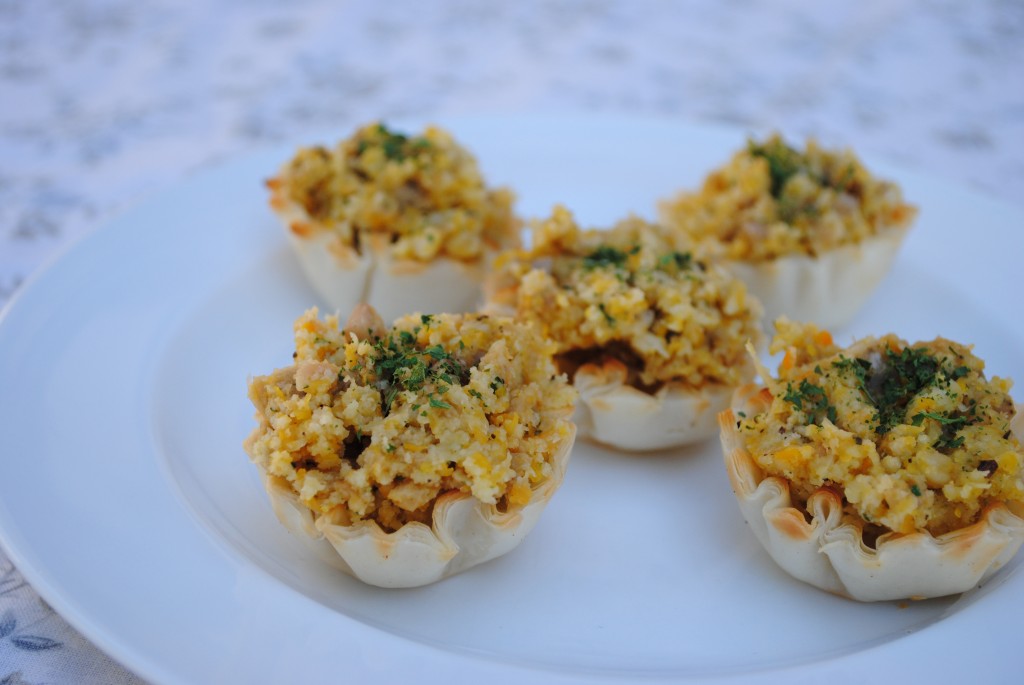 Enjoy the rest of the Virtual Vegan Potluck! Use the buttons below to visit all the other blogs, or click here for a complete list.
---
Butternut – Sausage Stuffed Phyllo Cups (Makes 30-40 phyllo cups)
You can leave out the mushrooms if you don't like them, just keep in mind the final result will fill fewer phyllo cups!
Ingredients:
1/2 cup finely chopped mushrooms
1 small butternut squash, roasted
2 Field Roast apple sage sausage links, roughly chopped
1 small yellow onion, chopped
1/2 teaspoon garlic
1 teaspoons parsley (plus more for sprinkling)
1 teaspoons rubbed sage
3/4 heaping cup panko crumbs
1/4 cup vegetable broth
3/4 teaspoon sea salt
A couple grinds of black pepper
40 phyllo cups
Directions:
Water saute the mushrooms over medium heat until soft, set aside.
Scoop out 1.5 cups of the butternut squash and place in food processor with S-blade. Puree until smooth. Add the sausage and onion and run until the pieces are all tiny.
In a large bowl, combine the butternut/sausage mixture with the seasoning, panko, mushrooms and veggie broth and stir until well mixed. Taste then season with S&P.
Place in fridge for at least 2 hours. When you're ready, fill the cups and place on a baking sheet. Bake at 375 for about 15 minutes, until they start to get golden and the stuffing is warm. If they need to be in there longer, I'd cover them with some foil so they don't burn. ALTERNATIVELY– if you're prepping these off-site for a party, you can also heat the stuffing and add it to room temperature cups. If you use a pre-made cup (like Athens) they're already cooked and ready to go.
Sprinkle with parsley if you saved some, then serve immediately- although they're really good at room temperature too!
Enjoy!