Before I even begin, can I get a big, loud THANK YOU ANNIE from the blogosphere? Our very own Unrefined Vegan put a lot of time and effort into organizing this Virtual Vegan Potluck, and we gotta let her know she's appreciated 🙂  But you're not here for a vegan-blogger-lovefest, you're here to see what I brought to the Potluck… and here it is: the Bloomin' Onion Bread that's been sweeping the interwebs, single-serve style.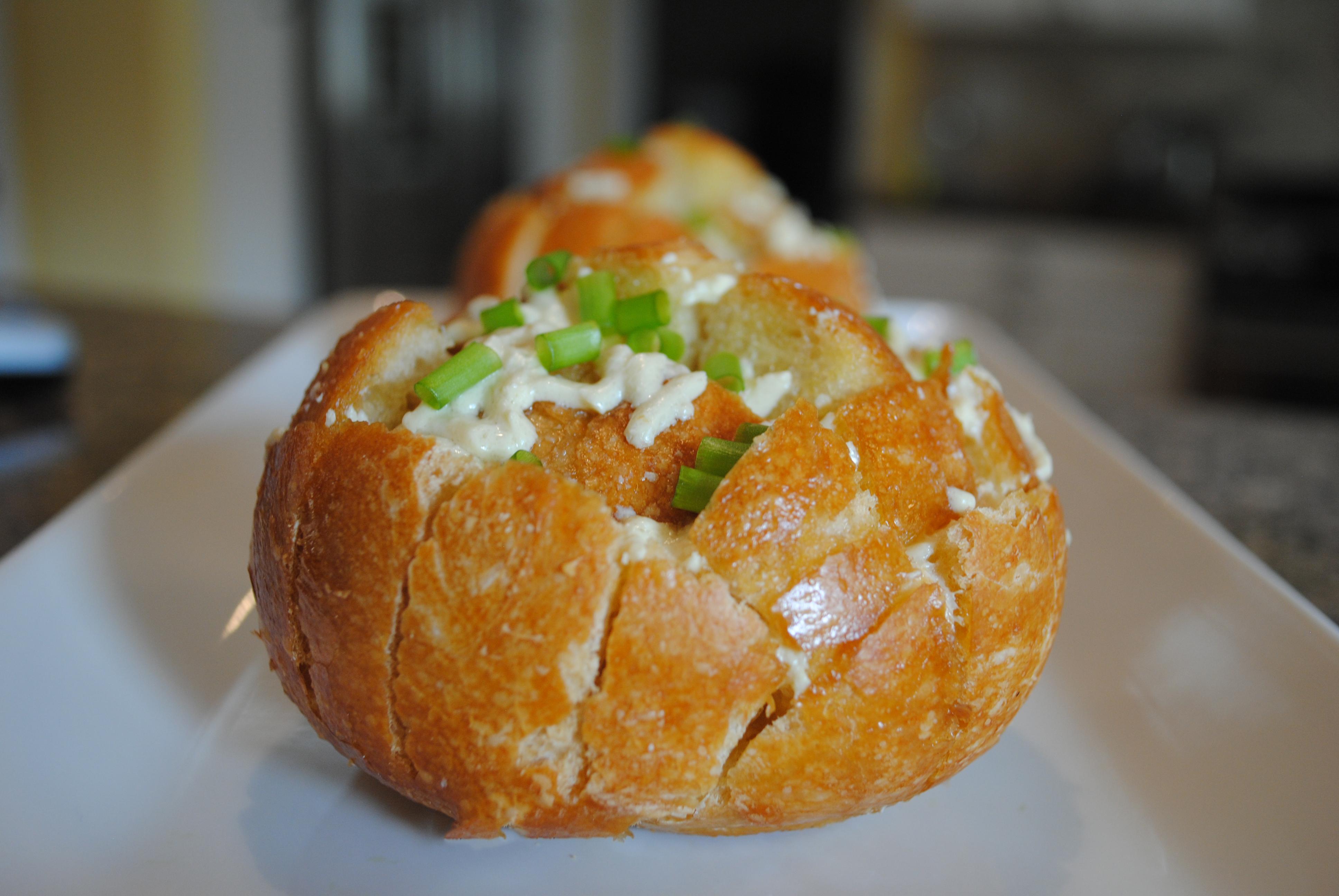 I realize these pictures have no scale, but take my word for it… those are basically dinner rolls. Sourdough rolls from Panera, to be exact.
You might be wondering, why do I need it single-serving style? What's wrong with just making one great big loaf of it? There's nothing wrong with it, per se… it tastes delicious either way. But the thing is, this bread is amazing. You, your family, your guests- whoever you made it for- is going to want to dive right into it. Literally. It can get messy and dangerous. What if a Bloomin' Onion Bread fight breaks out at your house, and someone gets hurt? Do you really want that on your conscience? I didn't think so.
The solution is to give everyone their own little piece of bread-heaven. This also allows you to make just one or two servings at a time, for when you're dining solo, or just want it as a snack. When I made these little guys, Jason and I each had our own- an opportunity he took to pick it up and eat it like it was a doughnut or something! Just try doing that with a big one you're supposed to be sharing with 6 other people 😉
One caveat: I made this using Daiya shreds, before I was able to get my paws on their new slice-able wedges. I think if you used the wedges, you'd be able to get better cheese coverage…
So go ahead and scroll down, take a look at the recipe (and bookmark it!), then continue on your scrumptious Virtual Vegan Potluck tour!
There are links at the bottom of the page that will take you the previous or next dish in the potluck circle. If you hit a broken link somewhere, or just want to see the entire list of participants, visit Vegan Bloggers Unite!
---
Single-Serving Bloomin' Onion Bread (Makes 2 servings)
Adapted from this non-vegan recipe

Ingredients:
2 sourdough rolls (I used the ones from Panera)
3 T melted vegan butter (I used Earth Balance)
A sprinkle of onion powder
A sprinkle of garlic powder
1 diced scallion
HEAPING 1/2 cup of Daiya shreds (or vegan cheese of choice- see above)
2 sheets of aluminum foil
Directions:
Melt butter in measuring cup (or anything with a pour spout), then mix in garlic and onion powders.
Slice bread in crossways in both directions, but don't go all the way through to the bottom. You want to create a bunch of pull-able "bread tabs", but you want them to stay connected to the roll at the bottom.
Place rolls on sheets of foil, on baking pan (one roll on each sheet).
Pour 2/3 of the butter mixture over the bread, then mix the diced scallion in with the remaining 1/3 butter.
Gently stuff the cheese shreds down in between the slices, spreading it out as evenly as you can (again, this would be easier with sliced cheese). Make sure you get it down deep- you don't just want it sitting on top.
Pour the remaining butter/scallion mix over the top of the bread/cheese, then fold the foil up over the top of the bread, covering it completely (but not smooshing it against the cheese!)
Bake for 8 minutes at 350 degrees, then pull back the sides of the foil, and bake for another 2-3 minutes until the cheese is completely melted.
Enjoy!
Continue on your tour of the Virtual Vegan Potluck!