Hey guys!
Can I just tell you how nice it is to have all my kitchen things out of storage, and to be cooking again? Not to mention chatting here with all of you 🙂
To show you just how much I missed you all, I bring you this Cheesy Vegetable Casserole– It's broccoli, cauliflower and sweet potato smothered in a creamy Daiya cheese sauce, covered with bread crumbs and chili powder! Did I mention it's a bit spicy too? Yum! The cheese sauce is to die for too… scroll back up and look at that piece of cauliflower on the fork… it's literally dripping with vegan cheeeeeese!
If the recipe below looks a little familiar, this is actually kind of an amalgamation of my Butternut Mac n' Cheese and my Cauliflower n' Cheese recipes. That's right- there's butternut in there!
That's all I have for now- but I'll be back next week with more. I'm thinking maybe… a breakfast pizza!? I also need to come up with some yummy appetizers for noshing during Sunday's Patriots game. If I do something other than my Tom Brady or Wes Welker dips, I'll be back to share it with ya! I hope you all have a wonderful weekend and GO PATS!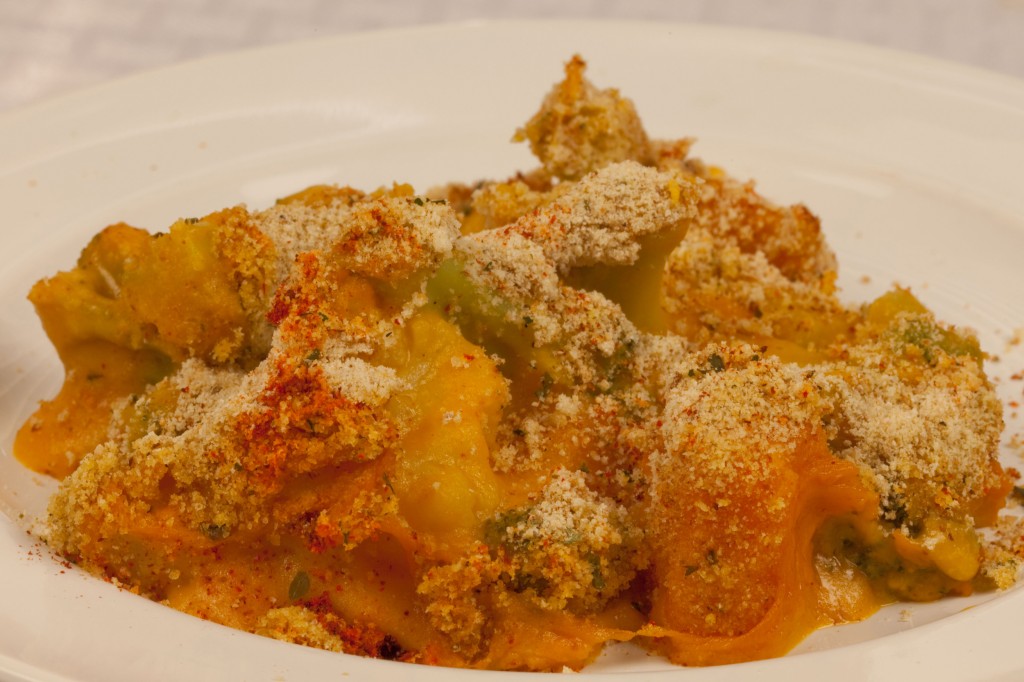 ---
Cheesy Vegetable Casserole (serves 5-6 hungry adults)
I used frozen broccoli and cauliflower for this recipe- if you choose to use fresh, simply cook it in the boiling water for a few more minutes. Easy-peasy!
Ingredients:
2 cups sweet potato, peeled and chopped
3 cups frozen broccoli florets
3 cups frozen cauliflower florets
2 Tablespoons vegan butter
3 Tablespoons flour
2 cups So Delicious coconut milk
10 oz butternut squash puree, thawed
1 bag Daiya, cheddar-style
3/4 cup nutritional yeast
1 teaspoon sea salt
3/4 teaspoon + 1 teaspoon chili powder
1 1/2 cups bread crumbs
1 T dried parsley
Cooking spray (must be canned variety)
Directions:
Boil salted water in a large pot, and add sweet potatoes. Boil for 8-10 minutes until they're starting to get a little soft, then add the broccoli and cauliflower. Turn off the heat and just let it all sit in the hot water for 1-2 minutes, then drain water reserving 1 cup cooking liquid, and set aside.
Melt the butter in the same (now empty) pot over medium heat, then whisk in the flour to create a roux. Stir, stir, stir for about a minute until it's thick.
Whisk in the milk and cooking liquid and continue to whisk (still over medium heat) until it's gets thick (6-7 minutes).
Reduce heat to the lowest setting and stir in the squash puree, Daiya, nooch, salt and 3/4 teaspoon chili powder. Keep stirring until the cheese is completely melted, then fold in your veggies.
Coat a 9×13 inch baking dish with cooking spray, then spread the veggie mixture evenly. Top with breadcrumbs, sprinkle the parsley and the rest of the chili powder (go easier if you don't love the heat). You might also want to add extra salt at this point (I did, ha ha). Give the whole think a light coating of the cooking spray.
Bake at 350 for about 30 minutes. You'll see the cheese bubbling around the edges. If the top isn't browned you can move it under the broiler on low for a minute, but be careful not to burn it.
Enjoy!