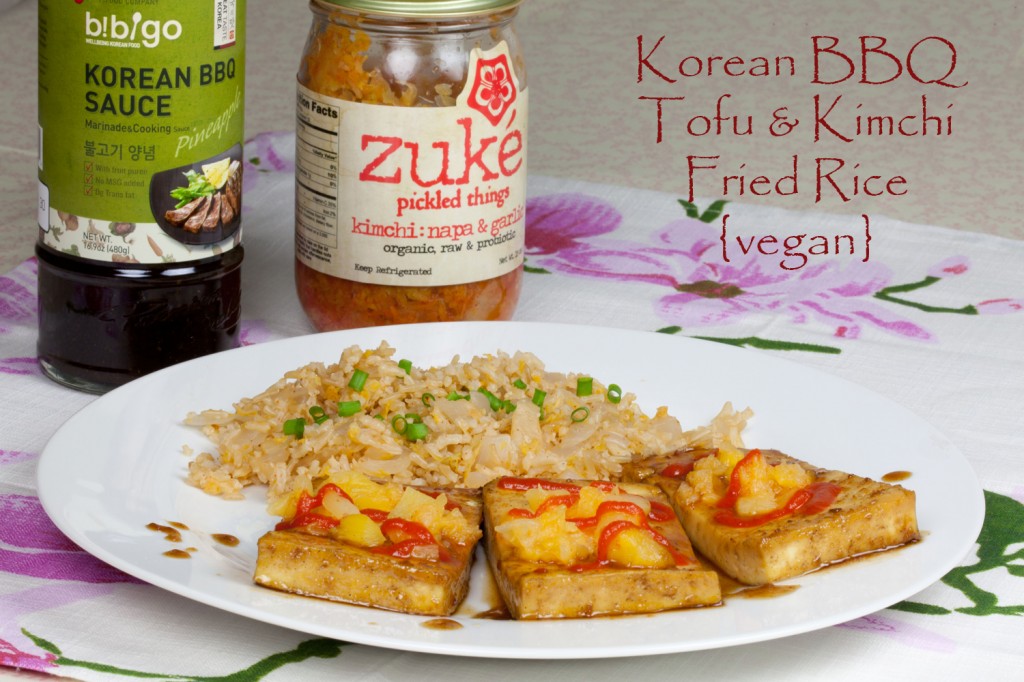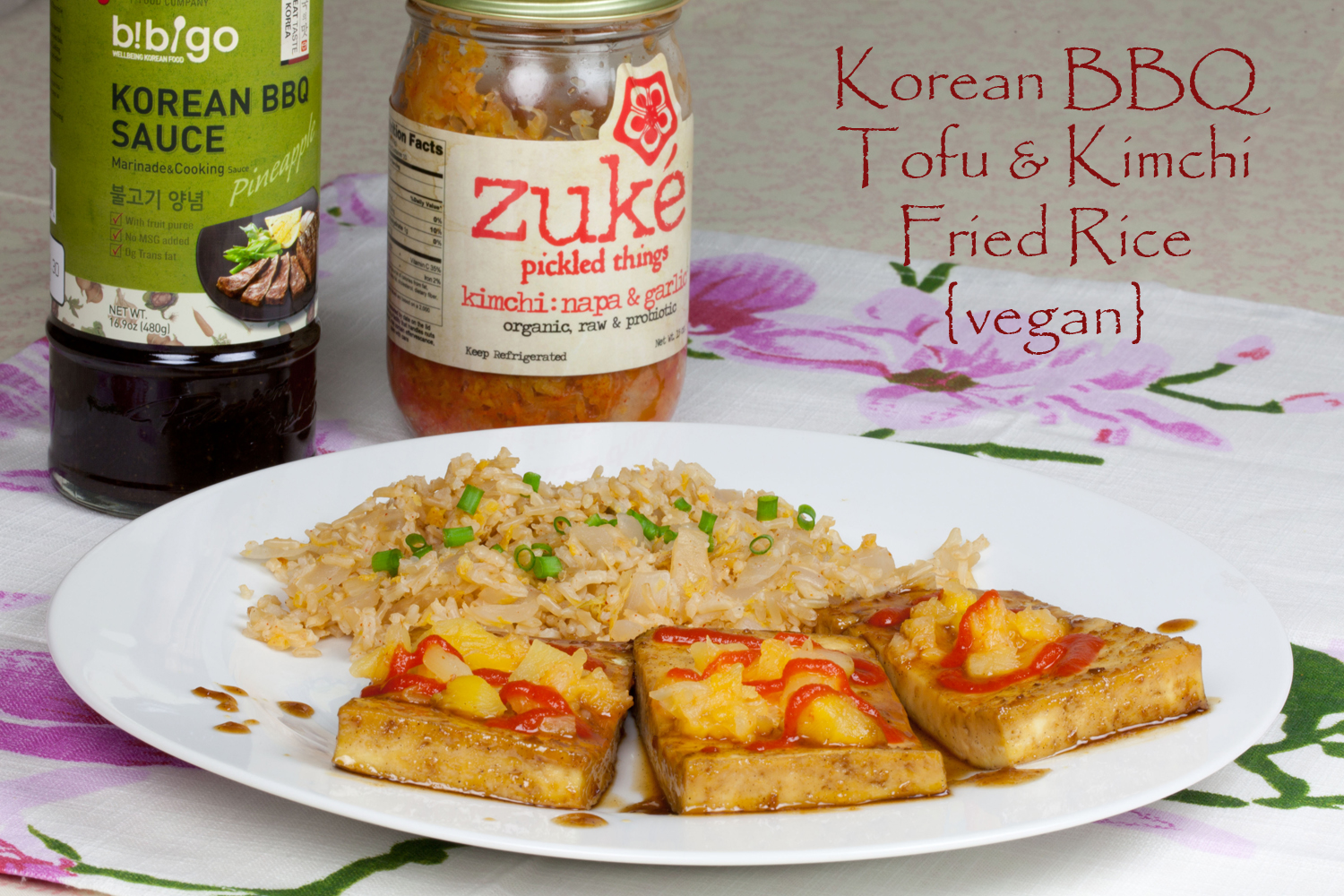 I found the original tofu recipe on Pinterest, but of course had to change it up a little bit. Perhaps you remember my Korean BBQ tacos? Or the Korean BBQ pizza? They both included Sriracha pineapples (as mentioned in the LA Weekly a while back), and I knew that my version of the Korean BBQ Tofu would have to include some of those as well. And as expected, they combined perfectly! This was my first time making Korean BBQ with tofu (I've always used seitan in the past), but it wont be my last. By using the extra firm and pressing it for an extra long time, you ensure the tofu will have a nice firm texture. The BBQ sauce is just a little sweet (and you'll definitely want to use Korean, not American, BBQ sauce!) which adds a wonderful balance to the spiciness of the Sriracha pineapples.
I also finally got around to buying a bottle of vegan kimchi. I had looked for it last spring when I first got on my 'Korean Cooking Kick' (TY, Shawna!), but all the brands I found had some sort of fishy nastiness going on.
Not sure why it never occurred to me to check Whole Foods. I'm a bit slow sometimes.
Anyhoozle, I finally did and I got me a bottle of Zuke kimchi which is some of the best kimchi I've ever had. First on my list of things to make with it was Kimchi Fried Rice. Shawna is always talking about how yummy it is, so I had to try it.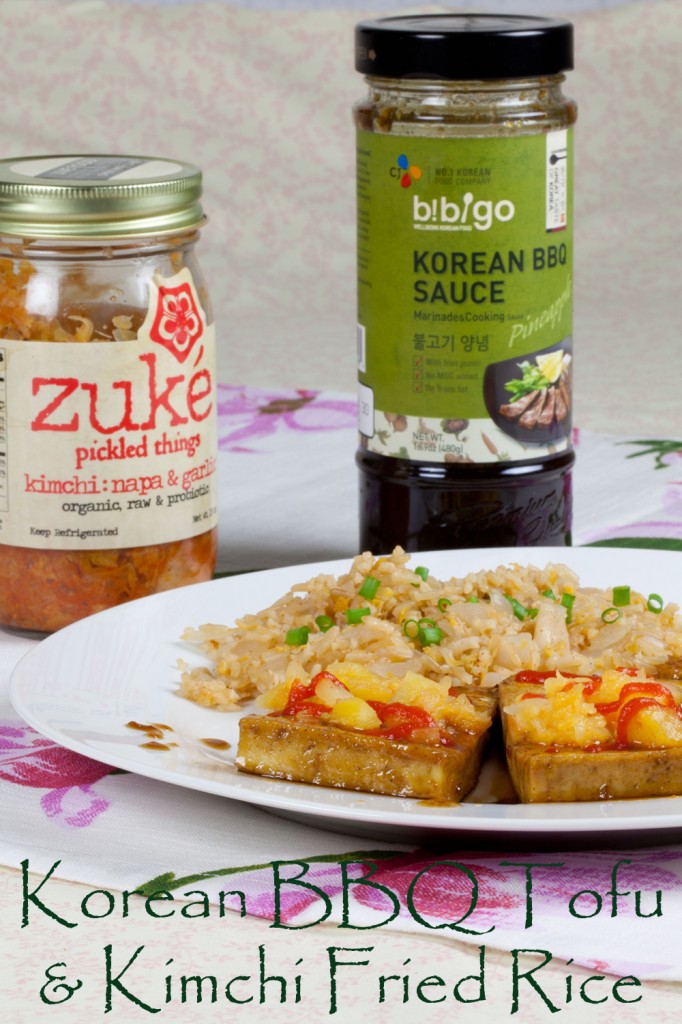 And she was right. The rice had so much flavor! I know that not everyone loves the taste of kimchi, but it wasn't overly strong in this dish.
If you've never tried kimchi, it's fermented pickled vegetables. The veggies are crunchy and the flavor is a combination of sour and spicy. It also has a very pungent odor. It's delicious, but for many is an acquired taste.
And now, the recipes!
---
Korean BBQ Tofu with Sriracha Pineapples (serves 2 hungry vegans)
Adapted from averie cooks
Ingredients:
1 block extra firm tofu, pressed for at least 3 hours
1/2 cup chopped pineapple
1+ Tablespoons Sriracha
1 cup Korean BBQ sauce (I always seem to use Bibigo, or make my own)
Aluminum foil and non-stick spray
Directions:
In a small tupperware, combine the pineapple and Sriracha. Cover and shake until all the pineapple is covered with sauce. Taste, and add more Sriracha as needed. If you added too much, you can rinse the pinapple and start over again! 🙂 Set in the fridge until you're ready to add it.
Slice the tofu into 8 strips, then place in a bowl with the BBQ sauce, stirring until coated. Let marinate in the fridge for at least an hour, although the longer the better.
Cover a baking sheet with aluminum foil, spray with the non-stick, then lay out the slices of tofu. Bake at 350 for 20 minutes, then flip and put back in for another 15. Sprinkle your Sriracha pineapples over the tofu and place under the broiler for just a couple minutes, and then you're done!
---
Easy Kimchi Fried Rice (serves 2 as a side dish)
If you have some, you should definitely use leftover rice that is a day or two old. If you don't (I didn't), just whip up a batch of brown rice, it'll still work!
Ingredients:
3/4 cup diced sweet onion
Sprinkle garlic powder
1 cup kimchi, chopped
1 Tablespoon soy sauce
2 cups brown rice
Handful of chopped green onions
Directions:
Water sautee the onion (with garlic powder) 2-3 minutes, then add the kimchi. Stir well and let sit over medium heat for 1-2 minutes.
Add the soy sauce and rice and cook for another 5-6 minutes. Ideally you want the rice to get a little crispy, but if it's fresh it probably wont.
Top with green onions and serve immediately.
Enjoy!