Welcome to the Virtual Vegan Potluck! I'm glad you decided to start with appetizers, because I've whipped up something extra special for you today… my Vegan Sweet Potato and Korean BBQ Bites!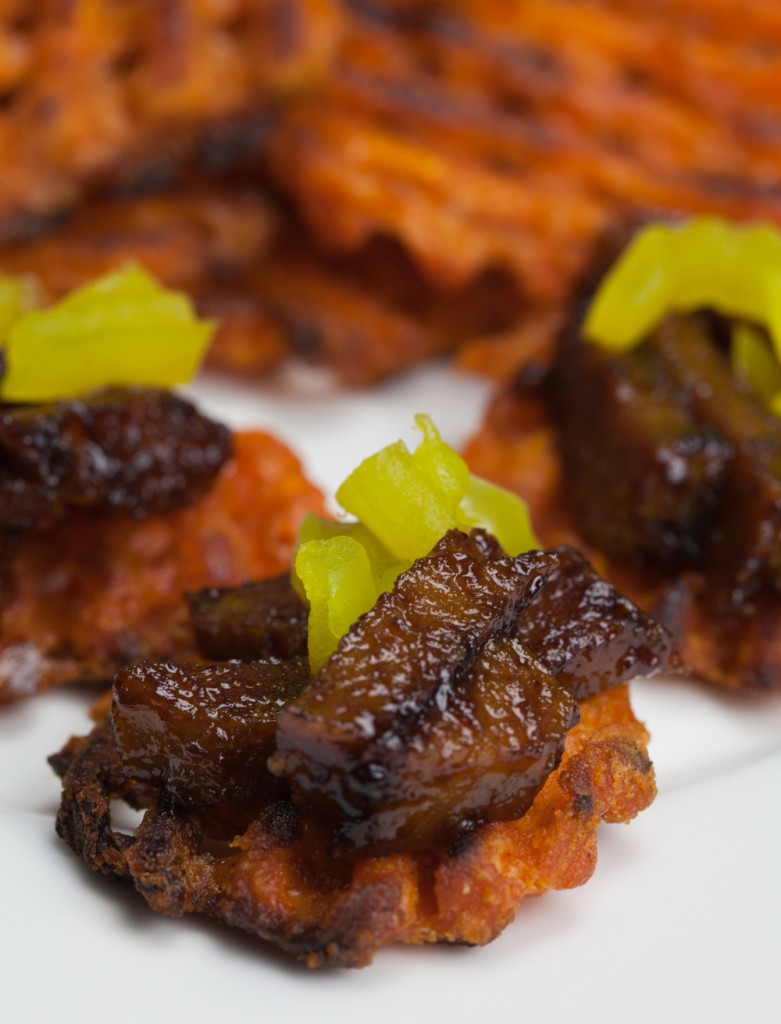 Boy oh boy! If you haven't tried my Korean BBQ-Style Seitan yet, you're in for a treat. Also, where have you been and what the heck have you been doing? You've been missing out! This seitan is sticky and chewy, and the sauce (I do a homemade but you can totally cheat and buy a bottle at the grocery store) is a beautiful mixture of sweet, spicy and just a little bit tangy. It can be served all sorts of ways (in tacos with sriracha pineapples is a personal favorite of mine, although the pizza version is just as yummy!) and if you're anything like me, you'll be happy just eating it with your fingers straight out of the pan!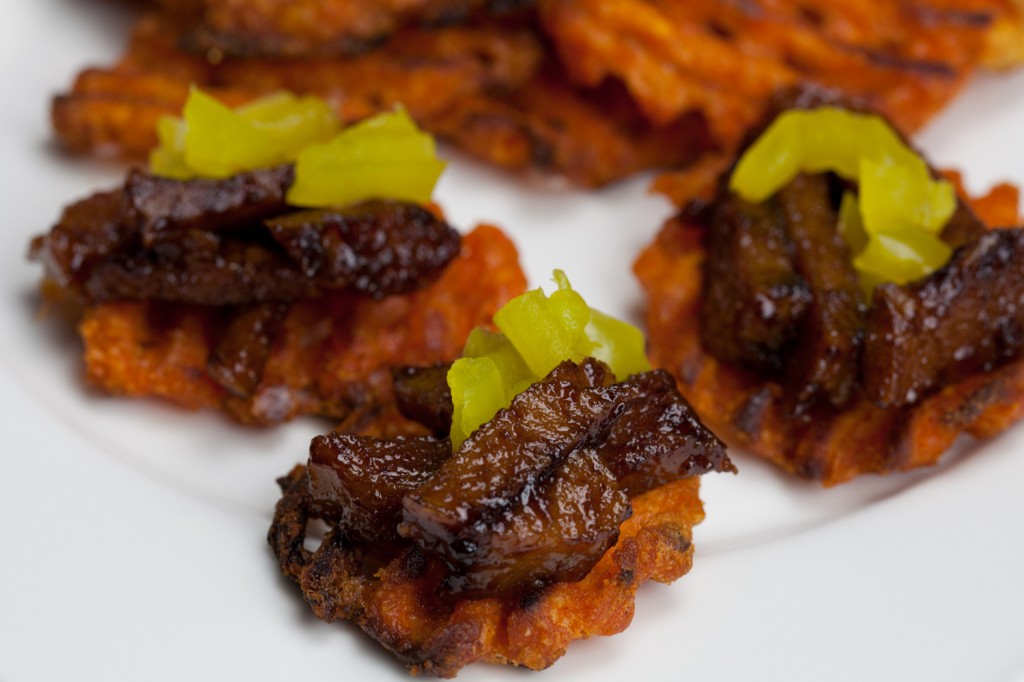 Since today is special (it's the potluck, yo!) I fancified the seitan a little bit, with some Alexia waffle cut sweet potato fries and chopped banana peppers.  Nothing too spicy or too sweet, just the perfect combination of both. The seitan is sticky and so flavorful, and really, what is more fun that food you eat with your fingers!?
These were inspired by something I saw on pinterest… it was very much not vegan, had nothing Korean about it, and (if you ask me) couldn't possibly have been as good as these. Although, to be fair, at this point the only thing they have in common is the waffle fries, haha.
Before we get to the recipe, a friendly little reminder to check out all the other wonderful blogs participating in today's potluck. You can go to Vegan Blogs United who is hosting the event, or use the buttons to go forward or backward and check out allll the blogs in our little chain. Enjoy!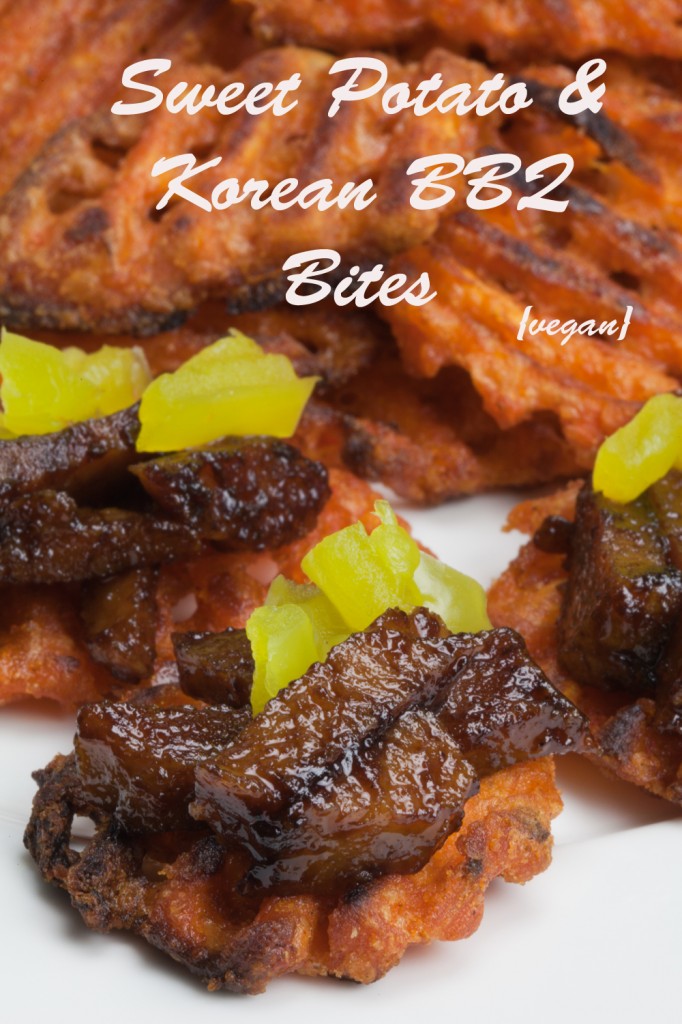 ---
Sweet Potato and Korean BBQ Bites
Adapted from non-veg recipe
Ingredients:
1 loaf homemade seitan
1-2 T Korean hot pepper paste (Gochujang)
3 T brown sugar
2-3 T soy sauce or Bragg's liquid aminos
1 t rice wine vinegar
1 Tablespoon hot chili oil
10-12 Sweet potato waffle fries
1 T hot chili oil or sesame oil
Banana peppers, chopped
Directions:
Shred or dice the seitan, and set aside. Mix the gochujang, sugar, soy sauce, oil and vinegar together in a medium bowl, and add the seitan. Allow to sit for at least 30 minutes, longer if you have the time.
Bake the fries per package instructions, taking them out 2-3 minutes earlier so they're crisp but not to the point where you couldn't bite one in half without it splintering. While they're in the over, heat the chili (or sesame) oil over medium heat and add the seitan, reserving the sauce. Stir often enough that it doesn't burn or stick to the pan, and after 2-3 minutes you can start to pour the extra sauce (Slowly! A little bit at a time, you might not want to use it all!) over the seitan as it cooked. This is what makes it so damn sticky and good. Total time in the pan should be at least 8-10 minutes.
When the fries are done, top with the seitan and a few bits of banana pepper, and serve warm!
Enjoy!