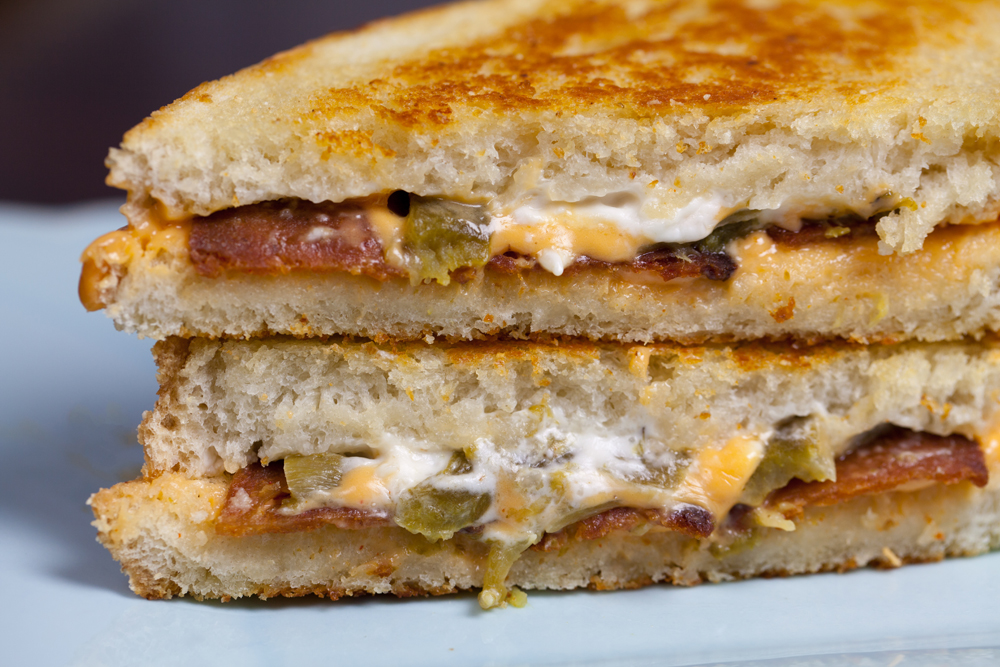 Ahhh, The Meltdown. Vegan heaven, sandwich-style.
This beauty was totally ripped off from inspired by two sandwiches at my favorite sandwich joint, Sub Culture (It's at Penn and 13th where Chipotle used to be, for you Denver locals!).
What makes them so damn special? Besides the fact that a large portion of their menu is vegetarian to start with, they've also brought tons of vegan substitutions to the game: tempeh, mayo, cheese, cream cheese, thousand island, and pesto! The two sandwiches in question are the meltdown and the sancho. I took my favorite parts of each, added bacon, and boom! The Vegan Meltdown.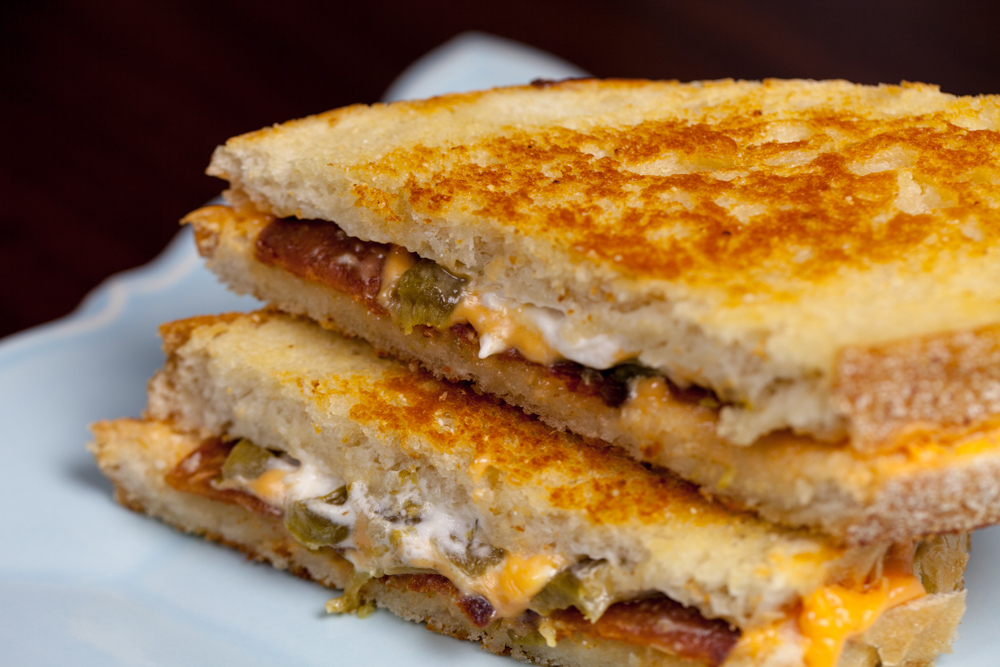 What's in this creation? We've got Daiya cheddar, cream cheese, bacon hatch green chilies and butter, all on thick sliced sourdough bread. Yumz.
Daiya had their first annual grilled cheese contest last week, and they asked me to enter (I'm a brand advocate which means I love them sooooo much and will do anything they ask me to, haha). This was my contribution, and while I didn't win, I do think it's insanely good and I just know you'll love it!
And speaking of grilled cheese sandwiches… have you seen my incredibly delicious Pear, Raspberry and Bacon grilled cheese sammy?
---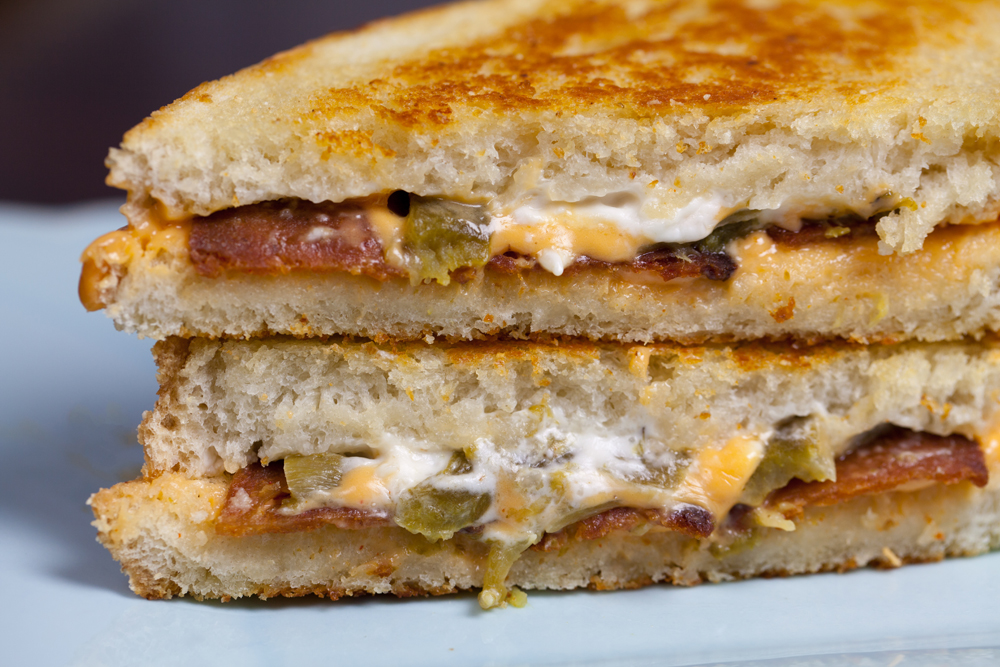 The Meltdown Grilled Cheese
2014-05-20 09:06:59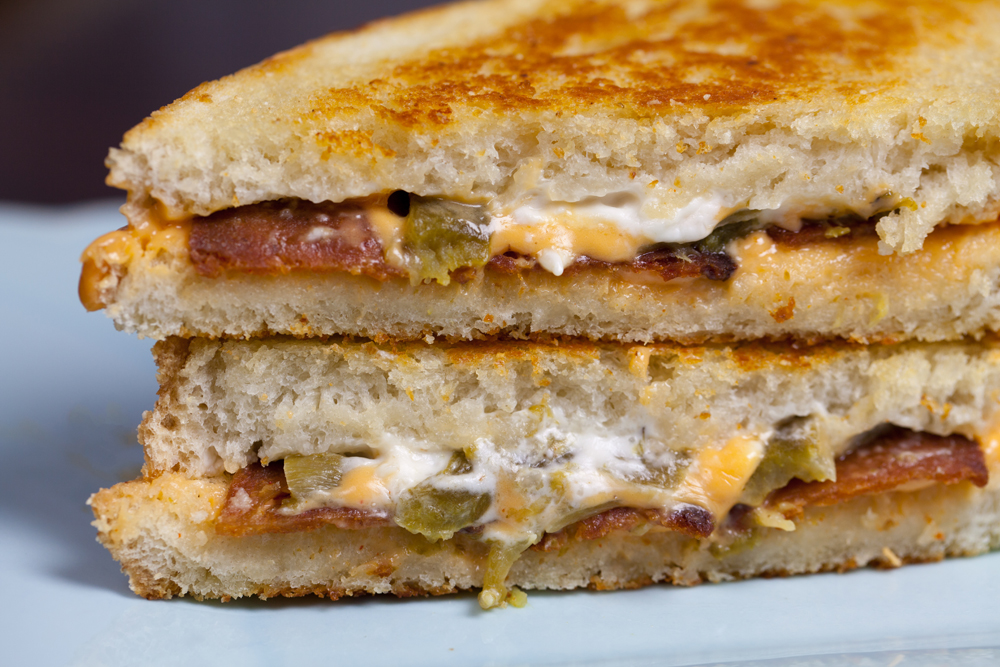 Serves 1
Ingredients
2 slices Daiya Cheddar
2 tablespoons vegan cream cheese
2-3 slices vegan bacon (I used Uptons)
1/2 Hatch green chile, roasted and rinsed
2 slices sourdough bread
1 tablespoon vegan butter
Instructions
Cook the bacon per package instructions in a frying pan. While it's cooking, slice your green chile into long ribbons. When the bacon is done, remove from pan and set on a paper towel to drain.
Butter one side of a slice of bread and place in the pan over low/medium heat. Top with 2/3 of the Daiya Cheddar Style Slices, followed by the bacon and green chile. Add the rest of the Cheddar.
Slather the remaining slice of bread with the Daiya Cream Cheese Style Spread on the inside, and butter on the outside, and place on top of the sandwich. Cover the pan so everything gets all steamy and melty in there. Flip after 2-3 minutes. When the cheese is melted and the bread is golden brown on both sides, it's done!
That Was Vegan? http://www.thatwasvegan.com/