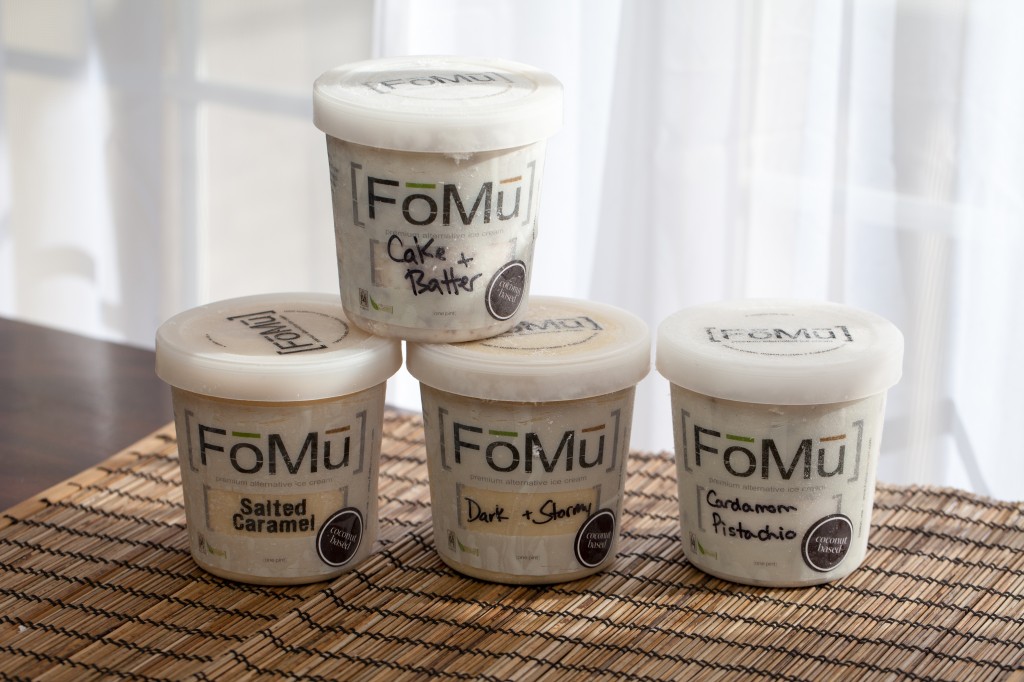 Looking at this picture makes me laugh, because it looks like I ate an entire pint before I remembered to take a shot of the containers… but I swear there were just four pints of FoMu vegan ice cream.
Just. Four.
Just four of the most decadent, brain-freezing yummy ice cream flavors I've tasted.
Cake & Batter
Salted Caramel
Dark & Stormy (Yes, like the drink!)
Cardamom Pistachio
They were all wonderful, smooth and creamy, but my favorite (surprisingly, to me) was the Cake & Batter. The chunks of cake blew my mind. I honestly thought my favorite would be the Cardamom Pistachio because pistachio was always my favorite flavor growing up. The Salted Caramel was also just as good as you'd suspect, really rich. The only one I wouldn't jump off the roof of my house just for another taste of was the Dark & Stormy. I'm a fan of the rum drink, but the flavor was just a bit too strong for me in the ice cream version.
FoMu is a Boston-based ice cream company (they have an actual ice cream shop you can visit in the Allston area, if you're lucky to be nearby!), but the rest of us can order any of about a gazillion flavors online. At $11 a pint they're a little bit pricey, but if you're willing to splurge for a special occasion, this is the ice cream for you!
*I was provided free product to review, but the opinions are 100% mine!