I did it!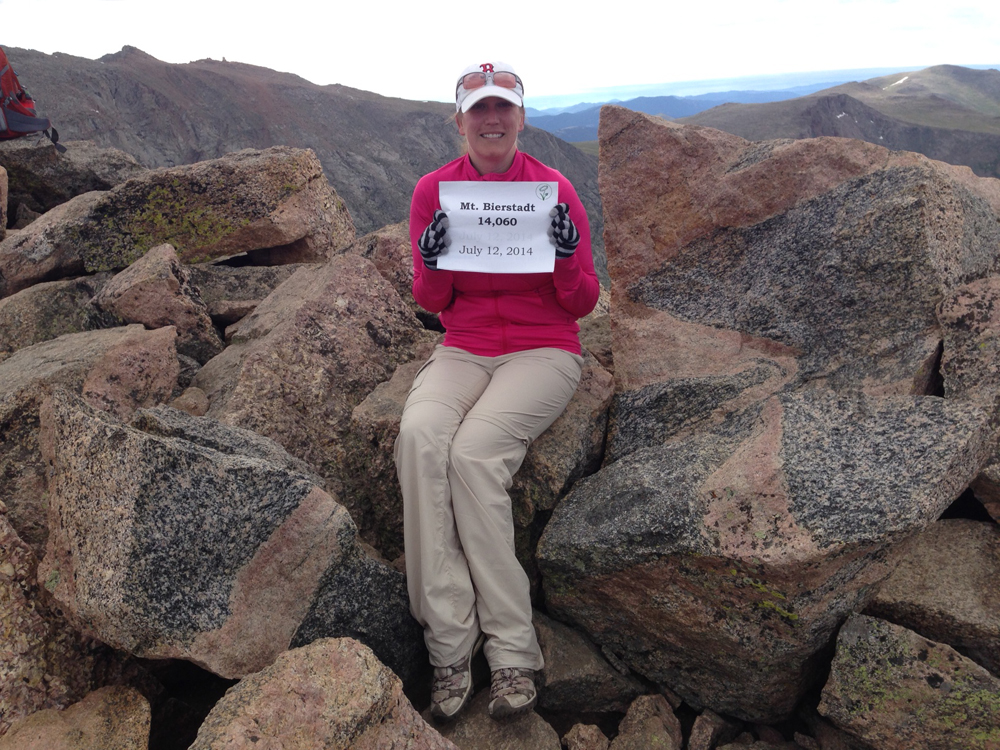 Not to brag, but I'm pretty proud of myself. This was my first 14er, and not only did I summit but I did it in really good time: 2.5 hours! (And while wearing hiking shoes that are both pink and vegan, so there's that.)
Ok, let's start at the beginning. We were up at 3:30, out of the house by 4:30, and made it to Guanella Pass just after 6. We put on our gear, made one last pit stop (no trees up there to squat behind!) and were on the trail at 6:15.
You actually start off downhill, and have to cross a creek before you get to the real trail. I was pretty sure I was going to get soaked. Seriously, this was the most stressful part of the hike for me, for some reason. It took me like 5 minutes to build up the courage to step onto that log!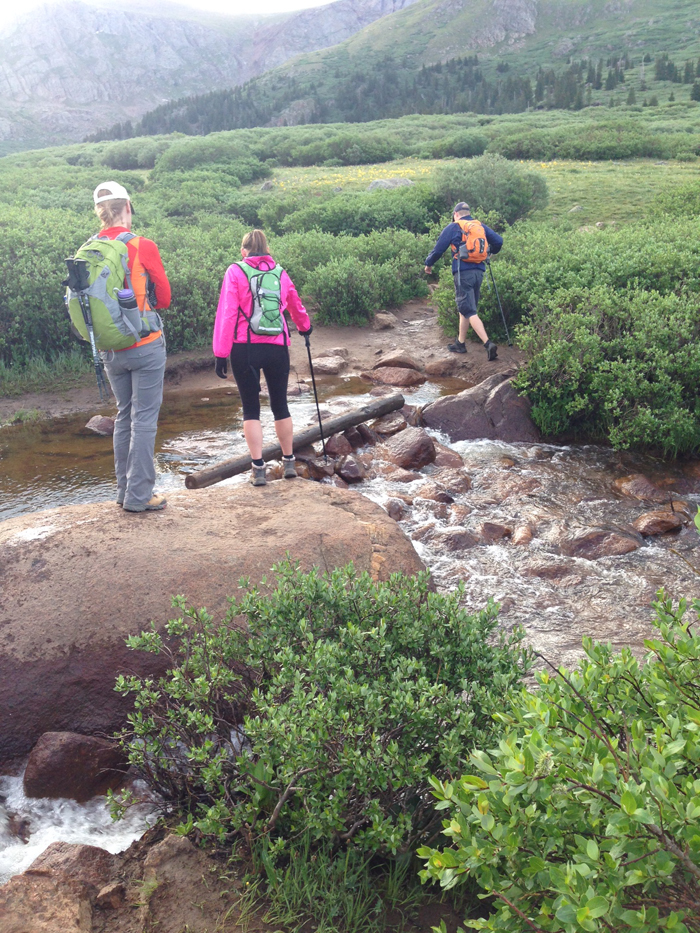 You can see from the picture that people were queuing up, which I was happy for. It gave me a minute to clear my head and stop panicking. On the way back down the log had been washed away, so I just had to hop on the rocks. I was so tired by that point and my feet felt like dirt clods, so I'm surprised I didn't fall in!
After the creek was when the ascent began. It was a rocky trail but mostly dirt at first, which was nice. Steep though! Lots of pretty wild flowers…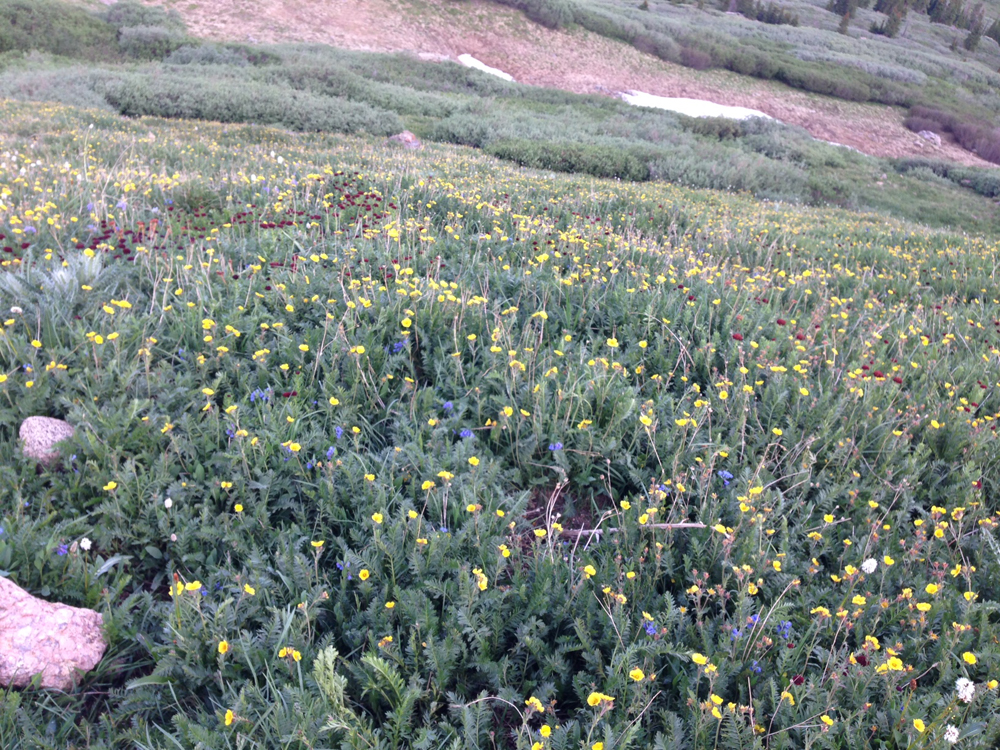 After about 90 minutes it got real steep and real rocky. Very challenging, especially when you can see the final portion of the climb that you know is waiting for you…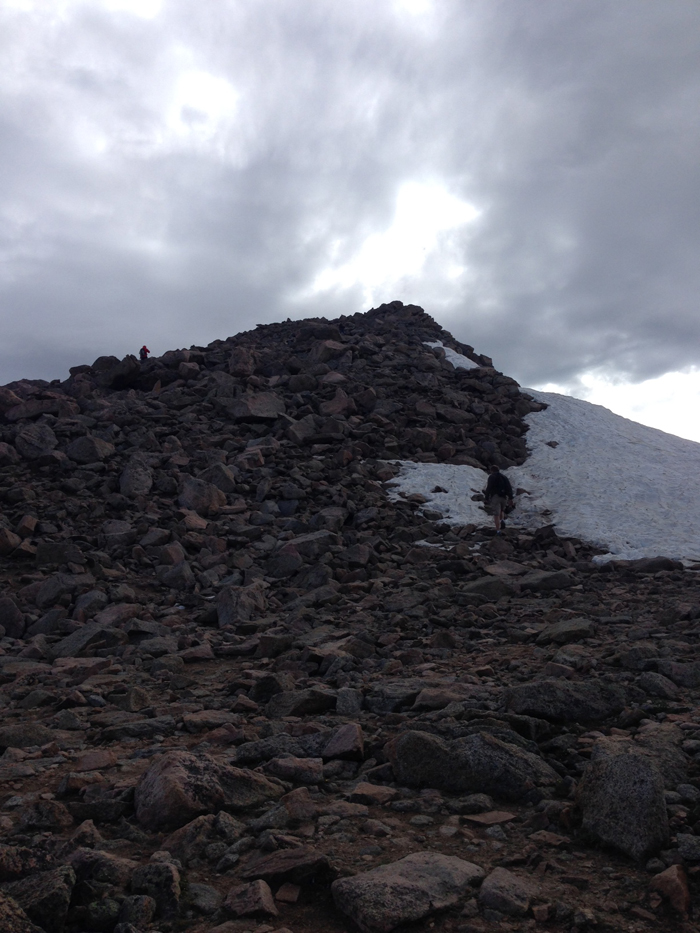 When I got to this point I actually felt pretty good. I was like "Yay, almost done!". Little did I know how difficult scrambling over all those rocks would be… (Those are just morning hazy clouds, BTW, not storm clouds. It was barely 8:30am when I took this shot)
15 minutes later I was at the top. Finally!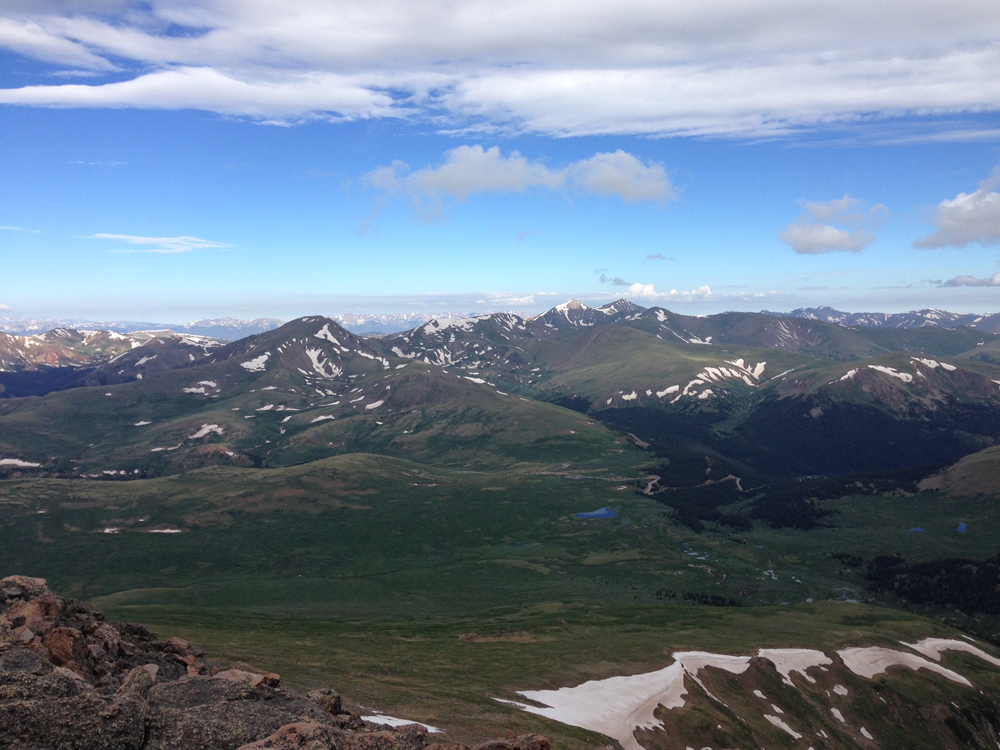 The view was amazing and there was a party atmosphere up there, everyone talking and laughing with each other. So much fun!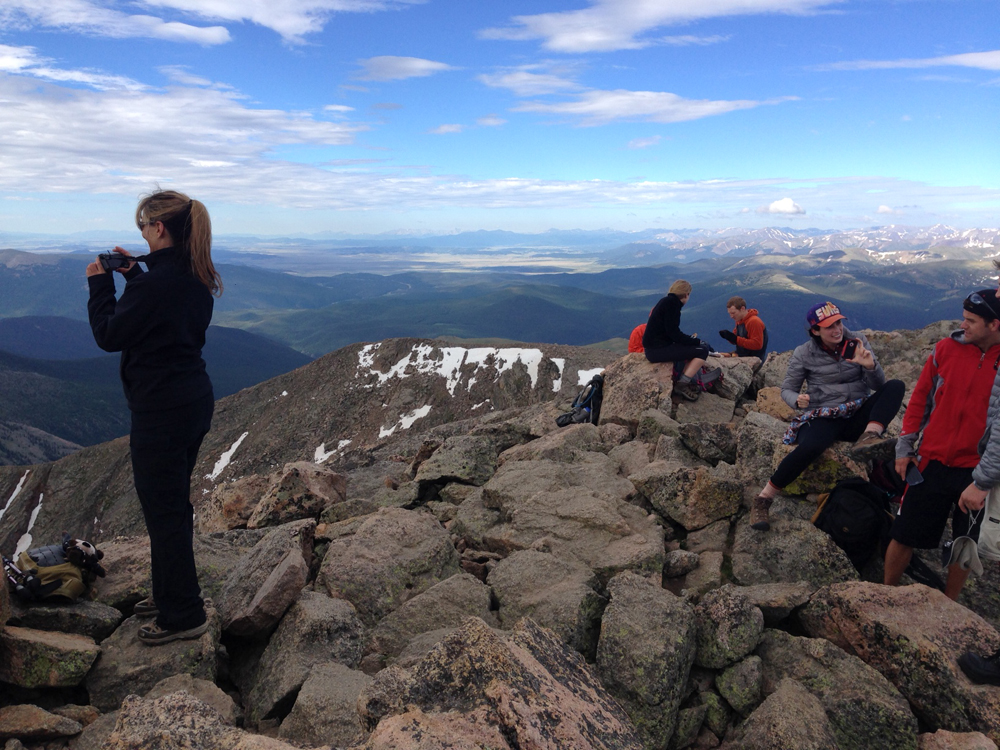 We only stayed up there for about 15 minutes, long enough to share a PB&J and take a bunch of pictures. It was really windy and cold, and I was ready to get back down before it got more crowded. There's something about standing on what is basically a pile of rocks at 14,000 that makes you not want to fall off the edge, you know?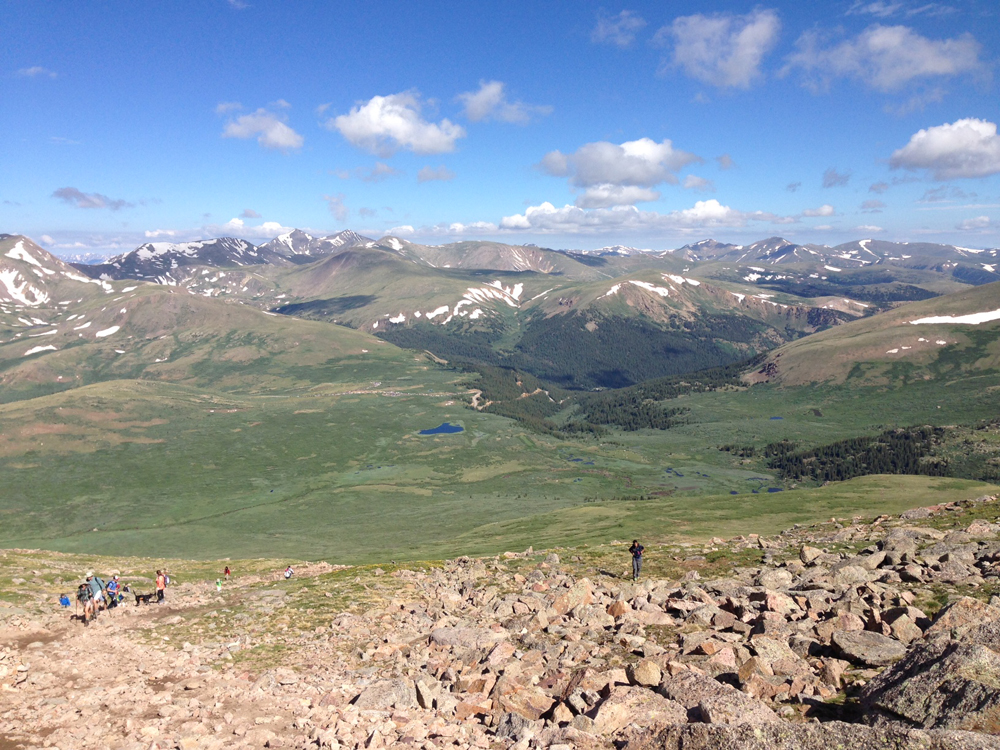 As we headed back down the sun came out in full force and it was AMAZING! I'm sure the people that were still huffing and puffing their way UP weren't so thrilled about it, but I was. They also may have been annoyed by the huge smile on my face, haha. There's nothing worse than knowing the hardest part of your workout is still ahead of you, and seeing someone who's already finished and is headed back downhill. I'm joking, mostly… but I will say that I'm glad we started so early, we only passed a handful of people when we were on our way up that had already summited. And anyway, everyone is just SO friendly! There's such a sense of camaraderie among these hearty hiking types. Everyone is willing to share some gu, powerade, or just a word of encouragement. It was such a great experience.
Look at all the people still heading up!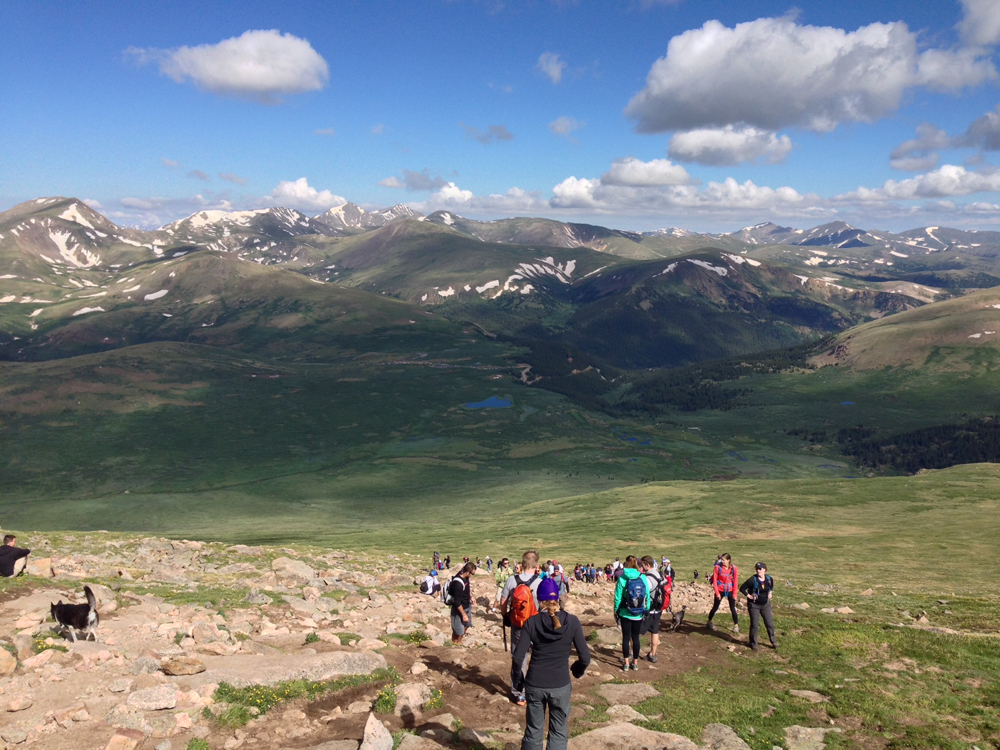 Our total time was just under 5 hours. 2.5 to the summit, about 15 at the top, and less than 2 hours back down. The rest was breaks. Most of our breaks on the way up were just 30 second breathers, but on the way down I actually sat on a rock in the sun and just enjoyed the view for a while, it was great.
We stopped in Georgetown for a beer and some yummy vegan mexican food, and then we were home by 2! I was tired but still loaded the dogs up and took them to the dog park for a while, then it was back home to collapse on the couch with a bottle of wine. A pretty perfect day 😀
And now, like most people that have bagged their first 14er, I'm ready for the next one! I'm thinking about a moonlight climb up Grays and Torreys next month during the Super Moon, so we can watch the sunrise from the top of the world. Sounds great, right?