We set out to climb both Grays and Torreys, but in the end we only summited Grays. Which is okay, because oh what an adventure it was!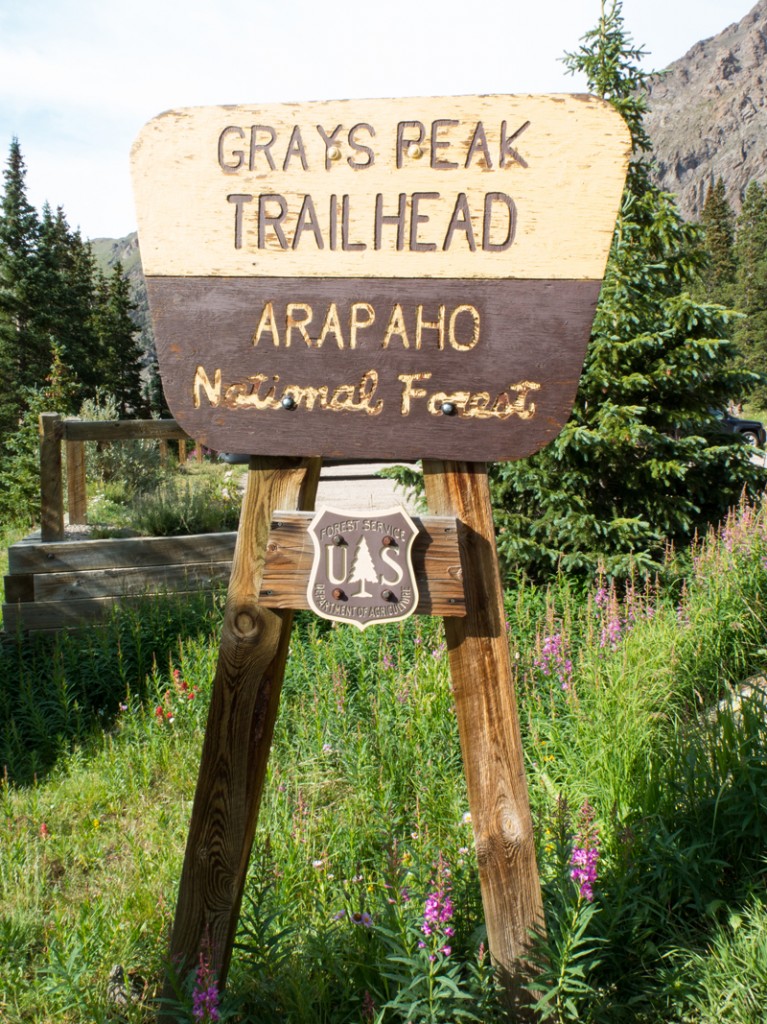 Of course, as a wise man once said… "There's a fine line between adventure and a bad idea!" 😉
We stayed the night before in the truck, near the trail head, where I spent more time wishing everyone else would STFU than I did actually sleeping. While we weren't the only ones who thought it was a good idea to camp and get an early start on the trail, apparently we were the only ones who didn't see it as a great opportunity to get completely wasted and party all night.
We got up at 2:45 and it was coooold! Breakfast was bagels toasted on the camp stove with vegan cream cheese and Lightlife "turkey" slices, and diet Mountain Dew. The breakfast of champions, you heard it here first! We hit the trail at 3:25, later than I had planned but oh well. There was a super moon but it was also pretty cloudy, so we had to use our headlamps. The trail was rocky, but with a little focus and a slower pace, it was fine.
Hiking at night was quite the experience! We could see stars, and we could see the outline of the mountain tops, but that was about it. Oh, and we could see other hiker's headlamps waaay up ahead of us. We saw them on top of Grays, and then we saw them crossing the saddle to Torreys.
After about an hour we encountered our first fellow hikers, a group of three that had decided to turn back before the summit. They were concerned about the clouds, but I'm a professional weather lady person with the wunderground app on my phone, so I knew they were just cumulus clouds that meant us no harm. We actually passed 5 more people before the sun came up, another group of three that had turned around, and two people that had hurt themselves and whose friends had gone on without them.
Oh, and we also go lost. We managed to lose the main trail for some sort of mountain goat trail that petered off into the middle of nowhere, so we had to backtrack and lost about 30 minutes. That sucked, and combined with our late start meant we weren't quite to the top when the sun rose…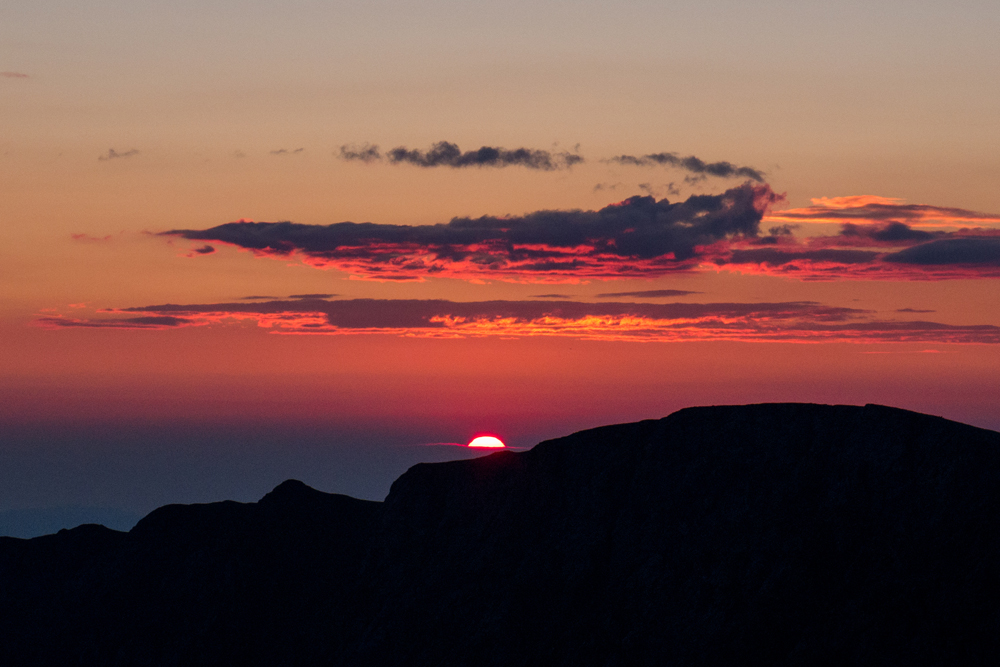 So we just turned around and watched it from the trail, before continuing on to the top. This was just my second 14er, but it was 100% different from my first, at least at the top. On Bierstadt there was a party- dozens of people crammed onto a few rocks, sharing sandwiches and PBR, chatting and laughing. On Grays, we had the whole place to ourselves!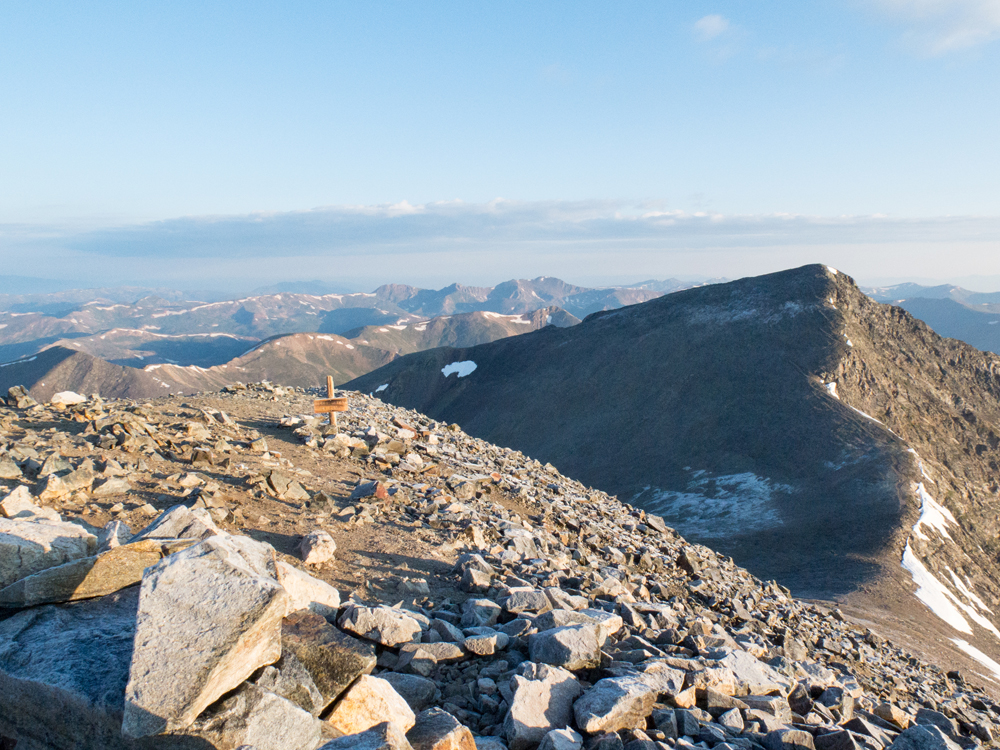 And I didn't have to share my PB&J 😉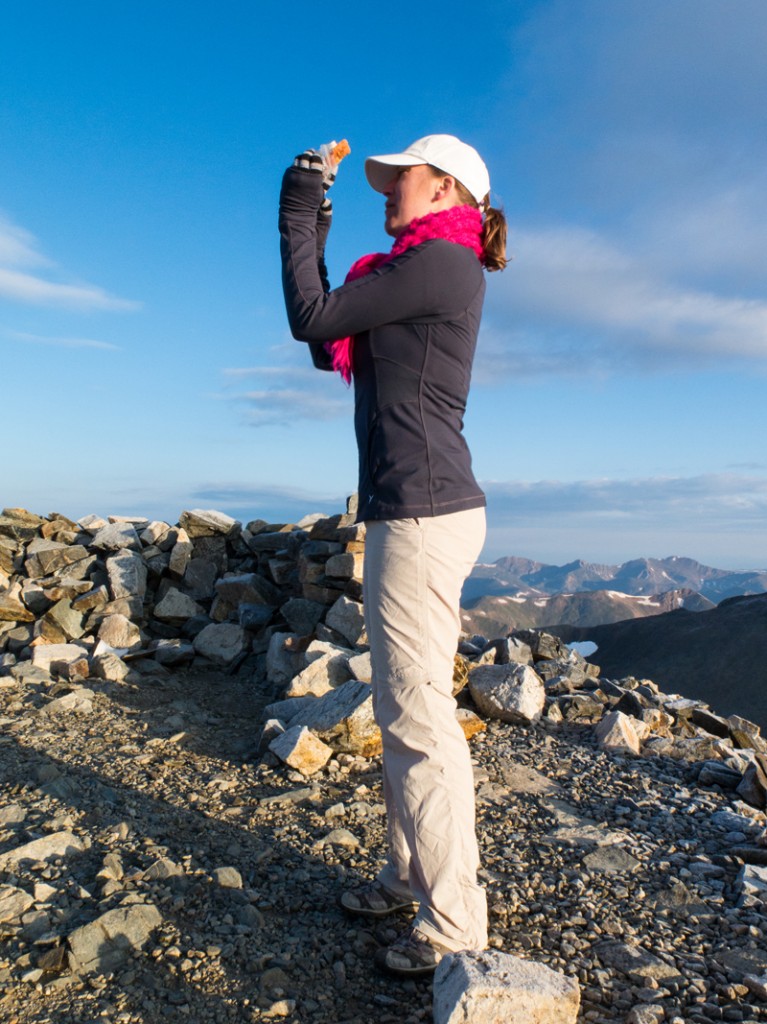 It was sunny in that last picture, but right after the clouds came rolling back in. There was a 40% chance of thunderstorms starting at 10am, and honestly I think we both had a touch of altitude sickness, so we decided to call it a day and head back down. The clouds broke up a bit though, so it was a really nice trip back down, and I gradually got the feeling back in my fingers.
Overall, I would rank Grays as more difficult than Bierstadt. The trail itself was easier to navigate, and there was no scrambling, but it was really long. And steep.
Here are TONS of pics for ya!
That's Torreys to the left…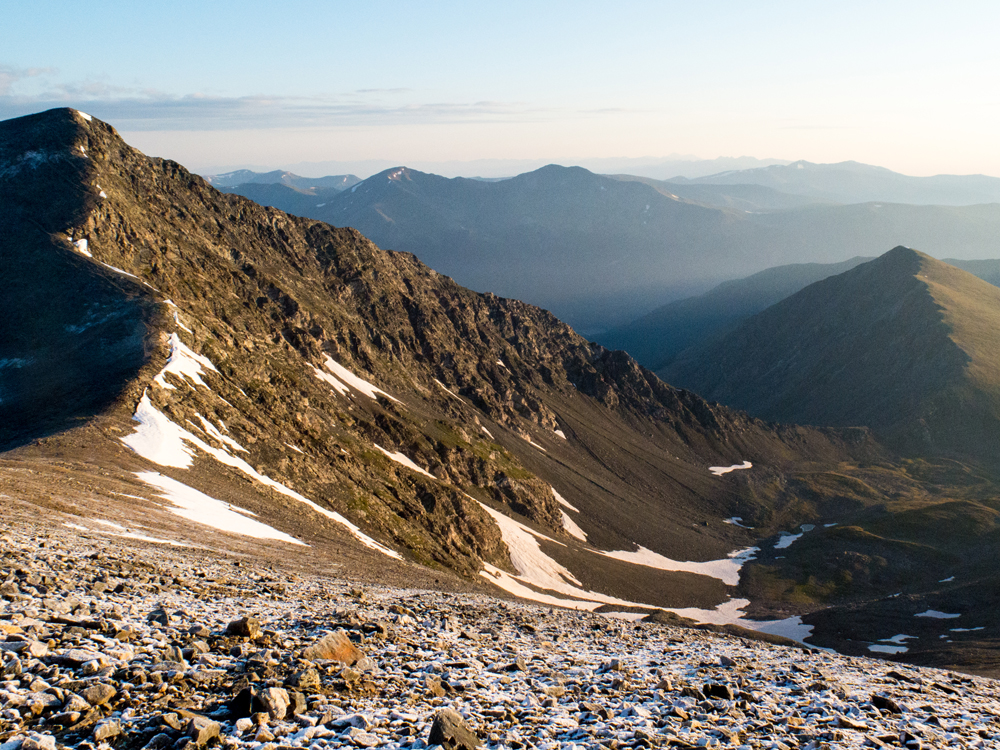 And here's another shot of it. It looks imposing right?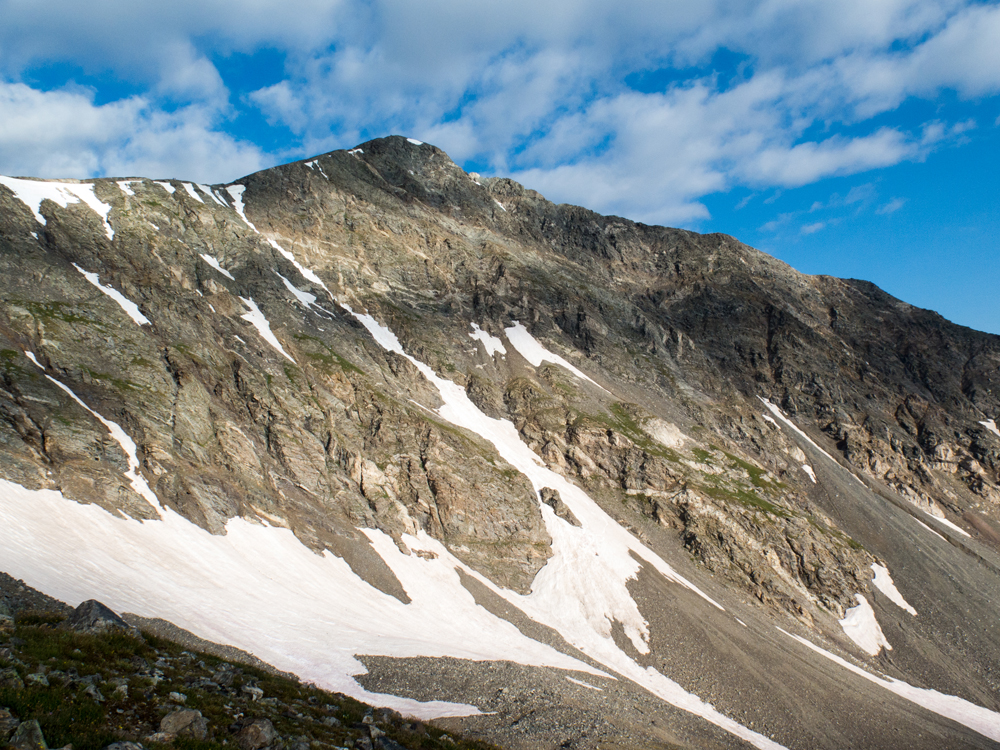 There were SO MANY wildflowers, which is unusual for this time of year. We've been getting tons of rain, which has helped a lot. This shot was taken when we had about an hour left of the hike before the parking lot. Looking back over my shoulder and seeing how enormous Grays is made me glad we did this part of the hike up in the dark. If I'd seen that, I might have gotten discouraged! Look how far away it seems!!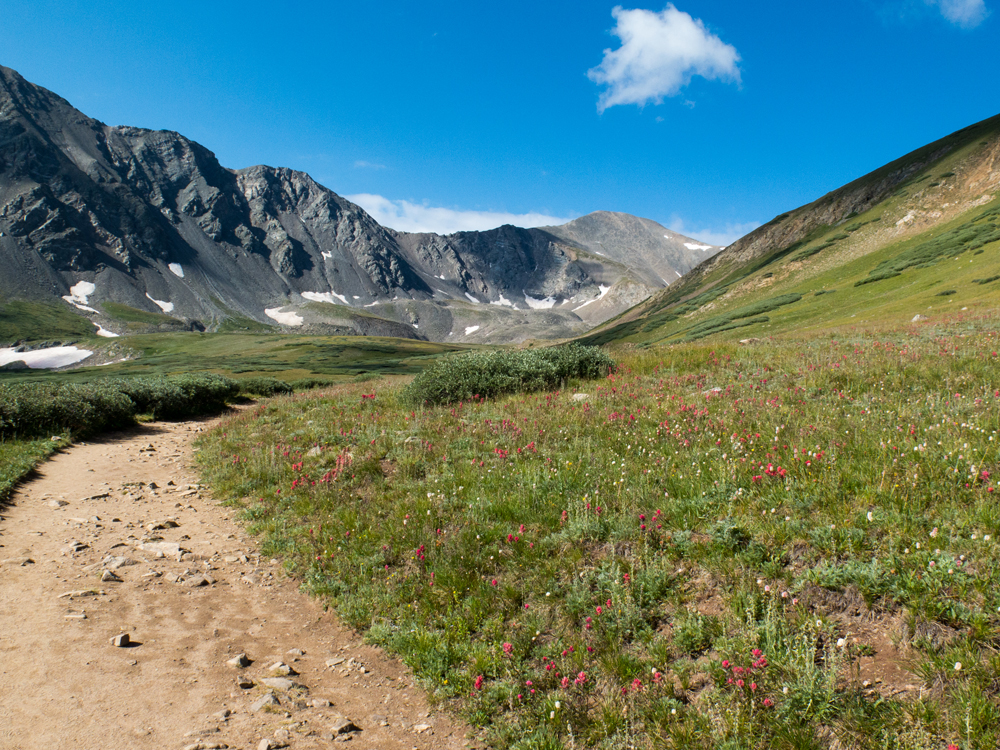 This was the very beginning of the trail, which we did in the dark. Such a beautiful hike!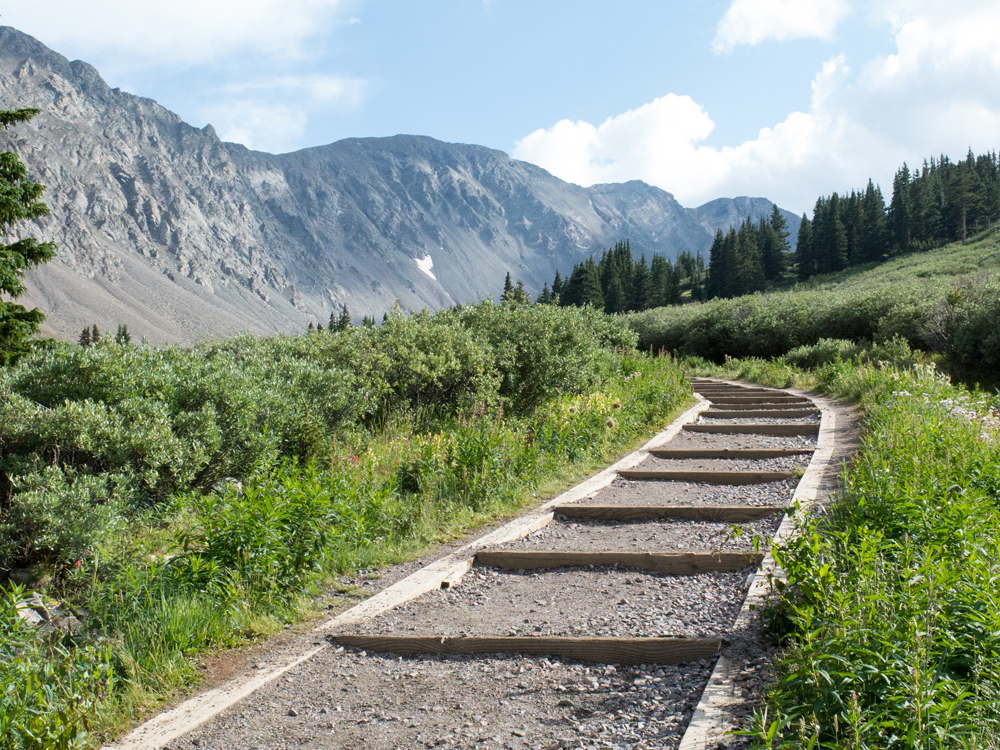 And finally, a fun little graphic from the trailhead that shows what we accomplished!