Vegan Breakfast Lasagna. Yes, really.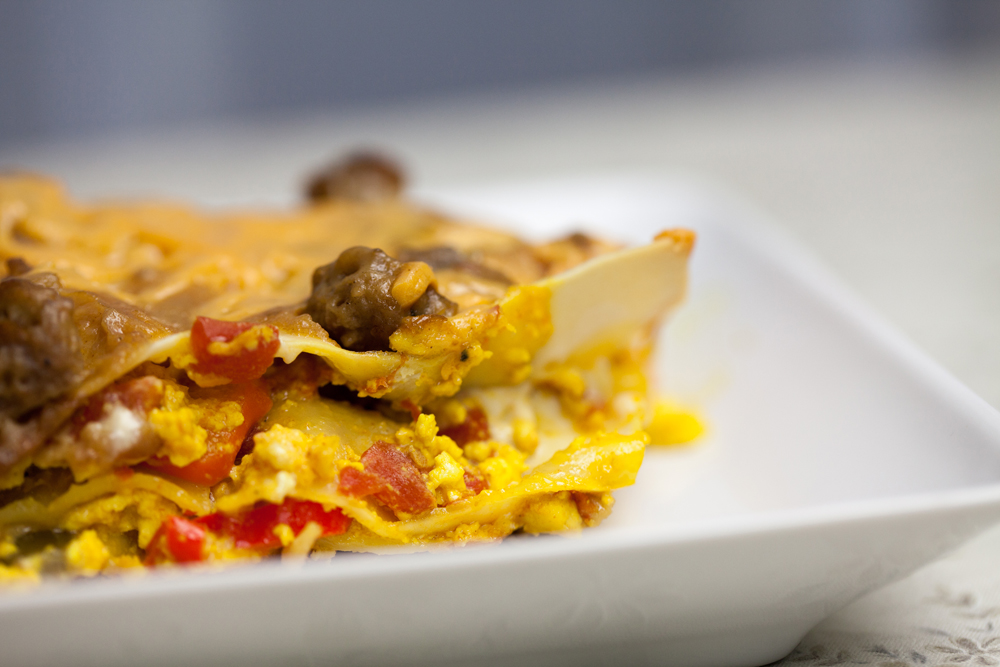 I'm one of those people who will gladly eat savory leftovers for breakfast. Soup, pasta, cold pizza, it's all fair game. Even regular (vegan) lasagna would find a happy, welcoming, breakfast home in my tummy!
This version is even better though. It's hearty and full of noodley-lasagna-goodness, but it also has the wonderful flavors we associate with breakfast, thanks to a batch of homemade tofu scramble and some delicious maple sausage. There's plenty of delicious Daiya on there too!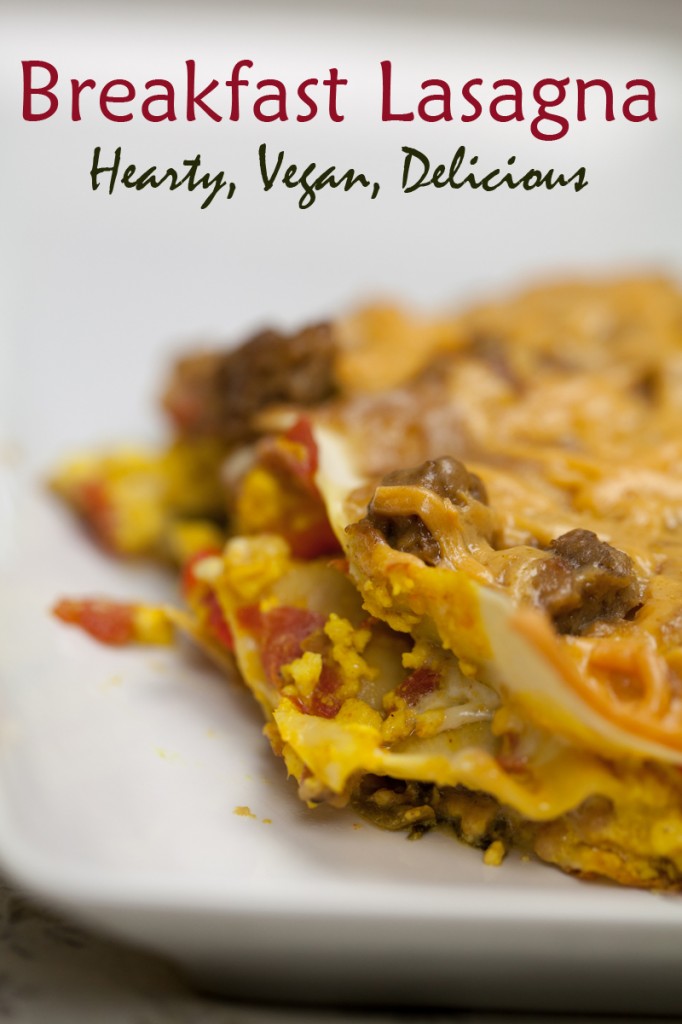 There's also a savory gravy and tomatoes, and you could absolutely add in whatever vegetables you would normally enjoy in your (regular) lasagna!
I had forgotten how much I enjoy the flavor combination of cheddar with maple. If you've never had it, it might sound odd, but I promise it's delicious.
I made this for dinner on a Sunday evening, and it was really good, but not as earth shattering as I was hoping. Then, the next morning at work I popped a tupperware full of it into the microwave, and 2.5 minutes later I was in tastebud heaven! Seriously! It was a million times better reheated. From now on I think I'll make it on Sundays while I'm prepping meals for the week, and have all of it as leftovers.
This would also be great to put together ahead of time and then pop into the oven for a big, hearty family breakfast! I'm thinking Christmas or Thanksgiving mornings would be all that much brighter with this in yer belly!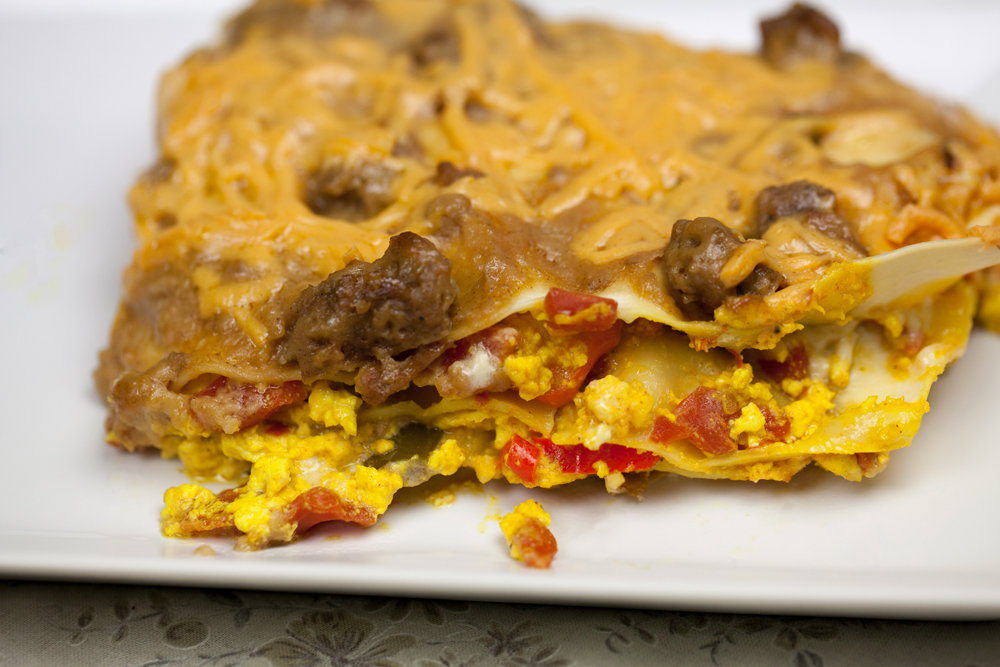 ---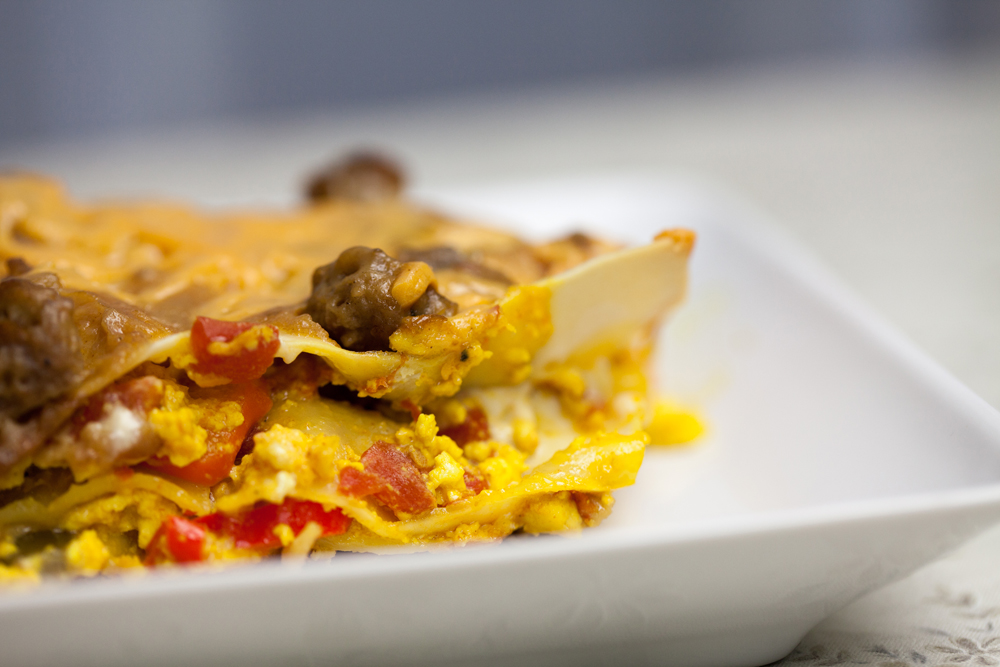 Breakfast Lasagna
2014-08-13 14:42:38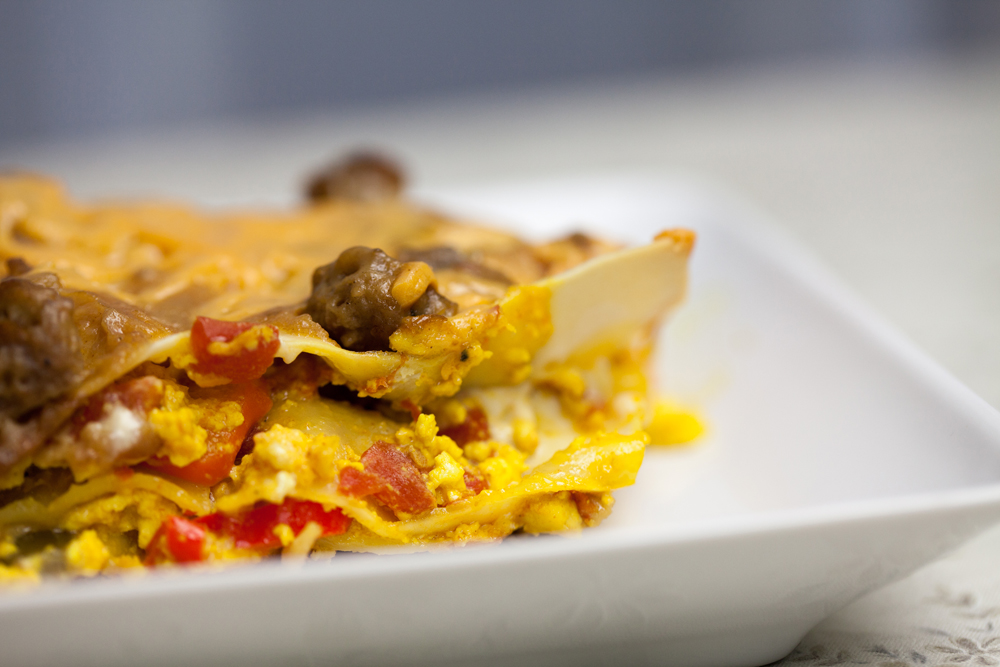 Serves 6
This breakfast is perfect for special occasions and hearty enough to keep you going 'til lunch!
Ingredients
1 batch tofu scramble (I left out the kale)
4 vegan breakfast sausages
2 tablespoons maple syrup
3 tablespoons vegan butter or margarine
3 tablespoons all purpose flour
2 cups non dairy milk
14oz can diced tomatoes w/ chilies, drained
S&P to taste
10 oz box no-boil lasagna noodles
2 cups Daiya cheddar shreds
Instructions
Preheat oven to 375.
Prepare sausage in frying pan per package instructions, drizzling with syrup as they cook. When done, chop into small pieces and set aside.
In the same pan over medium heat, melt the butter and whisk with the flour. Once combined and hot, slowly stir in the milk, continuing to whisk until smooth and thick. Stir in the chopped sausage and the tomatoes. Taste and add S&P.
In a 7x11 baking dish, begin to layer in the following order: 2-3 tablespoons gravy, spread across the bottom; 1 layer of noodles, 1/2 the tofu scramble, 1/2 cup cheese, 1/2 the remaining gravy
Then: Another layer of noodles, the rest of the tofu scramble, 1/2 cup cheese
And finally: Another layer of noodles, the rest of the gravy, and the rest of the cheese.
Bake for 50-60 minutes covered with foil, removing the foil for the last 5 minutes. Serve warm!
Notes
For the sausage I used King Soopers (Krogers) Simple Truth brand, which are vegan. Also, a combo of cheddar and mozzarella Daiya would be really yummy!
That Was Vegan? http://www.thatwasvegan.com/