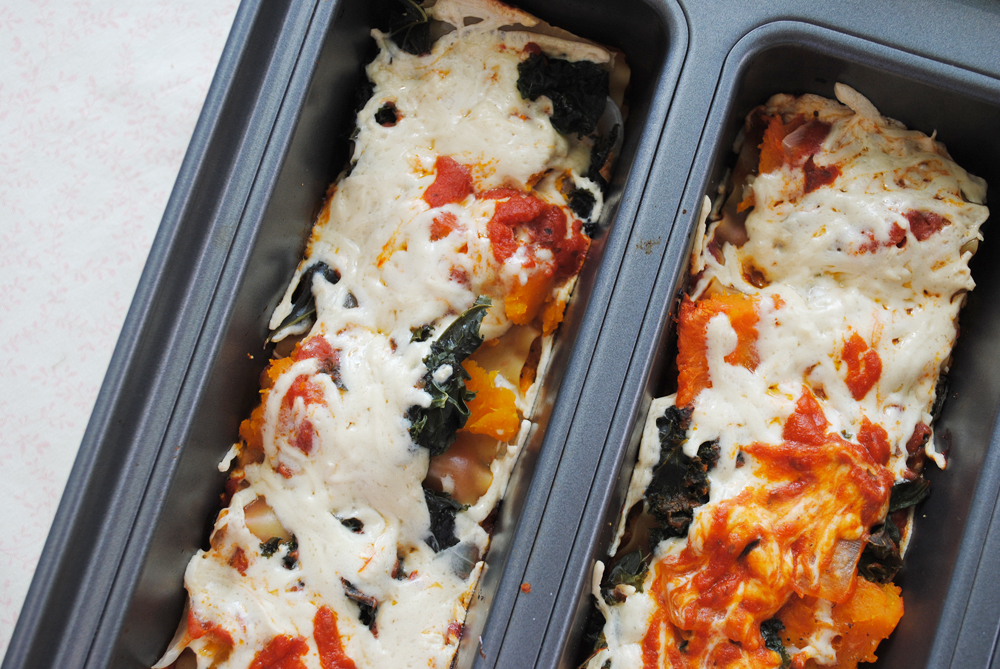 Longtime readers and those of you who know me IRL know that Cooper was so much more than a dog, or even a family member, to me. He was my little canine soulmate. He was beyond special to me, and we shared the most incredible bond. You could call us inseparable. Best friends. Codependent. All of the above. He was also an incredible source of strength for me during some very dark times, and while I know he's still here for me in spirit, I felt like I might need a reminder of that some times, when things get hard.
And so I got a new tattoo…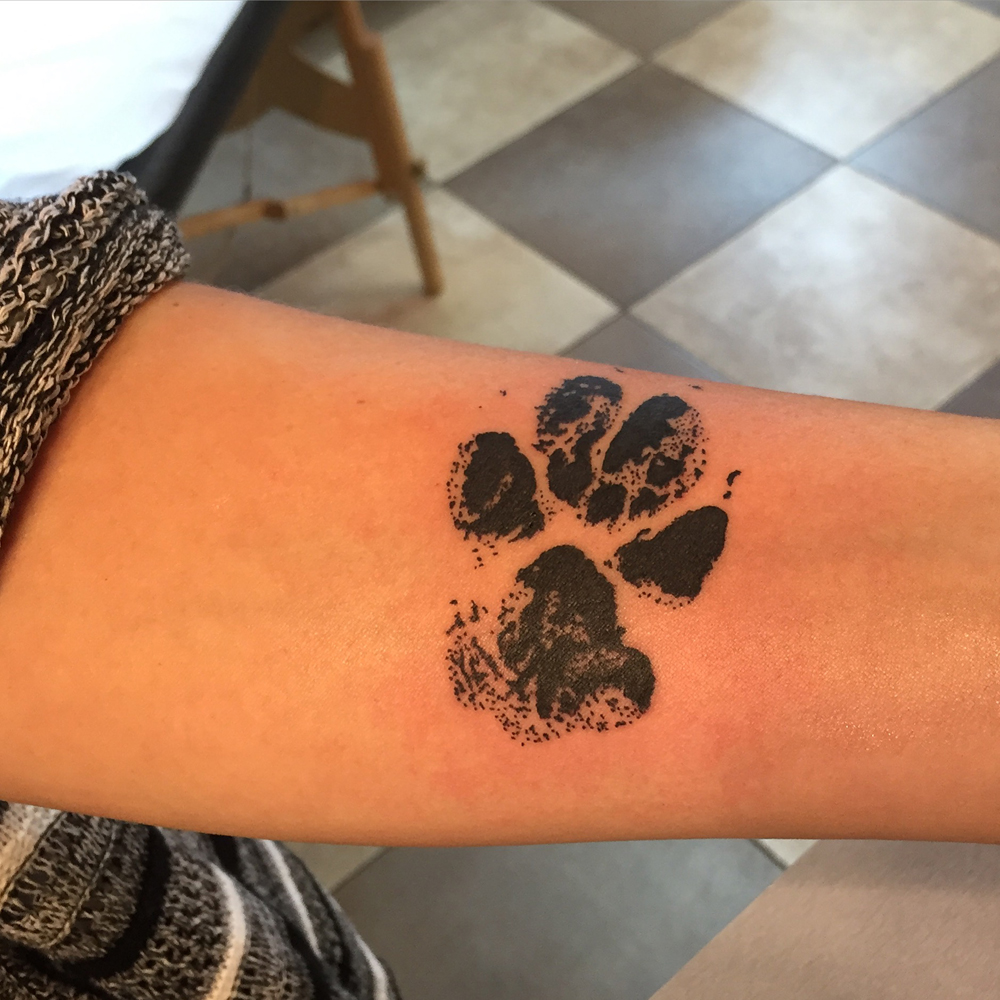 Awesome, right? This was taken right after, hence the redness and swelling. And yes, that's his actual paw print!
My friend Chelsea was in town and volunteered to be my moral/humor support – which is a really good thing because holy crap did that hurt! It's my third tattoo and definitely the most painful so far. But she did an excellent job of making me laugh even as I was laying there grinding my teeth, so thanks Chels!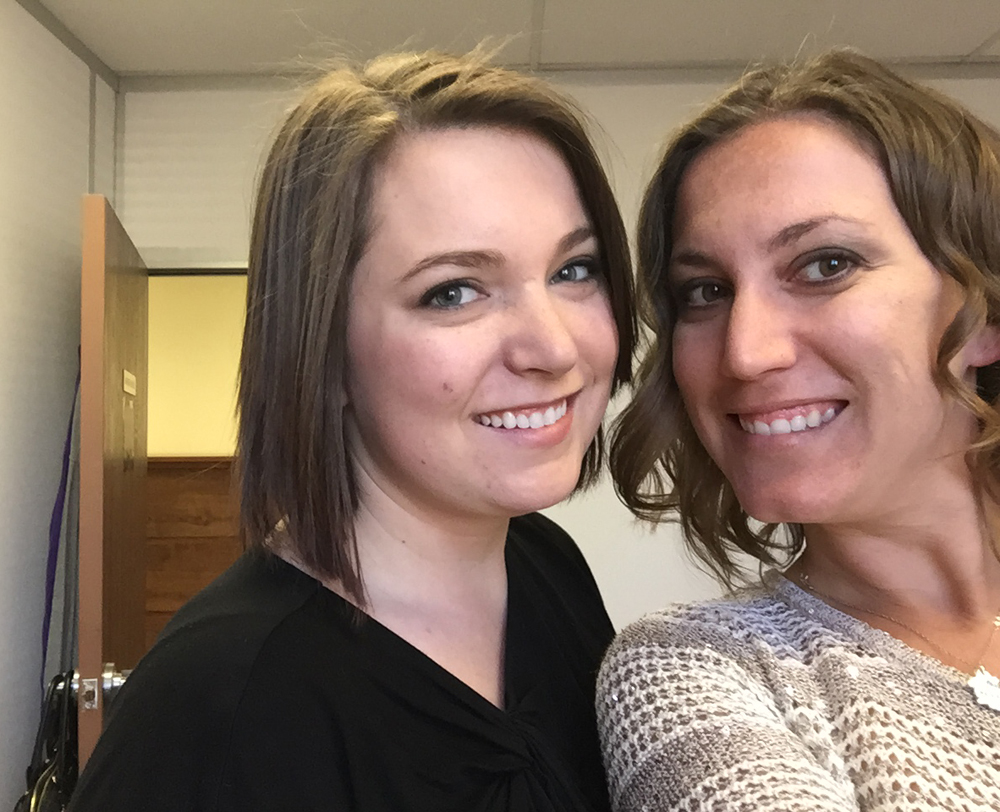 Okay, so, butternut. Hands down, the best squash there is. Especially in a Vegan Butternut Kale Lasagna.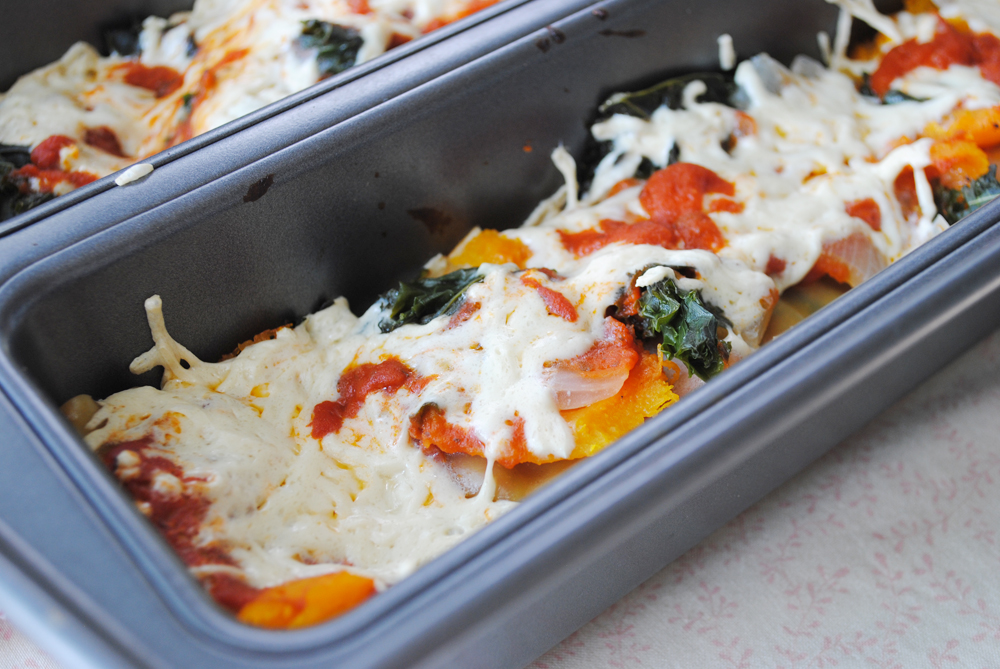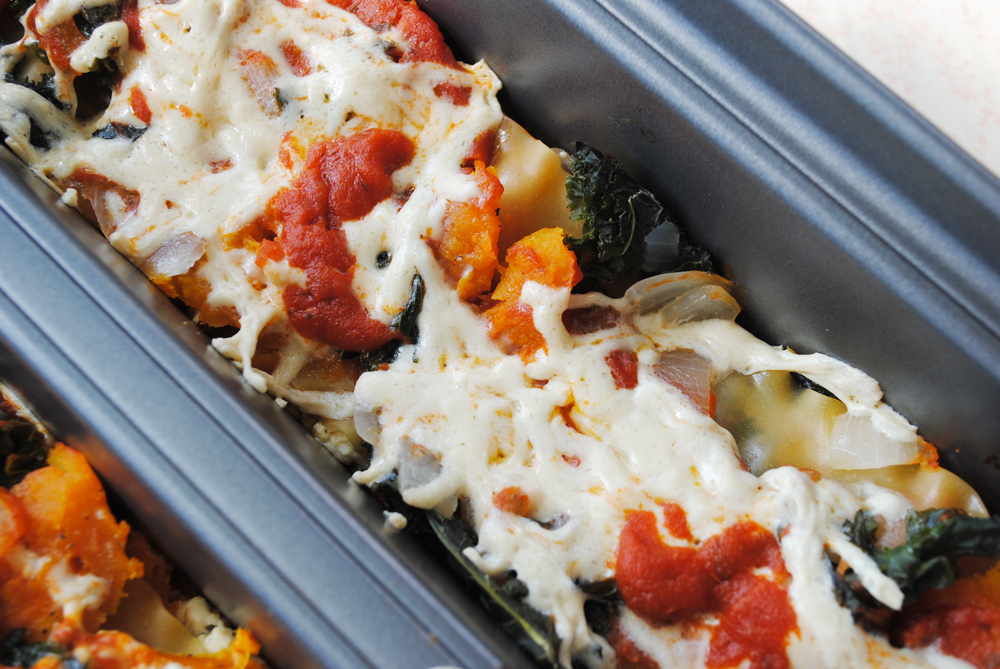 I made this lasagna once before, for a dinner party years ago, but never wrote down the recipe. I've always wanted to make it again, and now seemed like the right time. A big, hearty lasagna is absolutely PERFECT for this cool fall weather (that I love so much!), especially with the butternut. I don't really get into pumpkin much, but I am all about the butternut.
It's a pretty typical lasagna- there's tofu ricotta, tons of melty Daiya mozzarella, and of course the noodles and red sauce.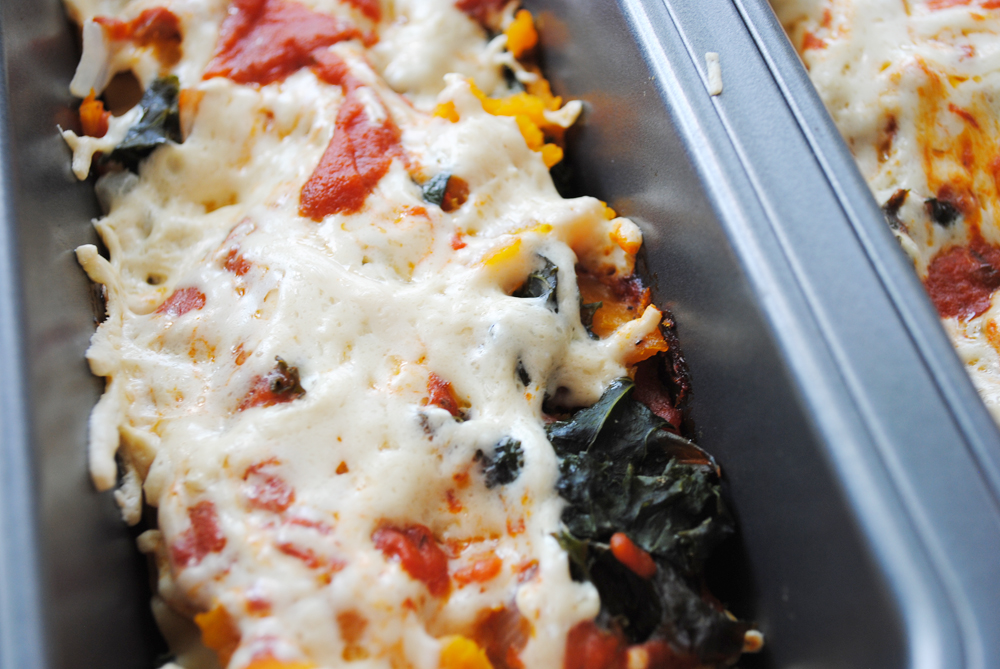 ---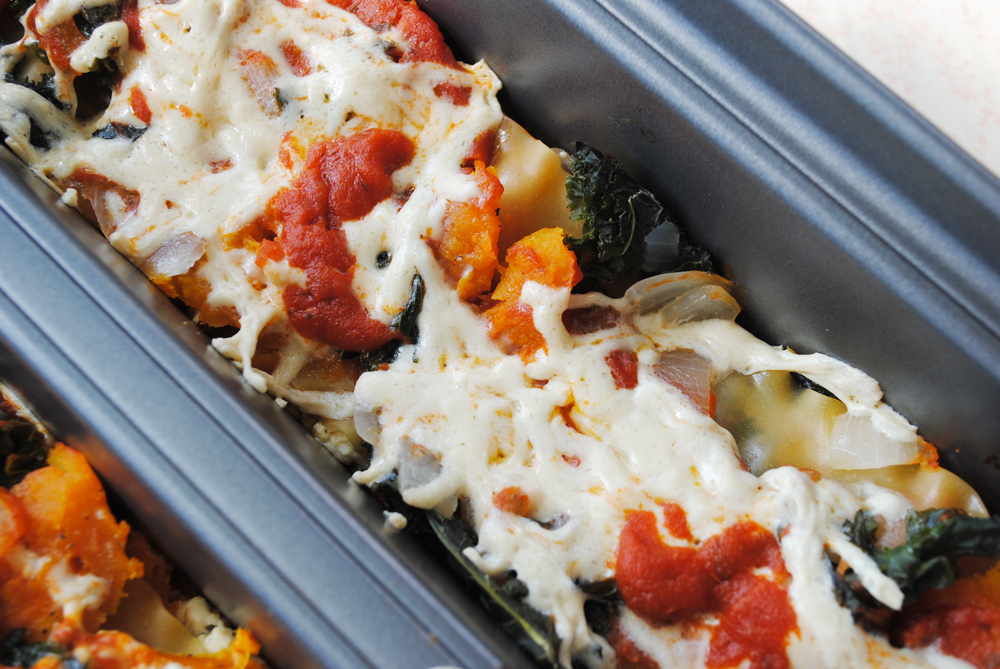 Butternut Kale Lasagna
2015-10-26 08:56:29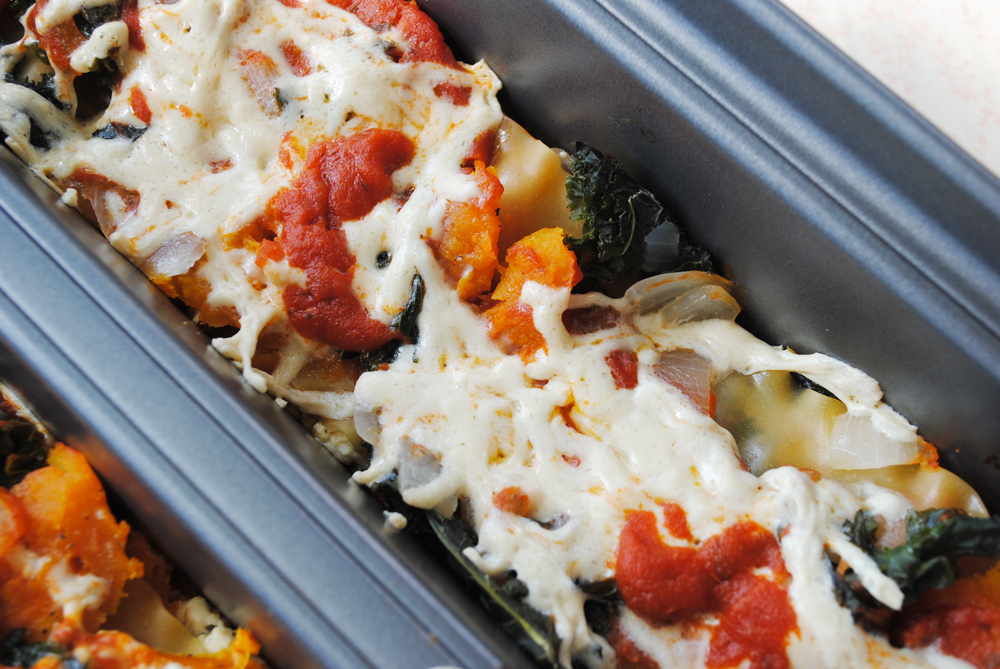 Serves 8
Ingredients
1 medium butternut squash
Olive oil
Salt & pepper
1/2 sweet onion, somewhere between diced and chopped
1-2 cloves garlic, minced
1 bunch kale, torn
10-12 oven ready lasagna noodles (depending on the size of your pan)
1 batch tofu ricotta (with a little mozzarella mixed in)
1 jar of your favorite red sauce
Daiya mozzarella shreds
Instructions
Preheat the oven to 425. Slice the squash in half lengthwise. Scoop out the seeds and score the flesh with a sharp knife, then drizzle with the olive oil and sprinkle with S&P. Bake until you can poke the squash easily with a fork, about 30 minutes. Scrape the squash out of the skin with a spoon and set aside.
Water saute the onion and garlic over medium heat for 2-3 minutes, then add the kale. Add more water as needed, cooking until the kale is just barely tender. Remove from heat, drain well, and combine with the squash.
Assemble your lasagna! A bit of sauce, a layer of noodle, 1/2 the ricotta mix, 1/3 of the squash mix, sauce. Then, another layer of noodle, the rest of the ricotta mix, 1/3 of the squash mix, sauce, and a final layer of noodle. Top with the remaining squash/kale mix, a bit more sauce, and the cheese. Sprinkle with salt and pepper.
Cover with foil and bake at 400 for 25-30 minutes.
Notes
I sometimes go really saucy with my lasagna, using an entire jar of sauce. With this one, I went pretty light, using just over half the bottle. It really allowed the flavor of the squash to shine!
That Was Vegan? http://www.thatwasvegan.com/