Check out our other giveaways here and here!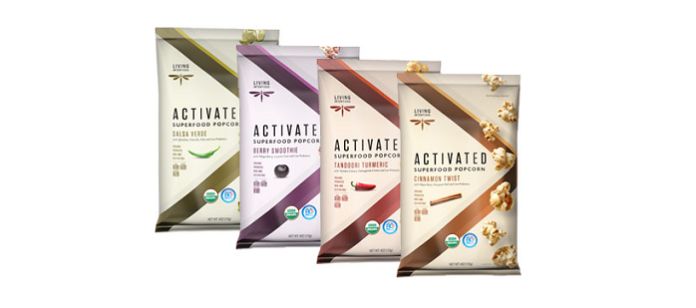 Welcome back to my little blog, where it's Day #2 of "Wow What a Bunch of Great Giveaways!" week. Today I'm here to tell you about Activated Superfood Popcorn, a nutritious and delicious snack from Living Intentions. They're already known for their cereals, trail mixes, and nut blends, but just last month they launched a new line of ready-to-eat popcorn (Which, BTW, I just saw on the shelf at Nooch, my fave vegan grocer, yesterday).
You guys, this popcorn is so good AND has probiotics and superfood ingredients like turmeric, chlorella, maca and more. They come in four flavors:
Cinnamon Twist with maca root and mesquite pod
Tandoori Turmeric with turmeric and Ashwagandha extracts
Salsa Verde with spirulina, chlorella, spinach, and kale
Berry Smoothie with macqui berry, banana and beet powders, and lacuma fruit
Because I usually have samples delivered to my office, my co-workers get to share.
Denise is kinda my fave so she got first pick- and she went with Salsa Verde. I feel like I should mention this picture was taken on Halloween- she doesn't always wear devil horns around the office: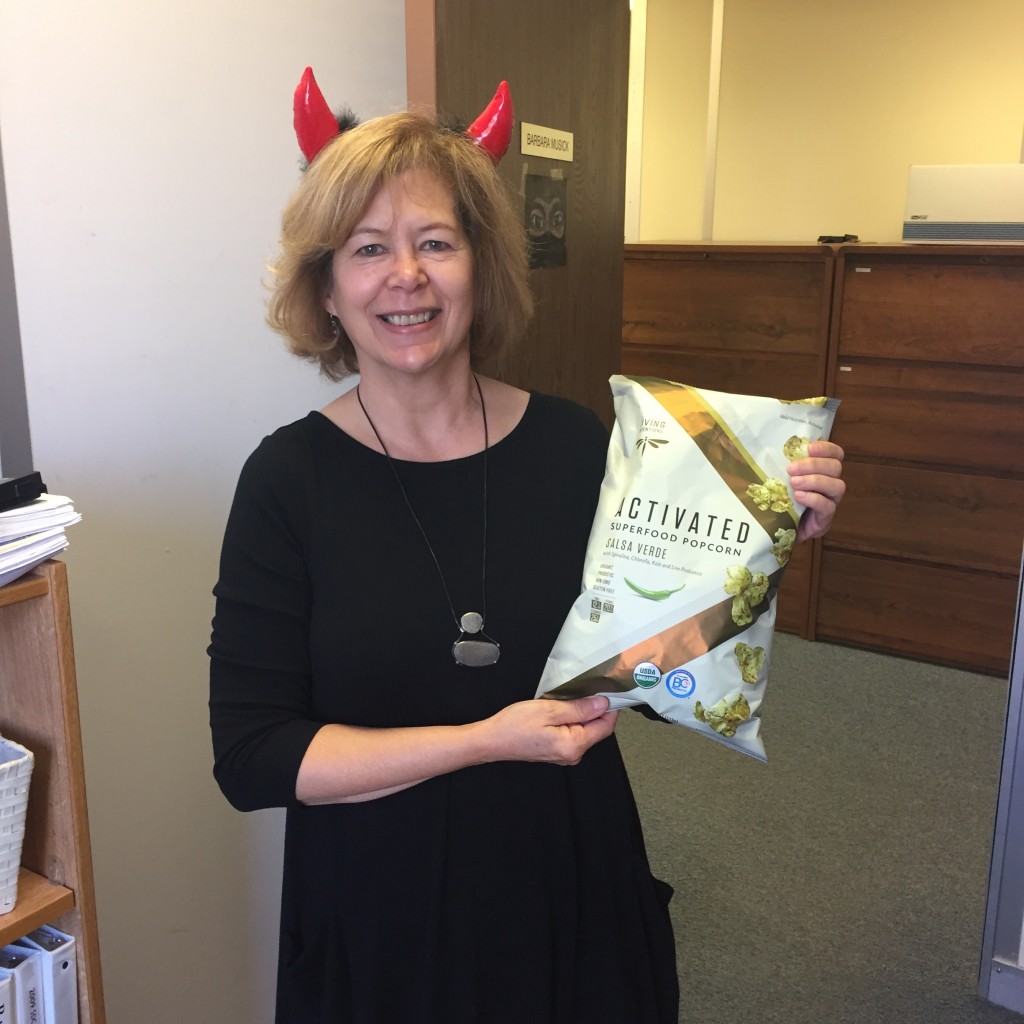 Look at the popcorn- you can *see* the flavor on there!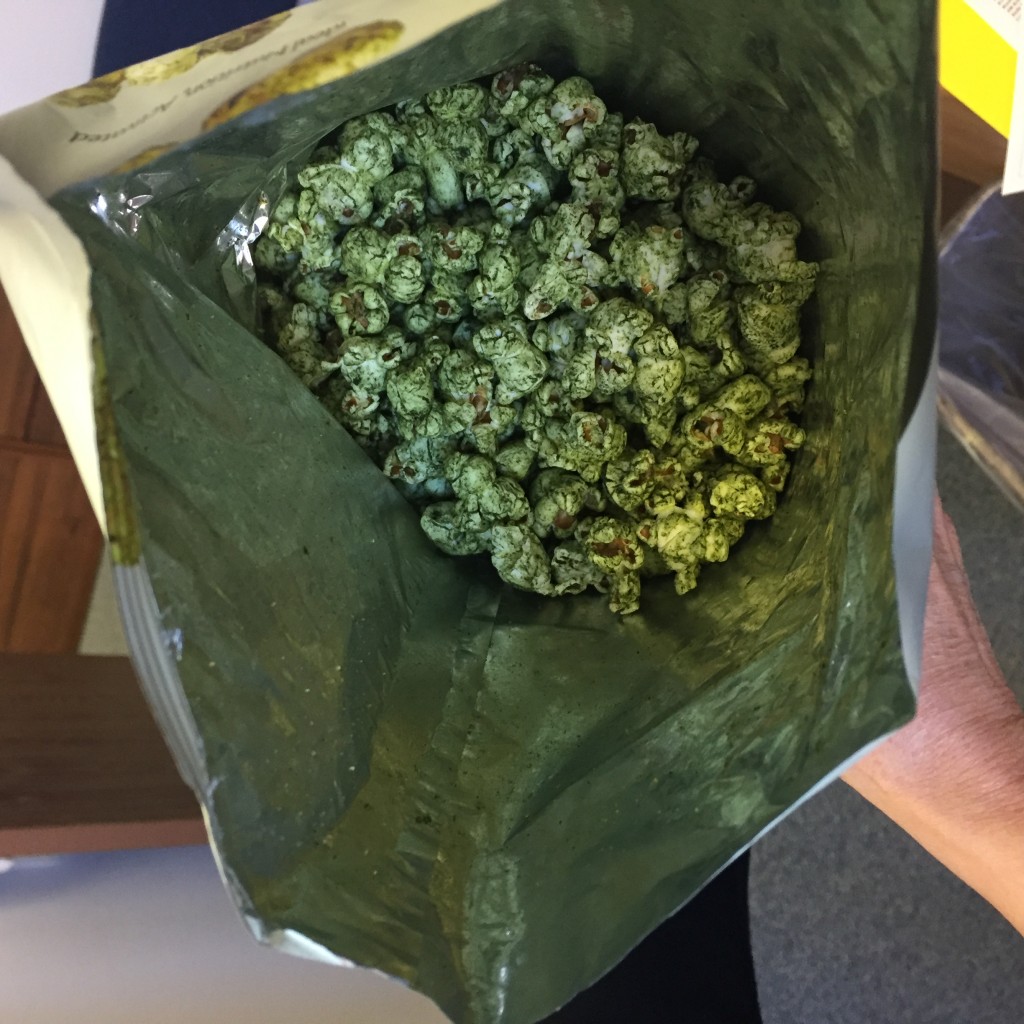 Later in the afternoon I brought the Berry Smoothie to a staff meeting: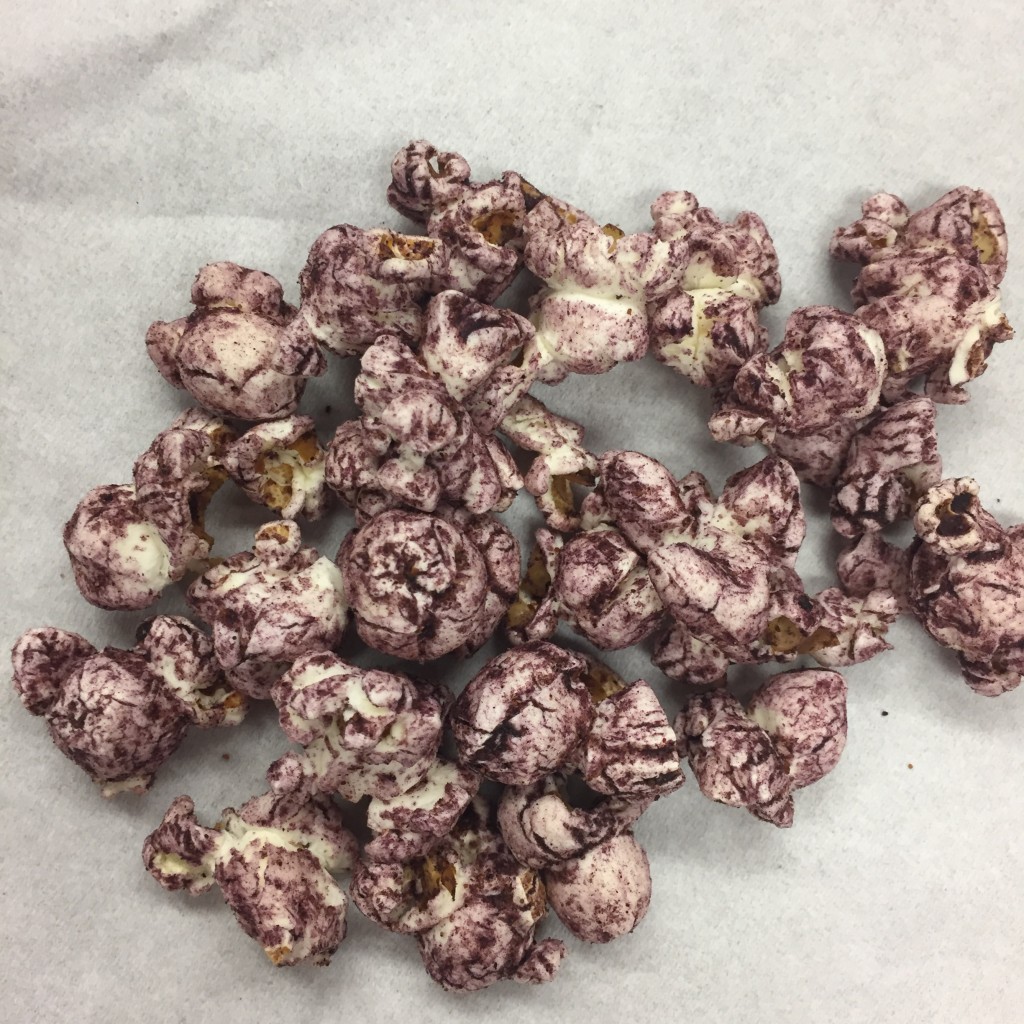 It tasted fruity, but not in a weird way. It was mellow and smooth and was definitely evocative of a smoothie. Everyone loved it, and my co-workers are not all "healthy, eat-carrots-as-a-snack" type people either. What I'm trying to say is, this popcorn is delicious and doesn't taste as healthy as it actually is!
Okay! Because this is "The Three Days of Thanksgiving Giveaway Week!", it's time for a … giveaway! Big surprise, right? Well, one lucky reader is going to get a big ol' bag of each of the four flavors, so you can try them all!
---
The Giveaway
One lucky reader will win Four bags of Activated Superfood Popcorn, one in each flavor! To enter, leave a comment below telling us when you snack the most! While you're watching TV with your dog? On the bus home from work? In the bath? Contest ends Wednesday, November 30th at midnight (mountain time). One winner will be chosen at random and announced the following day. Be sure and log your comment into the Rafflecopter to make it count! Open to residents of US only, good luck!
*I was provided free product to review but the opinions are 100% mine!
Save