Update: There is some conflicting information between what is on their website, and what I was told by company representatives about what, exactly, is vegan on their menu (Thanks to Michelle for pointing this out!). I'm reaching out again, stay tuned… and in the meantime, if you find yourself there and want to play it safe, go for a beer and an order of the chips and guac 😉
Have you heard of Torchy's Tacos? They're an Austin-based cult chain that is in the midst of opening five locations here in Colorado. The first, located on 11th and Broadway is a nice short walk from my office… it's also insanely popular. The line is out the door and down the sidewalk by 11:30 on weekdays! Why? Because it's damn good. No kidding. But here's a trick- skip the line and sit at the back bar. I've never seen it full, I guess because it's kind of hidden, and they have full service- and you don't have to order booze to sit there!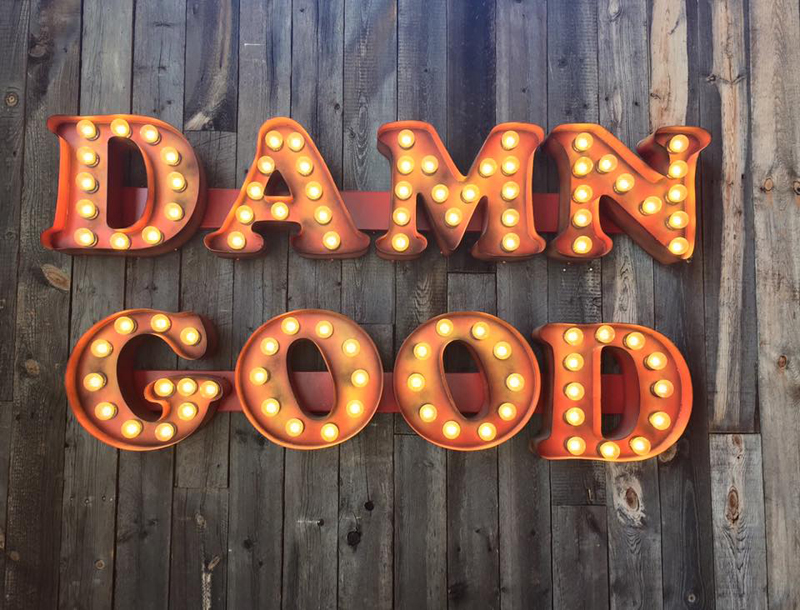 My friend Eric and I have been there twice so far- he's my super favorite lunch buddy, and one of my favorite people in the world. You know those friends who always get you, no matter your mood? And always know the right thing to say to lift your spirits? He's that friend for me.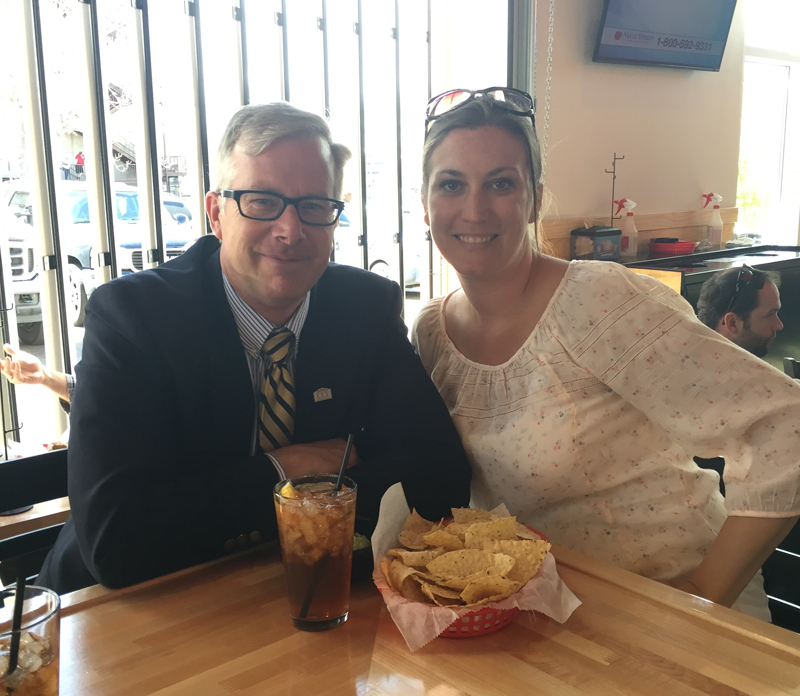 And they're really vegan friendly! I suspect this is due to their birthplace in that super vegan-friendly Texas city, and I'm over-the-moon thankful. Their menu clearly defines which tacos are vegetarian, and then how to make them vegan. Basically, here are your rules: Corn tortillas, black refried beans (w/ no garnish if you order them as a side!), and avoid the rice.
Also if you get an order of guac and chips, order without the cheese!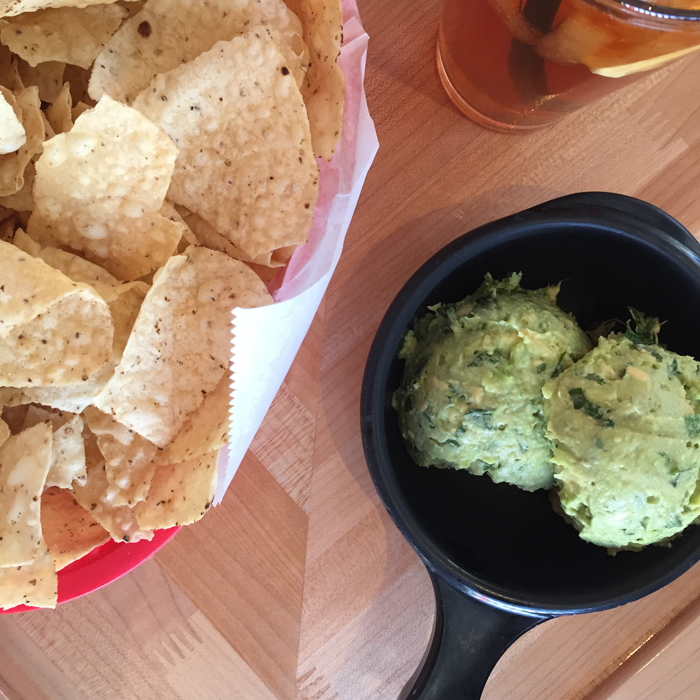 The guac was delicious, tons of cilantro and very thick- and the serving was enormous! 4 people could've shared this as an app. The chips were nice and salty, but they were also really thin- they basically broke each time we scooped, but that's okay.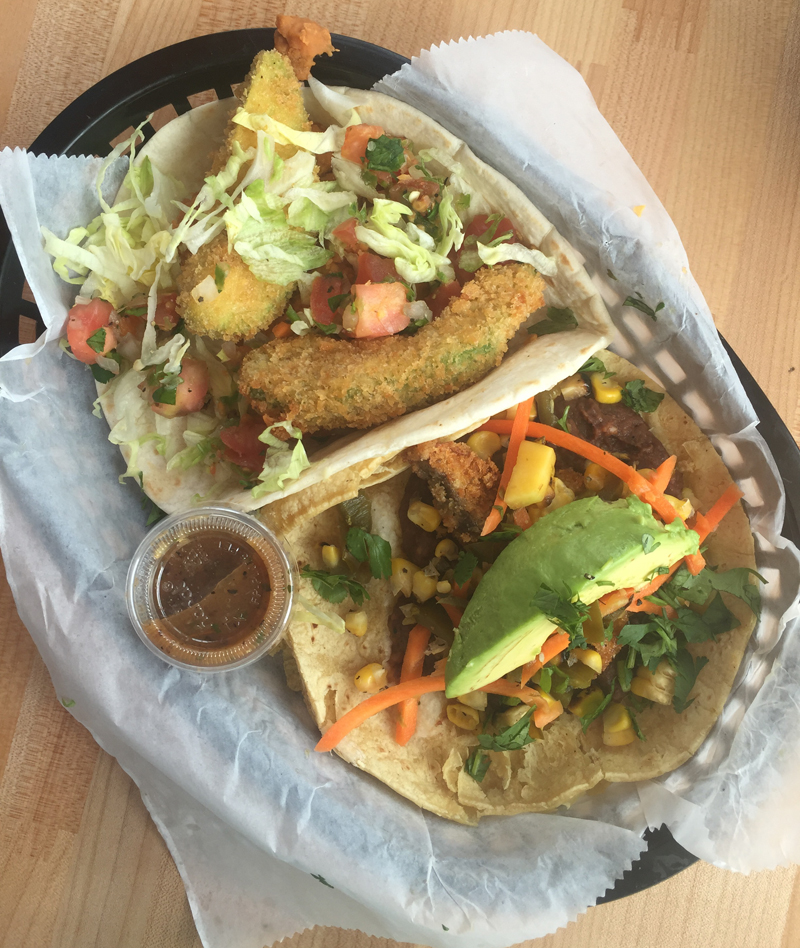 There are basically two taco options for us plant eaters: The Independent, which is hand-battered and fried portobello mushroom strips with refried black beans, roasted corn, escabeche carrots, cilantro and avocado (skip the queso and aioli!) on a corn tortilla, and The Fried Avocado which is (you guessed it!) hand-battered fresh avocados fried and served with refried beans, topped with pico and lettuce! You just have to sub the black refried beans and skip the cheese.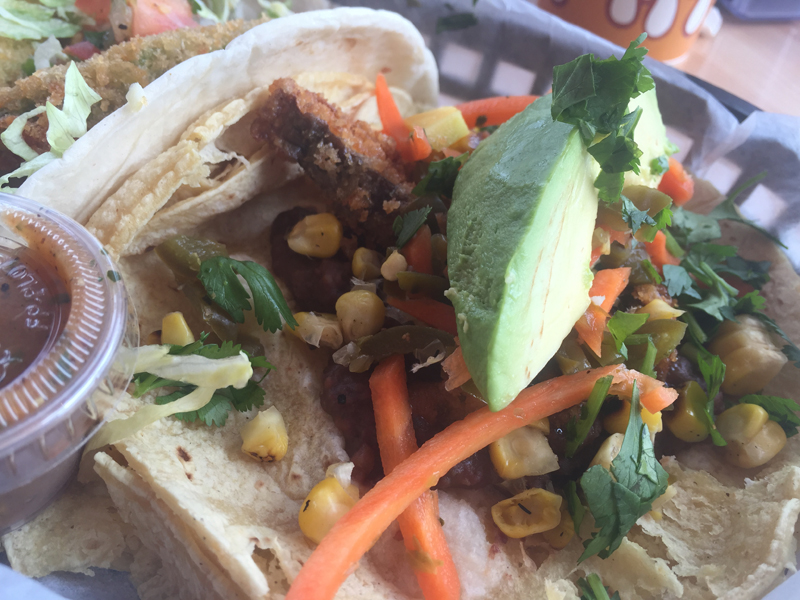 The Independent is my favorite, it's so meaty and flavorful! So many veggies on there, plus I like that they double wrap the tacos- although I usually end up eating mine with a fork.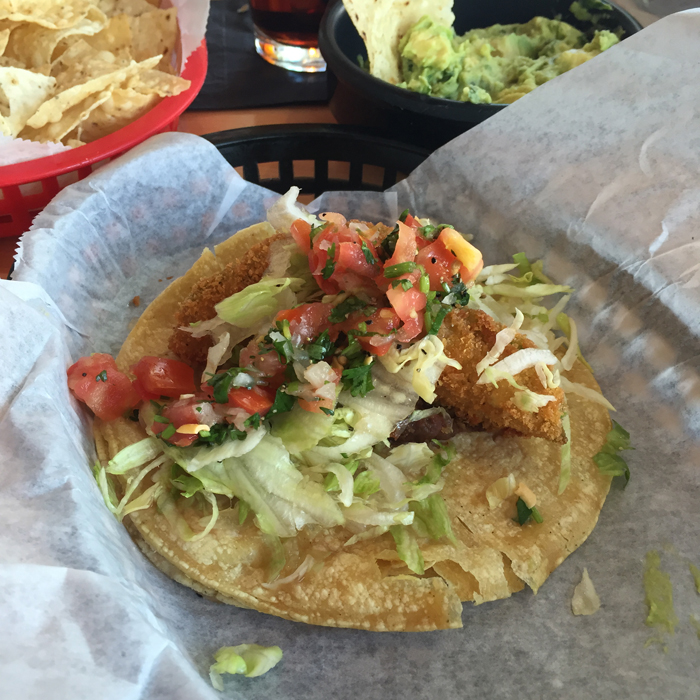 The Fried Avocado is delicious too, don't get me wrong! But if you're going to also get an order of the guac, it ends up being kind of a lot of avocado.
Torchy's has locations all over Texas, and their newest at 11th & Broadway in Denver. They're also getting ready to open a few more here in Colorado, including Greenwood Village, Stapleton, and FoCo!
Want more Denver-area restaurant reviews? Check out my Mile High Vegan Eats page!