Lindsay S. Nixon is a rising star in the culinary world, praised for her ability to use everyday ingredients to create healthy, low fat recipes that taste just as delicious as they are nutritious. Lindsay's recipes have been featured in Vegetarian Times, Women's Health Magazine and on The Huffington Post. Lindsay is also a consulting chef at La Samanna, a luxury resort and four-star restaurant in the French West Indies. You can learn more about Lindsay and sample some of her recipes at happyherbivore.com

If you were in a room with a bunch of omnivores and could only say one thing to try and convince them to give veganism a chance, what would it be?
Eat this (hand over tasty food).

For people out there who are considering going vegan but aren't 100% sold, obviously we think they should buy both of your cookbooks! What other tools/guides would you recommend to them, to help them get started?
It's all in the mind. Take it one meal at a time. Focus on all the things you can have, not the things you are giving up.

What cookbooks do YOU have in your kitchen?
Only mine. Seriously! I do own a few others, but they're in a box in my office. I swear I don't have a huge ego — but I get so annoyed having to look at a recipe and change it. All the other vegan cookbooks I own use tons of oil and earth balance, and white sugar and white flour, all which I don't eat, so I have to tweak the recipe to fit our diet… or they call for an ingredient I'll never find in my tiny town so I have to Google for a substitution… and sometimes it doesn't come out because I made changes, so I get even more aggravated. I love all my recipes, so I tend to circle around those.

I read that you took all your own photos for your first book, and they came out great! Food photography can be really challenging, but you seem to have a natural talent 🙂 Did you do the same with Everyday Happy Herbivore?
Aww thanks and yes, I take all my own photos.

Steamboat Springs (where the HH currently lives) definitely has vegan dining options, but I wouldn't say that they're known for their "vegan scene". What do you hope to do to change that?
I'm only here for a few months so I'm not sure how much change I can foster, but I do make a point to thank the manager at any establishment that offers vegan options. I find that's a great way to get more items on the menu — and sometimes they throw in a coupon!
---
Thank you so much Lindsay for taking the time to answer my questions, and especially for sharing your recipe for Spicy Orange Greens! I look forward to getting a copy of Everyday Happy Herbivore. I asked Santa for one so if I'm good it should be waiting for me in my stocking on Christmas morning 🙂

Spicy Orange Greens | serves 2
The slightly spicy orange sauce in this dish is one of my favorites. You can serve it with any greens you like or have on hand, but collard greens are my favorite to use. For a complete meal, serve over or tossed with noodles.
1/3 cup water
2 tbsp soy sauce
2 tbsp minced fresh ginger
1/4 tsp red pepper flakes
1 tbsp orange marmalade or jam
4 cups greens (any)
Pour water, soy sauce, ginger and red pepper flakes into a skillet. Turn heat to high and saute until the ginger is fragrant, about 1 minute. Whisk in marmalade and then add chopped greens. Reduce heat to medium and using tongs, turn greens into the sauce. This will help cook the greens down; stop when your greens are bright green and have softened. Serve.
Chef's Note: Cooked broccoli florets may be substituted for the greens. Toss cooked broccoli with the sauce once it's been warmed and serve.
Per Serving: 156 Calories, 1.5g Fat, 32g Carbohydrates, 8.8g Fiber, 11.6g Sugars, 10.1g Protein

Get your copy of Everyday Happy Herbivore: Over 175 Quick-and-Easy Low Fat and Fat-Free Vegan Recipes. Buy on Amazon.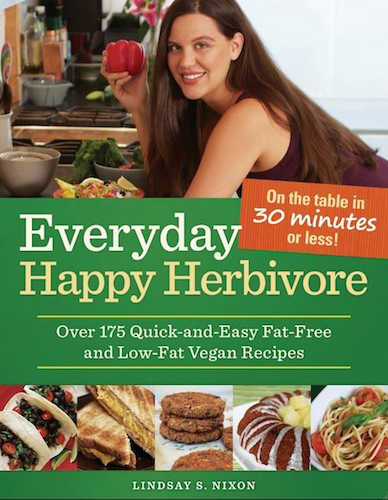 After vegan chef Lindsay S. Nixon wrapped up her popular cookbook 
The Happy Herbivore Cookbook
 last year, she went back to her kitchen in her new home of St. Maarten. Island living encouraged Nixon to come up with simpler fare, which led to a follow-up cookbook focusing on recipes that bring tasty back to quick-and-easy.

Now, in Nixon's much-anticipated follow-up cookbook, Everyday Happy Herbivore, readers will see, once again, that just because plant-based eating is optimal for health, it doesn't have to also be expensive or time-consuming.
Everyday Happy Herbivore includes more than 175 doable recipes–recipes that are so quick and easy, you could cook three healthy meals from scratch every day like Nixon does.
Each of Nixon's recipes are made with wholesome, easy-to-find, fresh ingredients and include no added fats. With additional notes indicating recipes that are ideal for preparing ahead of time and those you can whip up with just a few dollars, Everyday Happy Herbivore will be the must-have cookbook for anyone desiring a healthier, happier menu!