In the Rocky Mountains, Winter = Soup. Well, at my house anyway. This is one of our favorites and I think it's a soup that will appeal to both vegans and omnivores alike (well, at least those who like soup!). I know this because I once made it for my stepfather who is not only not vegan, but is opposed to eating vegetables in general, and he liked it. He may have even uttered the phrase "That was vegan?", so there you have it.
This is a very creamy soup, high in protein. I mix a lot of quinoa in mine, but to keep it smoother you could certainly use less. Either way, I highly recommend serving with chunks of crusty bread, slathered in Earth Balance!
Also, we have another birthday to celebrate at the TWV house! Our darling kitty cat Olivia turned 11 yesterday! Happy Birthday Olivia! Olivia, who also answers to "Squishie Kitty", made her way into our hearts and home on December 15, 2008 after living in a feral colony for at least 4 years. Her age, like that of many rescue pets, is a guess, but what we know for sure is that she had a family before, because she's been extremely affectionate since the day she arrived. The colony she was living in was made up of more than 100 cats (mostly abandoned by former residents of the trailer park, and their off-spring), a couple of pit bulls and (true story!) a fox or two! Well, the dogs had homes, and the fox lived in the woods of course, but they all came out for feeding time, and ate together nicely. This colony is actually pretty well known in our area for these kinds of stories. There are wonderful people watching over the colony, feeding them and doing TNR (our Olivia has the snipped ear to prove it!). One of them trapped Olivia and brought her to our house ahead of a nasty cold snap. She had noticed how affection Miss O had been, and couldn't stand the thought of her being outside anymore. Once I heard about her, neither could I!
And though she's the littlest member of our family, we don't think she knows it. She has the biggest personality and makes sure every one knows she's in charge!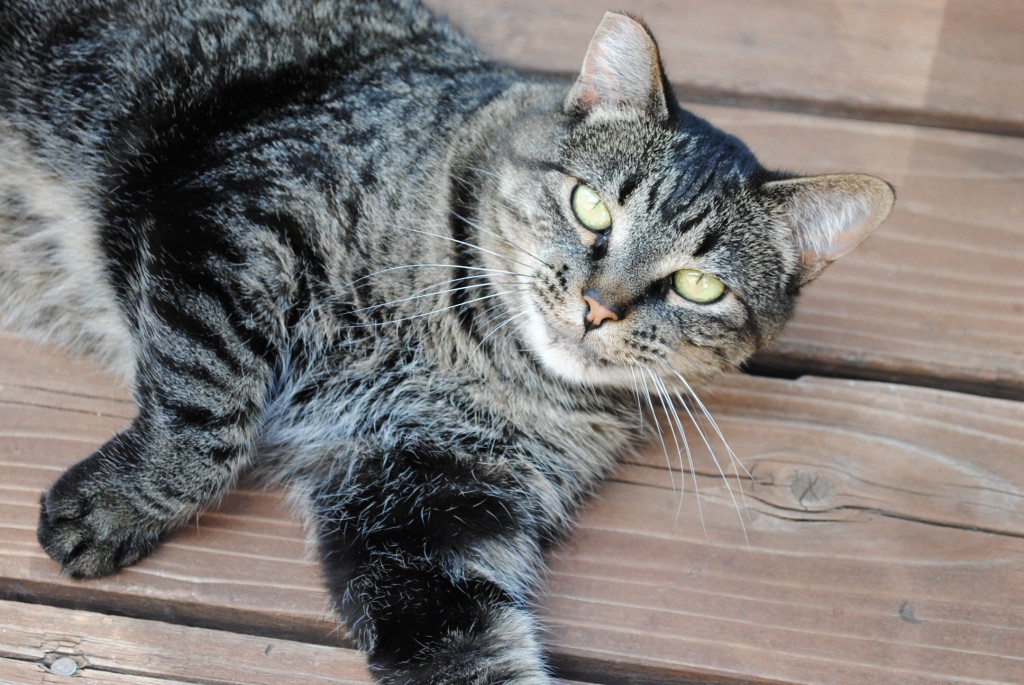 Thank you again for indulging my sentimentality. I promise there are no more pet birthdays until February 🙂
---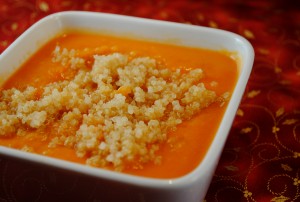 Sweet Potato, Tomato and Quinoa Soup
2014-11-16 09:31:42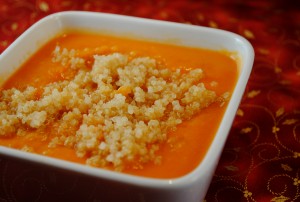 Serves 4
Ingredients
1 small sweet onion, chopped
1 clove garlic, diced or minced
2 sweet potatoes, peeled and chopped
14 oz can chopped tomatoes
2-3 cups veggie stock or broth
2 cups cooked quinoa
Olive oil if desired
S&P to taste
Instructions
In a large soup or stock pan, saute the onions and garlic in water or olive oil for 4-5 minutes. Add the tomatoes, potatoes and enough broth to cover. Cover and simmer until the potatoes are soft (15-20 minutes depending on their size). Blend until smooth using an immersion or stick blender, adding more broth if needed to thin it out. Stir in the cooked quinoa and serve hot!
Notes
You'll want an immersion blender for this, although you could also use a regular blender in a pinch (I have!). If you go with the immersion method, you'll also want to use a pan with high sides so you don't get any splashing. The veggies can all be roughly chopped, just keep in mind that the smaller the potato pieces, the faster they'll cook.
That Was Vegan? http://www.thatwasvegan.com/