Okay, I know you're thinking "What the heck makes it Korean? It just looks like fried rice!", but it has Korean chili paste in it! Also known as Gochujang, this makes it authentically Korean, I promise 🙂  It also makes it good and spicy! This rice was a side dish, served with my Seitan Bulgogi (recipe coming soon!), but I could totally eat it alone. In fact, the next time I make it I'm going to add more veggies and make the the star of the show. The ingredients all came from what I think should be in a fried rice dish, but I gotta give a shout-out to this recipe from Vegetarian Times- I totally stole their idea for letting the rice just sit in the hot pan towards the end of the process.
On a completely unrelated note, I realized that I've introduced readers to all the furry members of my family except for one. Everyone has gotten a Happy Birthday blog post, but poor Betty hasn't had a birthday since I started the blog- and she wont have one until August and that's not fair. I can't ask her to wait that long for her 15 minutes of fame!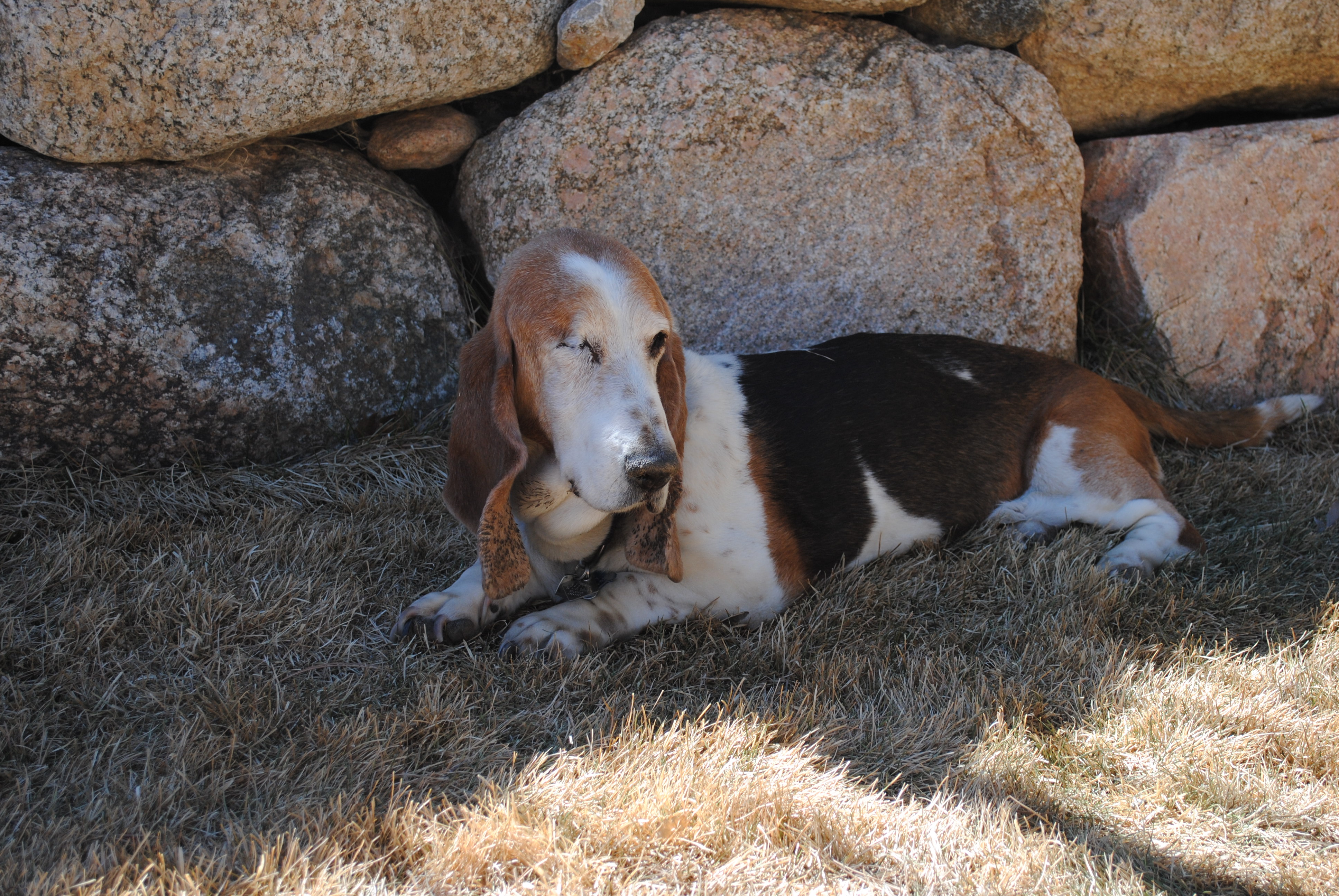 Betty came to live with me in 2004 as a foster who had been given up by her family when they had a baby (I probably don't need to tell you how I feel about people who do that, do I?). I lived in San Diego at the time, and was a foster mom with the local Basset Hound Rescue– an awesome organization! I really wasn't looking to adopt, but the day Betty came bouncing into my condo (because anyone who has a Basset knows they do bounce!) I changed my mind. She was so sweet and happy (and then, suddenly, sad when she realized her people had left without her) and beautiful I just couldn't resist. She has the most amazing personality- sweet and affectionate and playful, but a little bit obstinate and sometimes very, very grumpy. A few weeks later she was diagnosed with glaucoma and for the next 2 months I was spending all my time and money driving her to the vet (Southern California's premiere canine ophthalmologist, of course!) and administering eye drops. Eventually it was decided that A.) I was broke, and B.) we couldn't get her pain under control, so we decided to enucleate the eye- and thus her nickname was born.
Since then she has moved to CO with me and has gone from being an only dog to being surrounded by furry little siblings that she gets along with (most of the time, anyway!). No matter how many other dogs we adopt, though, Miss Betty will always be the Queen Bee around our house- and she makes sure we don't forget it. Seriously… sneak up on her blind side or bump into her while she's asleep and she will let you know who's in charge! (Hint: It isn't you!)
She's coming up on the big 1-3 this summer, and although she has megaesophagus she's pretty healthy overall, so we hope to have a couple more good years with her. The mega has made feeding her a lot more complicated and time-consuming (she needs to be upright when she eats (almost like a person is), and then has to be held upright for at least 20 minutes after each meal), but that really just gives me an excuse to sit with her on the couch watching terrible TV. She's a really good dog- and she's excellent at keeping me warm at night. She sleeps right next to me so that I can check on her periodically to make sure her head is elevated 🙂
---
Korean Fried Rice (Serves 4-5 as a side )

Ingredients:
1 med sweet onion, diced
1 bell pepper, diced
Sesame oil
3 cups cooked brown rice
1-2 T Braggs liquid aminos
2+ T Korean Chili Paste
2-3 scallions, sliced thin
Directions:
In a large skillet, water saute the onion and pepper until soft, about 8-10 minutes.
Add a little oil to the pan, then add the rice, Braggs, chili paste and scallions. Stir to combine, then let the rice just sit. Turn the heat to low and don't stir for 7-10 minutes. You might need to add a little more oil, but this is when everything can start to brown and almost caramelize.
Enjoy!