I don't know if my post last week about Betty was prescient or merely timely but OHMYGAWD did we have a rough couple of days! When we got home from work on Thursday everything seemed normal- she was running around barking at us to hurry up and serve her dinner. This happens twice a day, every day. But after dinner she was pacing a lot, which isn't normal. And when we went to bed I noticed she was breathing a little funny. I woke up many times during the night to check on her, and although she was still breathing funny, it didn't seem to be any worse.
Friday morning, I could barely get her out of bed. Her breathing was quick and shallow, and her back legs would barely work. We had to carry her down the stairs so she could go outside, and of course she had no interest in breakfast. She was also very lethargic. Obviously I wasn't going to work.
A trip to the vet, another to the canine neurology specialist, and a nearly 4-figure bill later, we knew that Betty had Aspiration Pneumonia. This is fairly common for dogs (and people!) with Megaesophagus- because there's so much hacking and regurgitation going on, it's easy for bits of food or water to make their way into the lungs. At least the neurology scare turned out to be just that- a scare.
I was able to bring her home late Friday afternoon, and we started her on antibiotics immediately. I could see the improvement on Saturday morning, and by yesterday she was nearly back to normal. Of course she still has another week or so of meds, but she seems to be feeling pretty good which is all that matters.
Crisis averted. But, of course, all the stress and drama didn't leave me much time for cooking or blogging, so I don't have anything terribly exciting for you today. My apologies, but as vegans and animal lovers, I'm sure you all understand!
The little bit that I do have for you, though, is interesting. I've mentioned a few times that I (try to) follow the Eat to Live diet as much as I can, and this means that most days I bring a salad with me for lunch. I don't need to tell you that eating salad everyday could get boring, if you're not careful. To try and keep my salads exciting, I've come up with a few yummy toppers that I like to add. I've already mentioned that I like crumbling my spicy chickpea burgers on them, now I'd like to share another trick I keep up my sleeve: Spicy Seitan Salad Toppers.
They're easy to make. Whip up a batch of Chicken-Style Seitan, cut it into little chunks, and season. Then sprinkle on your salad and Voila! You salad is more exciting than it was a few moments ago 🙂  They have the great chewy texture that we love about seitan, and I think changing up the textures in your salad is the easiest way to keep from getting salad-burnout. These are a little spicy too, so you're literally Spicing Up Your Salad! And of course you can make them as spicy as you'd like- mine are more in the mild-to-medium range. You can see all the flavor on them though- yum!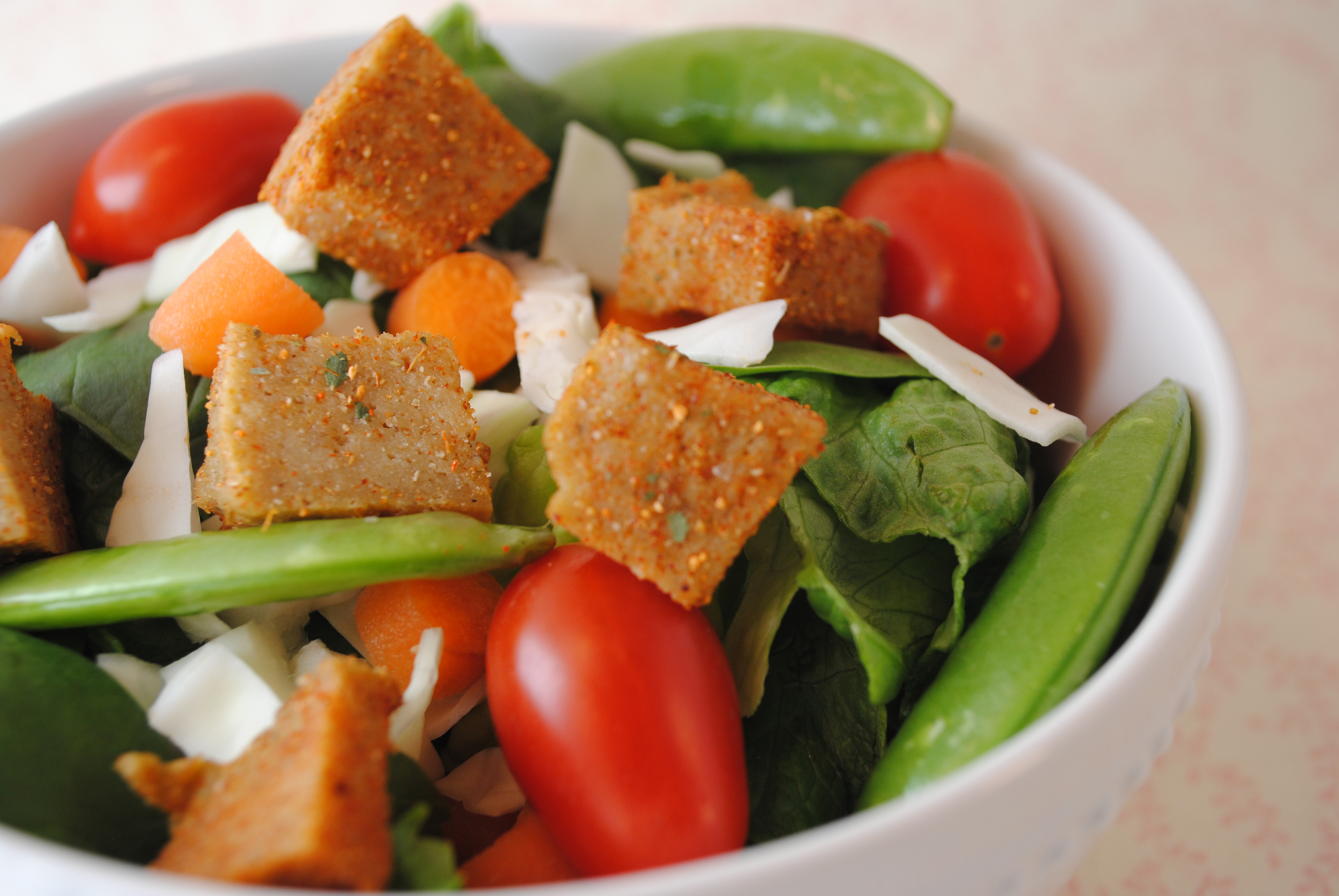 ---
Spicy Seitan Salad Toppers (Makes toppings for 4-5 salads)
Ingredients:
Directions:
Chop the seitan into bite sized pieces, then place in sandwich-sized zippie bag.
Add all the seasonings, seal the bag, and shake. Everything will stick to the seitan, and then you can also store it in the bag in your fridge.
Add to salads as desired!
Enjoy!